Hey, Monday again, our "cool hunting day". As usual, in this post, I will present you 10 Creative and Innovative Product Design I found in last week… And hope you also like them… Check our menu, what we have in today's cool hunting journey.
We are a participant in the Amazon Services LLC Associates Program, an affiliate advertising program designed to provide a means for us to earn fees by linking to Amazon.com and affiliated sites.
1. Daily life wall clock [link]
This wall clock doesn't indicate time by number and hands. Instead, the figures of a grandmother, grandchild and dog represent the hour, minute and second hands respectively. Silhouettes of nature and daily life are arranged around the clock, and each figure moves through these scenes to represent the time.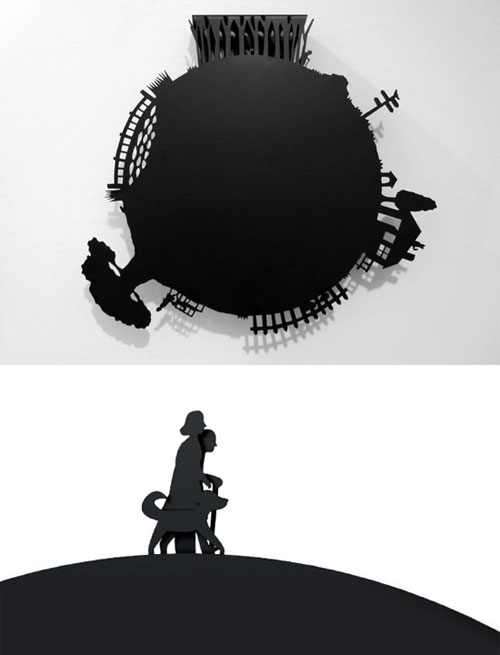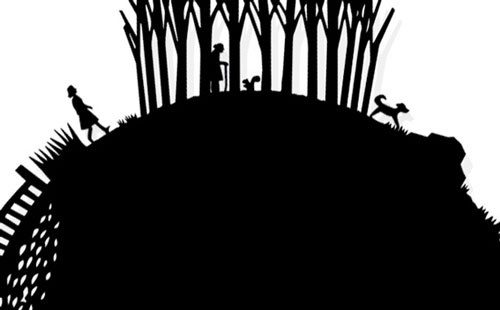 the time represented by this scene is 11:57:04 am / pm
2. Recoiling Socket In The Wall [link]
1.5 meters cord that unfurls from a cavity behind its socket. When you don't need extensions, it's neatly tucked away. When you need it, simply pinch the sides and wind it out.
After the deed is done, you simply give the wire a gentle tug (activates a spring mechanism), and it recoils back into place. Ideal for using with electronics like vacuum cleaners, hair driers etc where you don't need extension cords on a full-time basis.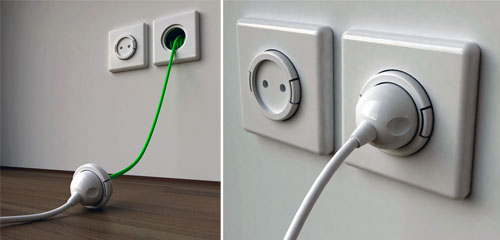 3. OWLE iPhone Video Mount [link]
The OWLE iPhone Video Mount provides a ergonomic solution for holding your iPhone while capturing video. The iPhone iPhone 3G or 3GS fits inside included silicone case, then slips into the mount itself, and even includes a boom mic which attaches to the iPhone's headphone jack for capturing slightly better audio. It also comes standard with 37mm lens threading, as well as a 0.45x Wide angle/macro combination lens.
Simply nestle your iPod inside the metal and silicone case of the OWLE and get ready to shoot the best iPhone video you've ever seen.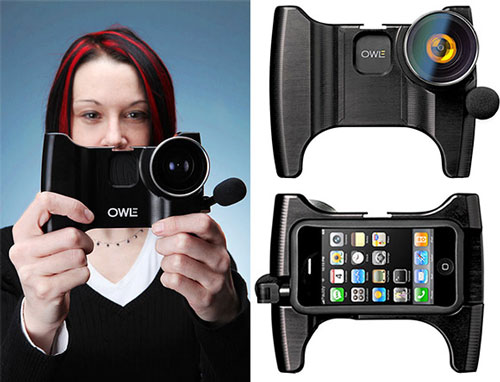 4. Toshiba Escargot Vacuum [buy on Amazon]
This is the coolest vacuum I have ever seen. First I thought it was a modern hearphone….Anyway, Toshiba has teamed up with Electrolux to designed this circular escargot vacuum, pretty! It weighs only 2.1kg and everything can be rolled up or fits into the space between the large brushed aluminum wheels. It has a cyclone vacuum inside with high suction and can also be carried with a shoulder strap.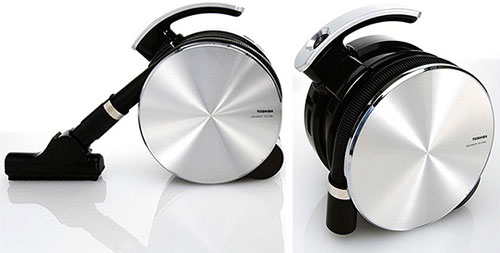 5. Grass mirror [link]
The mirror is made from rectangular prisms, which each have been cut at a different angle and can be connected to one another. The grass planted in the prisms looks much bigger with the mirror effect. It might be a good home decoration, but I do doubt its functionality as a mirror.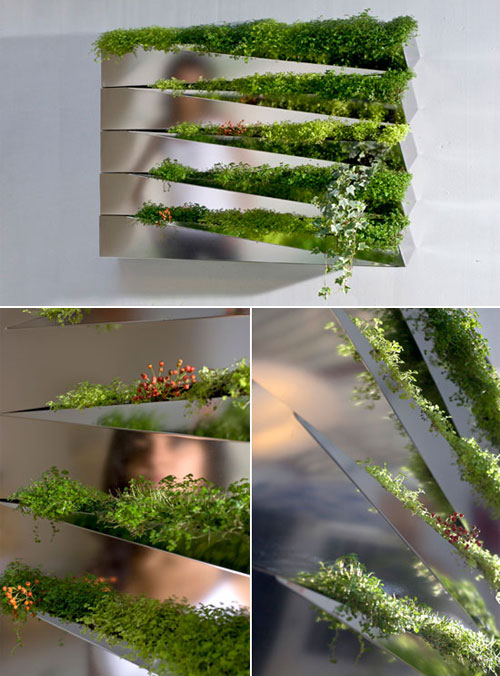 6. Breathing Chair Made of Foam [link]
Check this one out. It's a chair made of foam that becomes an armchair when someone sits down. It was created by Taiwanese designer Yu-Ying Wu, a graduate from the Department of Industrial Design at the Taiwan-based Tatung University. Although inspired by plant cells, it looks like a big block of tofu or Swiss cheese to me. It is also mentioned by designer, the chair has some function to take pressure off user's knees when sits on it.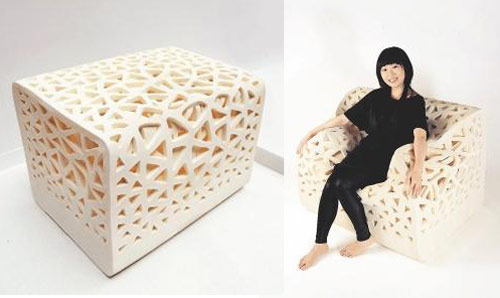 7. Magisso Cake Server [link]
The simple task of slicing a nice piece of cake and getting it to your plate can be quite difficult sometimes. Maria Kivijärvi came up with a solution to this small problem by designing a stainless steel cake server that makes slicing a piece of cake, well, "a piece of cake." You no longer have to worry about the perfection of your slicing and the piece toppling over as you move it to your plate! The server cuts a uniform slice every time and the squeeze of the handle keeps the cake in the server until you release it.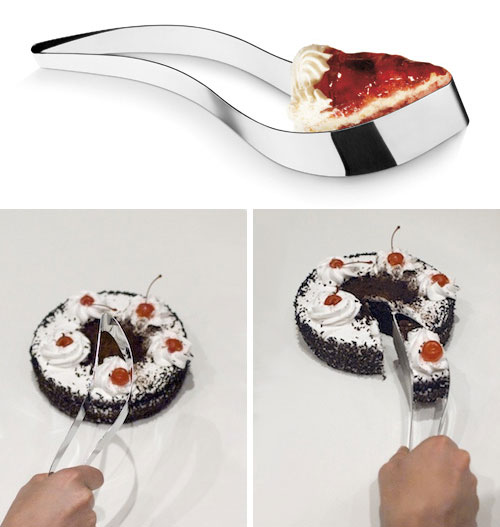 8. Funny Bathroom stick from Hu2 [link]
Bath Duck Level (left) and Toilet Monster (right) are Vinyl Stickers designed by Hu2.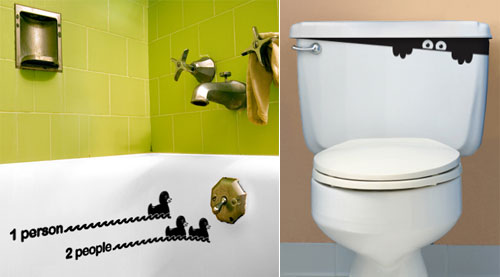 9. Screw Me Lamp by Jonathan Rowell [link]
In a creative fit of emotion, Jonathan Rowell found himself a brand new way to adjust. To turn, to spin, to tighten and un-tighten. That's what he found himself into. The lamp that goes up and down, the lamp of many colors, designer Jonathan Rowell went for the sexual reference, "Screw Me" by name, vertical adjustment by game.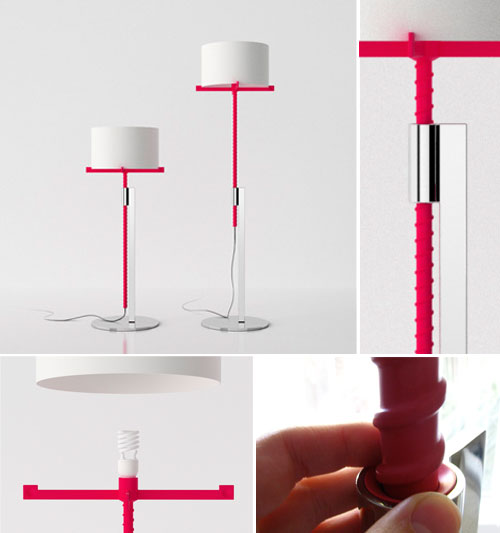 10. ON AIR Wrist Watch [link]
ON AIR Wrist Watch shows time in an extraordinary minimal way. While LED display shows minutes in number, its position shows us the current hour. Display is also function as a light and set button. If you push once LED lights up. To set the time you need just to push in the center of the display for 5 seconds and LED flashes, here you push upper or lower corner of the display to set the hour and the left and right corndxer to set minutes.