Lego is a line of construction toys, which consists of colorful interlocking plastic bricks and an accompanying array of gears, minifigures and various other parts. Lego bricks can be assembled and connected in many ways, to construct such objects as vehicles, buildings, and even working robots. Hence, the toy is loved by children as well ad grown-ups. And due to that love, there are lots of products design inspired by those colorful bricks. Just guess, maybe there prototype does from those assembled Lego piece.
We are a participant in the Amazon Services LLC Associates Program, an affiliate advertising program designed to provide a means for us to earn fees by linking to Amazon.com and affiliated sites.
1. Lego Animal Shape Flash Driver [discontinued]
Available only in 1GB but in five colors, these keys are 100% compatible with the real Lego bricks, enabling you to tweak your Lego creations.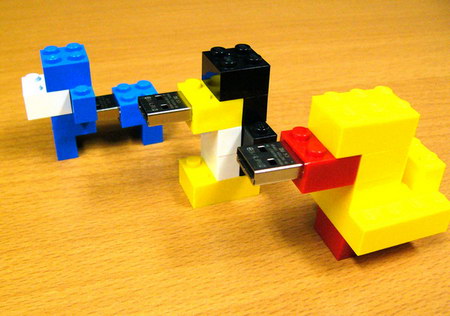 2. LEGO iPod Speaker [discontinued]
Fun speaker runs off of iPod's energy and no batteries are required! Plus signs are your speakers with volume buttons in between! Plug this compact mini dock right into your iPod and rock out at your desk!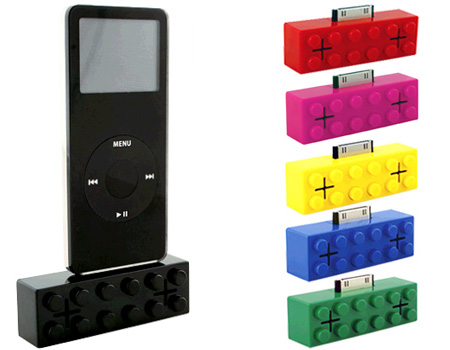 3. LEGO-like iPod stereo dock [link]
The dock conceals its speakers under the bumpy block surface and console is three white buttons for volume and turn on/off. Looks really cool.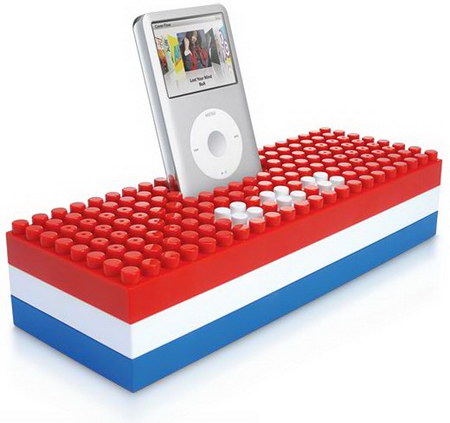 4. LEGO Digital Camera [[discontinued]]
The LEGO® digital camera looks like it is built completely from LEGO bricks, but it cant be taken apart. LEGO bricks can be added to the top or bottom of the camera, so kids can integrate it into their buildings and creations. But this is no toy; its a full functioning 3 Megapixel digital camera, featuring a color 1.5 LCD screen. Take high quality photos with the built-in flash and fixed focus. The camera holds up to 80 photos at a time. Let your imagination go wild!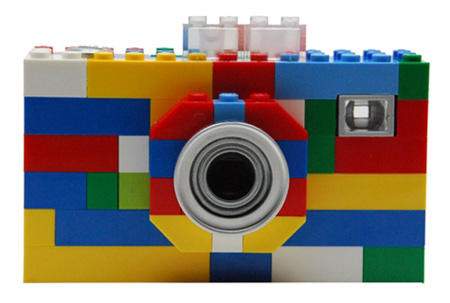 5. LEGO MP3 Player [link]
Digital Blue's LEGO® MP3 Player mirrors the look of an actual LEGO brick! You can even stack the MP3 Player on other LEGO bricks on the top/bottom.
# Status LCD Screen
# 2GB internal memory (holds up to 1000 songs)
# USB 2.0, Type B mini-USB connector, 3.5mm Headphone Jack Outputs
# Built-in rechargeable battery – up to 8 hours playback
# Supports MP3 and WMA files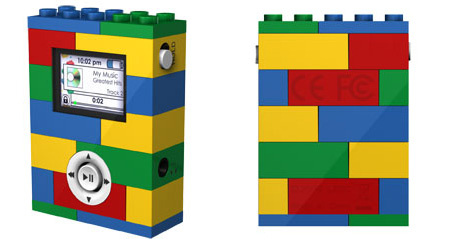 6. LEGO Brick MP3 Players [link]
Homade's LEGO-esque media players cleverly conceal their controls into the raised dots on the surface of each block. The players come in a variety of bold primary colors, and like their snap-together doppelgangers, are made primarily from plastic. Each one comes with a built-in rechargeable Li-ion battery that should give you about 6 hours of play time, and from what I can tell, you'll have to provide your own microSD card for storage (2GB max).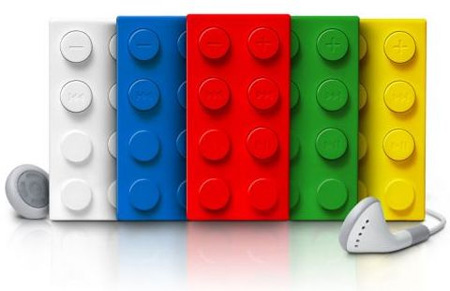 7. LEGO USB Webcam [link]
One for Etsy member called 123smile has come out with a Duplo Lego webcam using a 2 x 2 Duplo block. It features a 640×480 pixels resolution at 30 frames per second and comes with a 50 cm adjustable gooseneck USB cable for easily adjusted perspective and height. Pretty funny looking guy.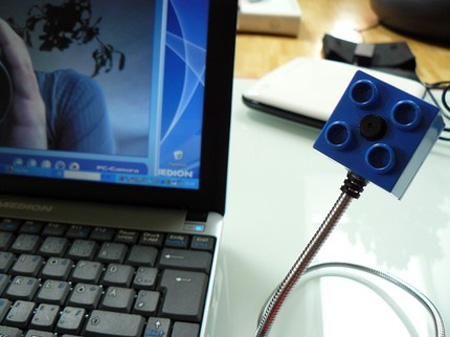 8. LaCie Lego storage devices [link]
The LaCie Lego storage devices work with the usual USB2.0 interface to get the best data read/write speeds, they come in a variety of colors and capacities that will please the most demanding stylish geek. There are 4 different LaCie Bricks, more exactly a 160GB model that comes in white, a 250GB on red, a 300GB takes the blue color, and for last but not least there is another red model that can handle 500GB of data.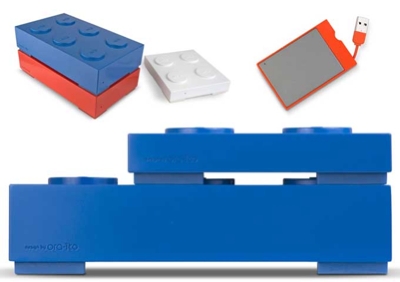 9. LEGO USB Hub [link]
Those into Legos will love these stackable Lego USB Hubs. So far the Lego USB Hub is available only from Korean retailer DCX for 15,920 KRW, about $12 U.S.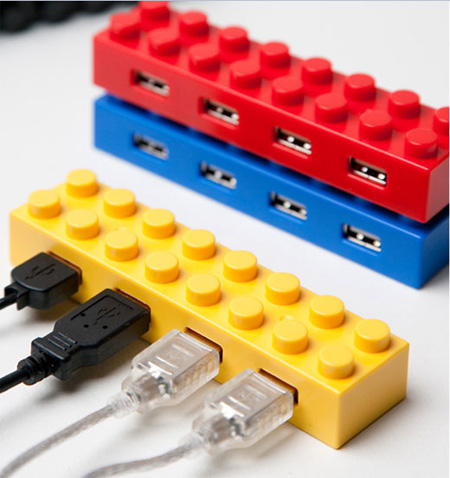 10. LEGO Desktop Calendar [link]
This LEGO-inspired consists of three blocks that can be stacked upon one another. To change the date/month/day, just press the top of the appropriate block.
Supplied in three blocks displaying day, month and year which can, thanks to their Lego brick type design be assembled at will, each yellow, white and red block measures in at 80mm square with the click over display being changeable with a simple depression of each of the blocks.