Ready for the holiday season? With Christmas fast approaching, it's time to get your home prepared for your family celebrations and guests. Before you know it, Thanksgiving and Christmas will be here. So what are you waiting for? Plan ahead and remove at least a tiny bit of stress this holiday season. From planning delicious meals to unwrapping presents by a roaring fire, there's nothing better than spending time with each other at home for the holidays. But how do you prepare the home?
When it comes to holiday home decor, remember that it's not just about what you see. To create the perfect winter wonderland, you must also evoke the other senses.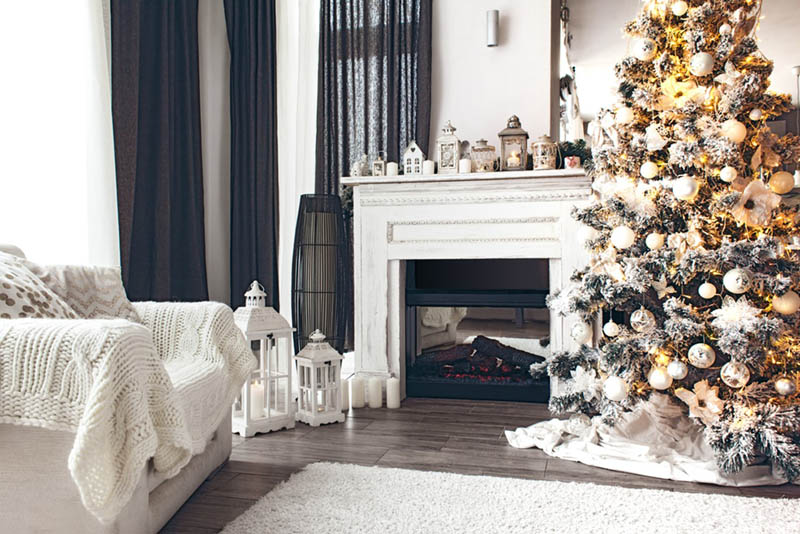 Winter Holiday Scents
Studies have shown that scent can bring back memories in a way no other sense can. So when it comes to creating a winter wonderland with holiday home decor, candles are where it's at. Igniting scented candles and using Holiday diffusers with fragrances like red currants, evergreen boughs and cinnamon sticks will transport you to Christmas gatherings at your grandparent's home with all your cousins.
Of course, candles with floral and citrus notes like jasmine, sugar plums and more will make the home smell like the holiday too. So what does jasmine smell like? Rich, sweet and some say even exotic, the star-shaped jasmine gives an exotic scent that relaxes the body (perfect for those hectic after-work shopping sprees).
But candles aren't the only way to add a winter holiday scent. You can also bring in a fresh-cut Christmas tree or garland for that distinct evergreen scent or bake Christmas cookies or pies for a savory-sweet aroma that wafts its way from the kitchen. Even adding a few bold, pungent poinsettias around can lend a holiday fragrance while adding a pop of red to your holiday home decor.
A Wintery Sight
Sight is more than the style of your home. While your interior decorating can go a long way in making your home a winter wonderland, there are many other ways to create beautiful holiday home decor. For starters, dress up the main living areas and entertainment spaces, especially if you plan on hosting any holiday parties. Next, play with your favorite Christmas colors. Do you love classic red and green or prefer more Scandinavian-inspired whites and neutrals? Whatever you choose, incorporate a mix of colors throughout the home.
Don't forget the other holiday-themed winter elements. Lighting can go a long way too. Hang twinkling Christmas lights in the tree and just about anywhere else you can imagine spreading a warm glow. Candles can double as a scent and glow too. Place them inside a bathroom to throw shadows on the wall at night as you settle in for a long winter's nap. Or leave one out so Santa can see his way around the stockings and tree.
Holiday Tastes
The holidays bring all kinds of decadent treats and gourmet foods, many of which you only make or bring out during this special time of year. So consider what types of foods everyone loves, whether it's your cranberry relish, a sweet and savory honey-baked ham or that pecan pie that you could polish off in one sitting. Also, consider hot chocolate and roasted mini marshmallows for the little ones and, for the adults, some mulled wine or spiked hot toddy cocktails.
Since dishes combine both taste and smell, keep these spices simmering all month long with a pot of orange slices, rosemary sprigs and cloves. It will have your home smelling like the holidays in no time and make you eager for guests and family to arrive from far destinations to join for a holiday party.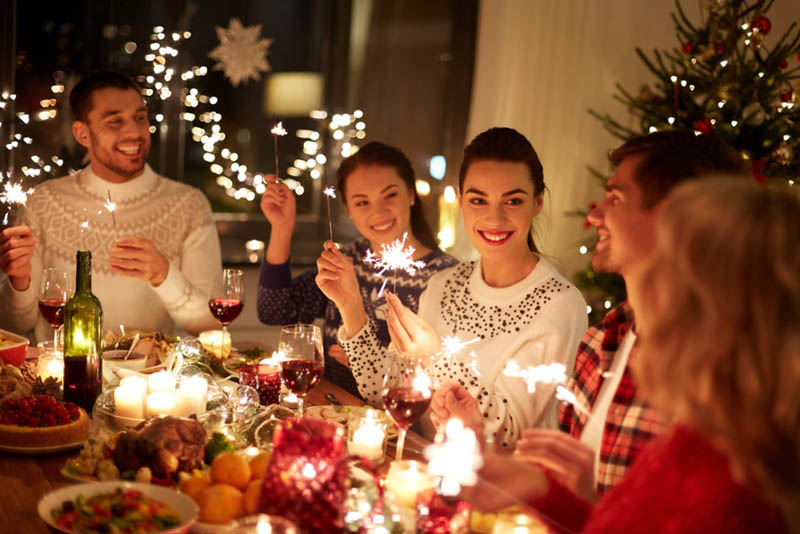 Holiday Sounds
Another sense you must touch on is sound. Besides holiday decor and smells, sound will undoubtedly take you home. Think holiday song classics like Tchaikovsky's The Nutcracker symphony or the Charlie Brown Christmas album. If you love the croon of Bing Crosby and can't resist White Christmas, along with other holiday ballads and jingles, be sure to play them all winter long to lift the spirits. Music will always bring good tidings and cheer. But, of course, if you prefer some new holiday classics like the soundtrack to Love Actually or Elf, that works fine too!
Create a playlist you can use year after year, add new holiday songs you love. Not sure where to start? You can always look to Spotify or Google Music for inspiration. There are plenty of holiday-themed playlists from which to choose. All you have to do is gather them all together and hit play whenever you want to get in the spirit.
Wintry Textures
Winter calls for warmth, and what better way to create warmth, both physically and visually, than with thick, plush textures? Cozy textures like wool blankets and faux fur pillows offer an inviting look to a holiday home. Velvets are also a wonderful texture to throw about, especially as a runner on the dining table or as heavier window treatments and curtains. So throw a faux fur blanket over the armchair and toss a chunky knit throw pillow on the sofa.
When it comes to wintry textures, don't forget to incorporate smoother textures like polished metallics and glass. Silver and gold decorations are some of the main elements of Christmas, so spruce up your home decor with metallic touches here and there. Think crystal stemware, stoneware mugs and fringed tinsel garland wrapped around the tree or stairwell banister. You can also add texture with woodsy elements like dried birch logs in a basket by the fireplace and pine cones collected from the yard.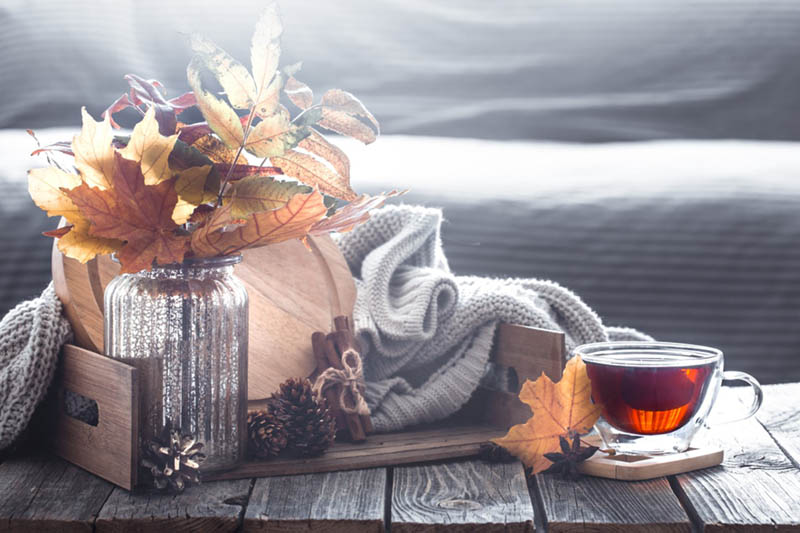 How Will You Create Your Winter Wonderland?
With the holidays fast approaching, you better get to it! Use all of these holiday home decor ideas to ignite the senses and get your home ready for winter. From the sight of twinkling Christmas lights to the feel of a thick wool throw as you curl up on the sofa, each sensation will make you, your family and guests feel right at home this holiday season.