When living a large city, not many people have the luxury to have a spacious property with a fireplace or a fire pit at their backyard. While there is a option for apartment-bound souls – tabletop fire pit. It's literally perfect for getting that campfire feel without going outside in the bitter cold. And I am not talking those ones with fake flame. Although can't compete with full-size one in warm level, the pint-sized fire pit offers the same cozy ambiance as their larger counterparts. It does so in a lightweight, easy-to-move package that allows you to set up shop virtually anywhere around your house.
Something to know before purchase:
Tabletop fire pits come with various fuel options. So basically, if your tabletop fire pit is for roasting s'mores, it's paramount to purchase one that runs on food-safe fuel such as propane, gel or ethanol. If you plan to use your tabletop fire pit as a glowing centerpiece, you should avoid all propane or natural gas-powered design to ensure safe indoor use.
Tabletop Rubbing Alcohol Fireplace
This portable fire tabletop fueled by smokeless, odorless, rubbing alcohol can be used indoor or outdoor. It is light and easy to transport so you can move it anywhere. You could use this small personal fireplace to add warmth and ambience to your desk, side table in your living room, centerpiece for your main dining table, or anywhere outdoors.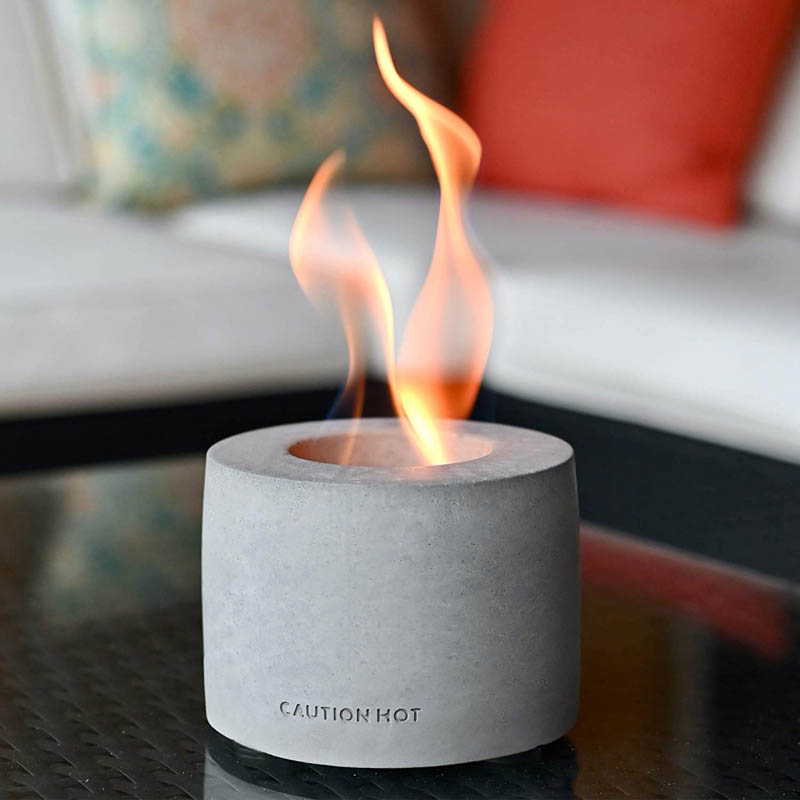 [buy on amazon]
MYSA Life Table Top Fireplace
Table top fire bowl has a sleek, modern design and a 360° view of the dancing flames behind clear high-tempered fireproof glass. This table top fire pit is a stylish conversation piece! Imagine having a glass of wine next to it, chatting with Friends or Family, and the ambiance it will create to any space!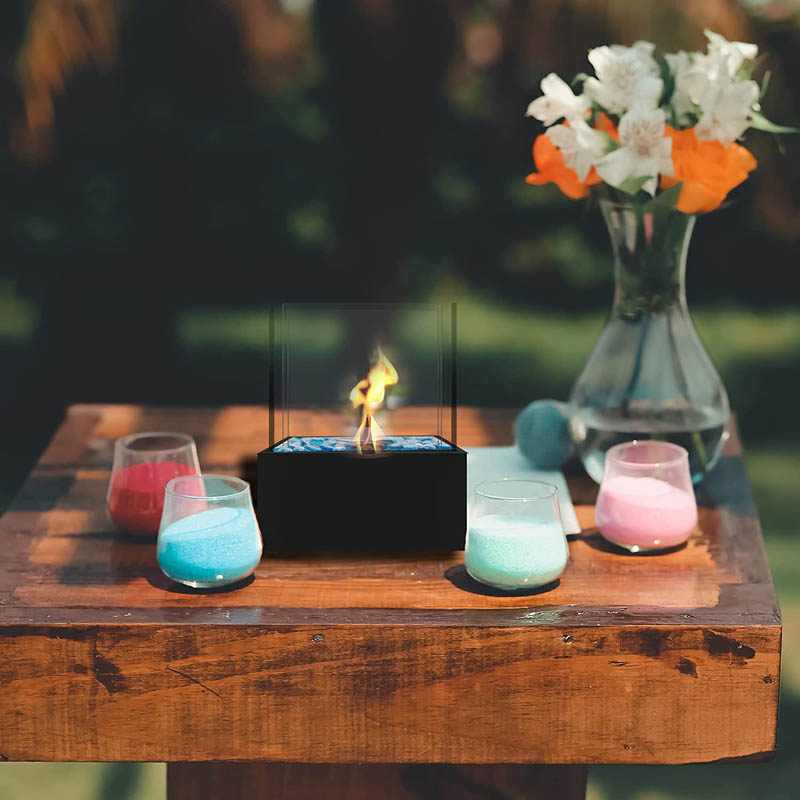 [buy on amazon]
Vizayo Tabletop Fire Pit
This ventless fireplace does not require a chimney; An excellent table centerpiece and functional to place anywhere fire pot will decorate any part of the house. Measuring 11″ x 10.2″ x 5.3″, this elegant mini fire pit for tables suits all surroundings with constant adoration for its functionality and unique beauty.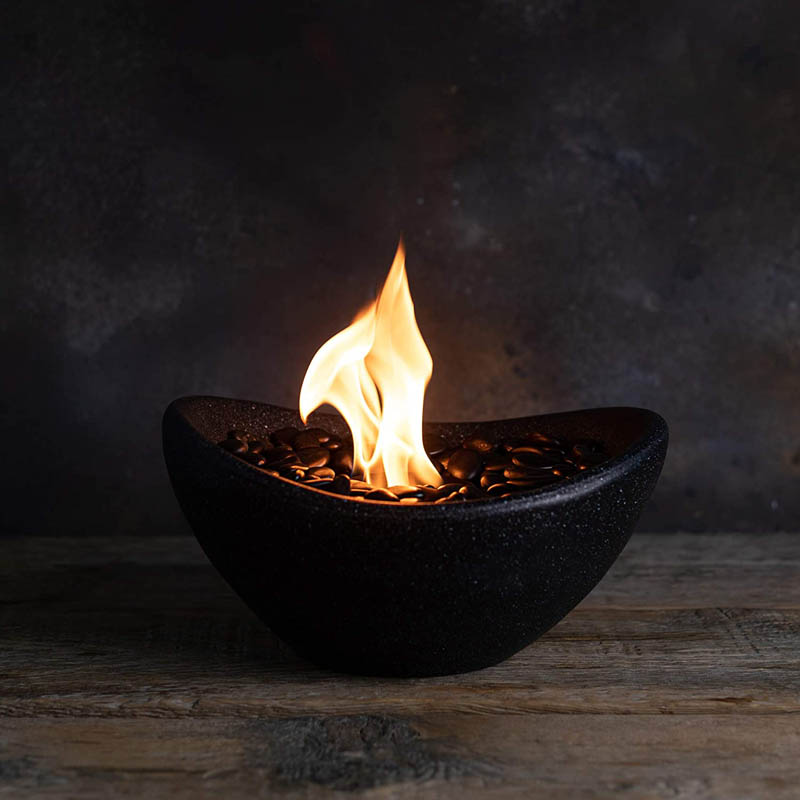 [buy on amazon]
Ehomexpert Tabletop Fire Pit Bowl Set of 2
This tabletop fire bowl can be used indoors or outdoors, when you want to chat with your friend, enjoy good time with your family in the courtyard or by the sea, our fireplace can create a warm and comfortable atmosphere. This tabletop fire bowl use alcohol as fuel(not included), no more dust and smoke, and the windproof can keep the flame burning even in windy places outside.Whether indoor or outdoor, this fire bowl can be used stably for a long time.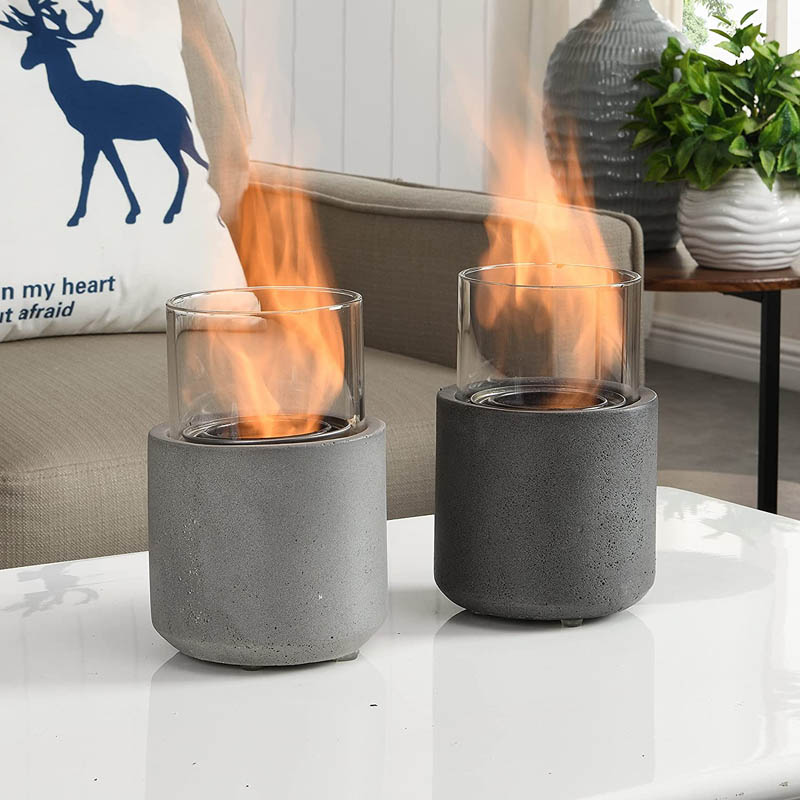 [buy on amazon]
Chilli Cosmos Natural Marble Stone Tabletop Fire Pit Bowl
Lava stone is a very special stone that comes from a volcano. It is porous, with many different textures. Each tabletop fire pit bowl is unique in its own way, which enhances the natural look in your house. An awesome retro style personal tabletop fire pit. This Fire Pit fueled by smokeless & odorless rubbing alcohol. With mesmerizing flames that make any setting with family and friends feel cozy, relaxing and fun.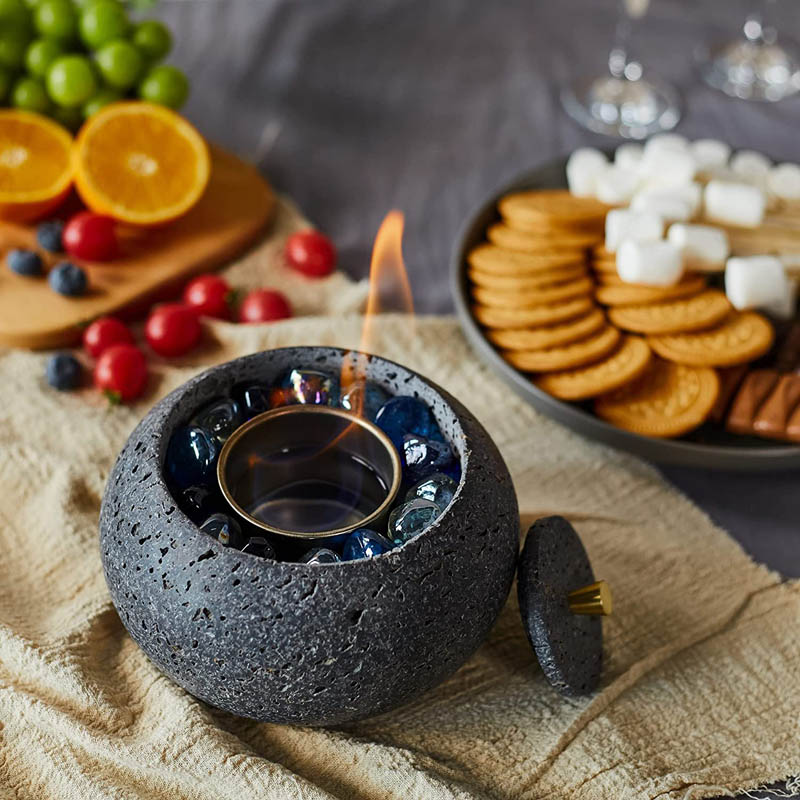 [buy on amazon]
Rose Quartz Geode Tabletop Rubbing Alcohol Fireplace
The Crystals Fire fireplace is the perfect way to create ambiance anywhere. This hand-cast, organic concrete vessel is made from natural materials that compliment any indoor or outdoor living space. Comes complete with a hand-cast fire bowl, fireproof gems and empty can for fuel.
Materials: Concrete, Mix of Raw and Polished Amethyst Crystals, Liquid Gold Paint, Love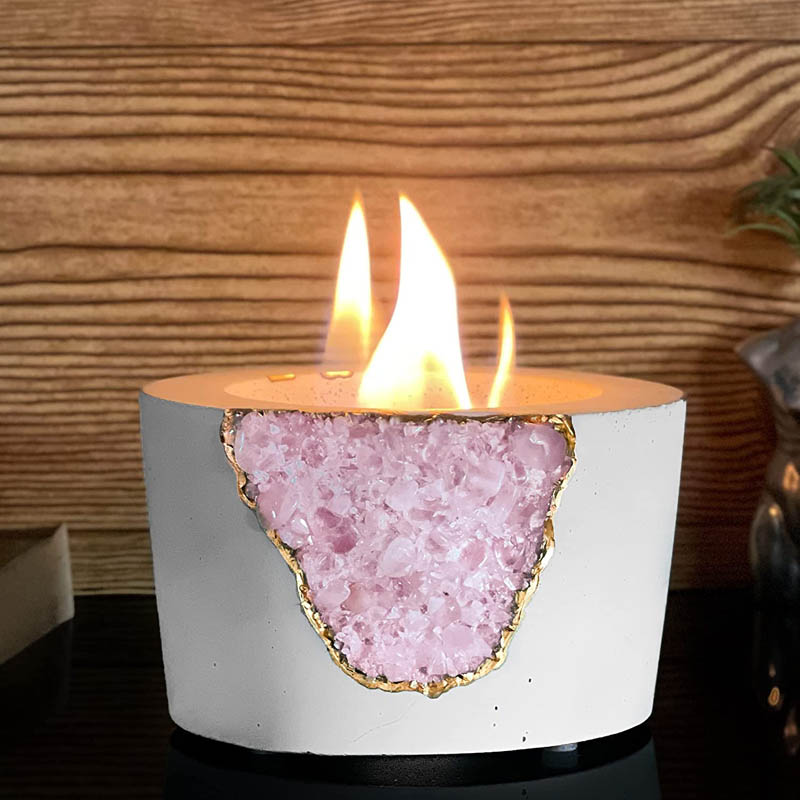 [buy on amazon]