In the world of multi-function, we want everything double and triple its function, especially something we use a lot. One instance is iPhone case. Since we carry our phone almost everywhere we go, have a multi-functional iPhone case means we probably can do more things compared with a normal case. A bottle opener or a 22-piece tool set? Built-in pepper spray or wall charger? Water proof or high quality optical lenses? Check the following collection of Multi-functional iPhone Cases and the next your wish will be to change your old ordinary case to the new multi-functional one! Have fun!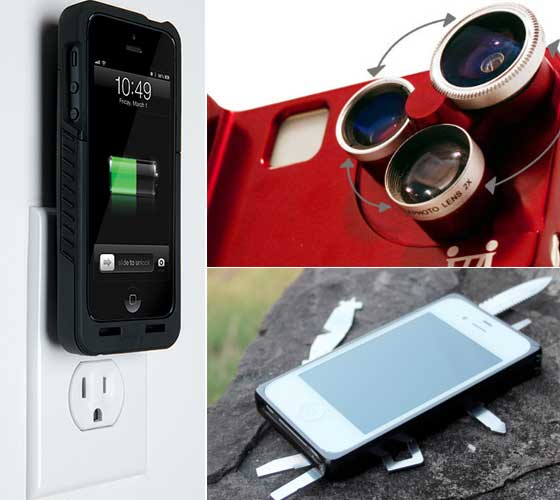 We are a participant in the Amazon Services LLC Associates Program, an affiliate advertising program designed to provide a means for us to earn fees by linking to Amazon.com and affiliated sites.
1. Gamer Case for Apple iPhone 5 [buy on amazon]
Experience old school retro gaming fun with the Maze iPhone 5 Case by Puregear.
Amazing: Navigate the ball through the challenging maze from start to finish
Sturdy, flexible case
Device protection with a twist.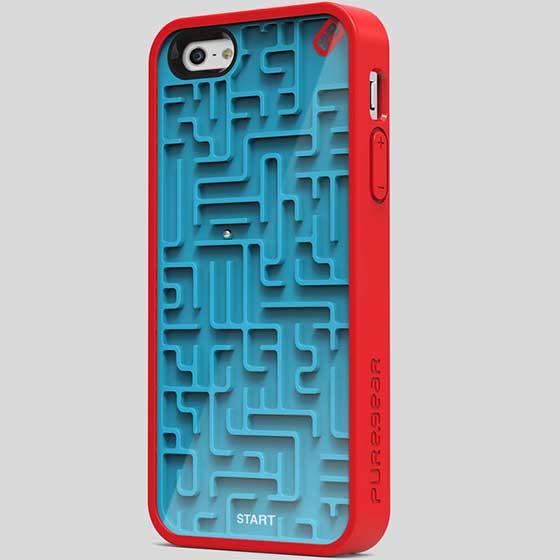 2. Apple iPhone 5 Waterproof Housing Case [buy on amazon]
The Seashell SS-i5 Waterproof Housing Case was speciically designed for underwater photo taking with your iPhone 5. The Seashell SS-i allows you to capture amazing images of underwater life as well as water sport activities on your iPhone.
Can use your iPhone with or without phone jacket
40M water depth protection (IPEX 8)
Patented touch screen input compatible design
Anti-reflection window glass for high quality pictures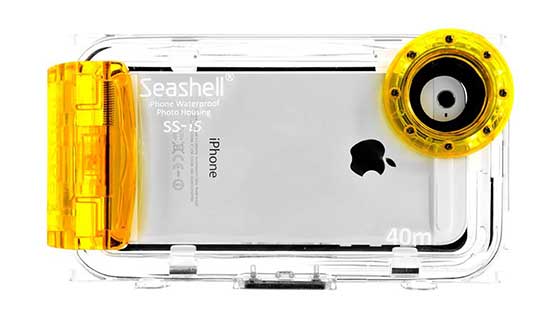 3. Opena Case for iPhone 4/4S [buy on amazon]
With the Opena case your iPhone is fully protected and you will never go thirsty again.
The perfect companion for parties, bbq's and pretty much any situation which requires a bottle opener!
Protective PC hard case
Integrated slide out stainless steel bottle opener
Fits GSM & CDMA iPhone 4, 4S (AT&T and Verizon)
Integrated flash ring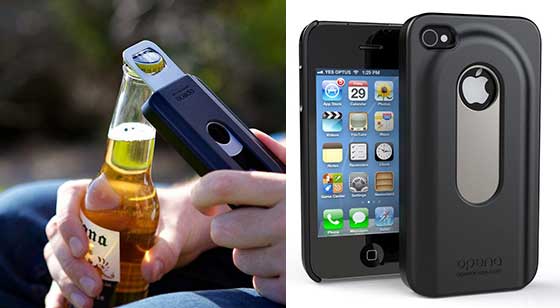 4. Trigger iPhone Case by 4th Design [buy on fancy]
Assembled from over 10 metal parts and finished with compelling features that have not been seen on other cases before.
Precision machinery lends the case its mechanical design and comfortable hand grip.
Features polymer frame inside and aluminum frame on the outside for 2 layers of protection
Aluminum surface sand blasted to give it its glossy surface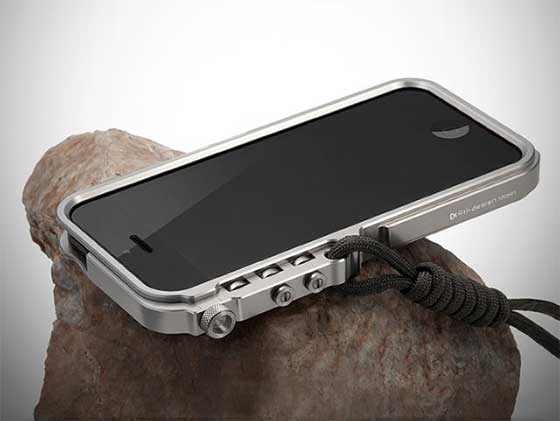 5. RHP Multimedia MirrorCase for iPhone 4/4S [buy on amazon]
At its core the case is composed of a sturdy plastic for uncompromising protection, it is then coated with a soft-touch finish for comfortable gripping and control
The distinctive feature of the MirrorCase for the iPhone is the high quality mirror that is secured inside the front cavity of the case
The interior of the case has specially placed bumpers to keep the phone in place and provides shock absorption for those unexpected bumps in life
The case is also designed at an angle to prevent the iPhone from resting on it's power/USB cord. Not only does this allow your cable to last longer, but it also helps avoid a damaged port
The MirrorCase doubles as a shoulder rest! Conversate comfortably and prevent the phone from slipping off of your shoulder with it's ergonomic design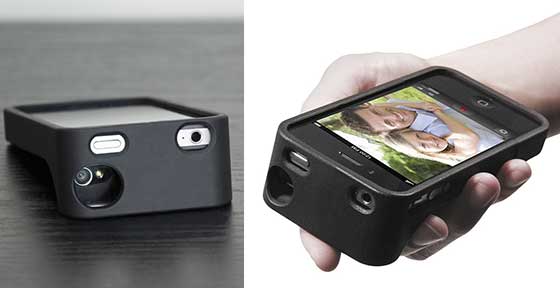 6. Canned Apple iPhone 5 Case [buy on connectdesign]
This is an iPhone 5 case with a kickstand. You can watch movies, surf internet and read e-books with case. All it takes is pulling the cap.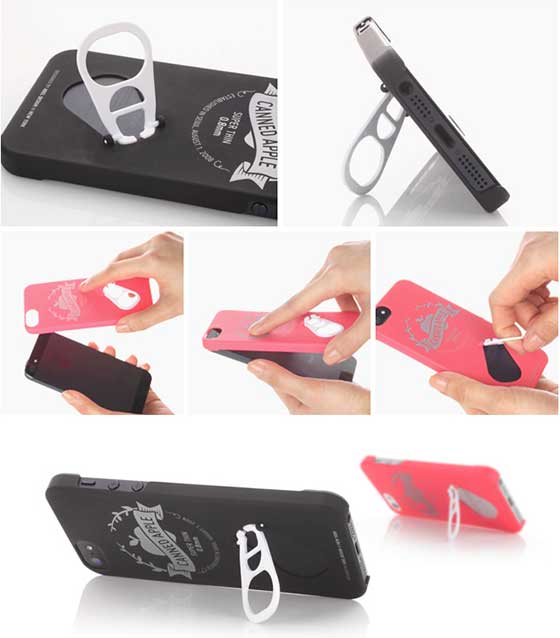 7. SmartGuard Pepper Spray Case for iPhone 4 [buy on amazon]
SmartGuard is a smart design for iPhones. SmartGuard helps ensure SABRE RED Pepper Spray will always be with you. Available in black, pink and white, SmartGuard offers two sizes to cover both iPhone 3 and 4 users. Weight of both sizes is approximately 0.21 ounces with 6 bursts of a cone spray pattern at 6-8 feet. Refills are sold separately.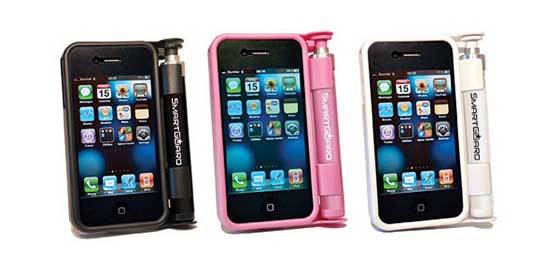 8. TaskOne iPhone 5 Case [buy on amazon]
Protection with function. Wrap your iPhone with TaskOne, the iPhone toolkit. Providing 22 tools plus kickstands in a ultra-compact package, TaskOne is the ultimate iPhone case for the outdoorsman, gadget lover or handyman.
All TaskOne iPhone cases are currently on BACKORDER until mid July. Order now to secure your place in line!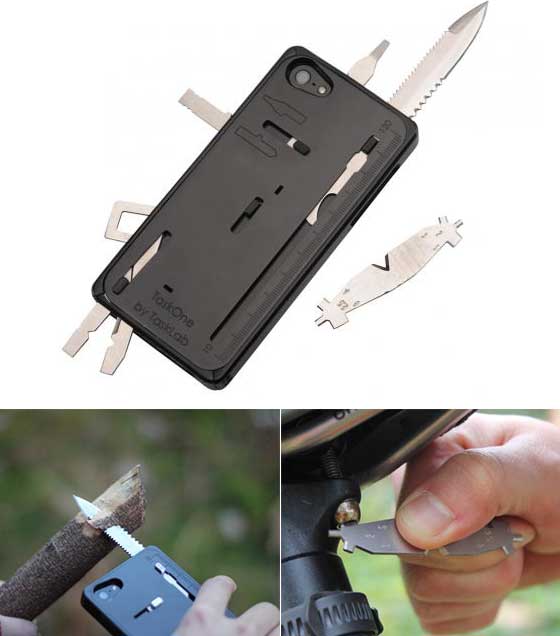 9. PocketPlug iPhone Case [buy on amazon]
The first phone case to feature an integrated wall charger that folds flat to provide maximum portability.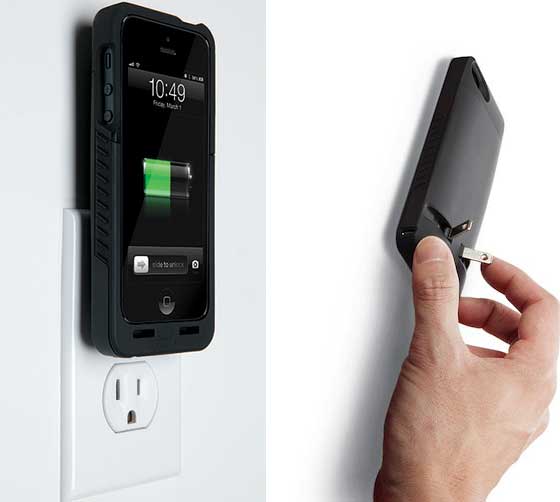 10. Orbit iPhone 5 Lens Case [buy on amazon]
Using Peripheral Motion Lock Technology (PMLT), the iZZi Orbit gives the user instant access to four high quality optical lenses in a convenient all-in-one package:
180 Degree Fisheye
2X Telephoto
67X Wide-Angle
Macro