Apple has watch and we have a new device need to be charged which makes the charging routine makes things complicated. As one of the sheer luxury you can experience in the world of wearable tech today, you probably want to have a safe and stylish place for it at your home.
Hence, we made a special roundup on some of the coolest dock systems pair with your apple watch. Most of it comes with charging function and some of them are just nice and safe stands. Some even integrate it into a lamp station which can charge your iPhone and iWatch in same time. No matter you have the smartwatch or not, I believe visual treats are always welcoming!
Also, you can compare the Fitbit Sense and Versa 3 on Superwatches and make a decision on which one is the best for you!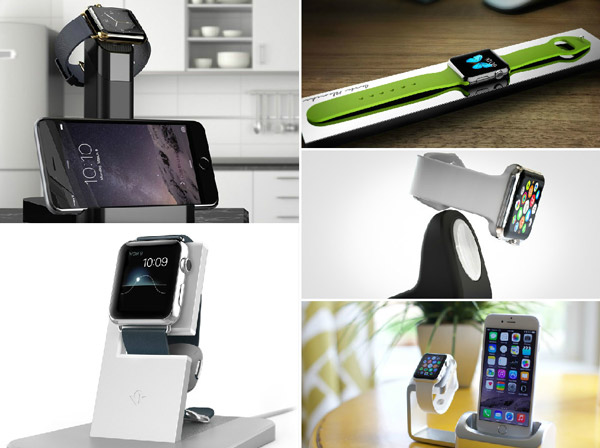 We are a participant in the Amazon Services LLC Associates Program, an affiliate advertising program designed to provide a means for us to earn fees by linking to Amazon.com and affiliated sites.
1. WatchStand Charging Dock For Apple Watch and iPhone [buy on amazon]
Dock and charge your Apple Watch effortlessly and without any cable mess! The angled cradle holds your watch safely as it charges, any excess cable is hidden within the stand away from your sight, and with lipped tray at the bottom, you can keep your iPhone (or any phone) docked with the watch. The bottom of the stand is secured with non-slip surface, and its got enough weight to it to keep it sturdy in place.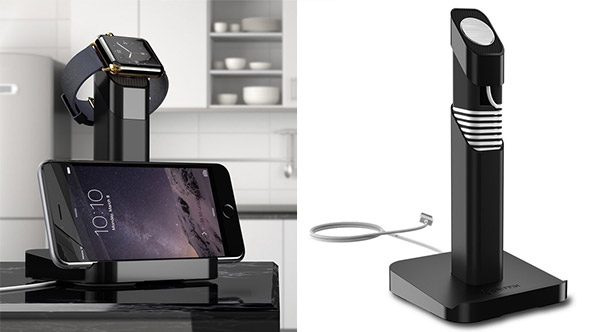 2. Duet [antsylabs]
Duet changes that by bringing both your iPhone and Apple Watch into one beautifully simple charging hub. Machined from solid aluminum, Duet is an elegant charging solution that houses iPhone and Apple Watch together in perfect harmony. Go on, give your devices the home they deserve.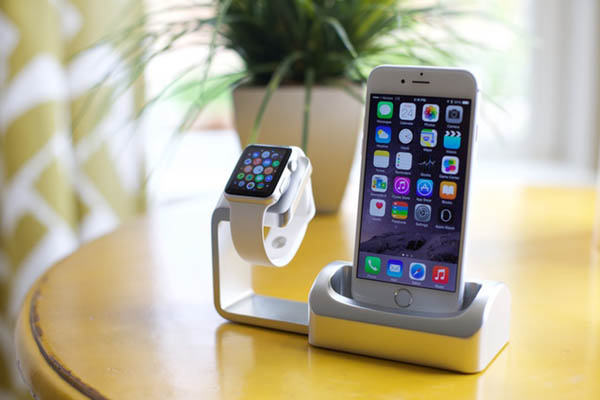 3. BLOC Power Bank for Apple Watch [boostcase]
BLOC is the ultimate elegant & chic solution for charging the Apple Watch. 2000mAh lithium polymer battery providing 4 full recharges to your watch. 100% wireless charging experience keeps desk cord-free and computers port-free. Ultra-slim 10mm design incredibly unobtrusive for desktop usage and also portable for on-the-go. Premium materials beautifully complement Apple Watch including Stainless Steel, Aluminum, Wood, Marble, & Gold plated.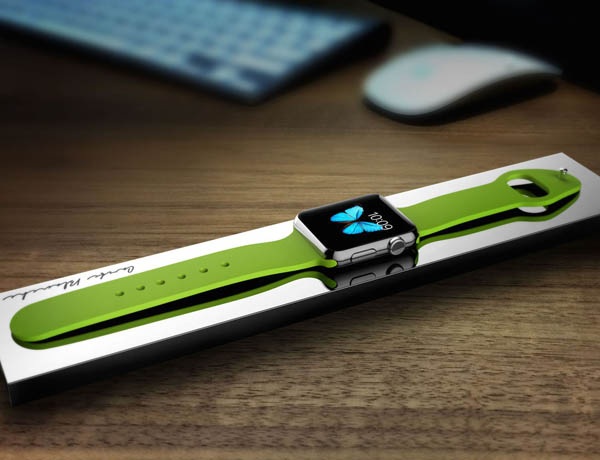 4. WAVE Apple Watch Charging Stand [buy on amazon]
With its precision fit for the charger that comes with your Apple Watch it works for both the 38mm and 42mm Apple Watch and all Apple Watch bands. Available in multiple premium hardwoods. Its unique magnetic closure makes it very easy to install the Apple Watch charger – guide the charger and cable in its designated slot and just snap the two halves together. It has advanced micro suction tape on the bottom which makes it 'bond' to any smooth flat surface enabling easy one-handed docking and undocking, yet is easy to reposition and leaves no marks.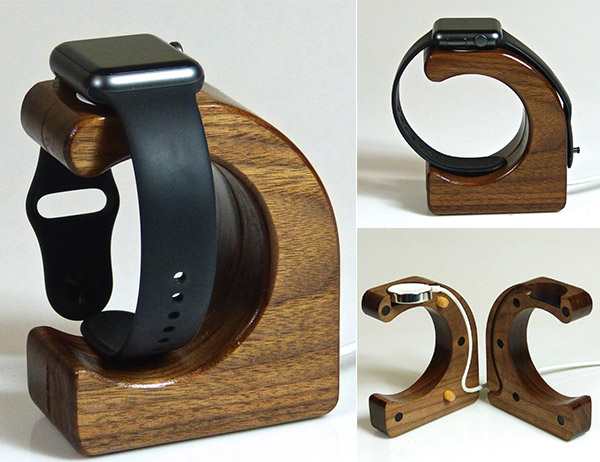 5. DOCK for Apple Watch by Native Union [nativeunion]
With its sleek form and rotating arm, DOCK showcases the beautiful design of your Apple Watch and offers maximum versatility when recharging and using your device. Combining matt graphite silicone and aircraft grade aluminium, DOCK complements both your watch and your interiors, making it an object for the home as well as the ultimate Apple Watch accessory.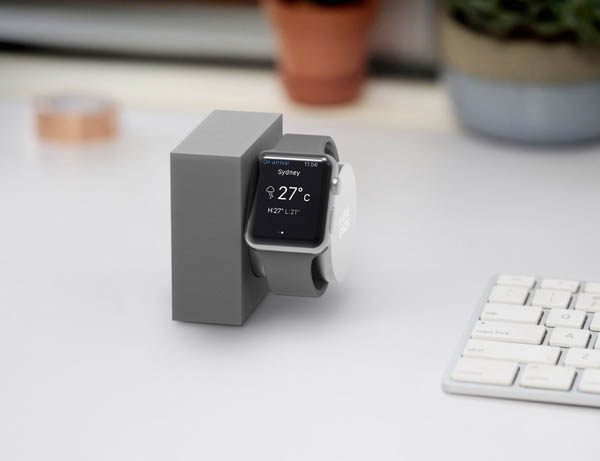 6. NuDock – Power Lamp Station [mitagg]
Beautifully designed power docking station provides a solid foundation for your iPhone and Apple Watch with an elegant minimalist design featuring a multifunctional Smart LED Lamp. Made from the highest quality materials featuring Anodized Aluminium construction with a Polycarbonate base, coated in a soft-touch rubberised finish complimenting the Apple design look and feel. Fully adjustable, charge your iPhone without the hassle of removing your protected case or Mophie Juice Pack battery case.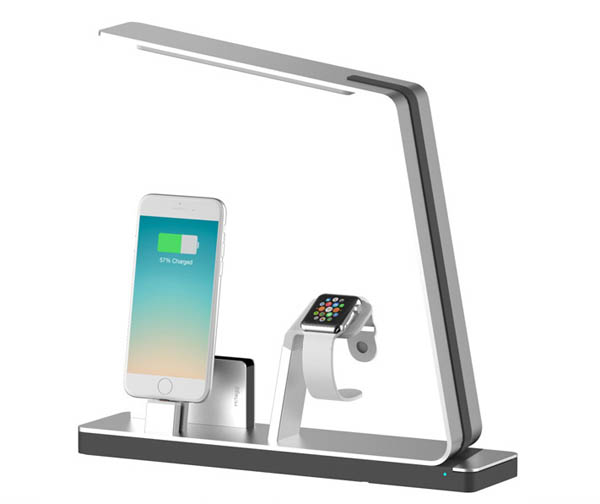 7. Apple Watch Charging Stand by Spigen [buy on amazon]
The Watch Stand for the Apple Watch is constructed of flexible TPU and premium aluminum for a solid build that supports the watch at a stable and comfortable viewing angle. It features a circular cut-out to securely fit the charger beneath the watch. The smart design and sleek appearance make for an effortless simplification of managing your watch off the wrist and on the desk or night stand.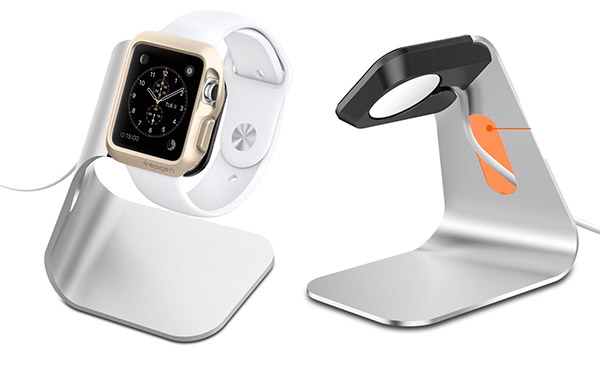 8. HiRise For Apple Watch [buy on amazon]
The sturdy HiRise holds any Apple Watch at an elevated height and angle that lets you interact with your watch while it's charging. It only takes a moment to insert (or remove) your Magnetic Charging Cable, and it can be used with any style Apple Watch band, including closed-loop metal bands. Thoughtful silicone accents and a leather landing pad protect your watch, buckled or not.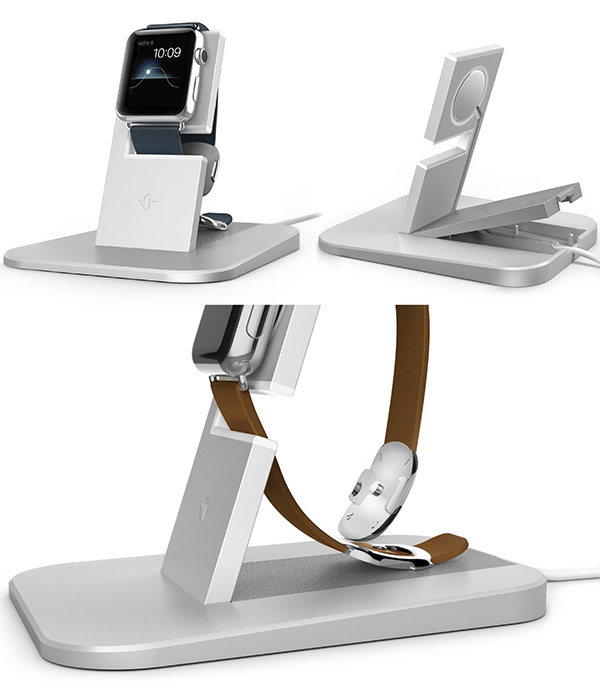 9. ElevationLab Night Stand for Apple Watch [elevationlab]
Just set your watch on, no careful alignment required. Locks to your bedside table so you never have to hunt for the cord. Undocking is one-handed. Solid, soft, seamless construction. Low-profile, minimal design. Recommended for all bands except the stainless link bracelet.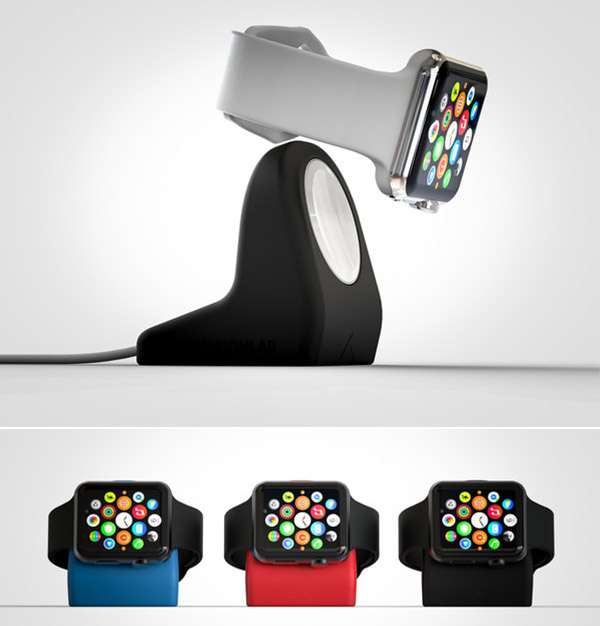 10. Aerb iWatch Metal Charging Stand [buy on amazon]
This premium metal docking stand is specially designed for Apple Watch released in 2015. It is compatible with any version 38mm and 42mm. Metal material makes it best companion for your noble iWatch. A good place to keep your iWatch when it needs charging. Also, this stand provides comfortable viewing experience.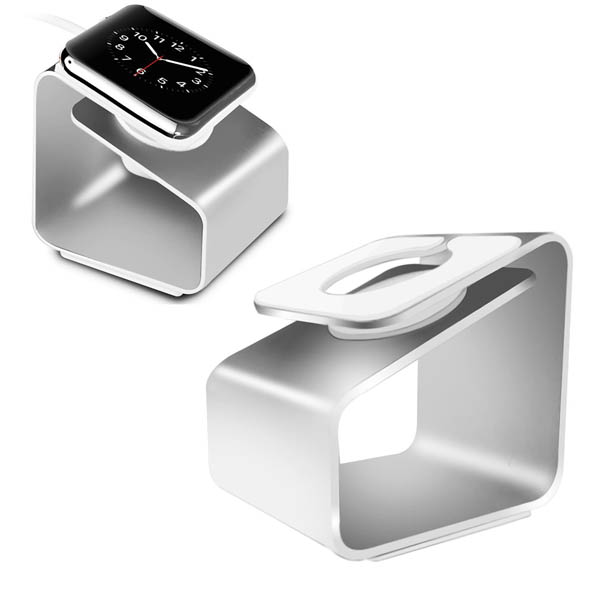 11. JETech Apple Watch Charging Stand Station Dock Platform [buy on amazon]
Designed to charge and rest Apple watch 38/42mm All Models. ABS stand with TPU dock avoids scratching the Apple watch. Special cutout for the Apple Watch charger and cable. Simply place the watch on the stand and works as clock while charging.