Even if you don't possess the green thumb necessary for an indoor garden, you can still bring the tranquility and beauty of nature into your home or office with the extremely low maintenance and hardy plant – air plant. A glass jar, natural stone, sea urchin, wood or even wine cork, will be the prefect place to grow air plant. Here are 11 Cool Air Plant Zen Garden we rounded up for, hope you can get some inspiration from it and create your very own air plant zen garden.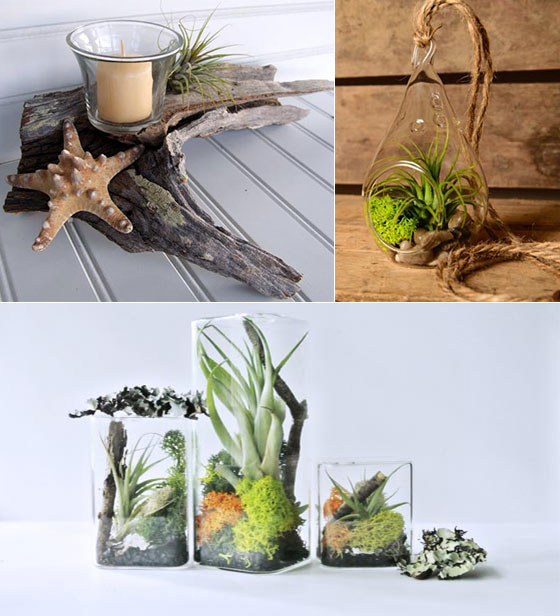 We are a participant in the Amazon Services LLC Associates Program, an affiliate advertising program designed to provide a means for us to earn fees by linking to Amazon.com and affiliated sites.
1. 3 Air Colors Air Cube Terrarium [discontinued]
Set of 3 Air Colors Air Cube Terrarium Small, Medium, Large. EACH Air Cube Terrarium, is handcrafted and unique and look wonderful alone or as a group, perfect for centerpieces.
CUBE SIZES:
Small – 2.5 inch diameter , 2.5 inch height
Medium – 2.5 inch diameter , 4 inch height
Large – 2.5 inch diameter , 6 inch height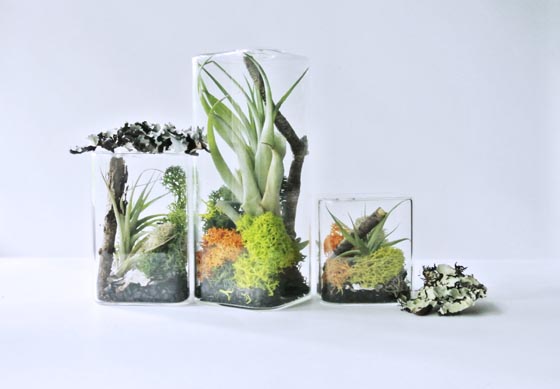 2. Terra Table Lamp [buy here]
A minimal, contemporary bell jar frames and protects the fragile mosses and spindly greens inside, which stay ever-verdant in a state of pause. When aglow with the light of the elongated, unobstructed bulb, this miniature environment is brought to life, as if in displayed in a vintage exhibition of natural curiosities. Assembled by hand in Baltimore, Maryland.
Materials: glass, wood, industrial plastic, organic material
8″ H x 5.5″ dia.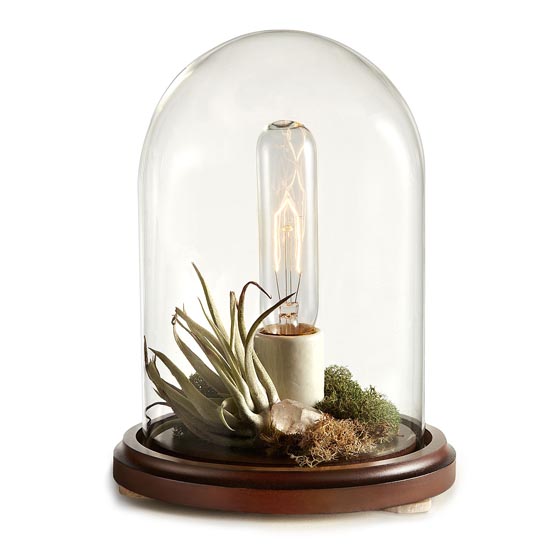 3. Diamond Shaped Geometric Stained Glass Air Plant Terrarium [discontinued]
Measures 6″ tall, 8″ wide, 2″ deep. Rings are securely soldered to attach to chain, wire, string, etc. Air plant not included. Made to order.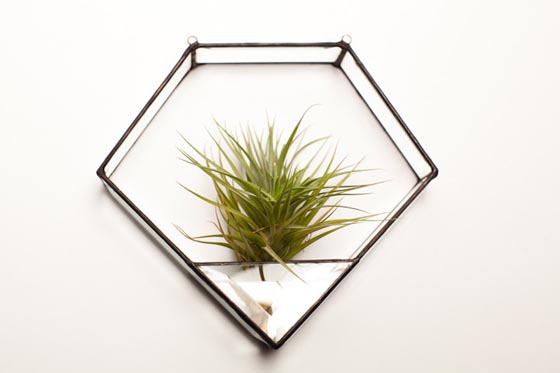 4. Air Plant Terrariums [buy here]
These recycled glass pear and apple-shaped terrariums come with sand and super easy to care for air plants that you can arrange into your own miniature desert landscapes. Air plants require very minimal maintenance, just dip them in water or hold them under faucet and shake dry occasionally.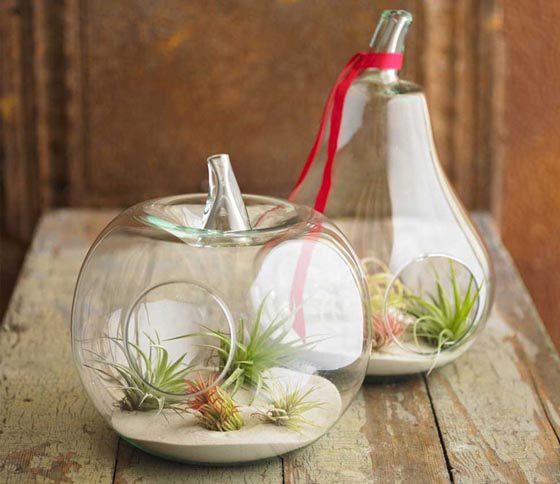 5. FACETED WOODEN PLANTERS – SET OF 3 [buy here]
Reclaimed wood is cut and sanded into irregular facets, displaying the wood's intricate and varying grain patterns. A hole drilled at the top of each planter to house a low-maintenance air-plant in an environment in which it will thrive. Group the trio together to form a modernist garden, or take a cue from the artist and tuck the planters in surprising spots throughout your home for an aesthetic pick-me-up. Made in Brooklyn.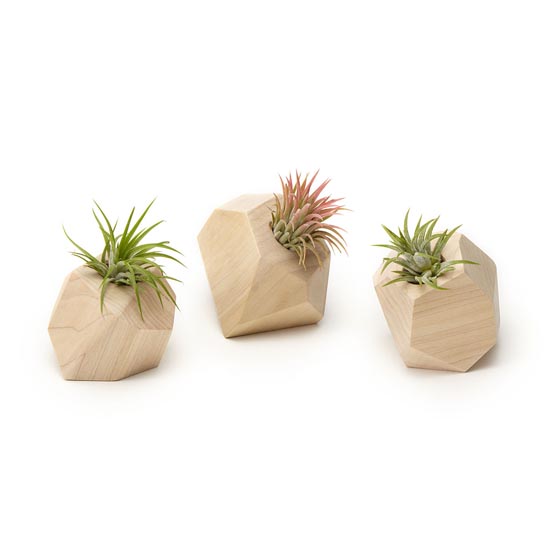 6. Air Plant Teardrop Terrarium Kit [buy on amazon]
Air Plant with Clear Glass Hanging Terrarium wide with glass bottom. Kit includes pebbles, moss, glass globe and air plant. Great as a gift. Perfect for office or home. Easy for kids to take care of.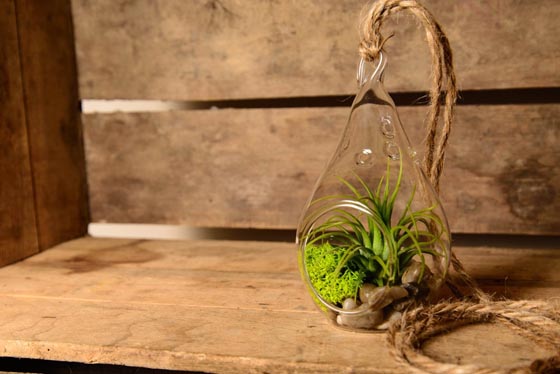 7. Live Plant Cork Magnet [discontinued]
These little cuties are the best way to add some life to the outside of your fridge. Coupled with family photos and kid drawings, they are simply adorable.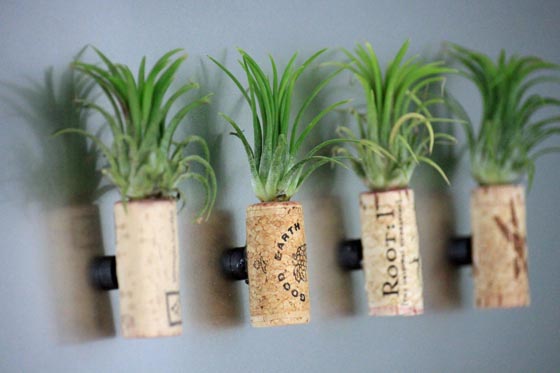 8. Hanging Air Plant Pod [buy here]
The unglazed, Moroccan brown planters designed by Michael McDowell can be propped on any countertop or suspended using the included cord. Just tuck a couple of leaves into the pod's small opening, and you're good to grow. Hanging Air Plant Pod(TM) requires no dirt and almost no watering, this indoor greenery option is an ideal for the time-pressed. Handmade in Colorado.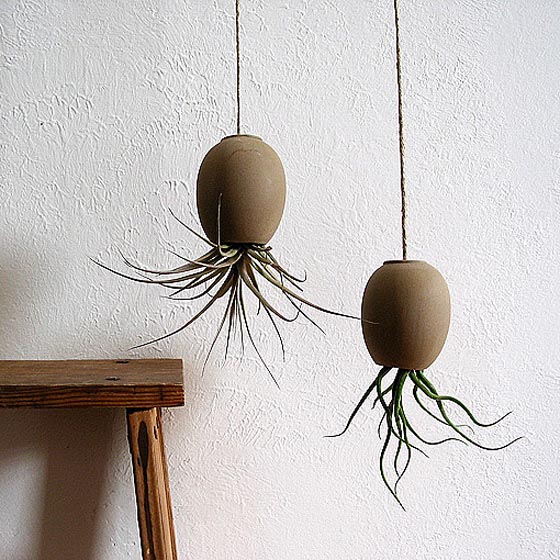 9. Hanging Air Plant Cradle [discontinued]
Each cradle is completely hand crafted out of gorgeous unglazed natural dark brown stoneware clay that is slow dried for maximum strength and fired to 2118°. There is a hole in the center that measures approx 1 1/2″ wide for securing your air plant if it has a bulb. They make a stunning display individually or in groups and can be hung on the wall, in a window or even outside.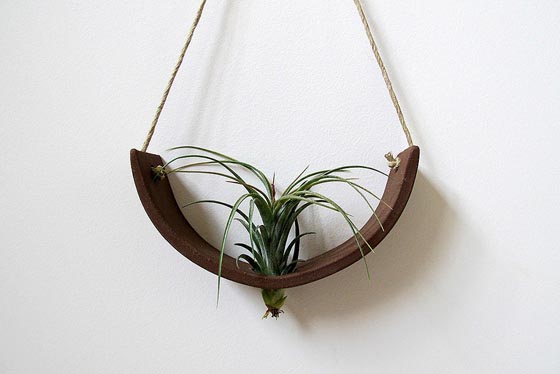 10. Three Pink Sea Urchin with Air Plants [buy on amazon]
Three Air Plant Tillandsias sitting pretty in three pink sea urchins. Easy to care for plant that requires no soil, no mess. This would look enchanting at a beach wedding ! Comes with easy care instructions.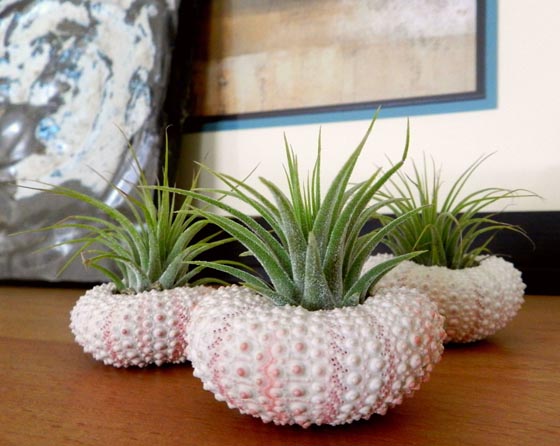 11. Coastal Driftwood with Air Plant, Starfish, and Candle [discontinued]
A natural Starfish and candle holder have been added for a coastal flair. An air plant (tillansia) is also included and can be placed anywhere you choose. You can also use the glass to display fresh flowers (just add water!).