Step into a world where delicious and spine-tingling collide with our collection of 11 Creepy, Spooky, and Scary Halloween Cakes. These devilishly delightful creations are not just desserts; they're edible works of art that will both enchant and send shivers down your spine. From eerie glowing ghosts to spine-chilling bridezillas, each cake is a masterpiece that encapsulates the spirit of Halloween. Whether you're a seasoned baker or a novice in the kitchen, there's a cake for every level of expertise. Join us as we explore the artistry and creativity that goes into making these hauntingly beautiful confections. It's time to unleash your inner artist and embrace the eeriness of Halloween cakes in the most delectable way possible!
SILVER SKULL RED VELVET CAKES
The Silver Skull Red Velvet Cakes are an eerie yet elegant addition to your Halloween gathering. The rich red velvet base provides a vibrant contrast to the metallic silver skull, making these cakes a real conversation piece.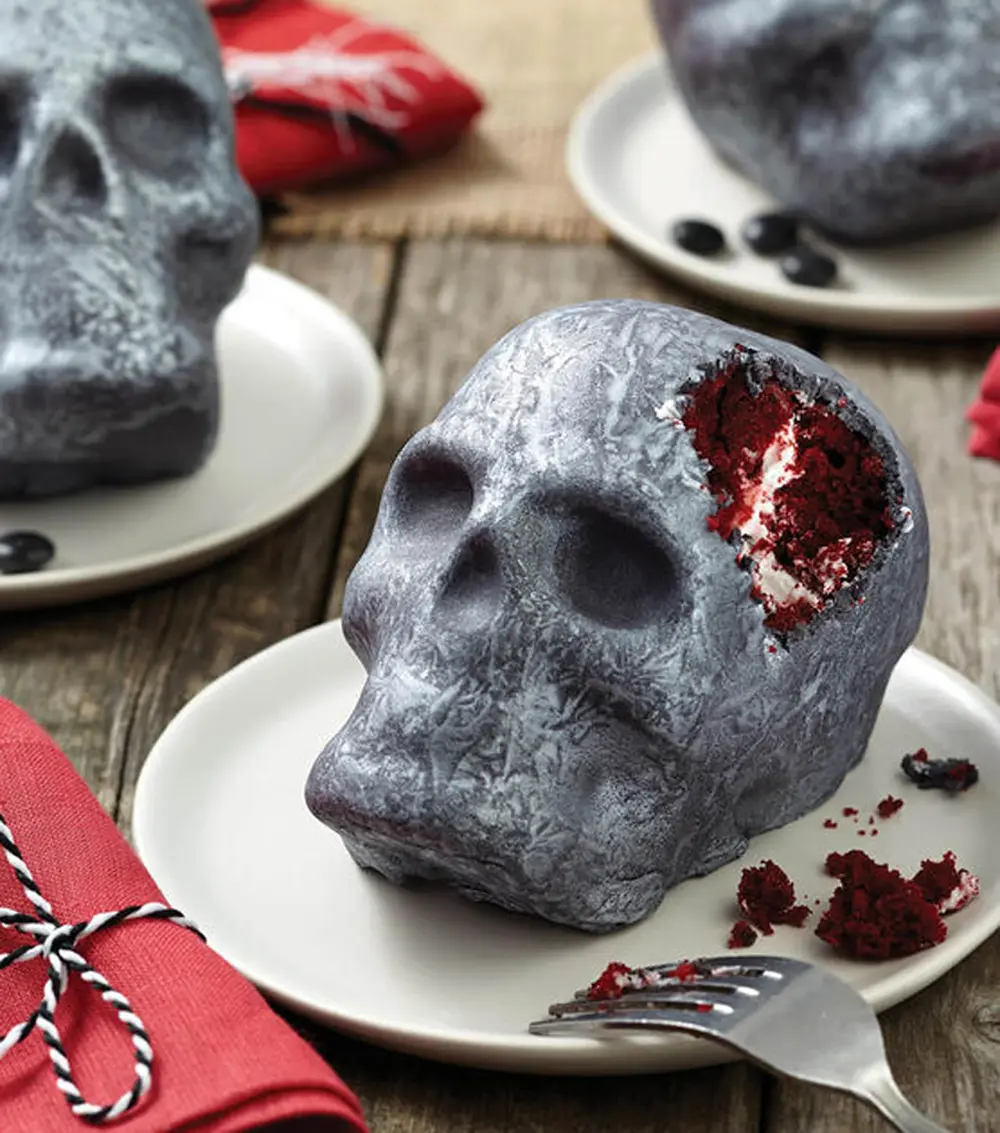 Get the recipe at Joann
HALLOWEEN MUMMY CAKE
This Halloween Mummy Cake is a simple yet eye-catching dessert, perfect for beginners and kids. The mummy design, created with buttercream or ganache, is adaptable to smaller cakes or cookies too. It's a delightful, spooky centerpiece that's sure to impress guests at any Halloween event.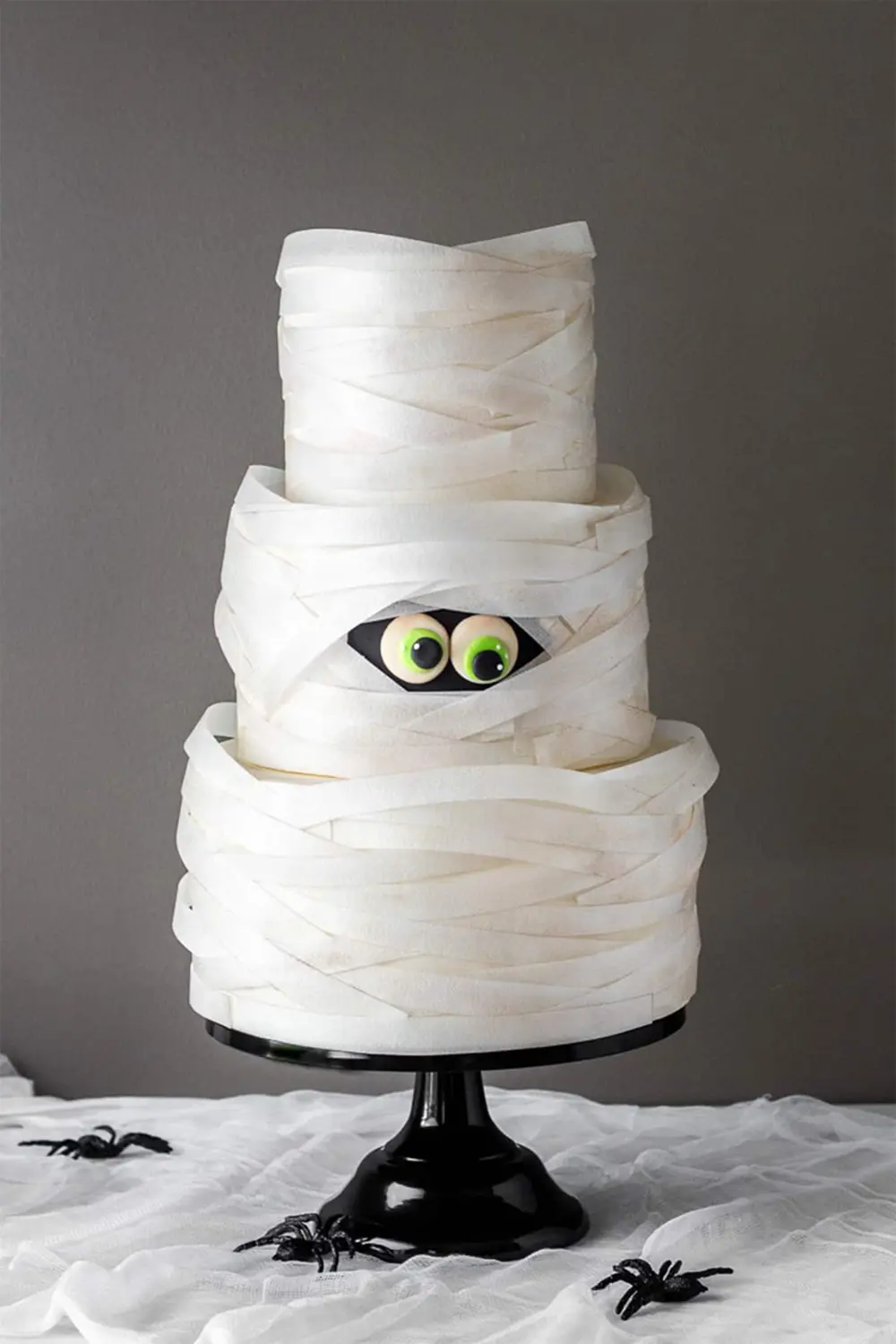 Get the recipe at The Little Vintage Baking Company
LE CAKE D'HALLOWEEN
Inspired by Laeti Green Yogi's mini cakes filled with pumpkin and spices, this gluten-free adaptation promises a delightful culinary adventure for both the maker and the guests.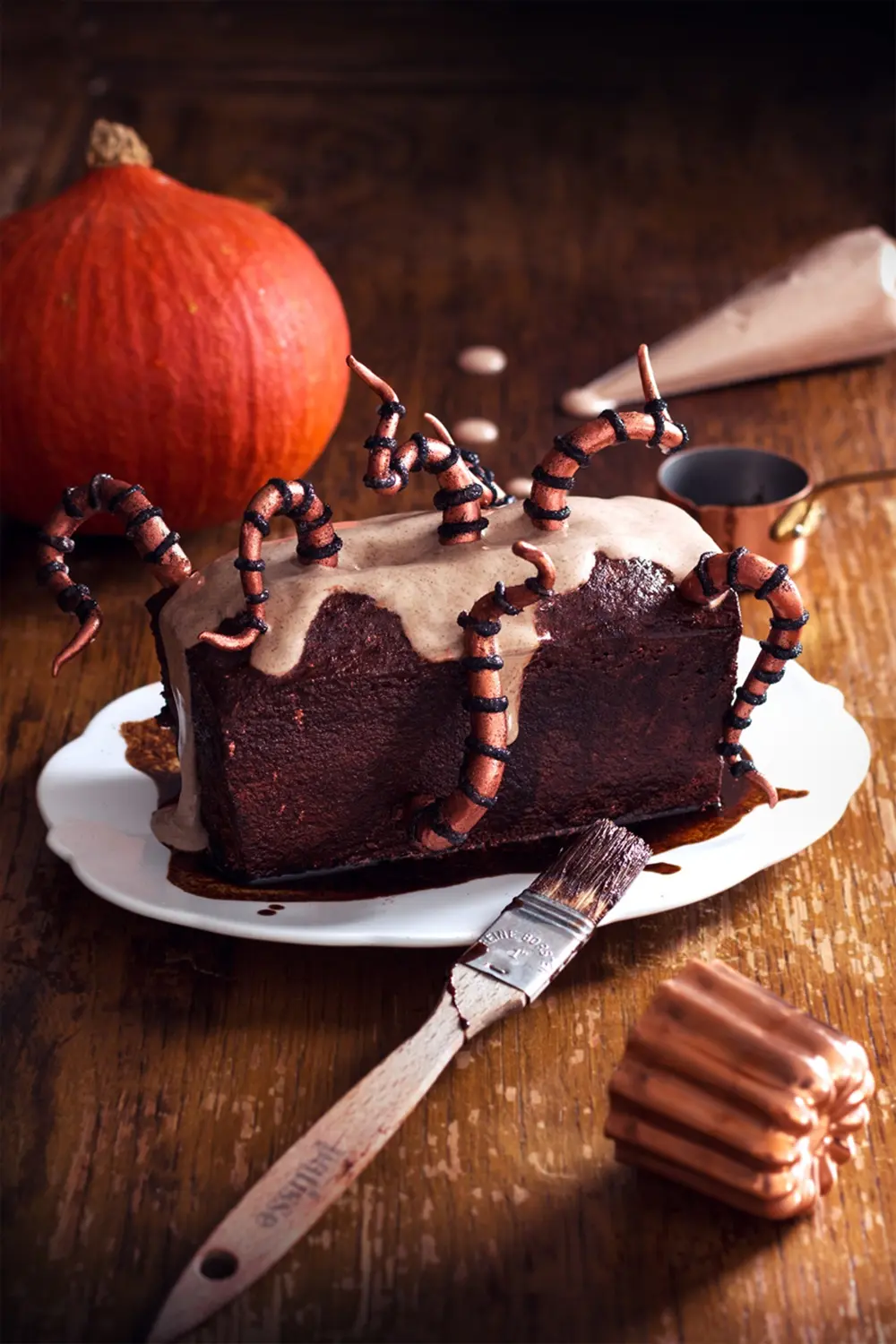 Get the recipe at La Chateleine
GHOST MERINGUES CAKE
These spectral delights are an epitome of Halloween spirit. With a delicate, crisp exterior and a slightly chewy center, each ghost seems to carry a whimsical expression, making them a delightful yet eerie addition to any Halloween celebration.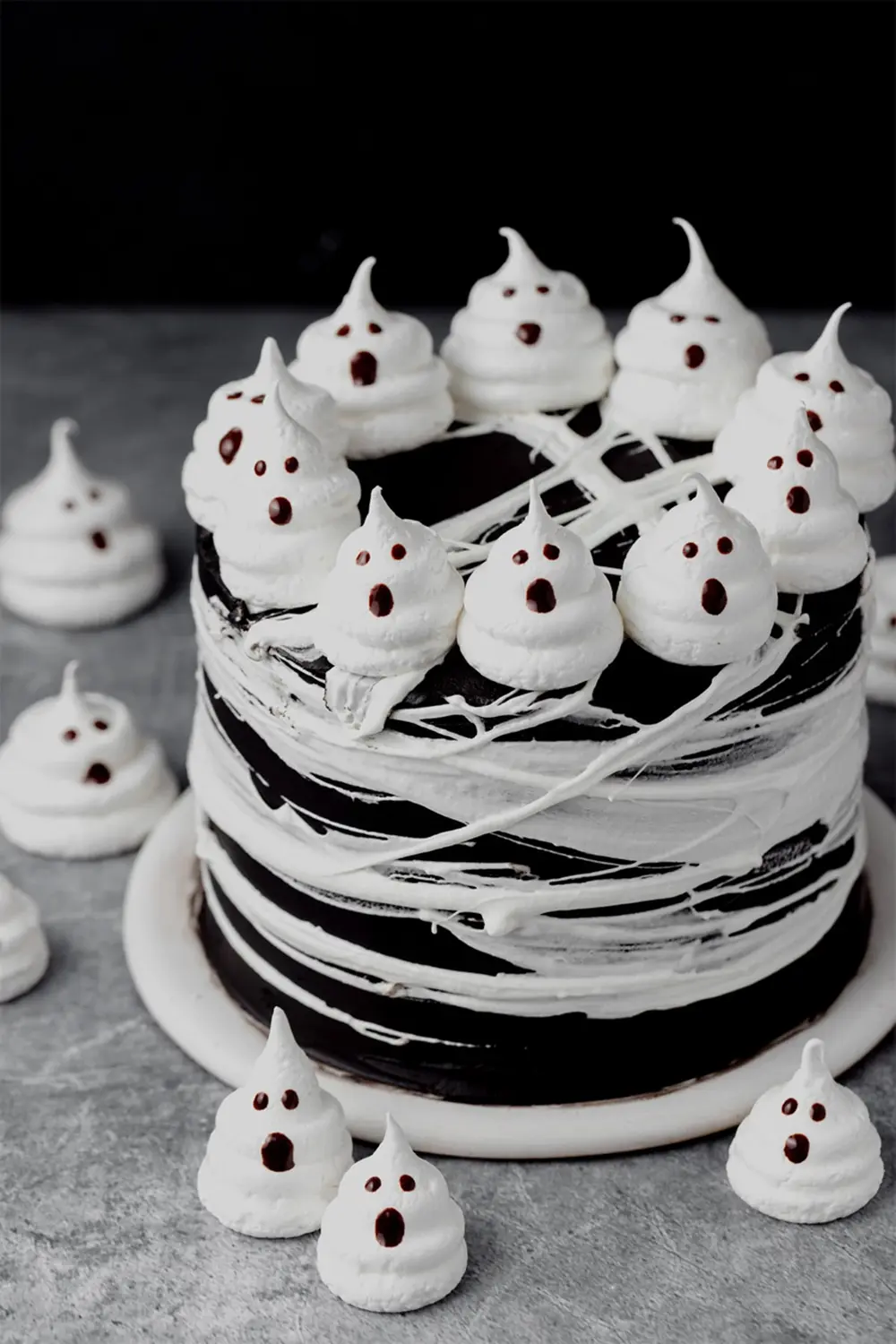 Get the recipe at Barley and Sage
EVIL EYES HALLOWEEN CAKE
The Evil Eyes Halloween Cake is a beguiling blend of eerie and elegant. Its smooth black fondant exterior provides a stark backdrop to the chilling, realistic eyes that seem to follow you around the room. These haunting eyes, crafted with careful attention to detail, create an ominous yet captivating aura.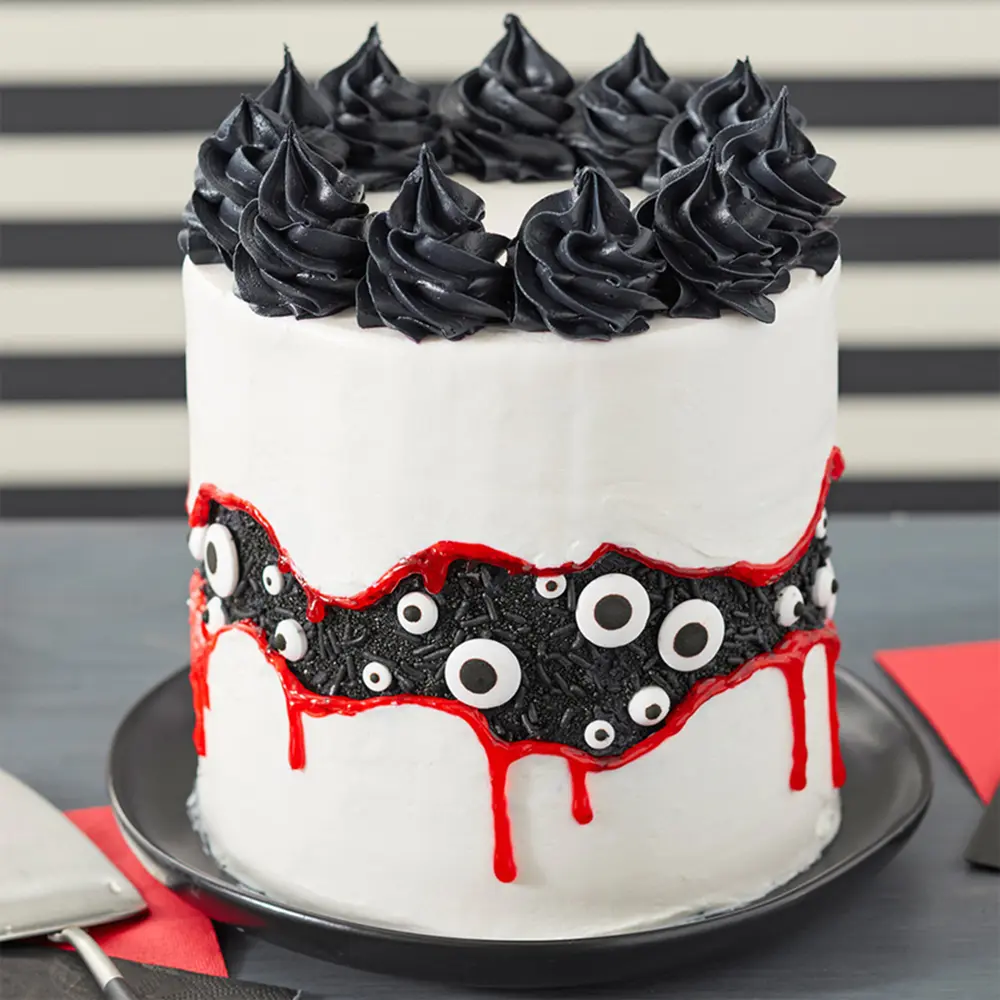 Get the recipe at Wilton
SPOOKY BLACK BUTTERCREAM FROSTED RED VELVET CAKE
This cake is a sinister yet sophisticated addition to your Halloween dessert spread. The black buttercream frosting swathes the rich red velvet layers in a dark, mysterious cloak, offering a visual allure that's hard to resist. Accented with creepy crawly spiders meticulously crafted from dark chocolate, this cake exudes a creepy charm.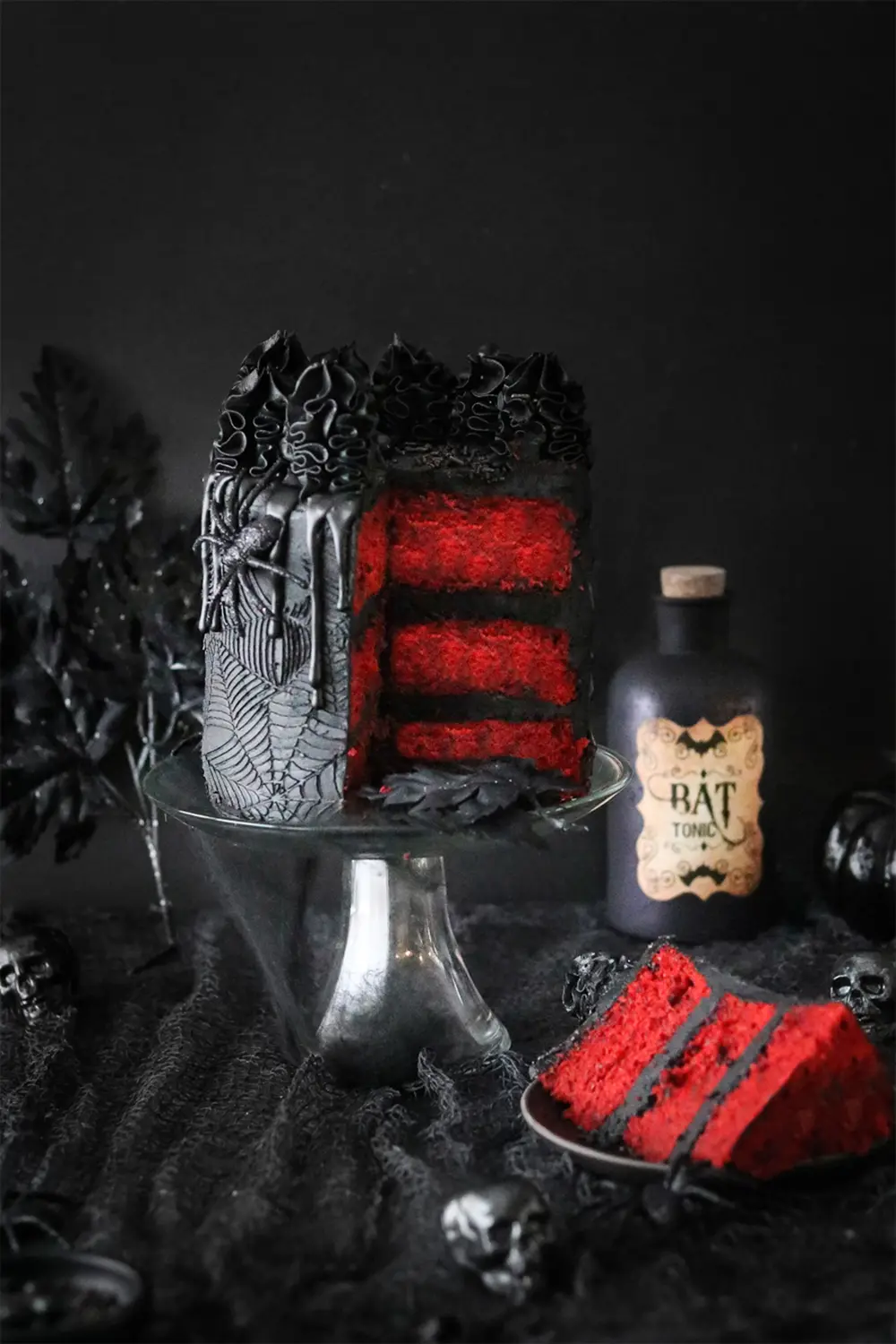 Get the recipe at Peaches 2 Peaches
24K BLACK MAGIC CAKE
The 24k Black Magic cake is a hauntingly beautiful masterpiece, epitomizing the enigmatic spirit of Halloween. At the heart of its dark, mysterious facade lies a solitary golden skull, gazing into the abyss. The stark contrast between the dark buttercream frosting and the gleaming gold skull creates a visual drama that's as enthralling as the spooky tales of Halloween.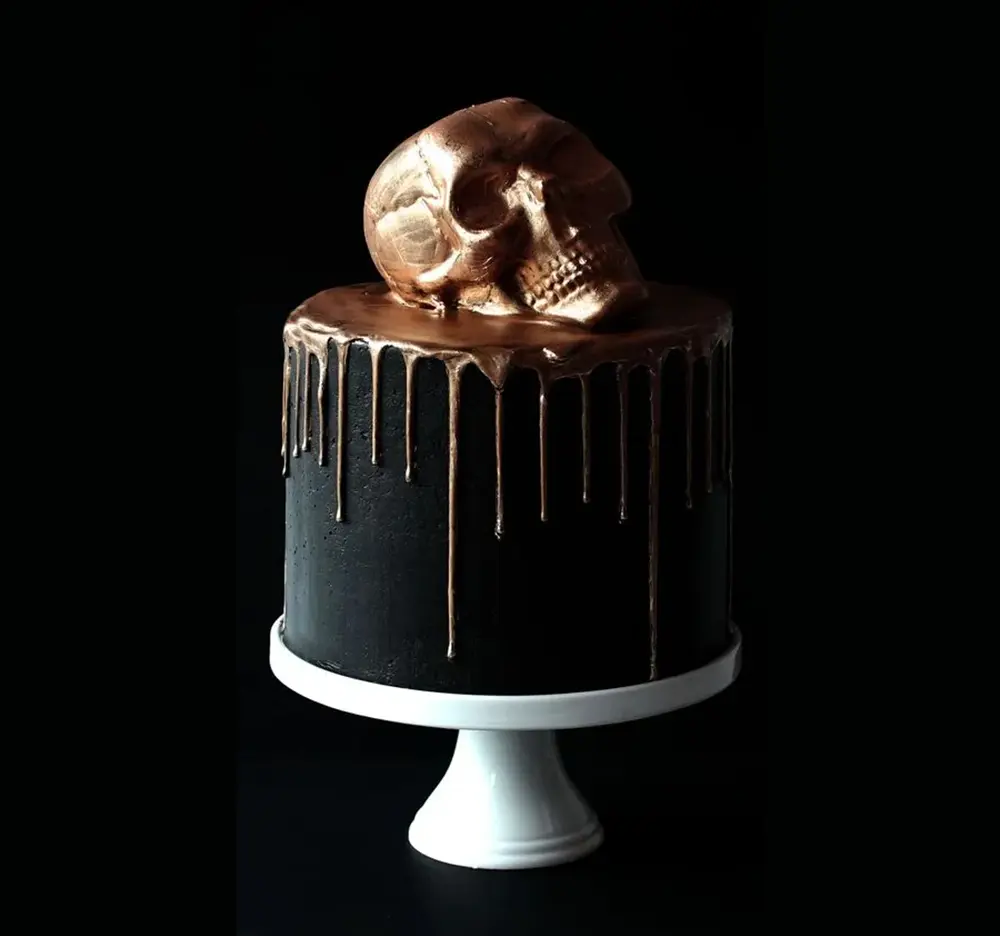 Get the recipe at The Scran Line
DARK CHOCOLATE PECAN "WORMS IN DIRT" MOUSSE TART
The Mousse Tart is a concoction of chilling aesthetics and heavenly flavors, perfect for a Halloween gathering. Its layers of dark chocolate mousse, cookie dirt, and chocolate whipped cream evoke the eerie ambiance of a graveyard, while the realistic raspberry gummy worms add a creepy, fun twist.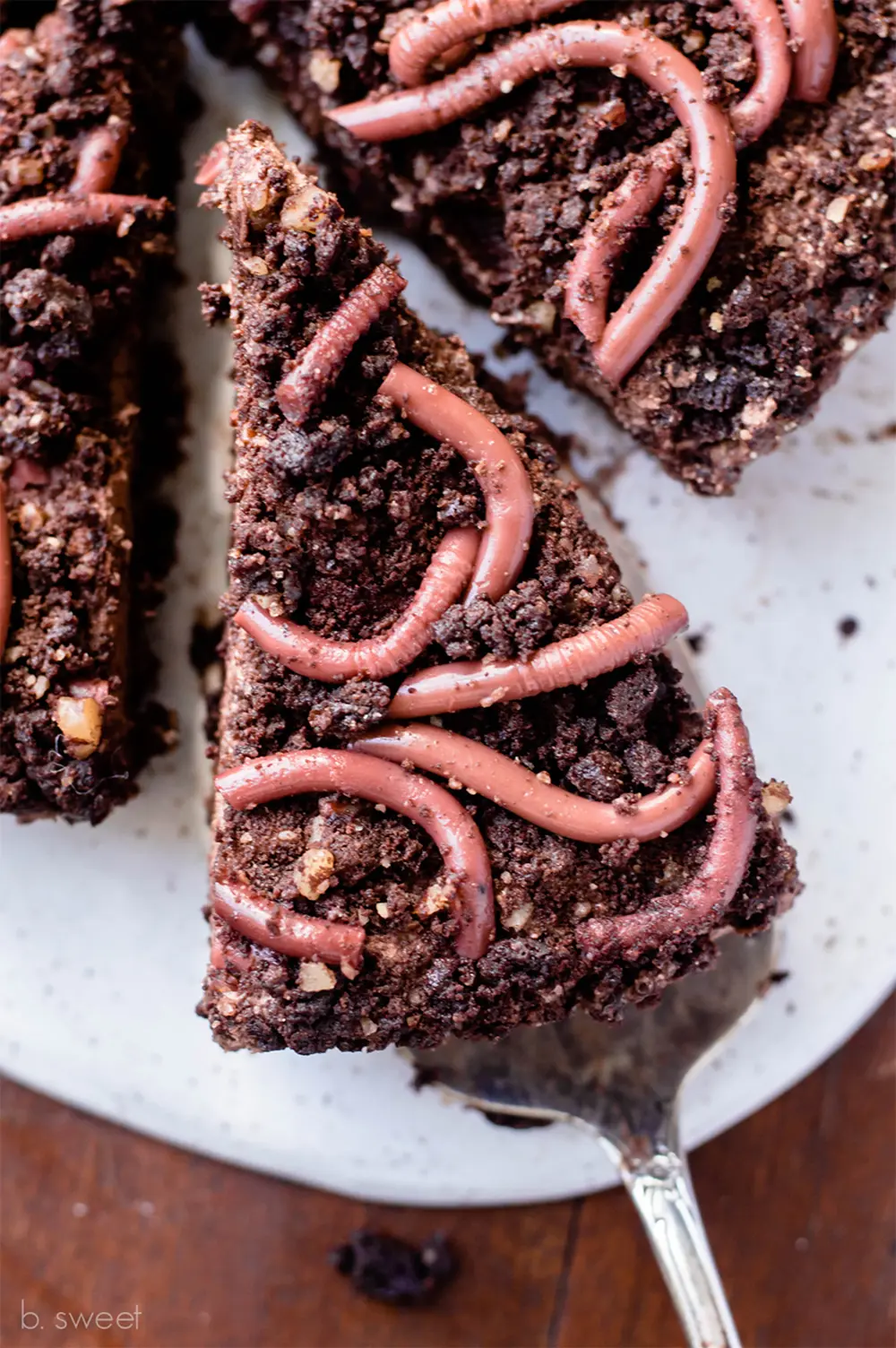 Get the recipe at B. Sweet Dessert Boutique
GLOWING GHOST CAKE
The Glowing Ghost Cake is a spellbinding addition to any Halloween celebration, effortlessly stealing the spotlight. Despite its intricate appearance, it's surprisingly easy to create, making it an ideal project for bakers of all levels. Kids will be enchanted by its eerie glow, while adults will admire its artistic design. The hollow ghostly figure conceals a light that casts a mystical glow, creating an eerie yet captivating ambiance.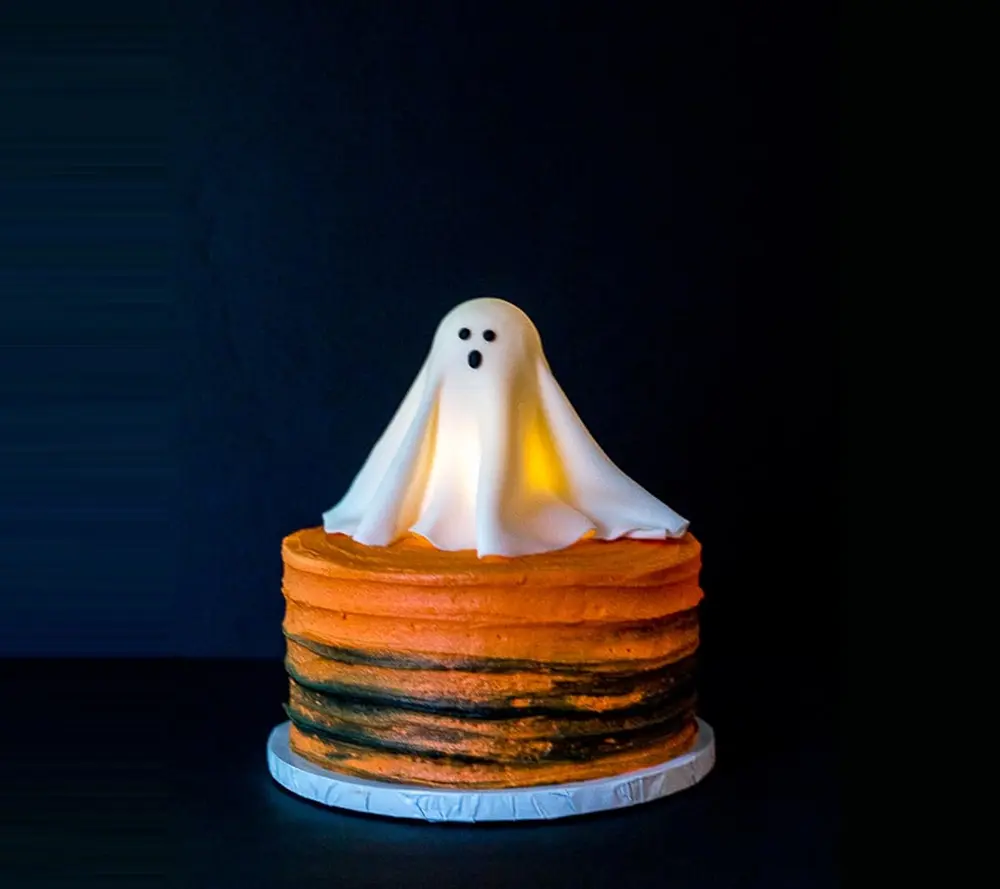 Get the recipe at I Scream for Buttercream
BRIDEZILLA CAKE
The Bridezilla Cake is a marvel of spooky elegance, capturing the drama and whimsy of a haunted nuptial. Dressed in ghostly white fondant and adorned with meringue bones and meticulously crafted roses, this cake tells a ghostly romance story. It's not just a dessert but a captivating centerpiece for any Halloween gathering.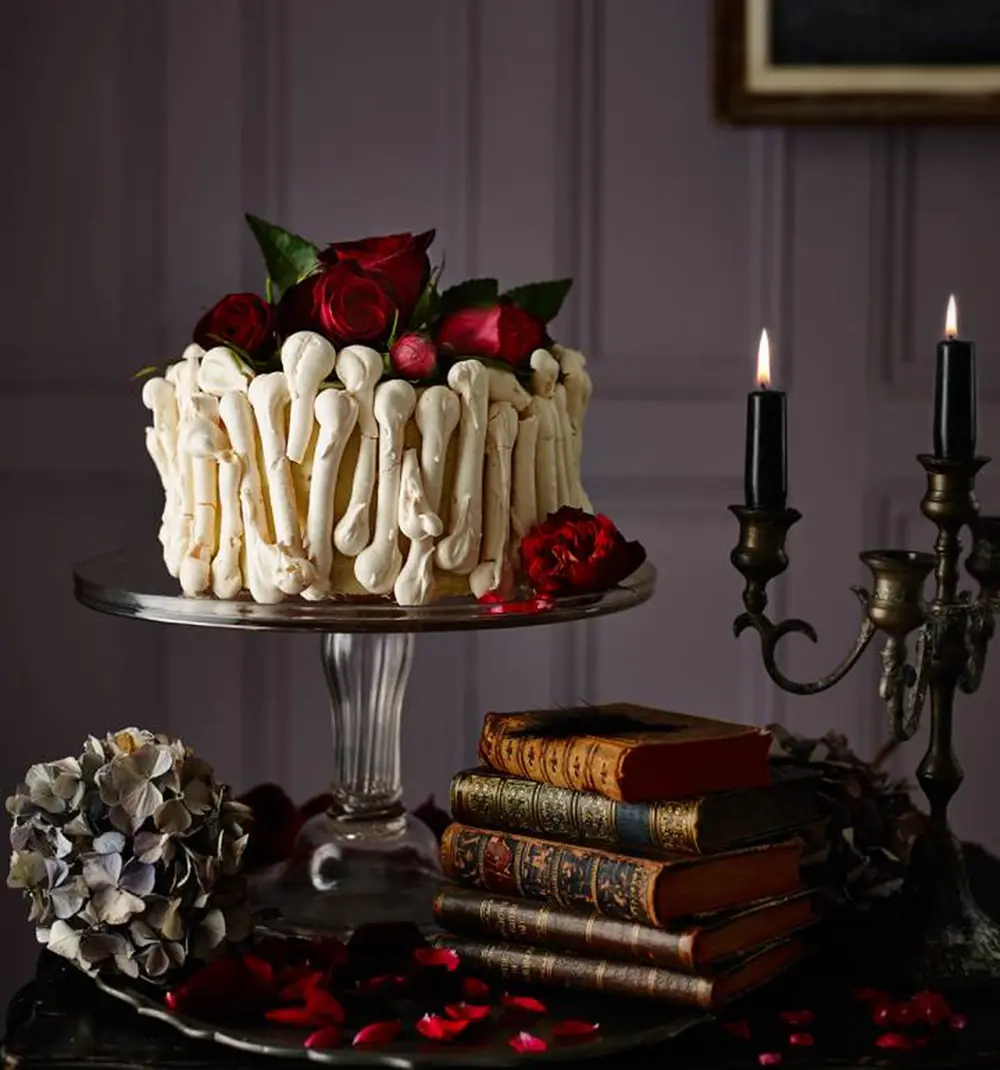 Get the recipe at Sainsbury's Magazine
"RISE FROM THE DEAD" MOCHA MERINGUE CAKE
The "Rise from the Dead" Mocha Meringue Cake brilliantly combines decadence with spookiness, making it a standout addition to your Halloween festivities. Its fudgy mocha base crowned with a light, chewy chocolate meringue offers a delightful contrast that's visually appealing and satisfying to the palate. Corpse fingers and moss cookies add a macabre touch, enticing the adventurous to savor the unknown. Even without its Halloween adornments, the mocha meringue cake alone promises a rich, flavorful escape. It's not just a dessert; it's a tale of mystery, inviting everyone to embrace the eerie magic of Halloween while indulging in a luxurious treat.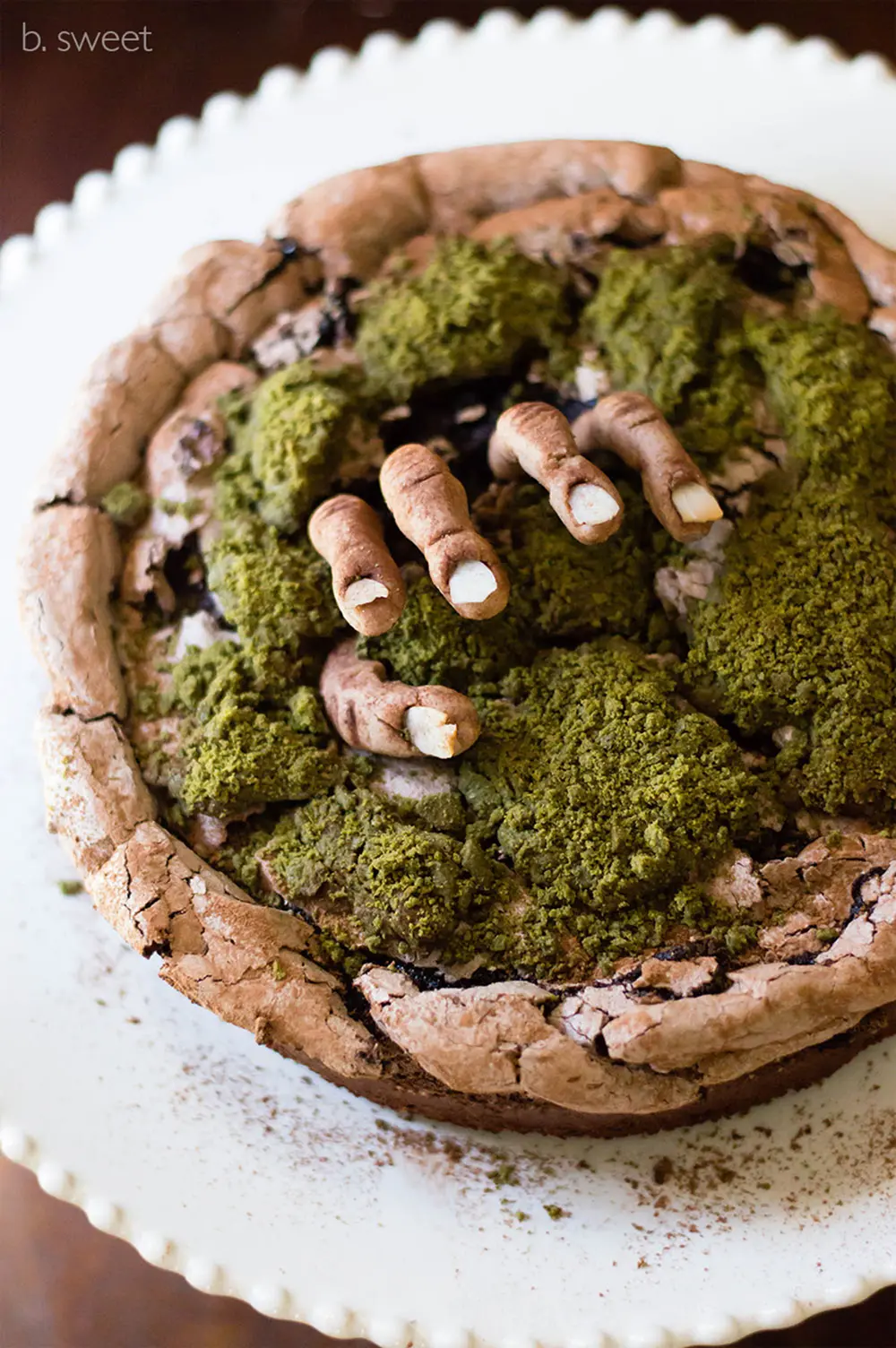 Get the recipe at B. Sweet Dessert Boutique