Summer is finally hit on my city and it turns out really really hot… Hence, I decided to write something can help cool me down a bit, or at least, looks cooling… Hence I rounded up 11 designs of Pitch, jug and Carafe. They are pretty, stylish and functional, just check it out.
We are a participant in the Amazon Services LLC Associates Program, an affiliate advertising program designed to provide a means for us to earn fees by linking to Amazon.com and affiliated sites.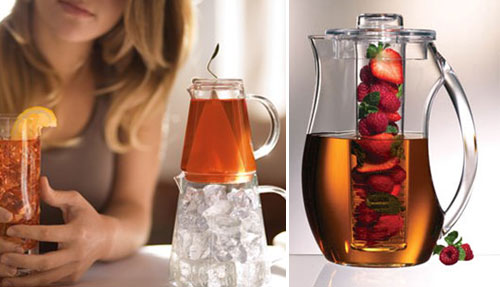 Menu Water Carafe 1L with Smart Lid Black (discontinue)
This plain glass Water Carafe by Jakob Wagner has distinctive, softly rounded, angular lines. A new, refreshing reinterpretation of the classic bottle archetype. The carafe has a protecting steel collar and a lid that opens automatically when you pour from the carafe. The lid holds back ice cubes, lemon slices and provides unwanted objects from dripping down into the contents. Both water and colored drinks look great behind the clear glass!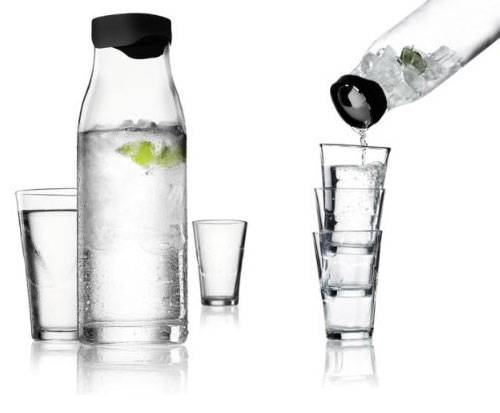 Bodum Ceylon Ice Tea Pitch [buy on amazon]
No more mixing stale, sugary tea powders! The Ceylon Ice Tea Jug is the solution for preparing ice tea as nature intended: with fresh tea leaves! Brew and drink from the lovely pitcher that holds a durable clear plastic removable filter for brewing to your exact preference. The Ceylon is made of BPA-free plastic and its transparency allows you to make a beautiful visual presentation when serving sangria, ice tea or any fruit-infused drinks imaginable.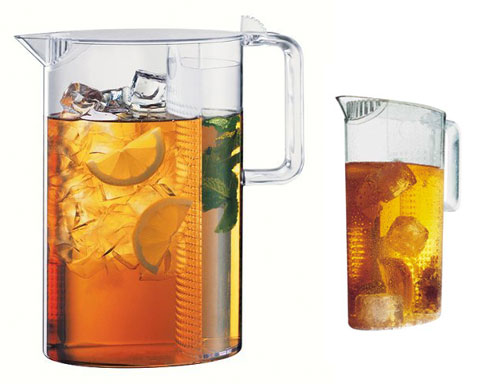 Fruit Infusion Pitcher
[
buy on amazon
]
Enjoy refreshing lemon water, raspberry iced tea and more. Crystal clear acrylic pitcher has removable fruit infusion rod that screws into the lid. Open slots in rod allow liquid and fruit to mix naturally. Refill the pitcher without replacing the fruit.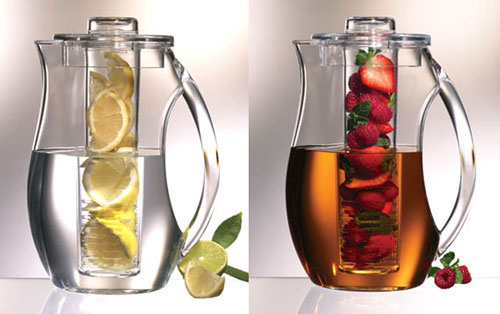 Libbey 7 Piece Sangria Set
[
buy on amazon
]
Mix up a pitcher of sangria by following one of the included recipes and relax. This 7 piece set from Libbey includes one 76 ounce pitcher and 6 10.5 ounce footed poco grande glasses. Not only for sangria, this is a great entertaining set because of the versatility of the pieces.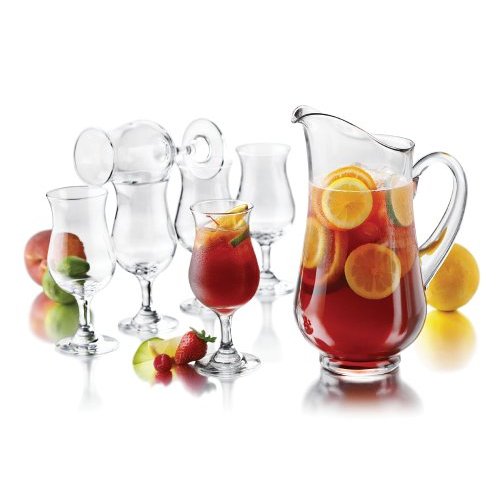 "Friends with you" pitcher and glasses
[
buy on amazon
]
This set is more like a collection than something we will use in our daily life… but I really like those glasses.
The Friends With You tableware series is a beautiful piece of work, created by artist Ernst Billgren. The series includes a pitcher framed with green leaves and features a happy duck swimming at the bottom, and four glasses that feature a bear, a duck, a fox and a badger in them.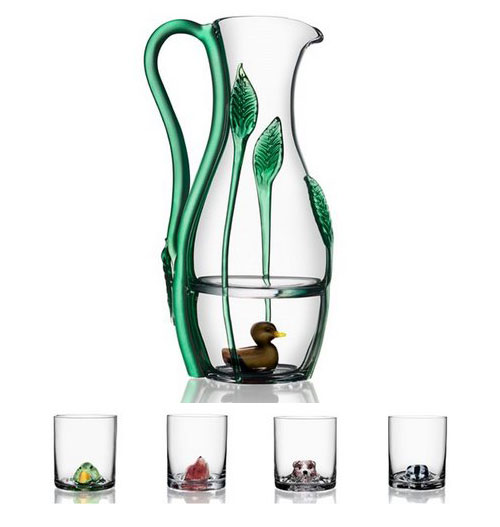 Bormioli Rocco Kufra Glass Jug with Ice Container and Lid
[
buy on amazon
]
Unlike most pitchers lately, this one is made in Italy from Duralex tempered glass (not plastic!). It also has a unique removeable insert that can be used to hold ice and keep it separate, so the beverages stay cool without ever getting watering down. It's really the perfect pitcher for iced tea, sangrias or just keeping lemon-infused water ice cold in the fridge.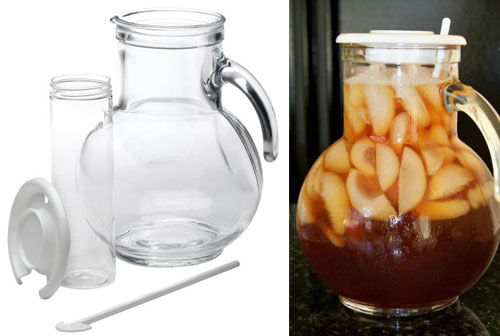 Restore Clean Water System
[
buy on amazon
]
It may look like a standard filtration pitcher; However, Restore does more; It kills germs.
UV Clean Technology (removes 99.9999% of bacteria 99.99% of viruses 99.95% of microbial cysts)Filtration system reduces heavy metalschlorineIndustrial and Agricultural pollutantsCalifornia certified for microbiological water purification – a first for a major brand in an easy to use consumer productCertified to NSF standards by WQA with their gold sealTreats tap water so it's both cost effective and eco friendlyBPA freeSystem includes: 8 cup capacity pitcher with built-in UV lamp 1 replaceable filter 1 adaptor3 year limited warranty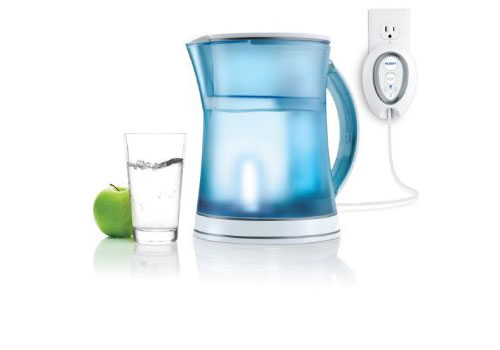 Lenox Tuscany Classics 48-Ounce Pierced Pitcher
[
buy on amazon
]
Tuscany Classics Pierced Pitcher by Lenox. A "hole in one"… In this geometrically shaped pitcher, a hole proves visually intriguing and practical as well. That's because the hole forms the pitcher's handle. A beautiful presence when filled or simply on display.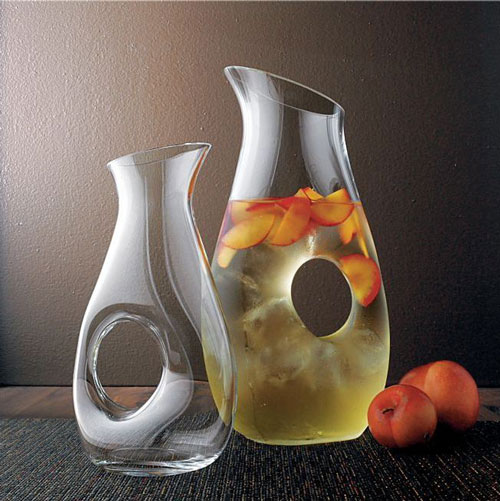 Tea Over Ice by Tea Forte
[
buy on amazon
]
• Brewing Pitcher Set: Two sculpturally designed glass pitchers stack for a captivating tableside presentation. Hand-blown using heat-resistant glass. Simply pour boiling water over infuser, steep, pour over ice, and enjoy. Arrives in gift box, 6.25″Sq. x 11.25″T overall.
• Infuser Set: Signature tea infusions are specially blended for iced tea using nature's bounty of luscious fruits, healing herbs, and flowers. Gift-boxed sampler of ceylon gold, pomegranate blackberry, raspberry nectar, and white ginger pear. Includes three of each flavor; each infuser brews a 24-ounce pitcher of iced tea.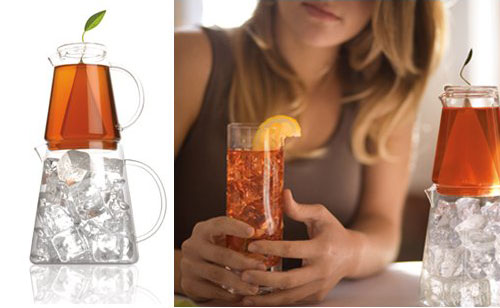 Party Pitcher
[
link
]
The atmosphere in which the drinks are drunk it what makes a party special. Mystify your guest and keep them guessing with this constantly colour changing Party Pitcher.
This fantastic jug features 6 coloured LED's within the base that change in phases through a spectrum of colours. Just switch it on and watch your cocktail turn from blue to green to red and so on. Make your party memorable with the colour changing Party Pitcher.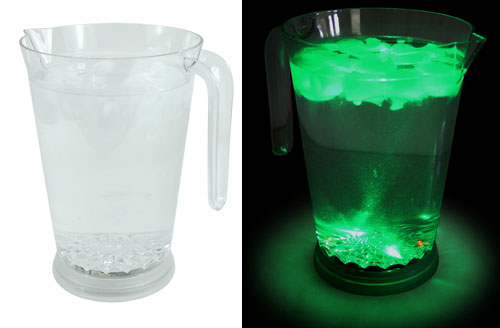 Emsa Flow – Glass Chiller Carafe
[
buy on amazon
]
The Flow Carafe is an award winning glass carafe with innovative freezable cooling coaster. Glass and stainless steel combine in sensual splendor for serving water, juice, ice tea, wine or mixed drinks. Stainless steel coaster has freezable disk inside which when frozen keeps beverages cool up to 4 hours. The stainless steel pouring spout has a self-closing lid; swings open for pouring; automatically closes afterward. Great for outdoor use, keeps insects out.