On average, domestic cats can sleep up to 15 hours per day. That is probably the reason every cat owner wants to provide their feline friends a comfy place to rest. While as masters of sleeping, cats seem like wonder around and sleep anywhere. Hence, there is some saying like cat bed is not for cat but for owner.
While, as cat owners, we do want to have a cat bed that complements our decor instead of being an eyesore. However, we also want to make sure our cats will like it instead of wasting money on something that no cat will use.
Hence, our handpicked some beautiful and functional cat beds. Take a look if you happen to look for a cat bed and just get some inspiration to see how many comfy choices our feline friends have.
Fairy House Cat Cave Bed
This is a cozy and comfortable bed for your cat handmade from natural wool. The wool is thick and the highest quality available. There is a lot of love put into each one to ensure that your cat is happy and healthy.
Measurements: width about 19 inches – height about 25 inches, hole is about 8 inches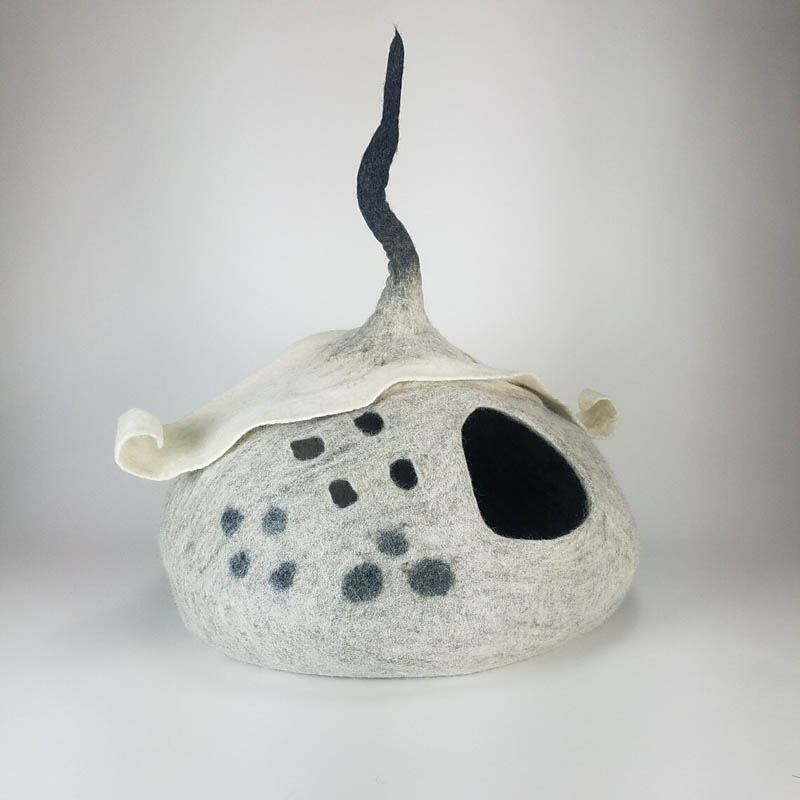 [buy on amazon]
Chunky Cat Bed
Cats not only love to rest in this round cat basket, but also scratch it once in a while. Chunky cat basket is lightweight, pleasing to touch. Kitty mat is hand knitted from 100 % natural wool.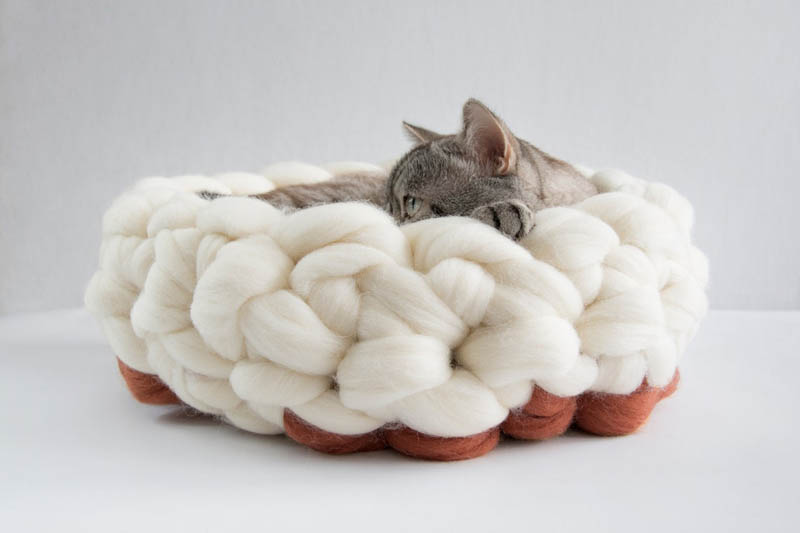 [buy on amazon]
Wicker Cat Bed with Cushion
Each cat bed comes with a removable & washable cushion so you can always keep them clean at all times. A bed that does not only gives comfort to your cat but is also a beautiful piece Size: Length- 22″ x Width 12″ x Height 15″ Made with love in the Ninh Bình province of northern Vietnam. The seagrass is harvested along the Red River Delta and then dried through a natural sun-basking process. The local artists then weave each row by hand, this skill has been passed down from generation to generation.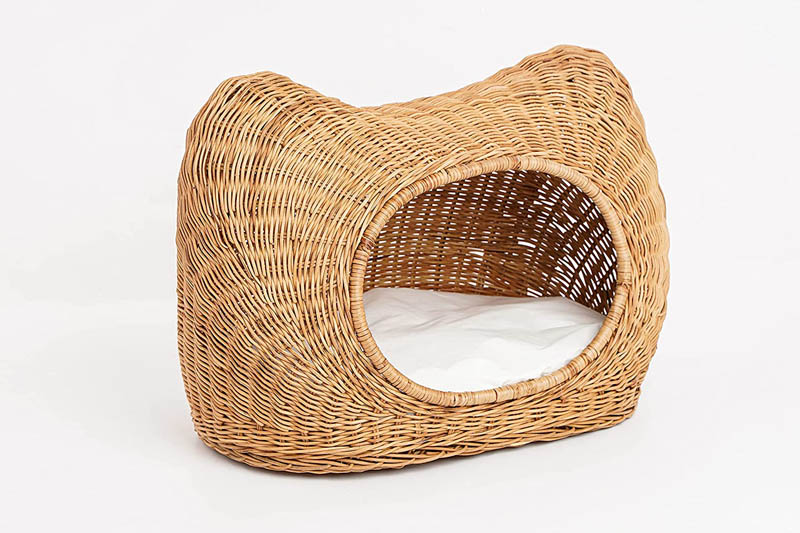 [buy on amazon]
Banana Cat Bed
Lovely yellow Banana designed, It's not just a cat's bedding house, also decorated your home.
Semi-open Lid designed, give your pet a private and cozy place.
Provide a soft and cozy place for your pet to rest and relax.

[buy on amazon]
Panda Cat Cave Bed
This is a cozy and comfortable bed for your cat handmade from natural wool.
Measurements: Height 20 inches, Length 16 inches, Width 11 inches, Hole Size 8 inches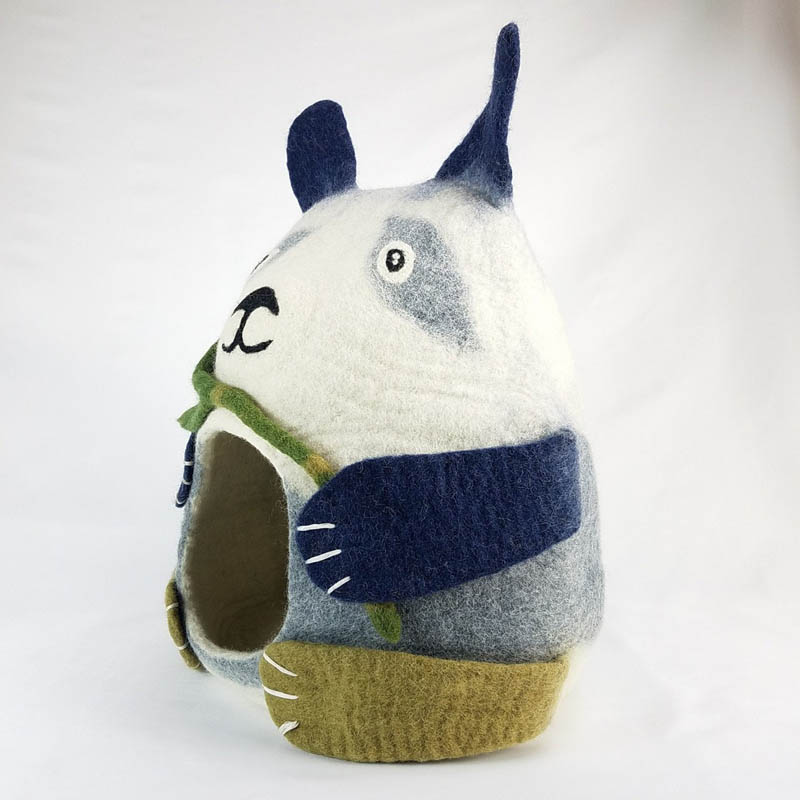 [buy on amazon]
Capsule Cave Cat Tent
Round shape is great for pets to curl up and snuggle down for a peaceful sleep. Raised sides provide support for pets' head, neck. The padded pillow offers relief for stiff joins and tired muscles. It filled with high-loft polyester that surround pets to promote feelings of security.
Folding design effectively save space, very convenient to carry out, giving your furry friends a different sleep experience anywhere. The two hanging balls bring more fun to your pet!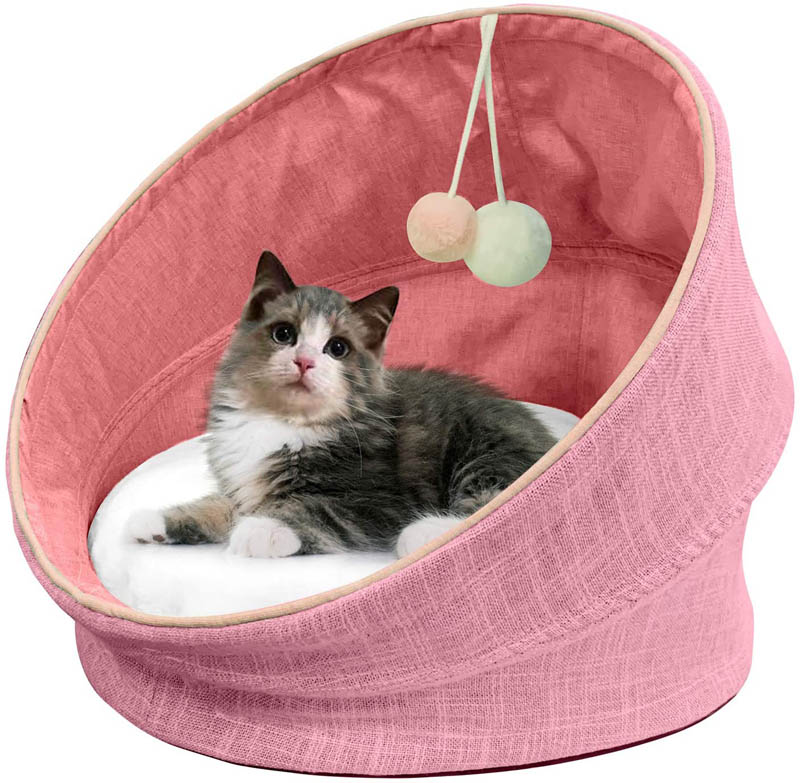 [buy on amazon]
Fhasso Luxury Bamboo Cat Cave
These modern bamboo cat basket covered cat beds are handmade with an outer shell for protection and a soft, plush cushion inside. The natural, organic bamboo cat cave bed covered shell is environmentally-friendly and sustainable. All materials are safe, durable and long lasting for your pet, family and our planet. The machine washable cushion cover zips off for easy maintenance.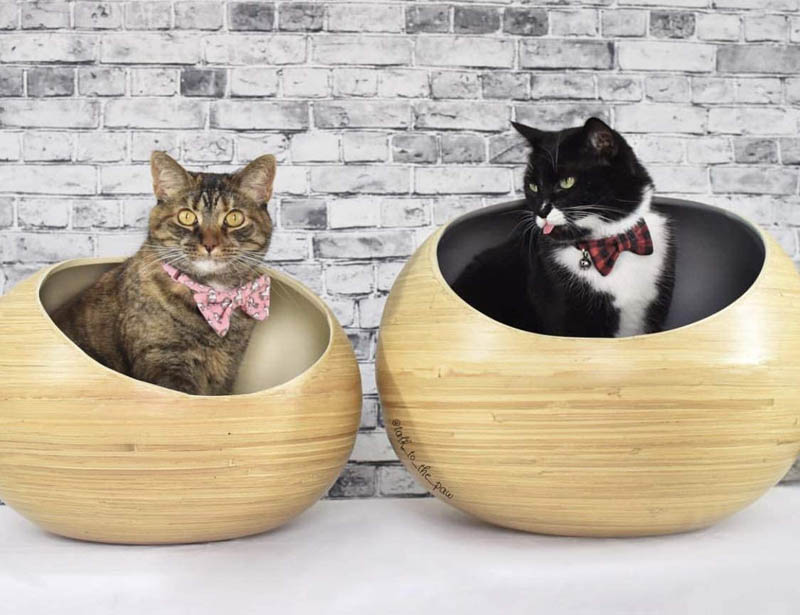 [buy on amazon]
Fluffy Round Calming Plush Donut Cat Cushion
Made of skin-friendly polyester plush fiber, ensuring your cat and dog surrounded by warmth. They are filled with premium pp cotton. So the bed's elasticity and overall comfort are increased. Your pet will be free to step on and fall in love with it. The beds are very suitable for air-conditioned room or cold winter.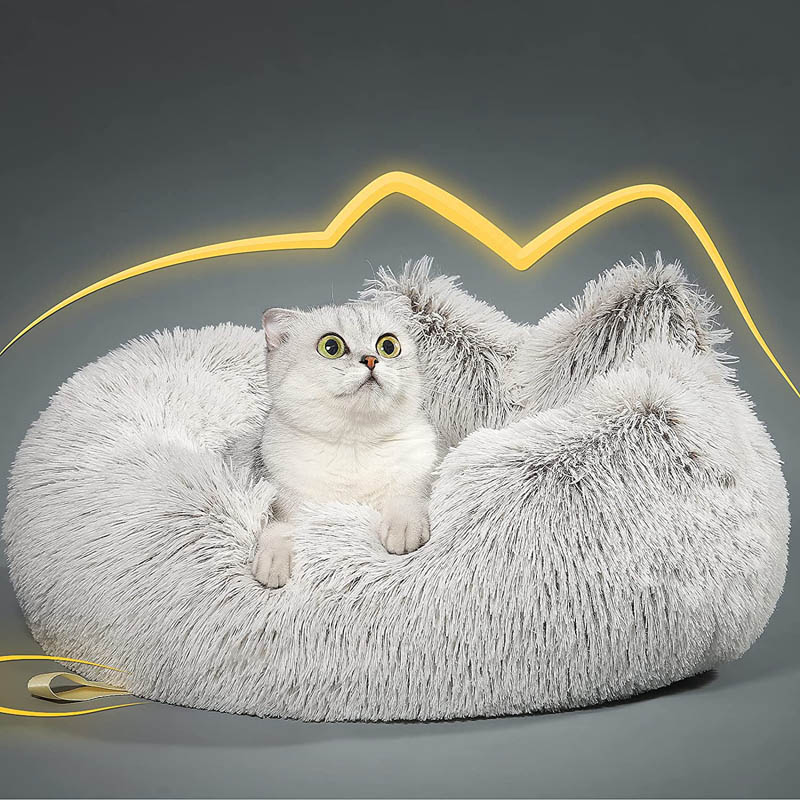 [buy on amazon]
Wicker Swinging Cat Bed Basket
This unique pet hammock chair bed is made of steel and woven rattan wicker. Elegant design goes with any homes décor and includes fabric covered cushion. They provide a comfortable place to stay for your cute cat and let you sunbathe in the sun while enjoying the view from the window. Give the cat an outside world and a stable bed and enjoy the sun on the window.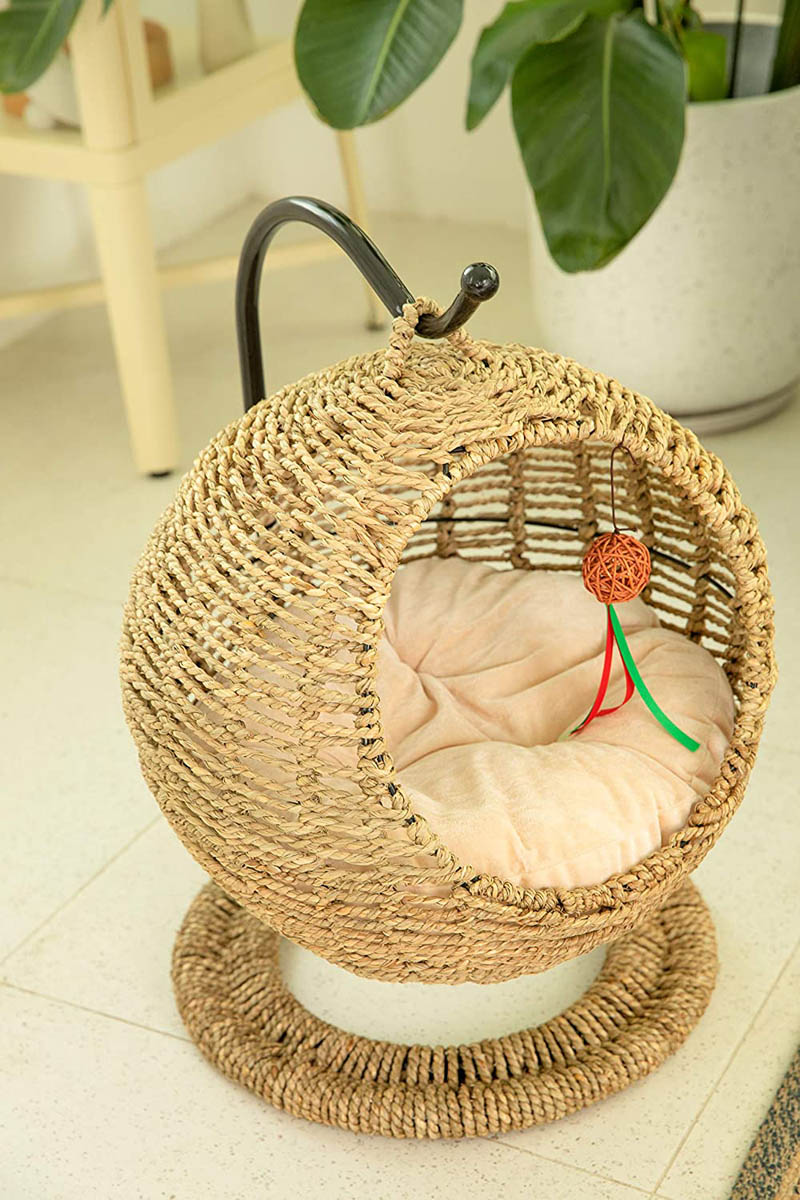 [buy on amazon]
Kitty Hammock Bed
Pets Cat Hammock is made from pine wood and Plywood that is attractive in the home. The linen cushion is reversible and can easily be removed for machine washing. Carefully placed anchors are used to mitigate swaying so your cat has peace of mind when they are on the bed.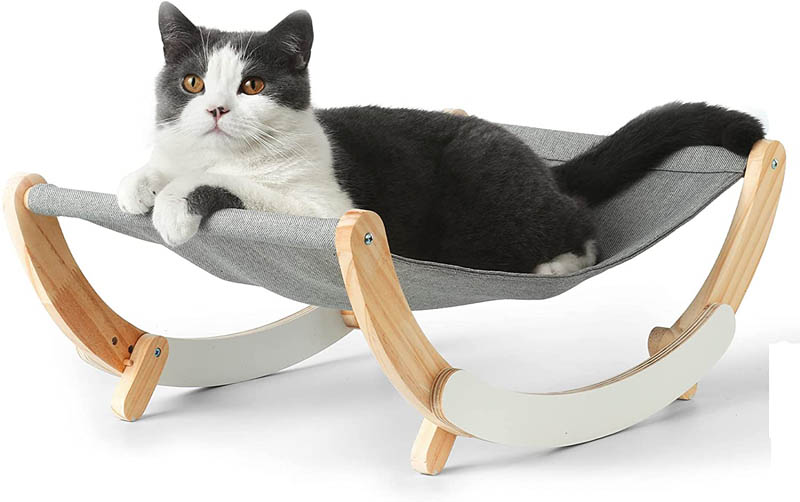 [buy on amazon]
Thermo-Lookout Pod Heated Cat Bed
Heated pet bed provides low wattage gentle warmth and ultimate comfort in a modern cat cave with a window to peek through. Heated cat bed is low wattage and extremely energy efficient; the thermostatically controlled 4 watt heater is removable for use in all seasons.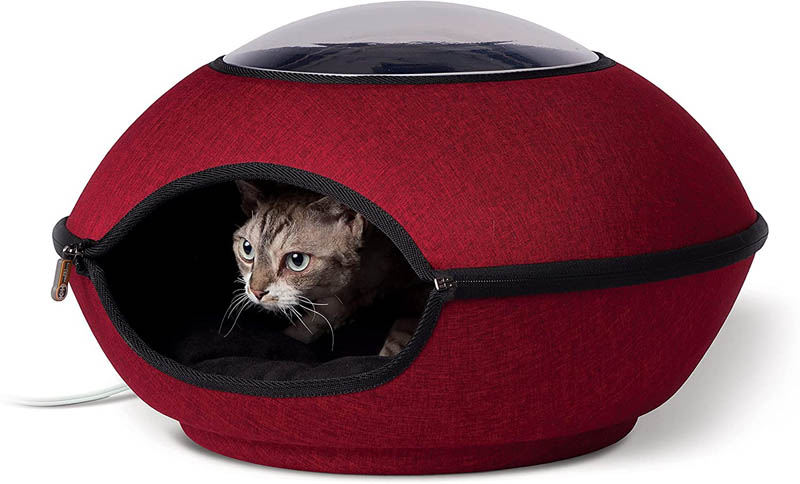 [buy on amazon]
Little dove Pet Teepee
This Cute and Chic pet house acts like a decorative accent to any room while providing a private space for small pets to take a nap or hide. All in one piece,easy to assemble in 5 mins, no tools or sweat required. Fold like an umbrella, easy to store and take away.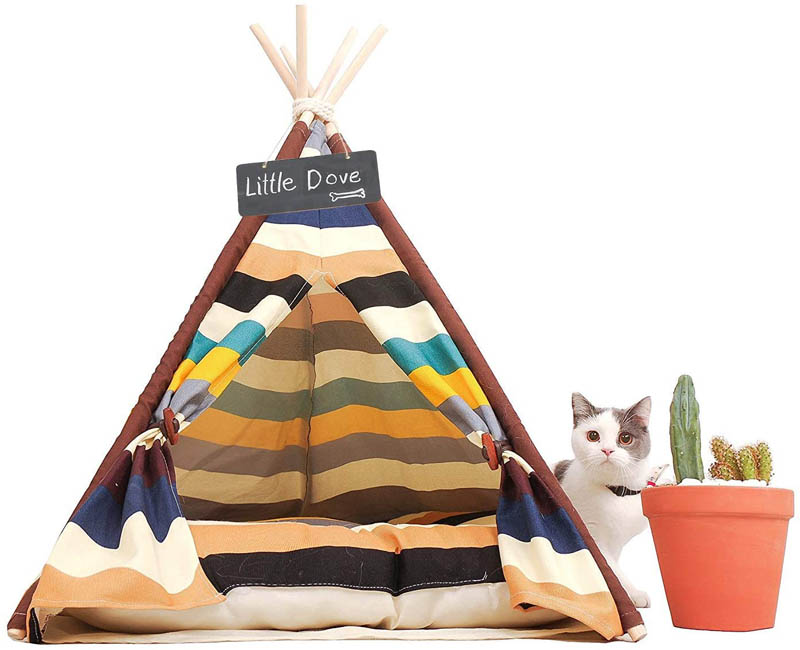 [buy on amazon]