It is always difficult to have some green at home when you live in a big city. Each inch is full of stuff and the only place left is wall. Maybe that is the reason for the invention of wall planter – bring your wall to life with a stunning hanging garden. Fill these with air plants, succulents, moss, herb or even cutting flowers, you can easily create your own small spheres of botanical wonder. Take a look at the 12 Cool Wall Planters we rounded up for you, and hope it will give you some inspiration to create a breathtaking plant display to your home.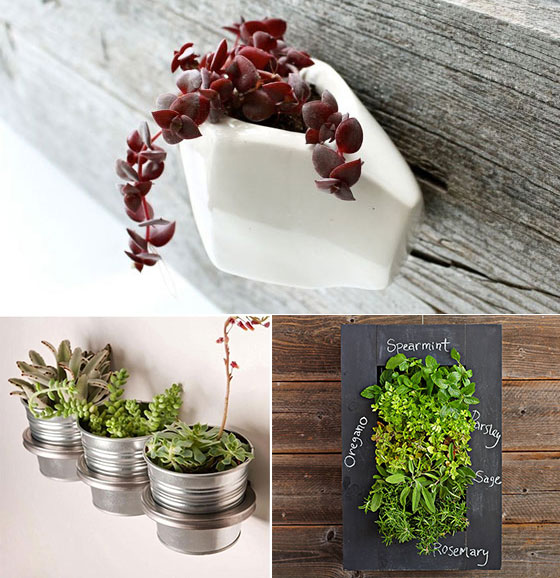 1. Wall-mounted Planter by Eric Trine
Made in California by designer Eric Trine, the wall mounted planter does double duty organizing office supplies.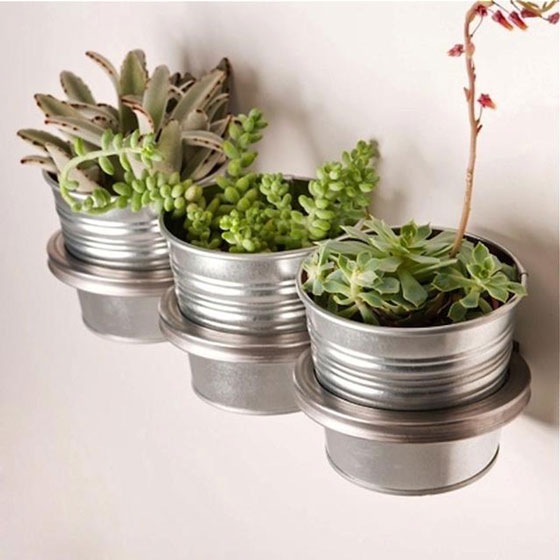 2. Porcelain Wall Planter
Sleek and innovative, the Porcelain Wall Planter does more than mount plants to the wall. The planter comes with an innovative, self-watering reservoir that's adjustable and easy to use, taking the worry out of plant care. The powder-coated steel brackets come in three pastel colors and mount to almost any wall surface. Made in the USA.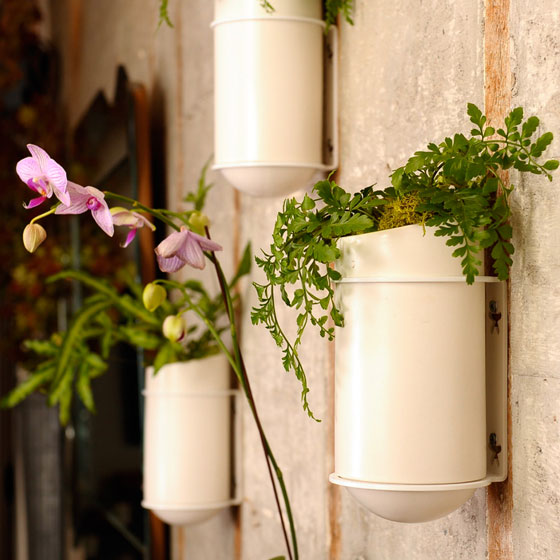 3. Chalkboard Wall Planter
Vertical wall-mounted planter with 10 planting cells.
Moisture mat technology ensures even distribution of water throughout cells.
Chalkboard paint finish on border allows you to label the herbs.
FSC-certified pine frame is made by an Amish community in Goshen, Indiana.
Irrigator and collector are made of HDPE recycled with 26% jute and coconut fiber.
Irrigator holds 1 qt. water.
Collector tray allows for easy disposal of excess water.
16″ x 5″ x 24″ high.
11 lb.
Simple assembly required. Includes mounting bracket.
Made in USA.
A Williams-Sonoma exclusive.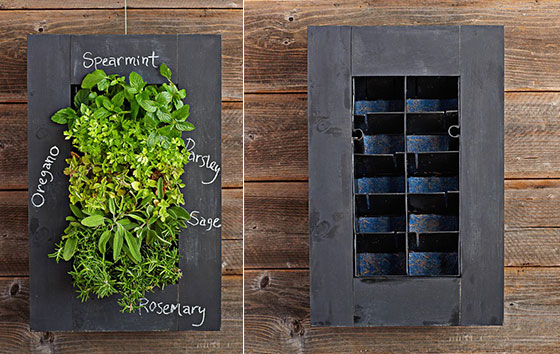 4. KuL Intros Recycled Modular Wall Planters
Called Ballavaz, the planters can be used indoors or outdoors and are available in 10 colors. KuL offers two sizes, 24″x12″ and 24″x18″, which mount with screws or hooks. Ballavaz include a concealed recess for drip irrigation — making these just right for herbs, veggies, and maybe a flower or two.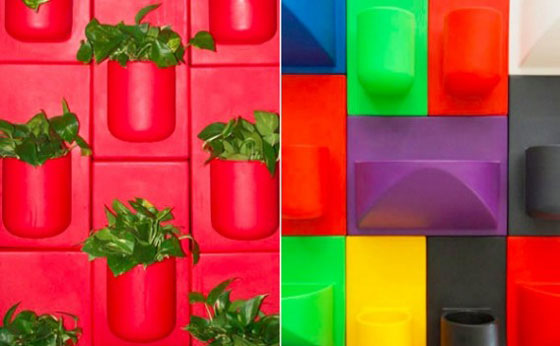 5. 60″ Cotton Rope Plant Hanger
Size: 60″ tall
Material: 4 Strands of 3/16″ Solid Braid Cotton Rope
Pot Size: Small to Medium
Fringe: Straight Cut with Slight Fringe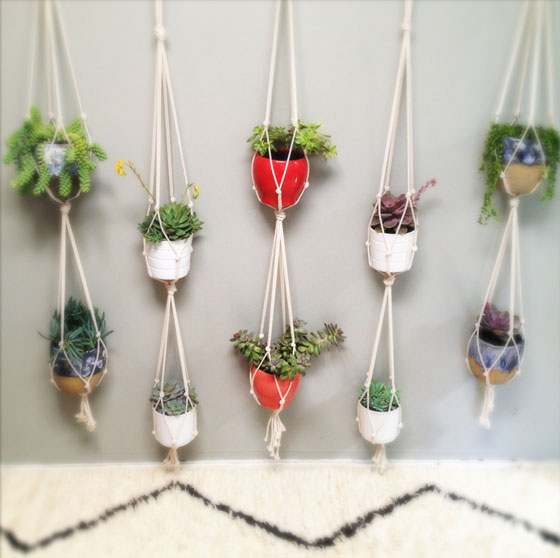 6. Faceted White Wall-hanging Planter
This succulent planter is slip-cast porcelain with a clear glaze. Its weight is kept to a minimum as it is hollow. There is a hole on the back for easy mounting with a screw (not included). This planter has no drain holes for a dry watering experience.
This planter is 5.5″ wide, 3.5″ out from your wall, and 3.5″ tall.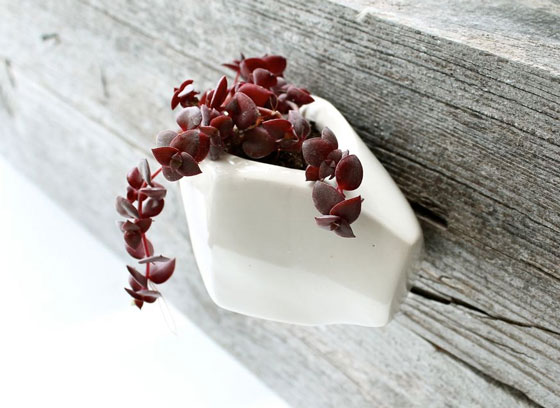 7. Indoor Living Wall Planters
Indoor Kit is designed to be wall-mounted
Freestanding Kit includes cedar legs for a floor display
Once planted, simply water occasionally through the top reservoir
Water trickles down to each pocket; any excess collects in the bottom tray
Great for flowers and succulents in bright light, or ferns and ivies in low light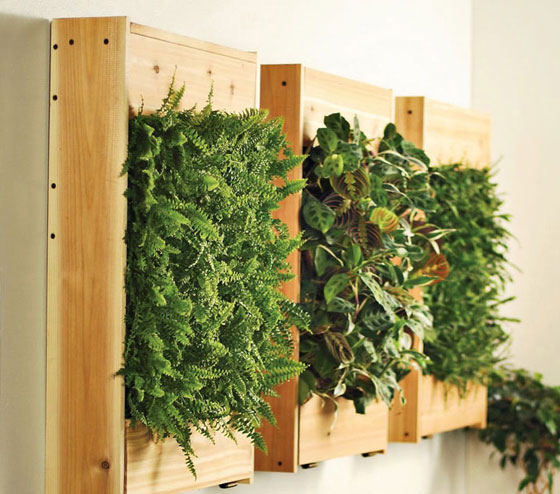 MEDIUM Rectangular shape, measuring at 5 3/16″ x 2 13/16″
– Will house TWO 2.25″ x 2.5″ square planter pots, INCLUDED
– Perfect for succulents, cacti or other small house plants, NOT included
– Sits 1/2″ away from wall, giving it a "floating" illusion
– No assembly required, arrives ready to hang on your wall
– Hardware NOT included (you will need two nails or screws)
– Attention-to-detail with mitered corners and finish-sanded for smooth texture and clarity of wood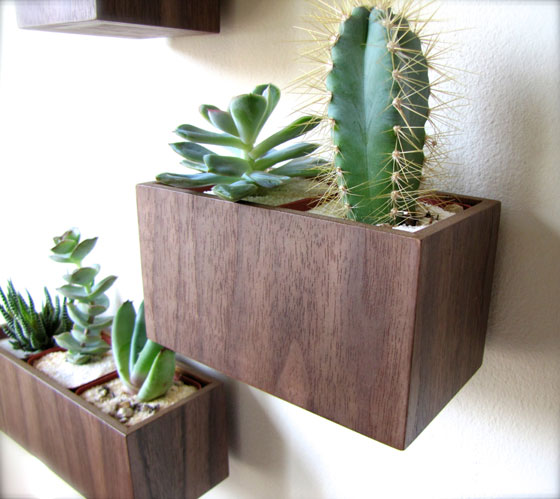 9. Mason Jar Wall Planter
Each board holds 3 clear pint mason jars. Great for organizing just about anything….
• in the bathroom to hold brushes, Q-tips, cotton balls, toothbrushes, etc..
• in the office to organize pens, pencils, scissors, paperclips, rulers, etc..
• in the kitchen to organize various kitchen utencils
• as a planter
• fresh cut flower vases
• candle holders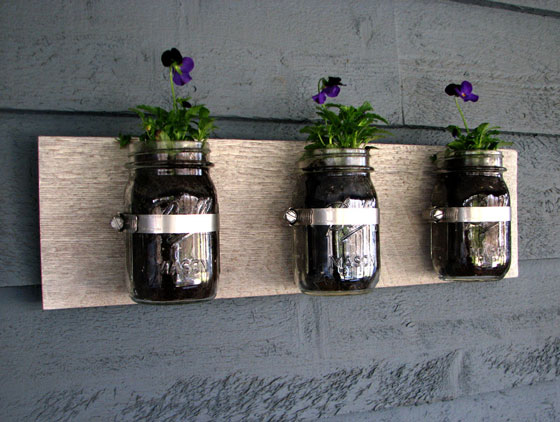 10. Air plant wall vase
Stained glass air plant holder is constructed using the Tiffany copper foil method. Three triangles made of swirled sapphire blue glass come together to form this unique holder with decorative solder in which your air plant will be placed.
Measures: 5 1/2″ tall x 4″ wide. The chain rises 3″ above the top of the planter.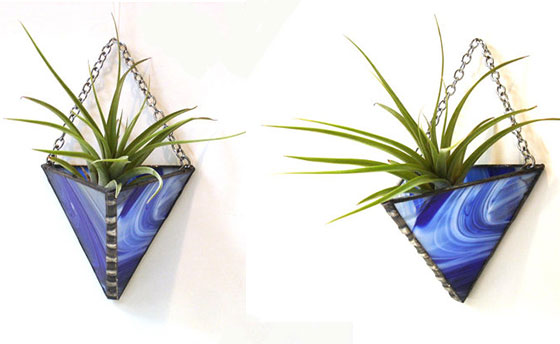 11. Hanging Bubble Glass Wall Planter
Up in the air. Suspended high in the sky, our Hanging Bubble Glass Wall Planter allows you to grow an indoor garden almost anywhere in the house. Fill these with air plants, succulents or moss to create your own small spheres of botanical wonder.
Handblown bubble glass.
Hand wash.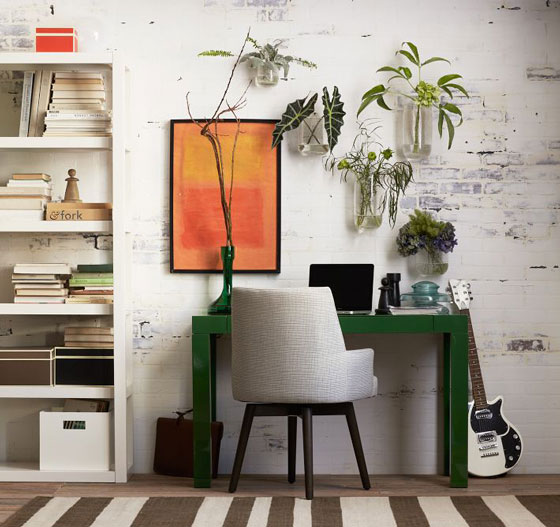 12. Shane Powers Ceramic Wall Planters
Ceramic with matte white glaze.
Arrange in multiples for a wall garden.
Various sizes; pierced vase is ideal for orchids.
OVERALL PRODUCT DIMENSIONS
• Small Circle: 7.25″w x 3.25″d 7.25″h.
• Large Circle: 14.25″w x 6.5″d x 14.25″h.
• Tube: 4″diam. x 10.75″h.
• Pierced Tube: 4″diam. x 10.75″h.