It is no wonder to see a lots of products inspired by angry birds coming into our life, since that game is so popular among the users in the market. Besides those plush toys, those angry birds and pigs actually occupy other areas like clothing, electronics and decorations. In this post, we will present you with 14 Funny and Cute Angry Birds Inspired Products and hope you enjoy.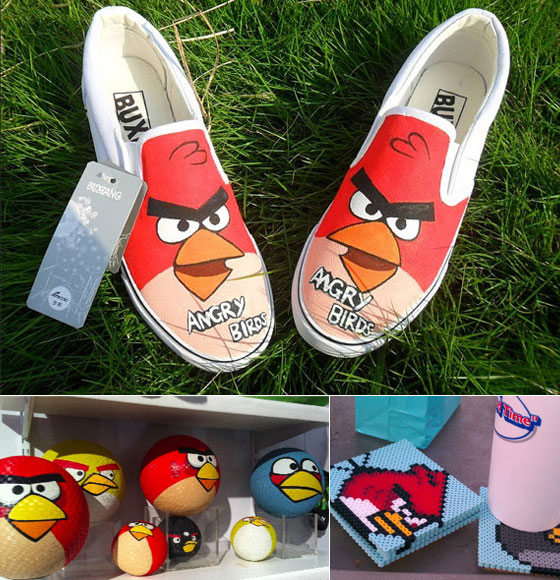 We are a participant in the Amazon Services LLC Associates Program, an affiliate advertising program designed to provide a means for us to earn fees by linking to Amazon.com and affiliated sites.
1. Angry Birds Speaker Docks [DesignSwan]
Except the really adorable designs, there aren't much special of the speakers. These interesting speaker docks are designed by Gear 4, there are three choices between the red bird, the black bird (which support iPad charging) and a helmet-wearing pig (with iPhone / iPod dock built in).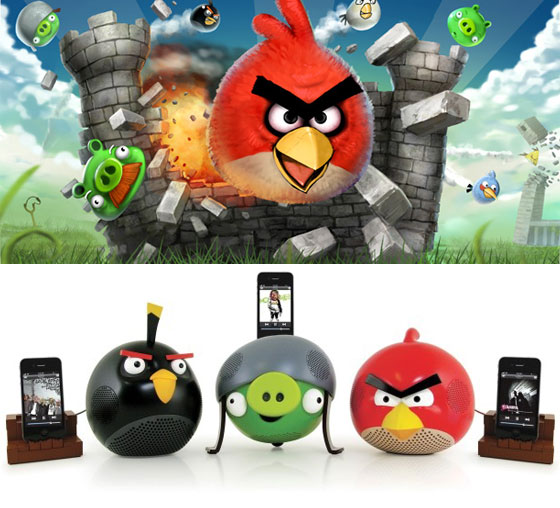 2. Original Gear4 Angry Birds Hard Plastic Case For iPhone 4 [buy on amazon]
Protect and personalize your Cell Phone with this Shield Protector Case. Shield Protector Case is a set of form-fitting faceplate and back covers that protect your cell phone without adding a lot of bulk. Hard plastic protective covers snap on to the front, back and sides of the phone. Shield Protector Case has openings for volume/side buttons, camera lens, charger jack and speakers which allows access to all phone functions.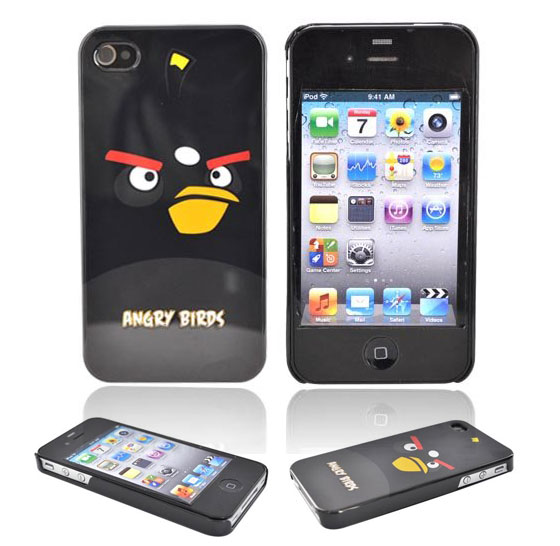 3. Kids Nursery Home Decor Vinyl Mural Art Wall Paper Stickers [buy on amazon]
Instantly brighten your home, workplace, dorm, or store!
Dimensions of Sheet: 28″ x 20″
Decorate your walls, bed post, refrigerator, windows, tables, store fronts, doors, and more
Easy to apply and remove without leaving any residue or peelage
Comes with all the stickers pictured on the sticker sheet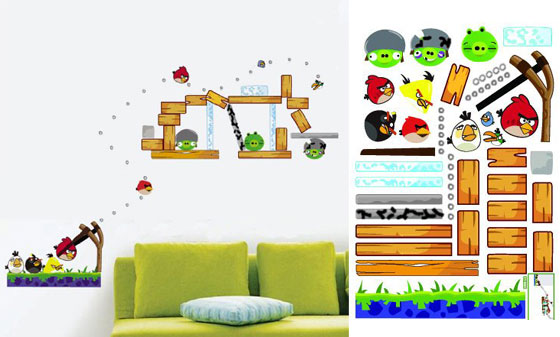 4. 4GB Angry Birds Shaped USB Flash Drives [discontinued]
Color: black
Capacity: 4G
Bird size: 5.0 x 4.0 x 1.2 cm
Features: 100% brand new USB flash drives Hit game angry bird shape and high quality; plug and play Compact in size and easy to carry Longevity life time and durable to use High speed transfer and low power consumption High speed USB 2.0 data transfer, no extra drive needed Easy and convenient to use 4GB large capacity enables you to store whatever useful information you want It's a great gift to your family and friends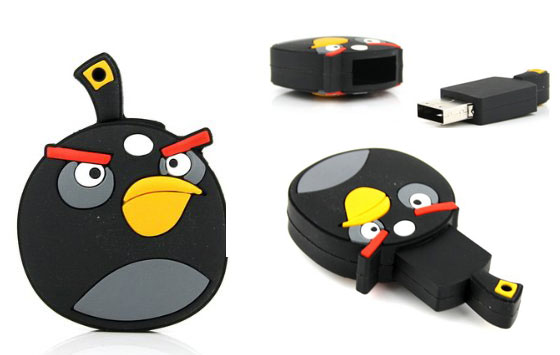 5. Angry Birds & Pigs Cake – Cupcake Toppers Decorations [discontinued]
This set of 12 Angry Birds and Pigs are perfect for decorations or favors OR both. Everyone loves their own cupcake and to take home a little Angry Bird or Pig is even better. Who is your favorite? Trade 'em – Collect 'em All.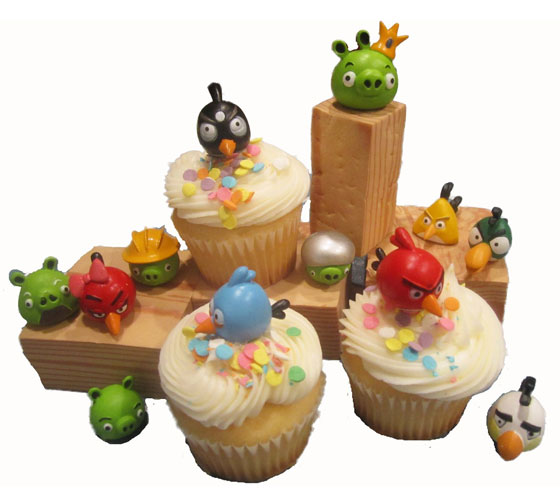 6. Apple Ipad 1&2 Angry Birds Case [discontinued]
Washable material for easy cleaning
Unique angry birds design
Soft and durable internal lint
Let your iPad be more attractive and individual
Excellent Sustainable-design of our desinger for iPad user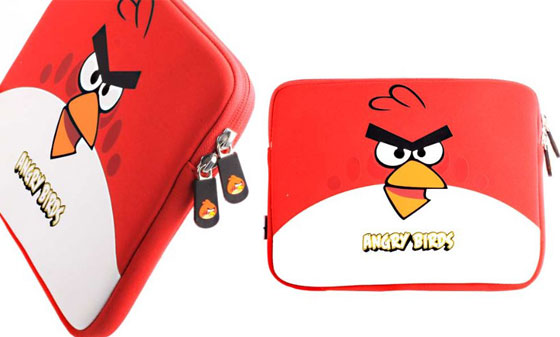 7. Angry Birds Figure Toy Coin Bank [buy on amazon]
Angry birds save money box Enviroment-friendly pvc material Super durable,no fade Ideal novelty present Money is placed in the hole on the top and retrieved by removing a rubber bung in the bottom Money box is made by plastic Great as a gift or personal use That is very useful and excellent design Specification: weight:0.2 kg size:10*10*12 cm Package: 1 x Angry Bird Figure Coin Bank Money-Pot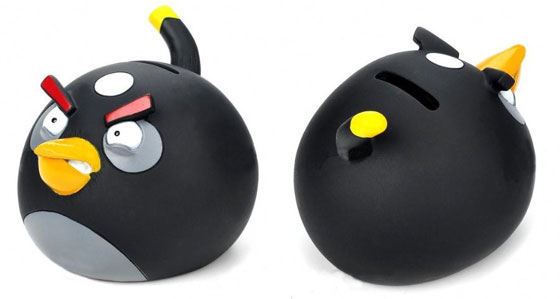 8. Angry Birds Coasters [discontinued]
This is for a set of FOUR (4) Angry Birds coasters – red, blue, yellow, and black.. Each coaster measures approximately 4.25″ wide by 4.75″ tall. All of my coasters are backed with cork.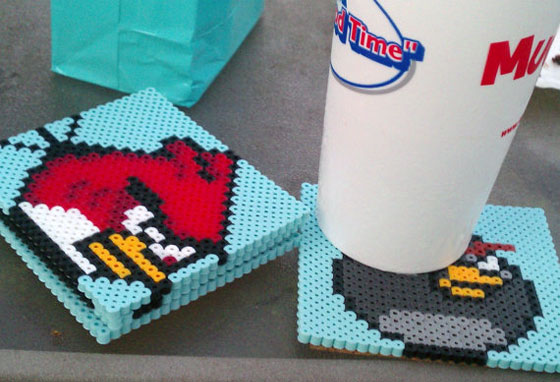 9. Red Bird Costume Knit Aviator Beanie Cap Hat [buy on amazon]
Angry Birds RED Bird Costume Knit Aviator Beanie Cap Hat / Hand Made in Nepal. EACH HAT IS UNIQUELY DIFFERENT SINCE THESE ARE ALL HAND MADE. KEEP WARM ALL WINTER LONG IN THIS CUTE BEANIE HAT. ONE SIZE FITS MOST. FOR KIDS AND ADULTS!!! MAKES A GREAT GIFT!!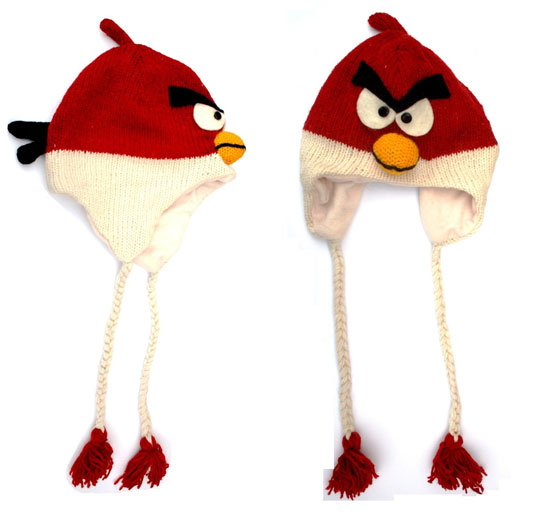 10. Angry Birds Rubber Playground Balls [source]
Angry Birds inspired playground balls were featured at Toy Fair 2011.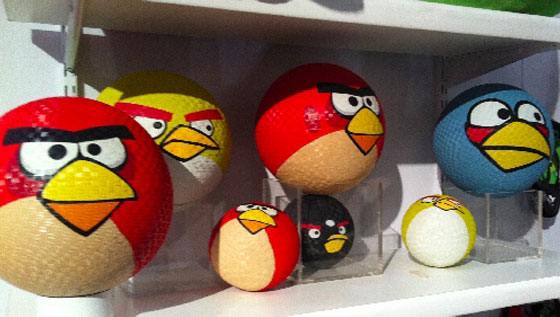 11. ANGRY BIRDS Felt handmade phone case [discontinued]
Each phone case is made from felt with lots of love and care.
– designed for iPhone and also iPod touch or similar size phones.
– Velcro closure to secure your phone.
– Lining with layers of soft felt inside for extra protection.
Measures: 5″ x 3 " or (13 cm x 8 cm)
It fits for:
– iPhone(classic, 3G, 3GS, 4.)
– iPod Touch (Generation 1st, 2nd, 3rd, 4th.)
– HTC Desire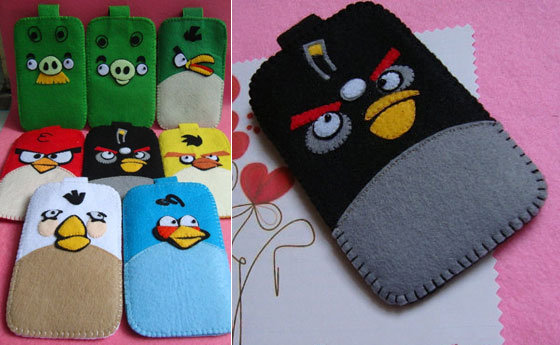 12. Red Angry Bird Fingerless Gloves [discontinued]
Are you crazy over the Angry Bird Game? Need to keep your hands toasty, but keep your fingers free to type, work, or play? Then this hand knitted pair of fingerless gloves made from the best yarn is for you!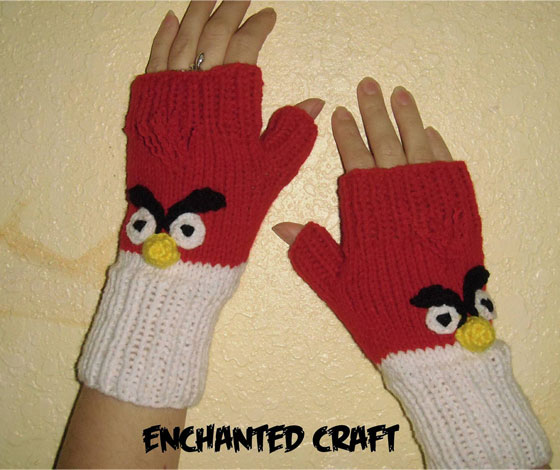 13. Angry Birdsserial HandPainted canvas Sneaker Shoes [discontinued]
Highest quality paint for the fabrics, 100% guarantee washable. There are a lot of different styles of Angry birds handpainted shoes for your optional.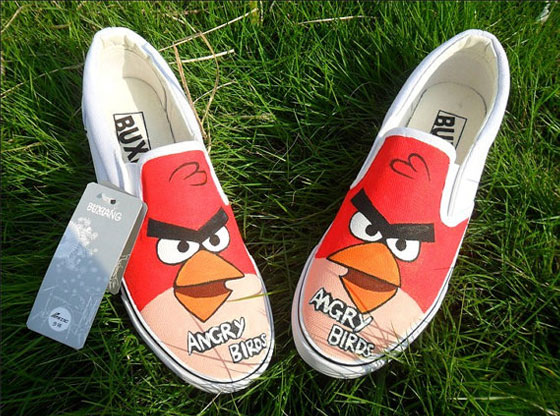 14. Shutter Helper, Crazy bird photography lens accessory [discontinued]
It might be hard to get the smiles of the little ones. create an attention getter for the litte ones that attaches directly to the lens. They are perfect for non flash photos or photos where you use a slave flash. So you can easily get smiles from them.