Easter is there… Let's do something routine…talking about eggs. In this post, we will present you with 14 Innovative Egg-shape inspired product designs. For some reason egg shaped objects induce an autonomic "awwww" response in my brain. They are always cute but the products in this post are more than just meet the eye.
We are a participant in the Amazon Services LLC Associates Program, an affiliate advertising program designed to provide a means for us to earn fees by linking to Amazon.com and affiliated sites.
Egg Shaped House for your Backyard [link]
Belgian architectural firm dmvA designed 'blob VB3', a mobile unit for the office of xfactoragencies as an extension to the 'house'. the space – egg house consists of a bathroom, kitchen, lighting, a bed and several niches for storage. the nose can be opened automatically and functions as a kind of porch. it easily transportable and can also be used as an office, guestroom or garden house.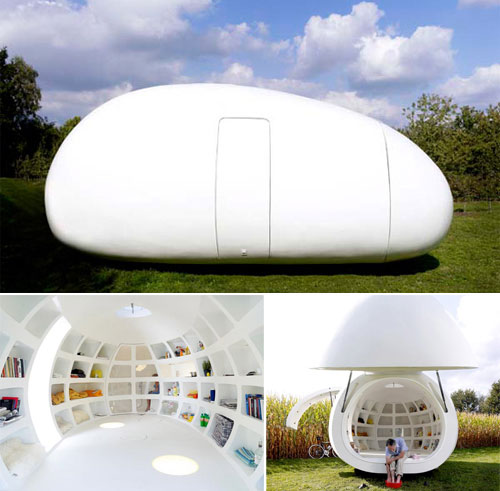 Egg Bed [link]
First off, the shape of the bed is that of an egg which creates a stunning visual appeal with graceful rounded features. The white color of the bed creates a sense of serenity since sleep is so vital to our human existence. The bed comes with built in lights, sound system, and an iPod dock. These features are nice extras that are very appropriate in today's advanced world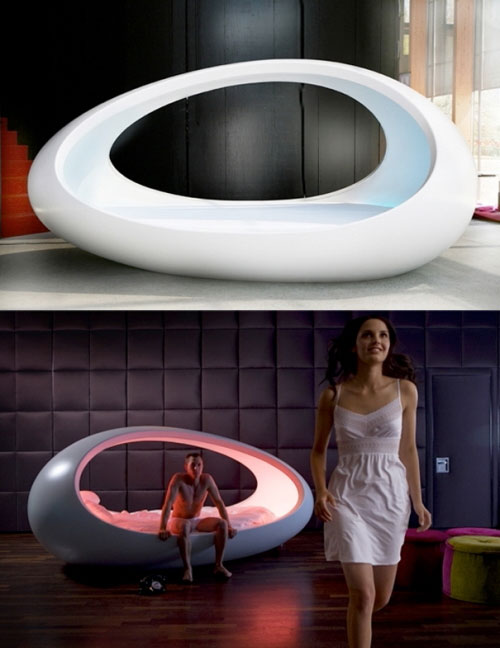 Cybertecture Egg Building
[
link
]
James Law have been commissioned by Vijay Associate (Wadhwa Developers) to create an office unlike any other in Mumbai, India. The 32,000 sq m egg-shaped build will accommodate 13 floors of offices bringing together iconic architecture, environmental design, intelligent systems, and new engineering to create an awe-inspiring landmark in the city.
Elements of the design and intelligence systems will work together to give the building's inhabitants the 'best space to work in'. And this includes monitoring their health. Within the building, there will be a series of innovative systems such as 'cybertecture health' in the washroom which is designed to keep track of the inhabitant's health including blood pressure and weight. The data collected may be retrieved and sent to a doctor if deemed necessary.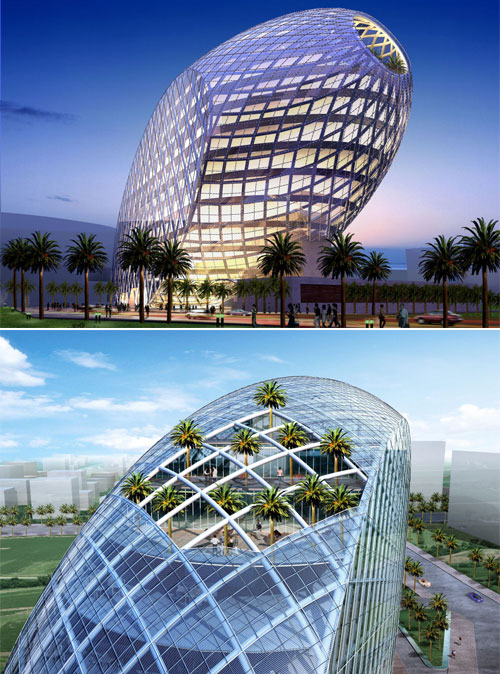 Ovetto Recycling Bin
[
link
]
Taking the idea of recycling to its logical conclusion, Italian architect, designer and art director Gianluca Soldi presented the Ovetto Recycling Bin, a recycled recycling center. Made from recycled polypropylene (the same material used in ropes and carpeting), the bin offers three separate receptacles to make recycling easier and more organized while taking it a stylish step up from those standard blue bins.
Named after the Italian word for 'egg', Ovetto takes on a natural shape and is available in several bright color options. Appliqué stickers come with each bin for easy identification of the compartments.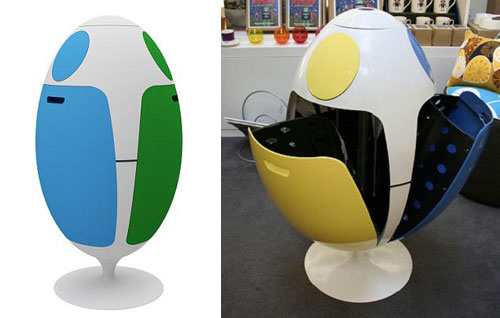 Egg Speakers
[
link
]
Unlike real eggs (and those colorful Weebles), these only come in black and red, and they don't crack open to produce omelets. They do, however, twist open to produce enhanced bass output.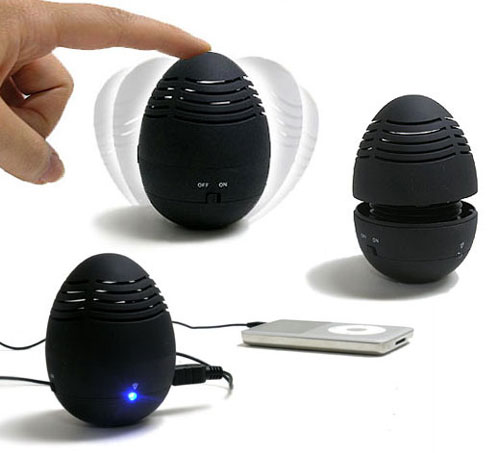 USB Hub Card Reader Speakers
[link]
Evergreen Japan presents the DN-USP301, a unique USB speaker, card reader & USB hub all in one. When separated from the middle, this large egg becomes 2 stereo speakers. The speakers can be easily placed on table top without fear of them falling down. Power is drawn from the USB port and so no need to worry about AC adaptor or batteries.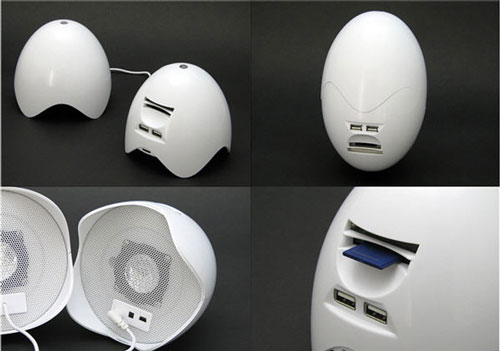 X2Gen X-EGG MP3 Player Dock
[
buy on Amazon
]
X-Egg is a unique type of device. Shaped and sized like an egg, you can fold the egg open to listen through wide-phased internal stereo speakers. It's not an MP3 player by itself. The X-Egg is a dock for any music player from an iPod to a PC. It's portable and runs on 4 optional AAA batteries for up to 14 to 16 hours. The X-Egg also comes with an AC adapter. It has a line-in jack to accommodate virtually any player around. It also has an SD memory card slot to play music directly from your SD cards. It supports both MP3 and WMA files.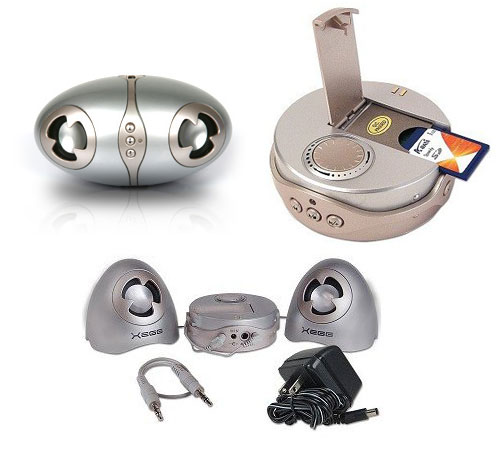 Eggy Furutistic Wheels
[
link
]
It's the egg on wheels. The "Gentoo" concept car takes its form inspiration from the Gentoo penguin, a cute and lovely and environmentally friendly little thing. The idea of this car is just that, to be cute, to be really nice to look at, and to be nice to the environment: the Gentoo uses no fossil fuels at all.
The Gentoo also uses self-balancing technology and is powered by lithium battery technology. Also it looks like it's from a video game I'd love to play. I'm thinking like a 3-D Sonic the Hedgehog sort of deal, flying up and down hills with this fabulous egg vehicle that's got a bottom-heavy body, doing some sweet flips and such? Heck yeah. Eggy afterburners!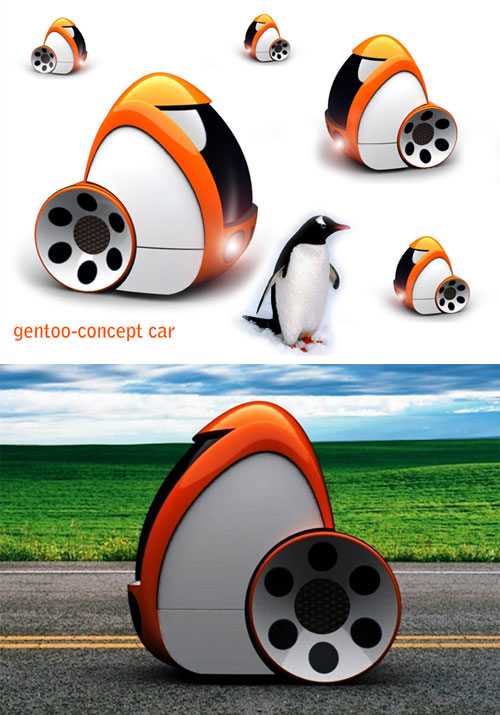 EggPot
[
link
]
It's all about humidification. Humidity? Yes. The way the egg sits in the pot there, it collects. Collects the sweat of the world through the natural processes of Mother Nature. And you don't even have to work out to make it get fed! Come with me, fellow designers, and crack this egg on your mind grapes so we can make jelly.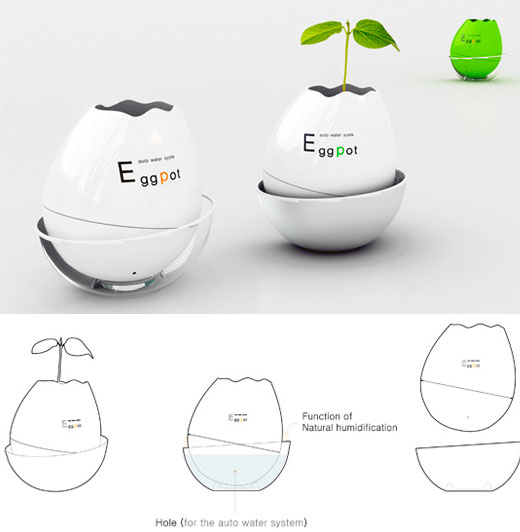 Egg Shower
[
link
]
The proteins in an egg can do wonders for your skin, but how about taking a shower in one? I'm talking about the egg-shaped shaped Cocoon Shower Stall that literally cocoons you once you shut all the glass slides. The usual spa features seen in such kinda stalls are included, but to spell them out: shower, bathtub, hydro massage (Jacuzzi) & mood lighting are there. The rain-showerhead is plum in the center of the ceiling, but I'd much rather use this for the hydra therapies!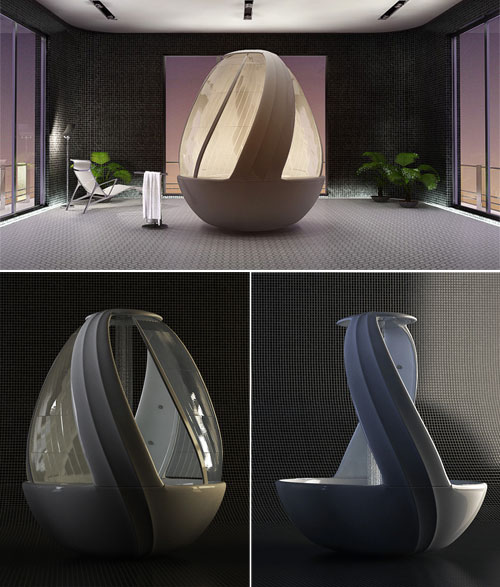 An Egg-celent Speaker
[
link
]
'Crack' the shell and two pieces become your satellite speakers while the base acts as a sub-woofer. The base also provides a dock for your MP3 player. It recharges via induction and when portability is a must – comes with a cool neoprene jacket. Do want!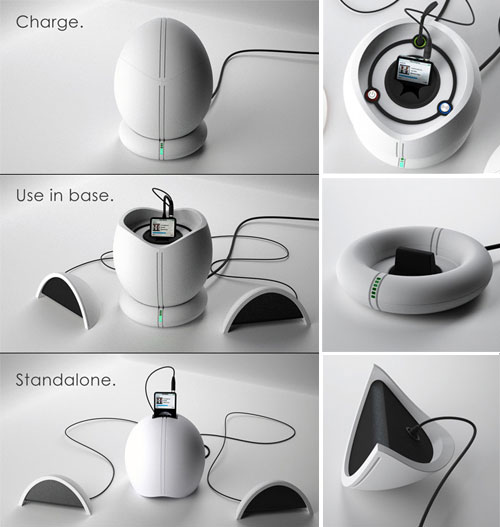 Pleasingly chic Eggbowl
[link]
The very first glimpse at it, if you're an egg lover or not reminds you of the egg. Designed like the real egg with the white and yellow, the bowl looks stupendous. Allowing the interaction to happen between the user and the kitchen wares while one is all set to prepare eggs, the bowls symbolize the symbiotic relationship between the egg and shape. The egg bowl with the beveled porcelain design lets you crack the egg without having to spill it over the cooking surface.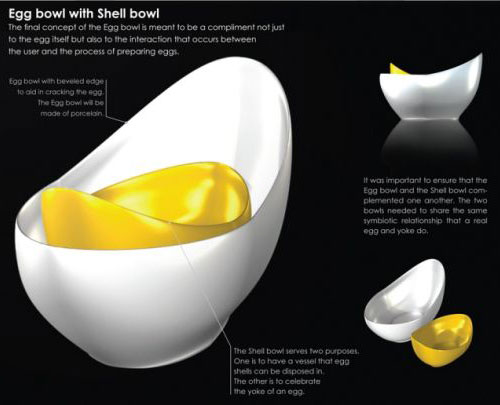 Egg – Hanging armchair
[
link
]
Hanging armchair with a lacquered steel frame ring. The weaving is available in wicker natural or stained as per sample range, in Polycore honey colour. The shaped seat cushion is in polyurethane foam and polyester fibre with removable cover.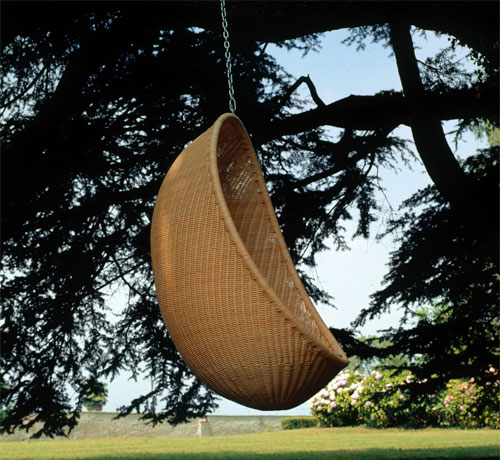 Egg Hatches Plant!
[
buy on Amazon
]
The precious, little eggling looks and feels like an extra large egg, but crack its top and discover a garden ready to grow! Cultivation is easy — seeds are already sown into eggling's fortified peat mixture, just crack it's top (by tapping on it with a spoon), water and place in bright spot. Plants grow for up to five months in the eggling, after which it can be planted directly in soil.