Astronaut probably is the one of the coolest occupation in kid's mind. They can drive the spaceship, explore the universe and even land on other planets. What can be cooler than that? No wonder astronaut themed products are quite popular as home decorations among kids and grown-ups.
Besides various of decorative figurines, what else astronaut can do for our daily life? They can hold our book, plants, stationaries, phone and provide home for some small items and even keep our moneys.
So, if you want to have some more "helpful" astronauts at your home, continue to read below article.
2pcs Decor Resin Astronaut Bookends
This bookends measure 9cm x 10cm x 19cm and weight nearly 2 pounds. No matter if you're using them to hold books, DVD's, VHS tapes, or music CD's, this Astronaut designed bookends are strong enough to support all of them.
Astronaut Figurine Resin Bowl Organizer
The cute spaceman shape ornament is perfect decoration at home or office. The figurine looks elegant and artistic. Material: Ceramic , – Size:20x20x26cm/7.87×7.87×10.24 inch.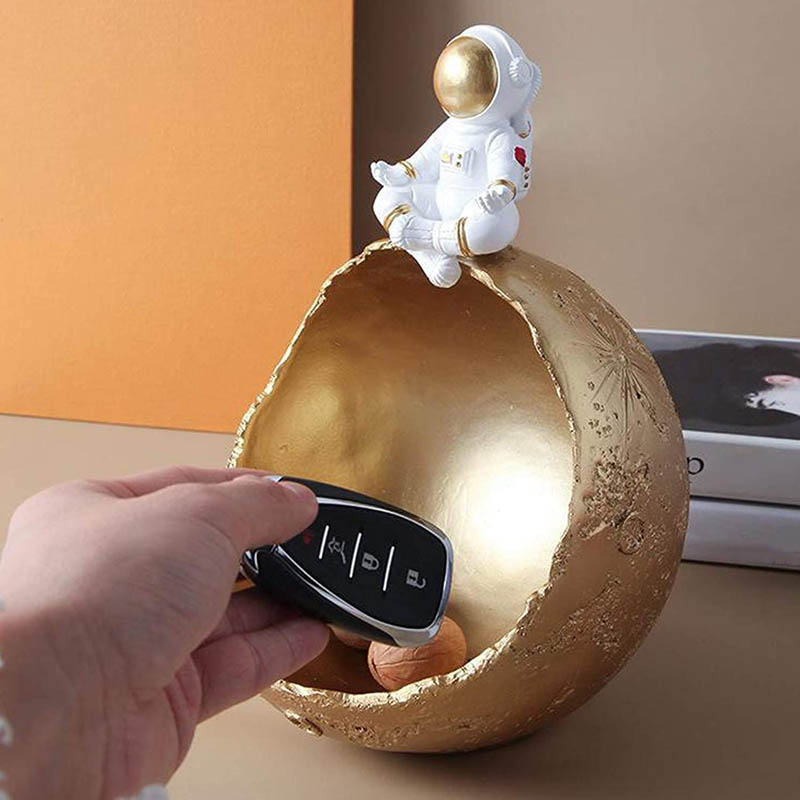 [buy on amazon]
Astronaut Figurine Plant Vase
Material – Clear glass and classic resin material, beautiful and durable.
DIY Planter – with mini round vase in resin astronaut stand.
With Light – The glass vase can be separated from the base, which has built-in LED lights.
Planter vase – Perfect for decorating your home with this vase with a resin base. It can also be used for hermit crabs, planting terrariums or housing of other small creatures.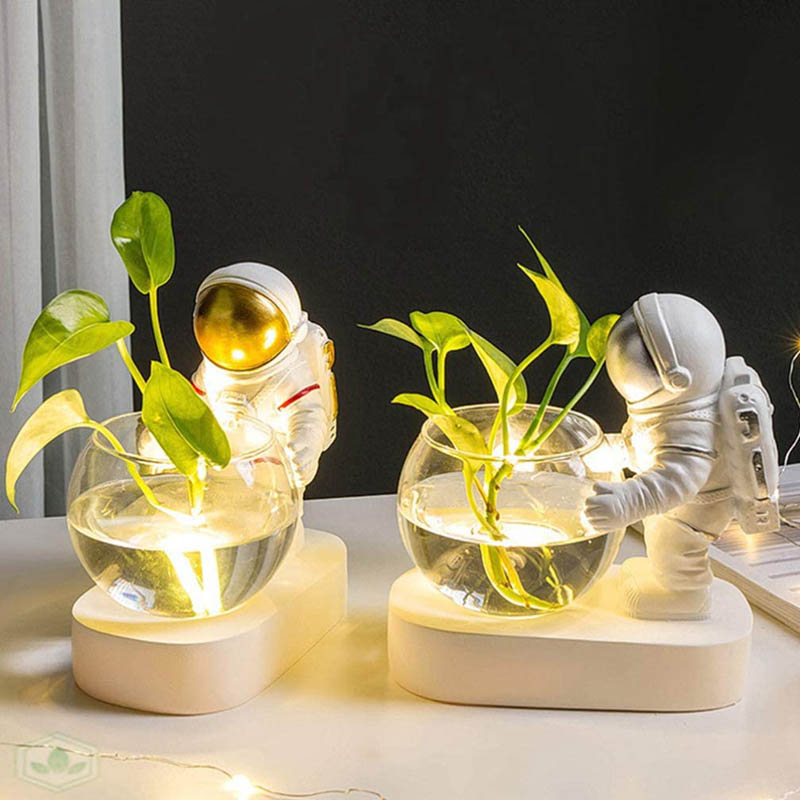 [buy on amazon]
Astronaut Phone Holder
The spacemen stands on the moon and try to 'support' your phone, fun and creative. Made of eco-friendly resin, smooth surface and excellent touch feeling, odorless and non-toxic. The position for phone provides enough friction to prevent from sliding; lay your phone horizontally / vertically, always a good vision for you.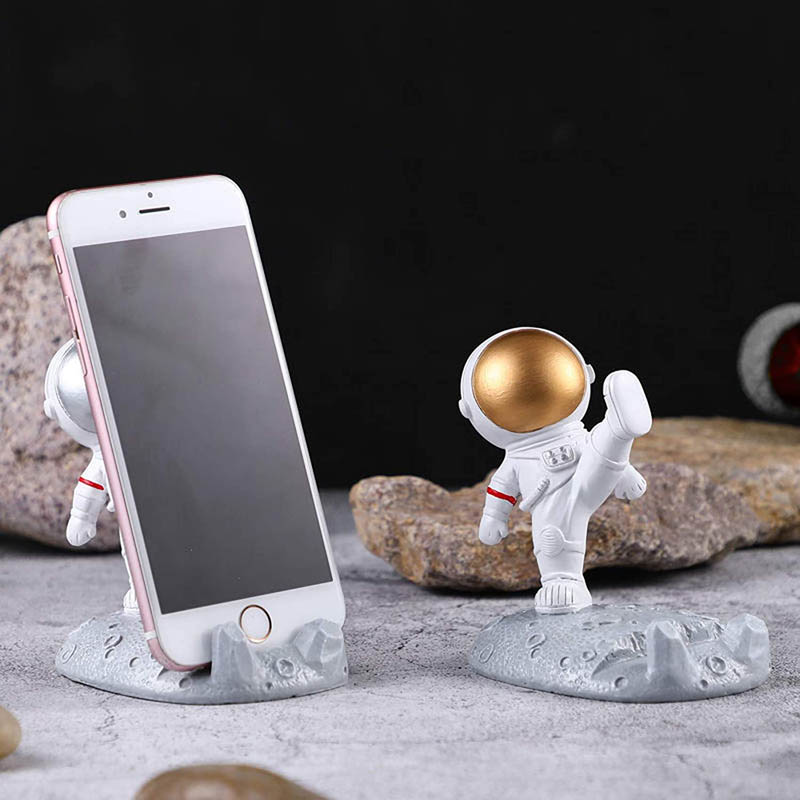 [buy on amazon]
Astronaut 3D Optical Illusion Night Light
The astronaut lamp is a flat that made with 3d technology to show the optical amazing 3d illusion. It provides soft warm yellow light to protect your eyes, proper soft light, will not disturb your little baby to rest, the best overnight partner for children to maintain a good night's sleep and not afraid of darkness.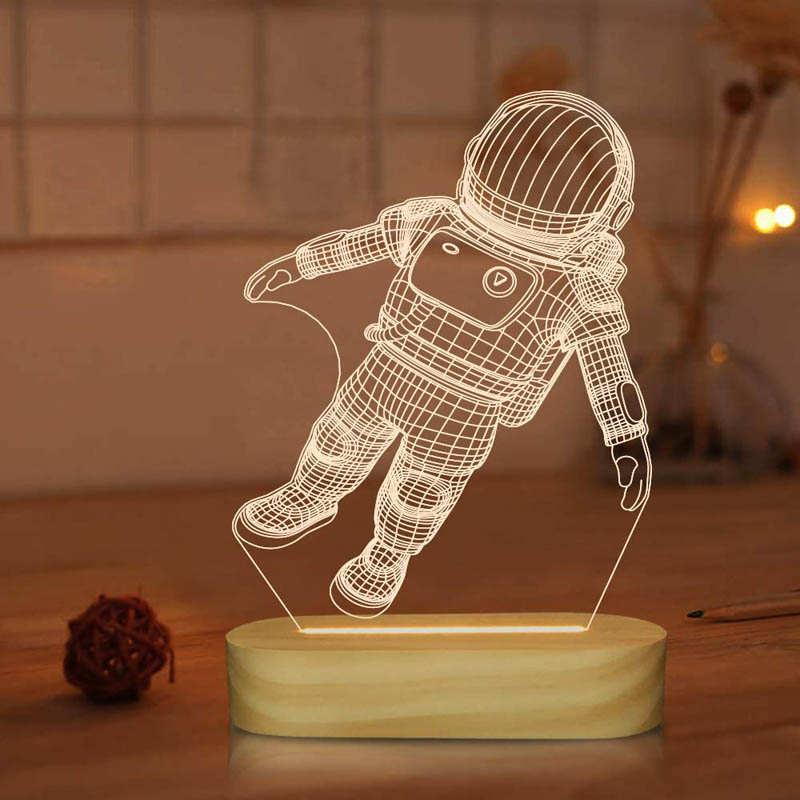 [buy on amazon]
Cute Astronaut Figurine Toilet Paper Holder and Organizer
The astronaut paper holder is made of high-quality resin materials, anti-corrosion and rust, resist daily scratches, ensuring durability and dependability. This toilet paper holder suitable for smooth surfaces such as ceramic tiles, glass etc. It is good enough to hold toilet paper or towels.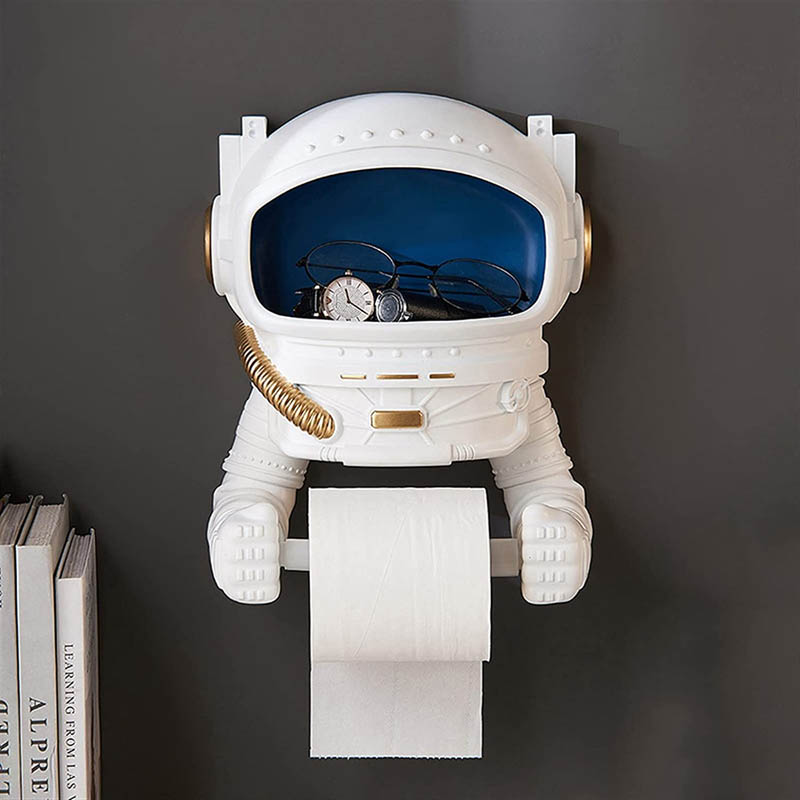 [buy on amazon]
Astronaut Pen Pencil Holder
The astronaut pen holders are manufactured with high quality resin with anti-slip rubber at the bottom of holder which can avoid scratches on desktop and long-lasting use. It can be used as pencil holder, makeup brush holder, toothrbush holder, kitchen utensil organizer, (hold the spoon, fork, knife), or something else, it holds lots of pens and pencils makeup brush, keeps everything pretty organized and that will dress up your desk and table in a simple and elegant way.
Measures 4 1/2 " L, 4″ H, 3 1/8″ W, Pen holder diameter 2 1/2"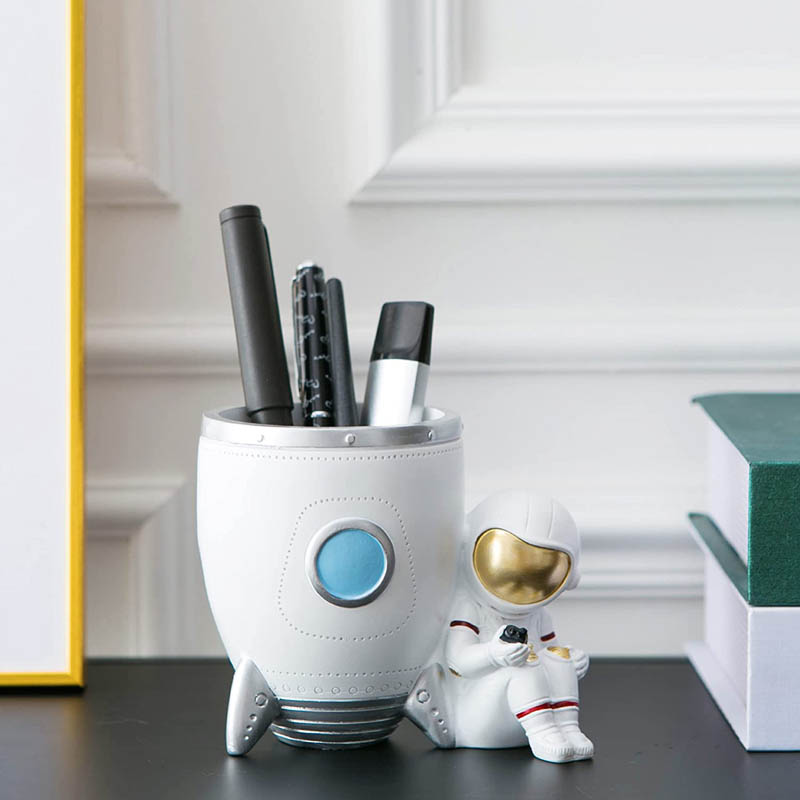 [buy on amazon]
Astronaut Statue Key Storage / Candy Bowl
These astronaut statue decorations can be widely used at home to bring you a warm space. Special Big Helmet as Sundries Container or Candy Case, for Cellphone, Keys, Glasses, Remote Control, etc.
Materials: Resin
Size: 9 x 6 x 11 inches (LxWxH), 23 x15 x 29 cm (LxWxH)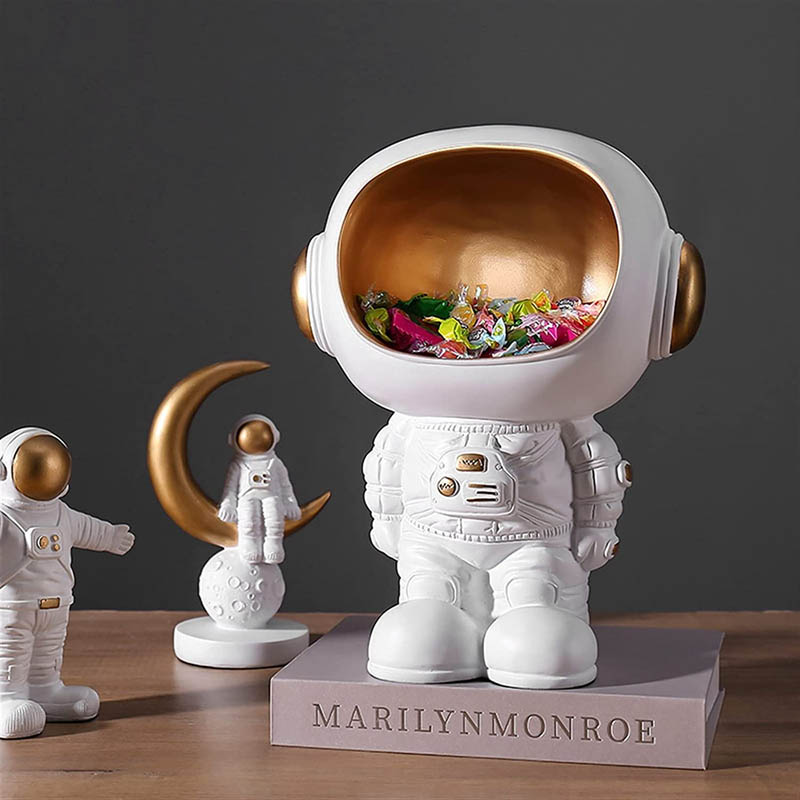 [buy on amazon]
Astronaut Figurines Piggy Bank
The kids piggy bank are made of high quality resin, coupled with exquisite craftsmanship, hand-painting, simulating the unevenness of the lunar surface, creating a lively astronaut figure and vivid moon decor. This space themed gifts coin bank with the unique shape, features a 1.5 inch coin slot at the top and a removable rubber stopper at the bottom, the removable rubber stopper of this money box holds in savings.

[buy on amazon]
Astronaut Shape Wine Rack
This creative spaceman wine cabinet decoration is made of high-quality resin material, strong and durable. Clean with water or non-corrosive detergent, then wipe dry.
Size: 10.4 * 6.9 inch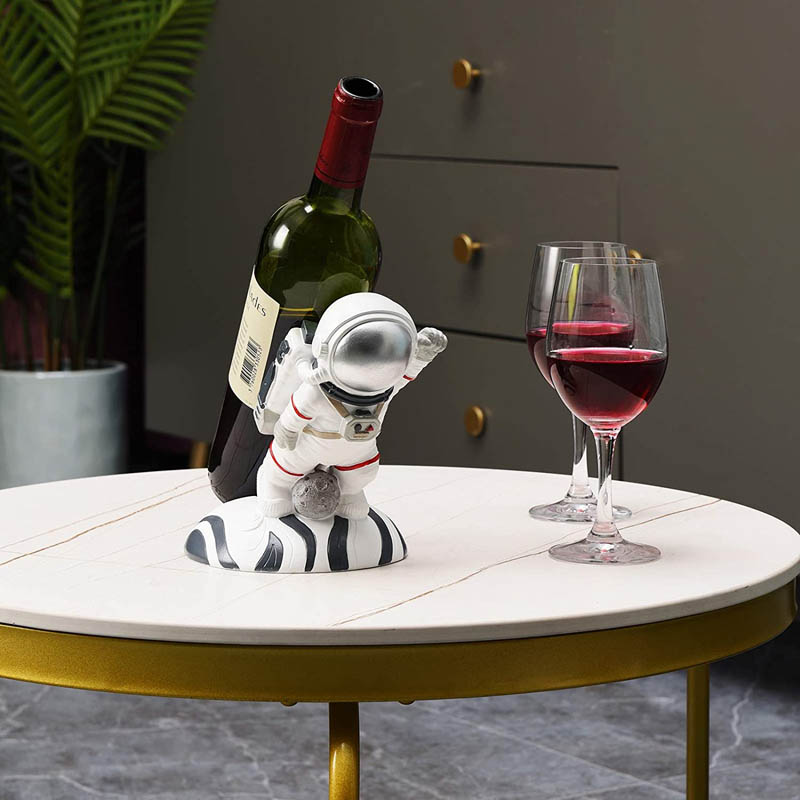 [buy on amazon]
We are a participant in the Amazon Services LLC Associates Program. If you make a purchase, Design Swan may earn an affiliate commission. Please read our disclosure for more info.