If you are a tea enthusiast then you would prefer loose leaf teas. The process of mixing water, tea leaves, herbs and/or fruits together in a blend is an essential part of the experiential process of making tea. To facilitate the process, tea infuser/strainer is employed. In this post, we will present you with 14 Modern and Stylish Tea Infuser and Tea Strainer. They are not normal stainless tea ball which infuses your tea! They can be funny to use, appealing to look or even bring you melody enjoyment. Check this out, you won't be disappointed.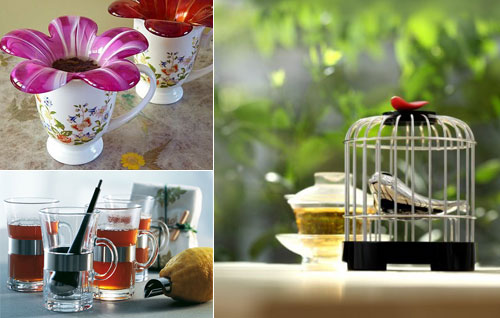 We are a participant in the Amazon Services LLC Associates Program, an affiliate advertising program designed to provide a means for us to earn fees by linking to Amazon.com and affiliated sites.
1. Tea Diver [source]
Tea Diver is a strainer with a texture of Silicone harmless to humans, LSR, usually used to make baby bottles, so it's innocuous to humans. It is especially useful when people boil water or diverse tea at home. It can also be used diversely in addition to its original function as a strainer. Because of its cute pattern it also serves as a good decorative tool and when you pick it up and shake it, you will be pleasantly surprised.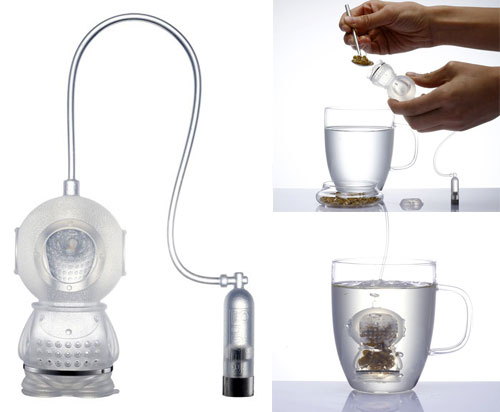 2. Sharky Tea Infuser, make a killer cuppa tea [source]
The Sharky Tea Infuser, designed in Argentina by Pablo Matteoda has a clever design that is both fun and useful. The floating tea infuser extracts tea leaves, herbs or fruit in water until completely saturated. During the waiting process, you can see the color of your tea create a beautiful effect which reminded us of the movie scenes where the ocean turned blood red. Very amusing in deed.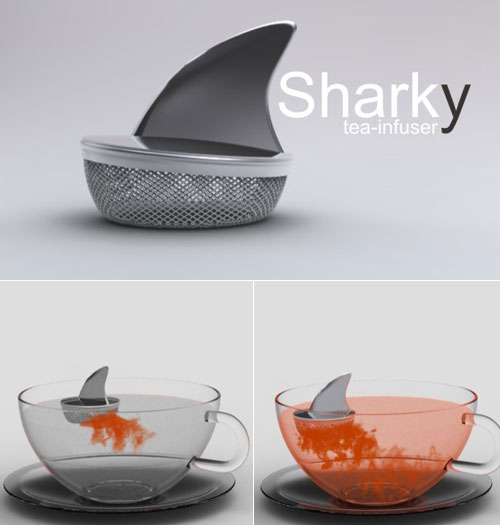 3. Tea Ball [source]
An inventive and beautiful tea infuser for brewing and serving tea.
Material(s): Stainless steel and black nylon
Dimensions: H 5.91″
4. Chef'n TeaLeaf Tea Infuser [buy on amazon]
Attractive and effective tea infuser, with artful green plastic stem rising out of lid
Brews both full pots and single cups of loose leaf tea
Micro-perforated stainless steel basket
Slots in lid refilter water and prevent pooling
Top-rack dishwasher safe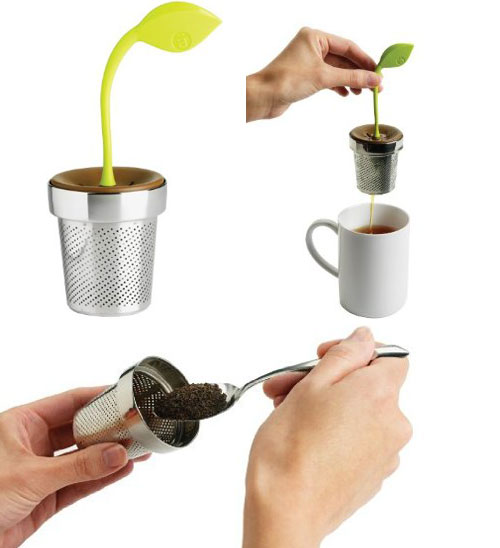 5. Trudeau Silicone Tea Infuser & Cup Lid Set [buy on amazon]
Tea enthusiasts and novice drinkers alike will enjoy this cheerful infuser set. Contents: 1 Silicone tea infuser with lid.
This is a really interesting design and colorful… Fruit your tea!
# Flexible String Handle on Tea Infuser, Heat Resistant 480°F-250°C
# Silicone Cup Lid keeps drinks hot while brewing, and doubles as a saucer to drain and rest infuser
# Dishwasher & Microwave Safe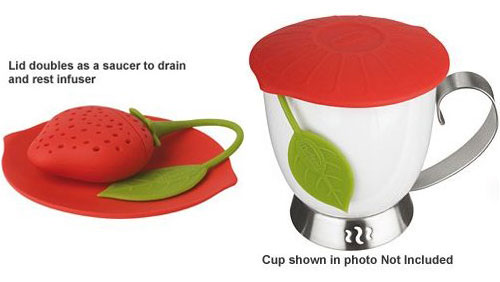 6. Red Transparent Tea Strainer Designed Like A Flower [buy on amazon]
Tea Strainer fits in almost every cup
After the soak with its tea leaves, the bloom takes a time-out
Feast for the scences
product is 100-percent biodegradable as it is produced in Germany
5,31 inches long,5,31 inches wide,3,62 inches high, 2-year limited warranty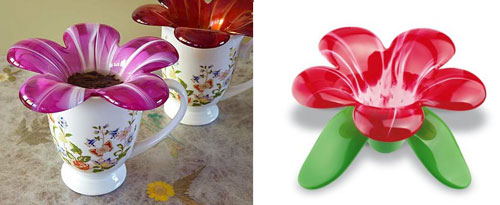 7. Arta Tea Infuser and Saucer [buy on amazon]
Novel and functional tea infuser with saucer
Features micro-perforated stainless steel pod and ceramic saucer
Easy and effective; branch on saucer suspends tea ball into cup; saucer keeps heat in the cup
Holds up to 2 teaspoons of loose-leaf tea
Pod pops off of branch for filling and cleaning; top-rack dishwasher safe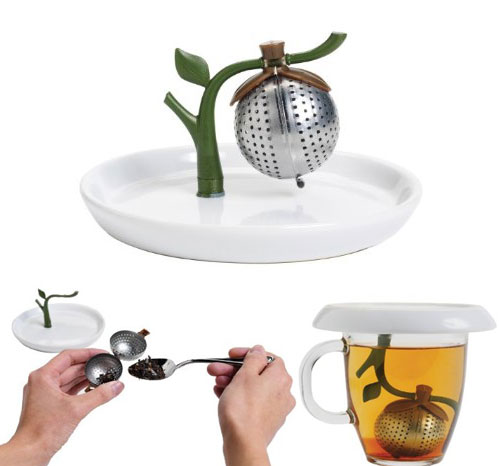 8. William Bounds Sili Tea Ball [buy on amazon]
Brew loose leaf tea with less fuss and less mess using this three piece silicone tea ball infuser from William Bounds. The red silicone and stainless steel ball has a removable silicone cap for easy cleaning and filling. It also comes with a silicone drip tray which can double as a spoon rest and has a stay-cool silicone teardrop grip so there is no messy chain. Simply place a small amount of your favorite tea into the stainless steel infuser and submerge into a cup or pot of hot water to brew your favorite infusion.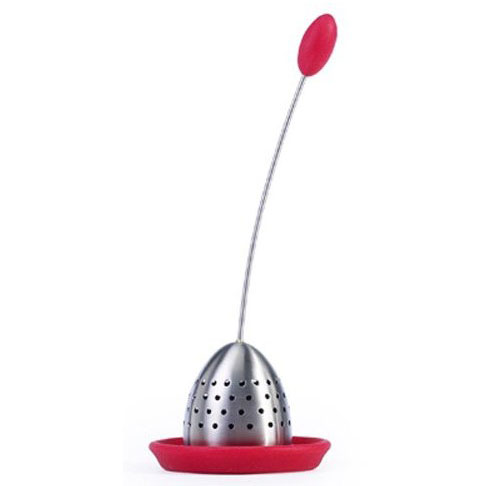 9. Tea Bee Infuser Stainless steel [buy on amazon]
This ingenious little gadget is as cute as it is useful. One easy squeeze to a perfect cup of tea. Gently squeeze the bee and flower petal together to scoop up loose tea, then release and steep for 3 minutes. This tea infuser is made of 18/8 stainless steel.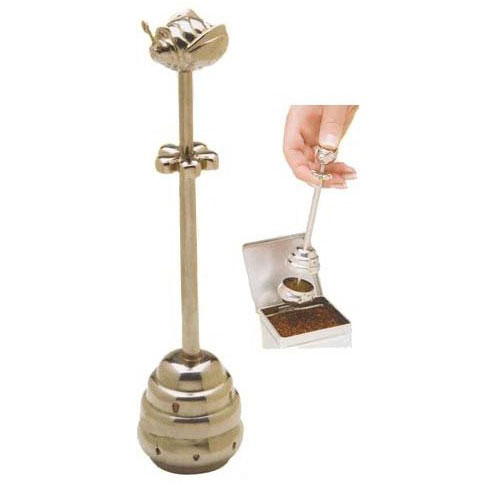 10. Bodum Tastea Stainless Steel Tea Egg Infuser with Silicone Sleeve [buy on amazon]
Allows you to prepare loose leaf tea as neatly and easily as using a tea bag
Made from durable, high quality stainless steel
One-handed operation with non-slip silicone grip
Can be used with any size mug or cup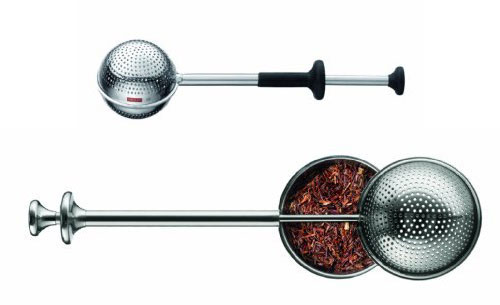 11. RSVP Teastick Infuser by Gamila [buy on amazon]
Scoop it. Slide it. Steep it.
Constructed of durable stainless steel
Optimum flow for perfect steeping
Sized for 10-14 ounces of perfect tea
Durable enough for frequent, commercial use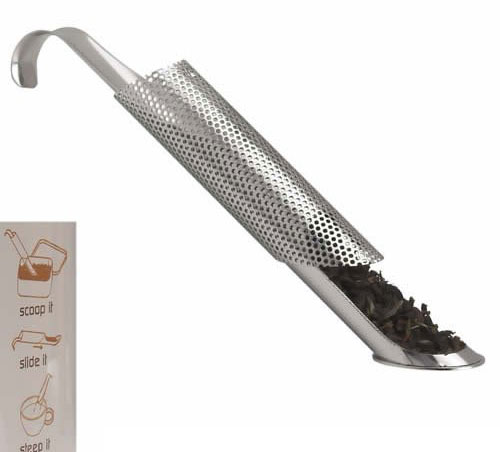 12. Alessi Te O Tea Strainer [buy on amazon]
Tea-strainer in PP with 18/10 stainless steel filter
2.2″ x 2.5″ round, 1.4″ h
Designed by Stefano Pirovano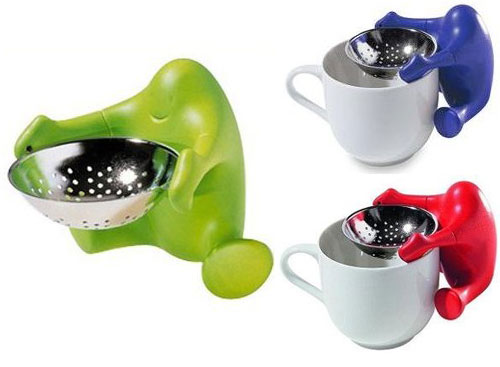 13. Starfish Tea Strainer [discontinue]
Starfish Tea Strainer by Nick Munro. Handame in the UK, this starfish shaped tea strainer features a finely polished stainless steel finish. Both functional and beautiful Nick Munro has used his usual exquisite detailing to create a uniquely charismatic article.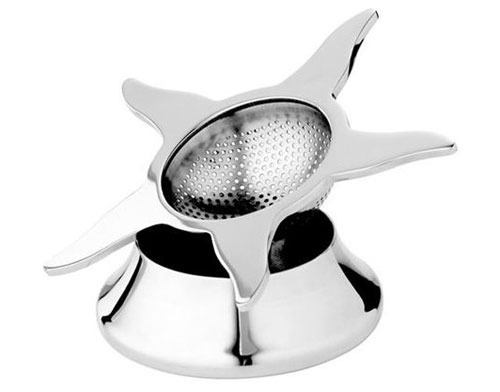 14. Tea Matter Melodic Tea Strainer [buy on amazon]
The little bird inside the stainless steel cage is actually the tea strainer, after straining your tea of choice into your cup you just return it to the cage where it rests on its' own little drip tray. Of course, all this is accompanied by the melodic sound of the little bird chirping! This elegant addition to my afternoon tea definitely adds melody and also a touch of culture to the atmosphere.
18/10 Stainless steel mirror polished and PMMA
Dimensions: 5.25″ H x 5.5″ W x 4.25″ D