I admit it: I'm a tech-head. I love gadgets and I love to travel. Anywho, I run through my checklist of essential gear every time I travel. Aye. But … there's still something missing. I've never felt Inspector Gadget-ish enough. I started doing some digging and here we are, our today's topic "14 Useful Travel Gadgets For you Pleasant Trip". And don't forget to let us know, what is the gadget you think most useful for your trip.
We are a participant in the Amazon Services LLC Associates Program, an affiliate advertising program designed to provide a means for us to earn fees by linking to Amazon.com and affiliated sites.
1. Victorinox SwissMemory 128 MB USB Storage Device [buy on Amazon]
Victorinox, in partnership with Swissbit, the renowned Swiss electronics firm, has created the SwissMemory, a handy 2-1/4-inch (58 millimeter) tool. This high-performance, portable data storage device provides a convenient way to transport pictures, music, and data files from home to office. It's also very convenient while traveling on business and you need a backup for an important presentation, as it can be readily available and attached to your key chain. Additional handy features include a blade, scissors, ballpoint pen, and red LED light.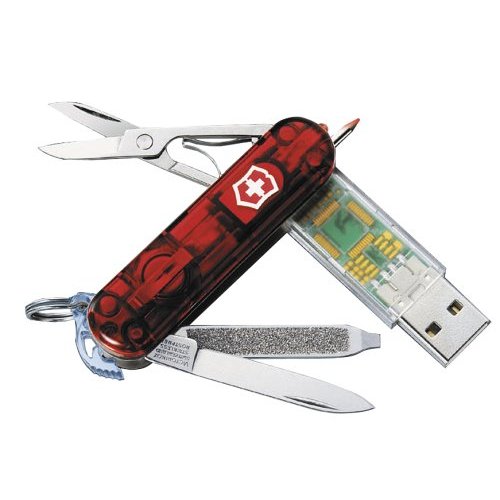 2. Pocket Shower [buy on Amazon]
Well the distant dream of being able to have a proper shower in the middle of nowhere is now a reality thanks to the pocket shower. This tiny gizmo unfolds to reveal a high performance waterproof reservoir that holds a mighty ten liters of water. The black fabric will (given a sunny day) warm the water up in no time. You just string it up to a tree and open up the attached shower head – hey presto, you can now luxuriate in a seven minute shower, get squeaky clean, and gloat at the wet wiped masses, and it packs up into a neat package smaller than your fist. Beat the pong with the Pocket Shower.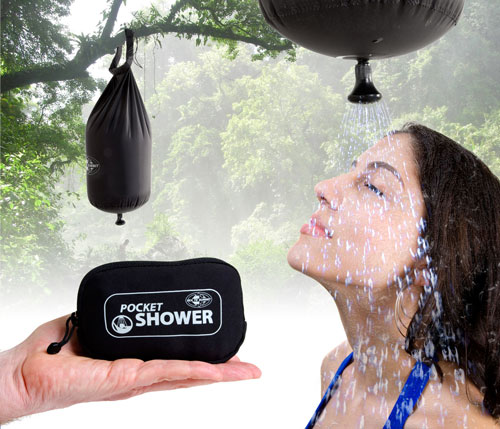 3. USBCELL AA Rechargable Battery [buy on Amazon]
USB CELL AA Rechargeable Batteries work just like normal rechargeable batteries–but simply pop off the lid to recharge by any powered USB Port. Ideal for use with wireless mice, keyboards, game controllers, and other household products with no need to carry or find a separate charger. Easily rechargeable on the go, in the office or at home. USB CELLs can be charged hundreds of times saving you money and helping reduce environmental waste. USBCELLs are NiMH 1.2v batteries with 1300mAh capacity.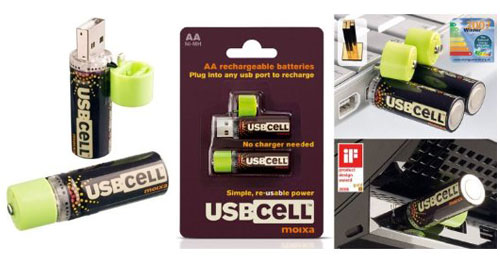 4. XShot Camera Extender [buy on Amazon]
What is the Xshot? If you take a lot of pictures then it's the coolest gadget you can have. No more awckard situations having to ask a stranger to take your pictures for you and no more odd looking shots of you sticking your arm out to snap a shot of yourself. The Xshot is a camera extender that extends up to 3feet giving you the ability to snap perfect photos of yourself and up to 10 people with complete ease.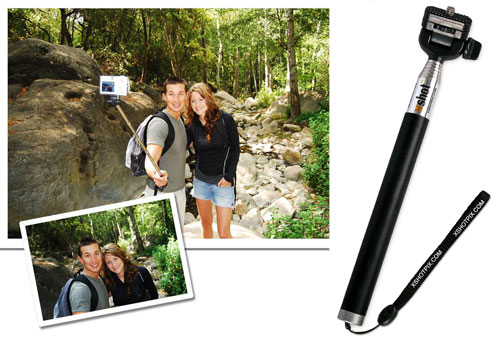 5. Brush & Rinse Toothbrush [link]
Brush & Rinse is a toothbrush that can redirect water from a faucet to your lips for easy rinsing. Current methods of getting water into our mouths for rinsing after brushing are sloppy, create waste, and place unnecessary stress on our bodies. And, people love water fountains.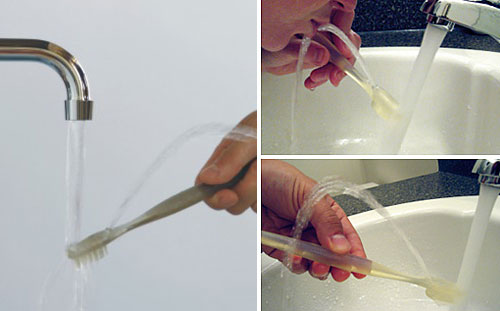 6. Colgate Wisp Peppermint [buy on Amazon]
For those times when you desperately want to freshen up and brush your teeth, the Colgate Wisp Peppermint is exactly what you've been looking for. The Wisp is a single-use disposable mini-toothbrush that has a built-in freshening bead and doesn't require rinsing afterward. It's discreet enough to keep in your pocket or purse—so you can use the Wisp for that freshly brushed feeling anytime, anywhere.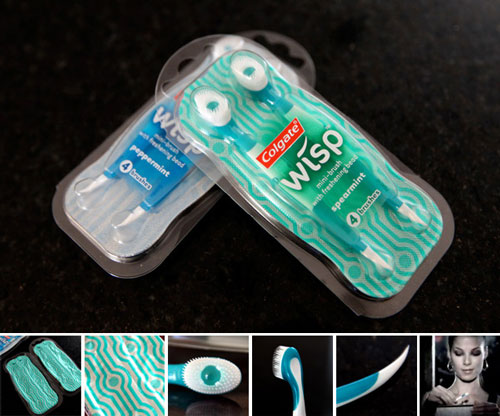 7. Covert Escape RG Harness System Bags [buy on Amazon]
A cool new way to ferry around your stuff. The puches are designed to hold specific combination of gear. The model line offers combination to suit any activity. The harness reconfigures to 6 different ways of wear for any situation.
The Rugged (RG) series uses heavier hardware, tougher fabrics, and larger volumes for outdoor activities or jobs where they might take a beating or get dirty.
Escape RG is consisted of two harness, one main pack and one removable shuttle bag.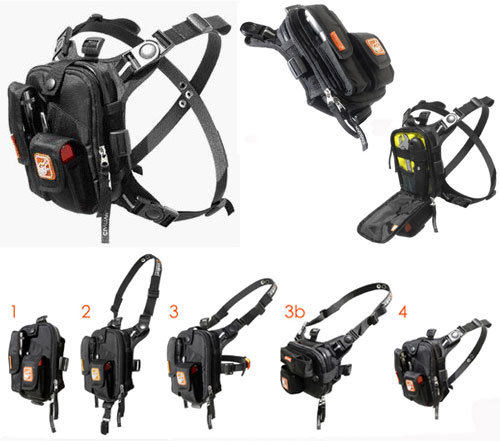 8. Kensington International All-in-One Travel Plug Adapter [buy on Amazon]
This all-in-one unit provides plug adapters for use in more than 150 countries, so you never need to be at a loss for power again. The Kensington 33117 is easy to use, with slide-out power plugs that ensure you won't lose any vital pieces, in a compact, self-contained unit that eliminates any hassles. This all-in-one plug adapts power outlets for laptops, chargers, and similar devices, and features a safety release button and built-in fuse to ensure safe operation. The Kensington 33117 does not reduce or convert electrical voltage, is suitable for most consumer electronics ranging from 110-volts to Mac 275-watts, to 220-volts to Mac 550-watts.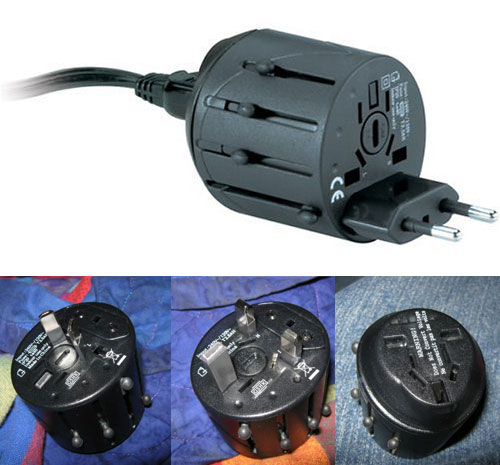 9. Reef Men's Stash Sandal [buy on Amazon]
You're so money, baby, but do you even know it? And it's all about the Reef Men's Stash. This timeless flip-flop begins with a textured rubber out-sole that massages the foot, while soft synthetic thong straps hug your foot. But what'll really make you a winner is the hidden compartment at the back of the sole. Simply tear it apart to reveal a Reef pen and a small place to stick the numbers of all those beautiful honeys. Trent Walker would be proud. Padded footbed.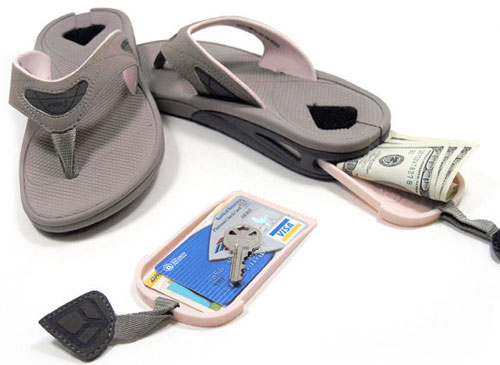 10. Waterproof Bag for your music and camera [buy on Amazon]
Taking on the challenge of creating an absolutely waterproof bag for lifeguard, fisherman, swimmer, urinator, etc, the new product features a robust sealing mechanism that keeps your iPhone, iPod Touch from water while still satisfies your basic needs of taking photos, answering calls and getting connected to earphones. If you're planning to spend the hot summer on beach, you wouldn't mind getting one such bag.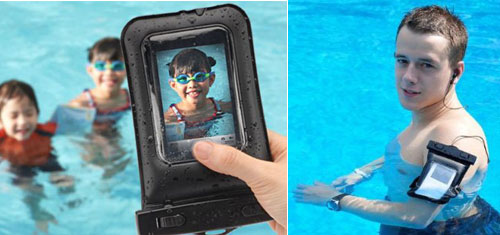 11. FreeLoader Solar Charger [buy on Amazon]
Usually, the sun is out when you're heading for the beach. And that's exactly the one thing this Freeloader needs. With this Freeloader, you can charge your iPod, iPhone or other devises by using the sunlight. Fold the Freeloader open, lay it in the sun and click your iPhone into the Freeloader. The sun is free and it can't get any easier. An iPod can be charged for 18 hours and a phone for 44 hours.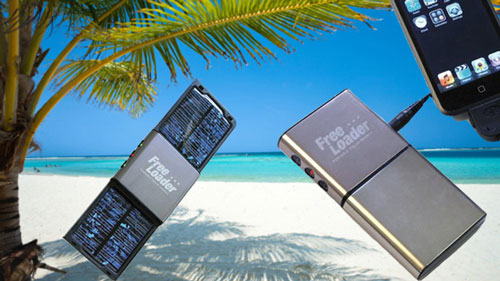 12. Trackstick II: Plot Your Travels [buy on Amazon]
Trackstick II is "designed specifically for integration with Google Earth. Trackstick II is a GPS device that lets you "keep a satellite scrapbook of all your travels and record your explorations." It's like having a trail of live map pushpins follow you wherever you go!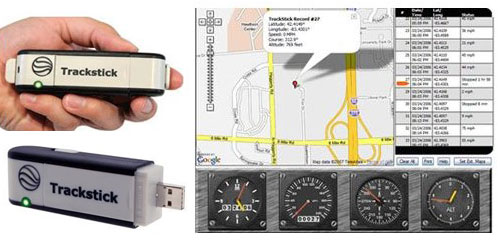 13. Quad Pod Campfire Grill [buy on Amazon]
Camping grill. Sits over a campfire. Sturdy Four Legged Design. Fully adjustable grate. Light weight and portable. 432 Square inches of cooking surface. Side table for food preparation or extra cooking surface.Compacts to fit into it's own carrying case. This is truly the Master of All campfire grills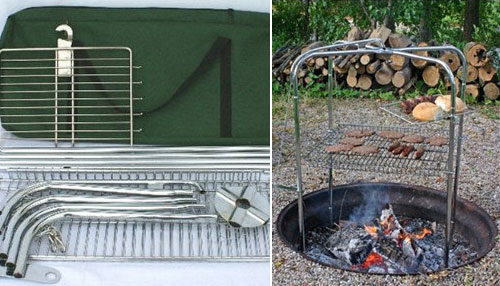 14. SkyRest Inflatable Airplane Travel Sleep Pillow [buy on Amazon]
Skyrest Inflatable Airplane Travel Sleep Pillow. SkyRest Inflatable Sleep Pillow travels with you to turn your lap or airline tray table into a comfortable sleep surface. Easy to inflate and deflate. This unique travel aid allows you to lean slightly forward and fall asleep whether a passenger in an airplane or car. SKYREST TRAVEL PILLOW USES: – Comfort on long flights – Great traveling book rest or laptop stand (slanted surface).