In the battle for eyeball, no front is left unmanned, no stone unturned, no washroom ignored… . Yes, no washroom ignored. As private environment, washroom advertising are regarded as an ideal medium for gender targeted advertising, allowing to convey a more intimate message. Basing on that result, no wonder why I can find so many creative ads in washroom. In this post, I will list 15 Creative Advertising found in Washroom. Are you ready for today's washroom exploration? Let's check how those food, automobiles, entertainment and telecoms industry play their washroom trick.
1. Toyota Prius: Pre-collision
Tag line: The all-new Prius pre-collision system can detect a potential impact before you do.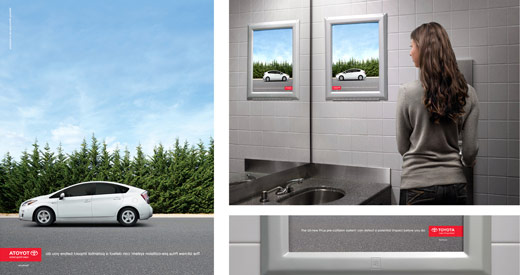 2. Kleenex: Soap dispenser
Tag line: "Got flu?"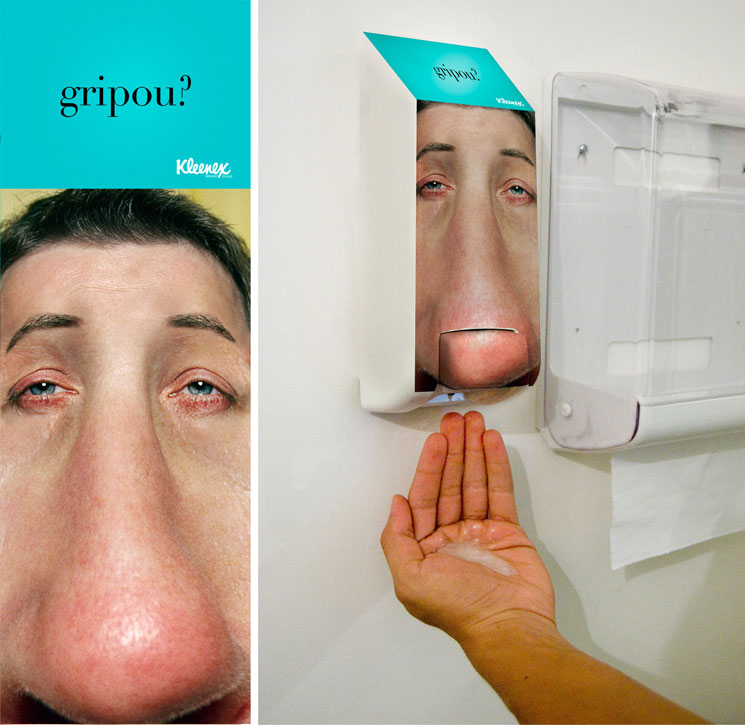 3. Georgia Max Coffee: Ski Toilets
Georgia Max Coffee chose to redesign the toilets of a number of key ski resorts in Japan. The cubicles were fully wrapped on all sides, so that the person caught short would have a ski jumper's view when they were sitting on the loo. The person could look down at their skis (simply printed on the floor of the cubicle) and see the steep ski jump slope ahead of them. The toilet paper holder carried the only brand messaging in the cubicle, reading: "Seriously kick-ass intensely sweet for the real coffee super zinging unstoppable Max! Taste-explosion!" The message also featured the URL www.maxcoffee.jp, where visitors could view videos of extreme sports as well as sign up to the MAX community.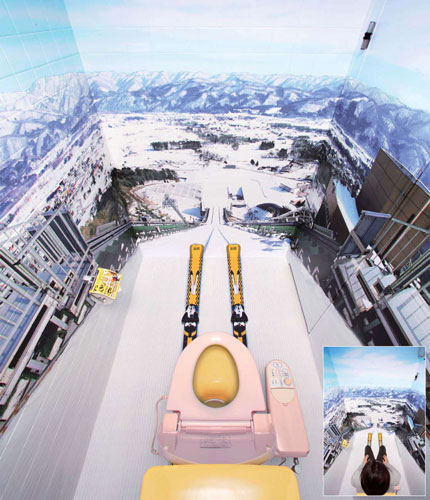 4. BodyIce Deodorant: Tap
Tag line: under control.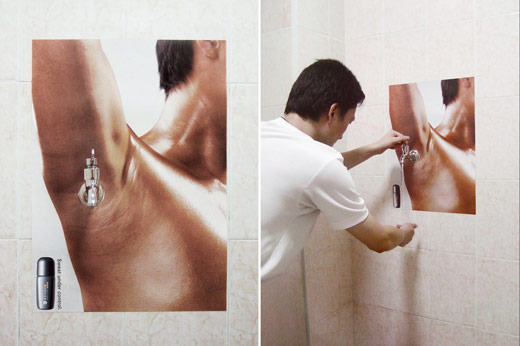 5. REMOVED
6. Braun Style shaver: Mirror
Tag line: Don't shave it. Style it!
It's not about what you take off, its what you leave on that is what makes your mark… Find your hinge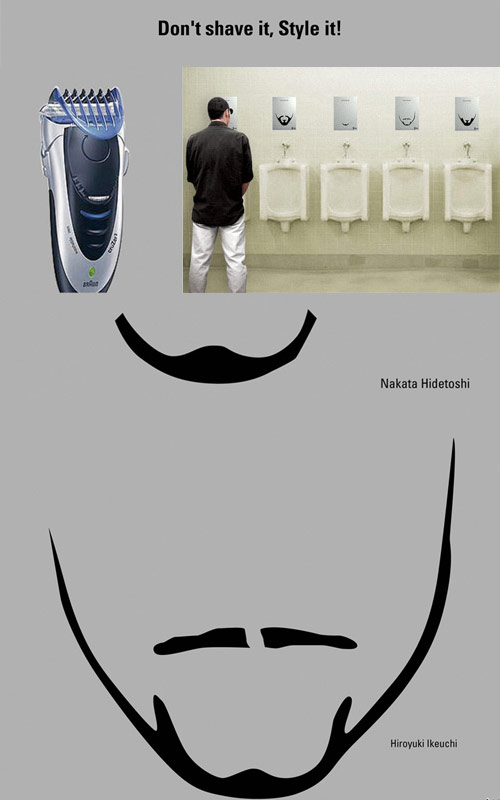 7. Roxy Pool
Tag line: Practice your shot now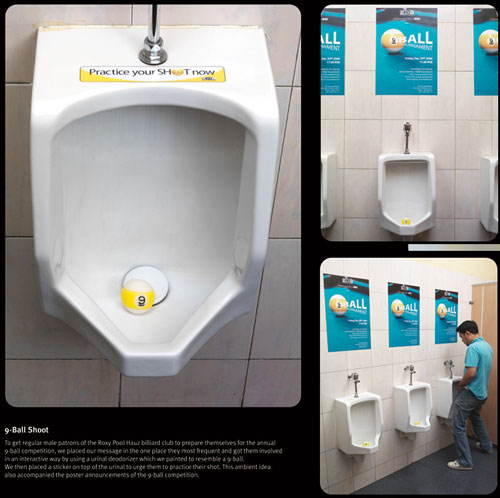 8. Kleenex Flushable Wipes
Tag line:Feel more ath home wherever you go.
Idea: A range of bathrooms which look and feel 'just like home's were created in the public toilets of major sports stadiums and shopping centers. Sample packs were placed on the back of the doors for trial with the line "Feel more ath home wherever you go."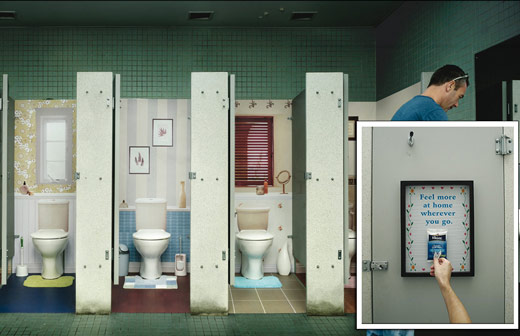 9. Comedy Central Toilet
10. REMOVED
11. Arrive Alive: Take a seat
Tag line: Take a seat and think about the consequences of drunk driving.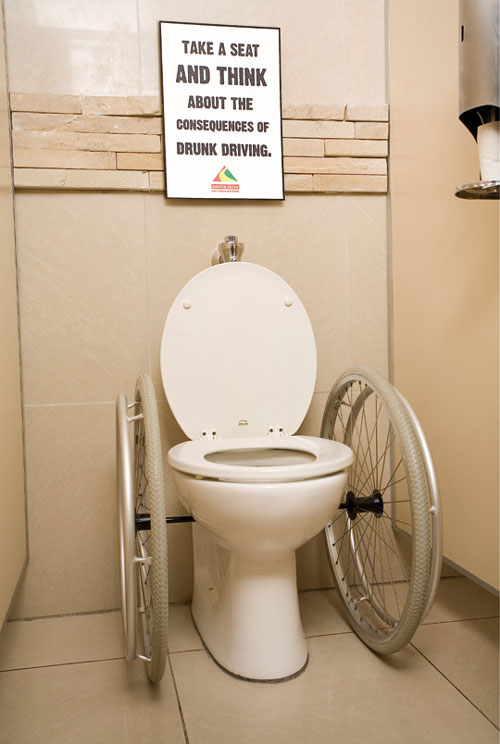 12. Koodo
Tag line: A steady stream of talk and text (left). Unlimited text for squat.(right)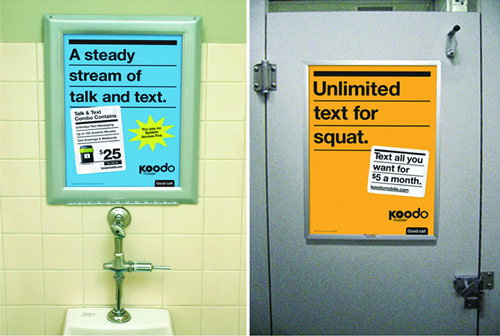 13. Dermagraphic Tattoo: Try Before You Buy
Tattoos are permanent. So before you get one you want to make sure you're going to like it. To help with this, we placed stickers of tattoos in bathroom and changing room mirrors throughout the city. People could line the tattoos up in the mirror to give the impression that they were actually on their skin. Below the tattoo was another sticker with the message.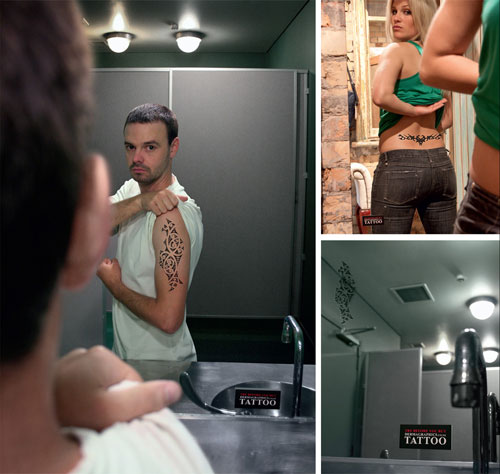 14. Eisenbahn Strong Golden Ale
Tag line: When we say strong, beer, we mean it.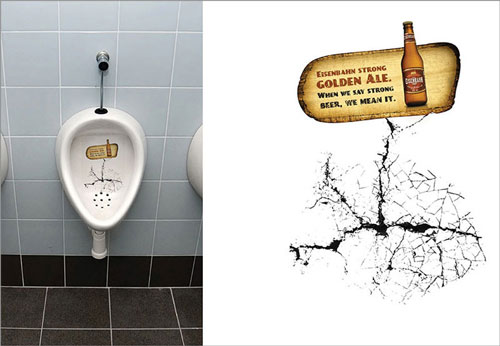 15. 13th Street
To promote the exclusive thrillers and horror films on 13th Street, the toilet of a nightclub in Hamburg was specially prepared. Just after entering the room, the light suddenly goes out and the room is bathed in Black light. And now a bloody crime scene becomes visible on the floor and walls: "See what others don't see. 13TH STREET. The Action and Suspense Channel".