We always complain there are too many things and no place to store it. And it's a universal fact: we have too much stuff! For today we've gathered up a collection of 15 Innovative and Modern Storage Systems that we hope will solve some of your storing problems. We tried to select the items that are not only practical, but that would improve how a place looks and feels.
We are a participant in the Amazon Services LLC Associates Program, an affiliate advertising program designed to provide a means for us to earn fees by linking to Amazon.com and affiliated sites.
1. Interesting Bookcase Defying Gravity: Equilibrium by Malagana Design [link]
Equilibrium Bookcase is an original and surprising product by Malagana Design, a studio in Colombia. The design concept was just really well implemented which is why, even if it seems that the cantilevered modules are going to collapse, they are in fact in equilibrium. Moreover, they are able to sustain no less than 50 kilos. The bookcase consists of five separate volumes, which the owner can customize in any way he pleases. It might prove to be useful if the owners stored books on one shelf, CDs on another and so on. However, due to their inclinations, the shelves can't host small objects or other products that would slip and fall.
2. Shelving Or Desk [link]
When we go out and buy that big piece of furniture, we usually know exactly what it's for. However, what if that piece of furniture could be reinterpreted differently by people. Take for instance this design by Yoon-Zee Kim. To one person it may simple be funky shelving. To another, it's seating and a desk.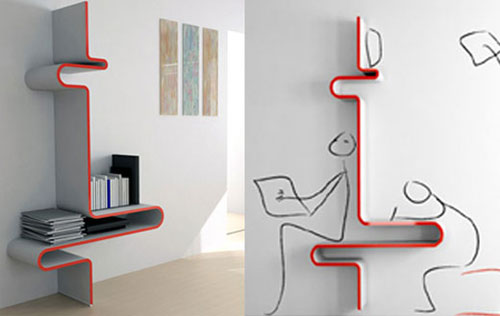 3. Staircase Shelving System by Danny Kuo
[
link
]
Building vertically saves space as it uses minimal ground square meters. When it comes to interior design, the same rule can be applied. By focusing on height rather than width, efficient storage designs can be created. However, high storage designs can create a new problem because the higher storage parts will be difficult to reach. This Staircase is a shelving unit that combines a bookshelf with a pullout stair system in the bottom three shelves. The shelving unit is 2.6 meters high and the top shelves are accessible by using the bottom shelves as steps for accessing the higher shelves.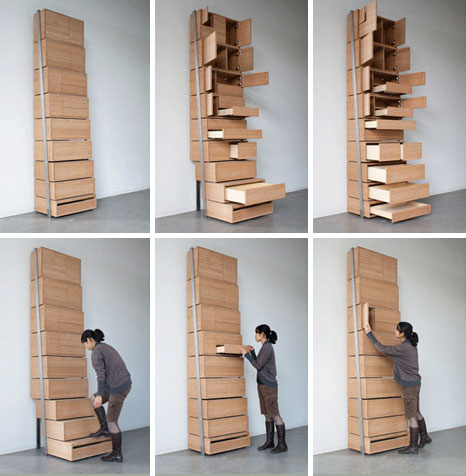 4. COLUMN: Hidden Shelving Storage
[
link
]
The Column consists out of two parts:
A cabinet made out of Cedar wood 240 x 35 x 35 cm, which is custom made for each interior. Cabinet is made by Kevin Hughes.
The pedestal is made out of solid Carrara marble with a fixed height 45 x 35 x 35 cm. With thanks to John in de Braek van Terratorium B.V.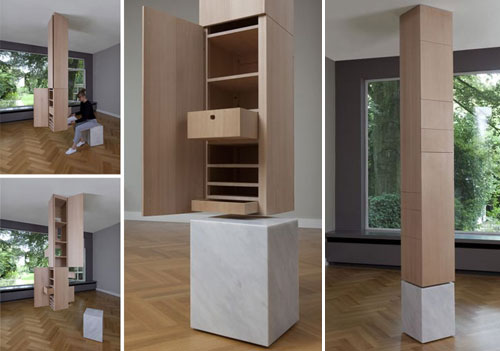 5. Quad shelving by Contraforma
[link]
The Quad shelving unit by Contraforma is a masterpiece of form and function in one. What's cool about this shelving is that you can customize it to your size needs by assembling the separate shelves. It's one of my favorite contemporary modular shelving units. The shelves are a laminated plywood and the back panels are powder-coated metal.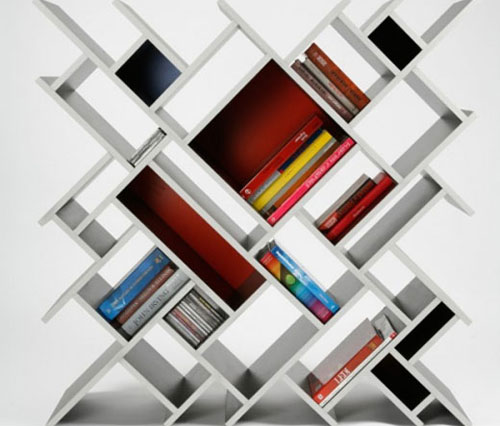 6. Tangram Shelving – Daniele Lago
[
link
]
Instead of just a normal square shelving, why not switch to this various geometric figures shelves that can create an endless possibility of prettiest bookcase. Daniele Lago created her Tangram Series which consist of seven geometric figures shelves that can combined to endless possibility of bookcase/shelves or just simply being a new addition to your ever growing art piece for your home.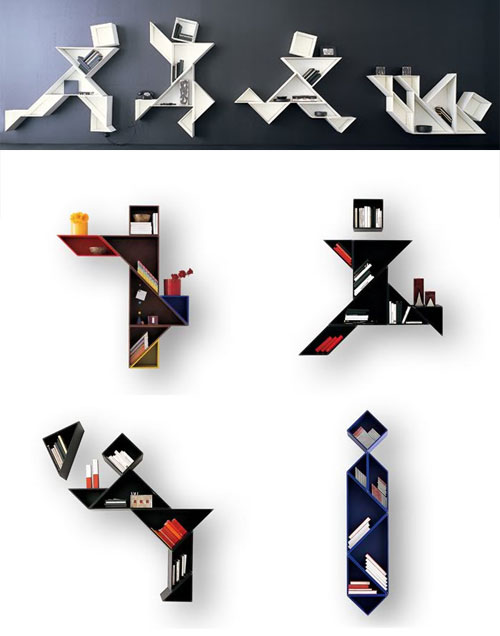 7. D-mension Shelf – Modern Shelving System
[
link
]
The Italian studio Icon Design Studio has just presented D-mension, its new system of modular racks created by Nicola Zanetti. This new shelving system is made out of steel and aluminum. The units, shaped like lower-case d's, can be arranged in a staggered, abstract, or symmetrical formation based on the user's personal taste. I think that this shelving system is a great example of modern piece of furniture.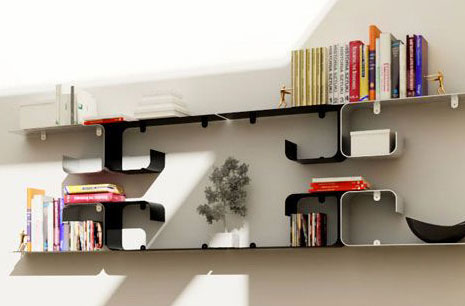 8. Decorated Shelves : Nero Shelf
[link]
The Nero Shelf was designed by Nanni Holén, and was inspired by the decorated shelves you sometimes find in old cupboards. The shelf can be used alone or in a group and gives a wall a strong and contemporary look. The Nero Shelf has an eye catching design that looks good, and is not just a simple shelve that can just hold things.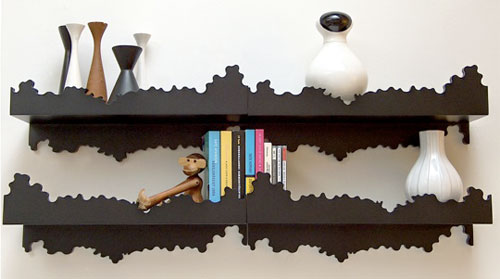 9. 4D Concepts Hanging Corner Storage
[
buy on amazon
]
* Compact shelf unit for corner installation from 4D Concepts
* Constructed out of PVC laminate and composite wood; espresso finish
* Preinstalled holes on upright panels for mounting to corner walls; with 4 curved shelves
* Assembly required; necessary hardware included
* Measures 11-9/10 inches wide by 11-9/10 inches deep by 53 inches high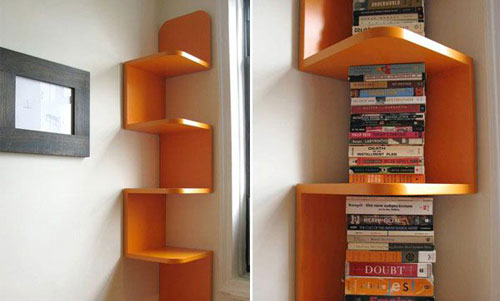 10. LagoLINEA Shelving System
[
link
]
The LagoLINEA system has a slim and simple design, conceived to offer maximum freedom when designing wall compositions. Its what is left after reducing a common grid bookshelf. The essence of LagoLINEA is a practical, minimalistic solution to storing books, audio visual and accessories. Unique shapes can be created to tell a personal story. The LagoLINEA systems simplicity in it basic materials brings aesthetic value and combines innovative ideas which are price accessible. From now on, everybody will be able to express themselves through lines.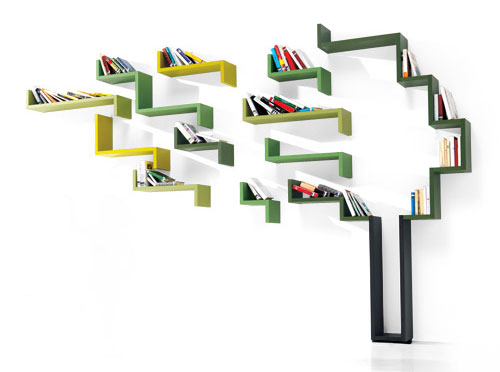 11. NET Shelving/bookcase
[unknown]
One cube, two cubes, a "net" of cubes with 40-cm-long sides that can be mixed and matched. Everyone can create a bookcase tailored to their needs and taste. Net expands the boundaries of creativity and space, because it easily adapts to any environment by separating areas and creating new ones.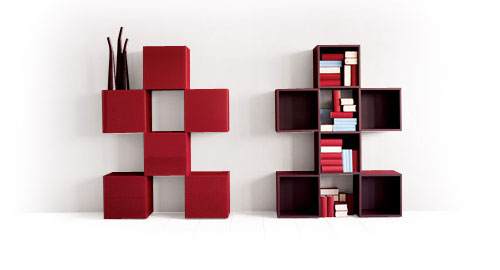 12. Hot Shelves! Metal Fireplace + Modular Mantel Shelf System
[
link
]
This modular shelving system extends the classic mantel-as-shelf approach by allowing people to build on their own extra shelves as needed, attaching them all to the core metal chimney of the wood-burning stove below. Suspended from metal supports above, these shelves work on a tension system of mutual support. Right-angled modules allow wrap-around partitions that can surround spaces on all sides, making miniature cabinets and cupboards in addition to flat storage surfaces.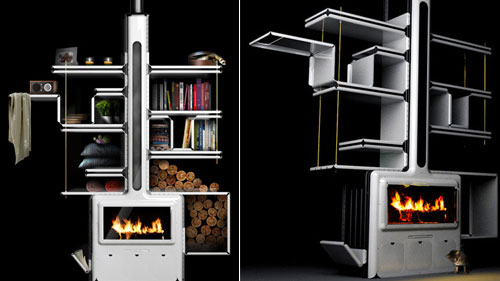 13. Floating & Rotating Shelving Systems
[
link
]
Hanging precariously (and sometimes off-center) on thin metal poles or, these simple sets of wood shelves and glass boxes seem to hover in the air. Better yet: some of the units spin on their axis, rotating to display books or other decorative objects. Designed by T. Colzan, these Domino shelving systems work as singular towers in the middle of spaces but also operate well in tandem (or triplicate) as visual room dividers, semi-opaque screens and conceptual spatial separators.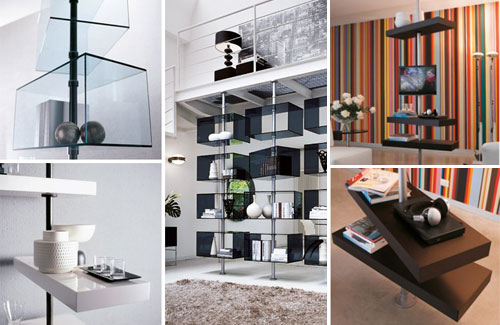 14. Colorful Alphabetized Storage Space or Room Divider
[
link
]
Modern Finnish designer Lincoln Kayiwa chose to solve storage problems with his new AAKKOSET, a room divider that also functions as a wall storage unit. Created to store books, CDs, magazines, bric-a-bracs etc. Lincoln Kayiwa created this alphabetized storage unit that comes in many colours: black, blue, green, orange, red, violet, white and yellow.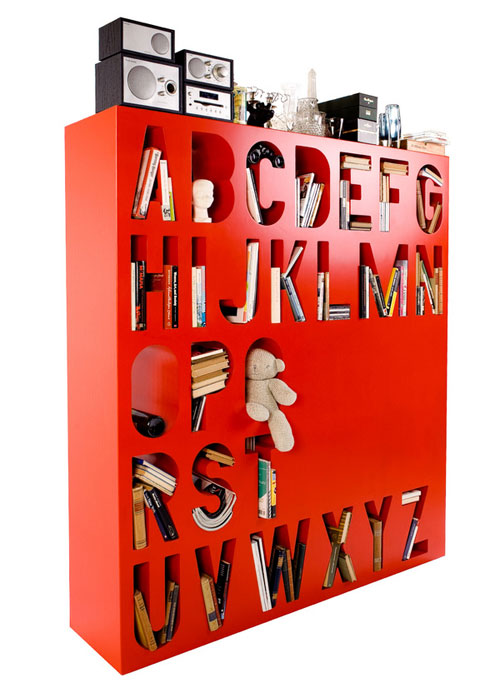 15. Giralot storage system: Swivel Around for Space
[
link
]
The Giralot storage system incorporates a minimalistic design along that maximizes storage space with its unique swivel system. The entire system is based on container-like shelves that swivel 180-degrees on a column that rests on the floor and is fixed to a wall. They can all rotate individually and can adjust to the angle that you set them. Designed by Stefano Bettio, they come in both lacquered and mirror finish and are available in a range of attractive shades.