Calendar is one of those common business gifts. These days, to get more attention from potential clients, to connect with existing clients or to promote the seasonal products, more and more creative calendar printing are created. Some of them are still traditional paper printing with creatively implemented ideas, while some of them are totally out of box, They can be a toy, a tool, a decoration or even a kind of food. Here, we complied a list of 16 Advertising Calendar we like most. Some of those designs are really smart and entertaining, something that you might not expect in calendar; and some of them are also fun to use and may require your involvement since some of them are quite interactive in nature. I hope you will find the calendar designs inspirational.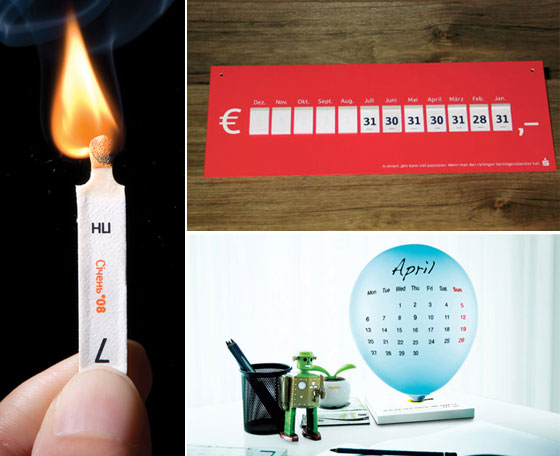 1. STIHL Leaf Blowers: Autumn Calendar [source]
This super cool calendar is developed to promote the product of leaf blowers by STIHL. As I know, it is the first tear-off calendar, that tears off its leaves automatically! To show the necessity of STIHL leaf blowers in an entertaining way – day by day. Due the fact that leaves fall in autumn, their calendar covers the time period 09/23 – 12/21.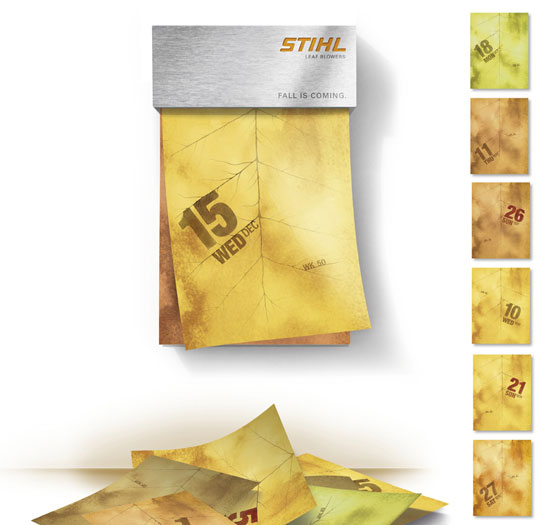 2. Bosch: Calendar [source]
This calendar is designed to get selected dealers and distributors excited about the new, special high-performance, battery-operated Bosch Rotak 43 LI lawn mower
Every page in the calendar is cut in a special way to initially create the individual impression of a wild and untended lawn. The recipient becomes part of the action and tears off a calendar page every day. By doing this, he is actually continuing to 'mow' day by day and so, bit by bit, he has a perfectly cut lawn in front of him at the end of the year. It's an authentic and unique mowing experience, because the width of the calendar corresponds exactly to the width of the lawn mower.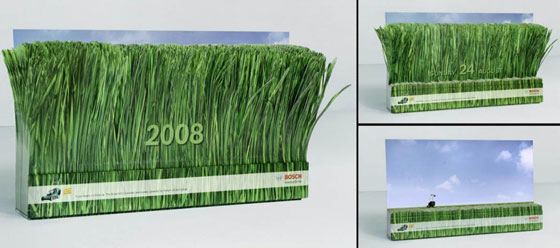 3. Tear-off match calendar [source]
The idea was to create as unique a calendar so that the process of its presenting would become an outstanding event. Alongside with this, it was important to expose the idea of "energy", as it is predetermined by the name and logo of the company. Each page is a month and it looks like a comb made of matches that correspond to the days. The matches are real and the construction of the calendar is absolutely safe.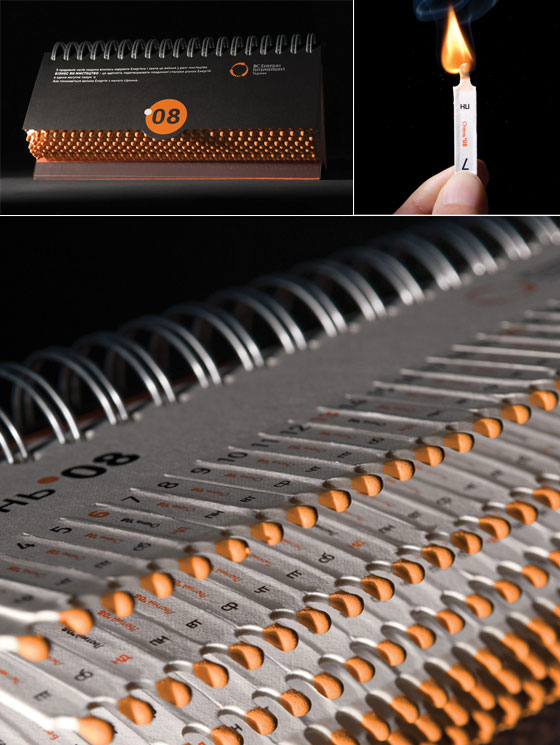 4. An Apple a Day Wall Calendar [source]
Creative apple calendar from Germany reminds us that an apple a day keeps the doctor away. Every day, after you remove one apple from the tube and eat it, the rest of the apples will move down and reveal today's date. At the end of the month, the tube is refilled with 31, 30 or 28 apples.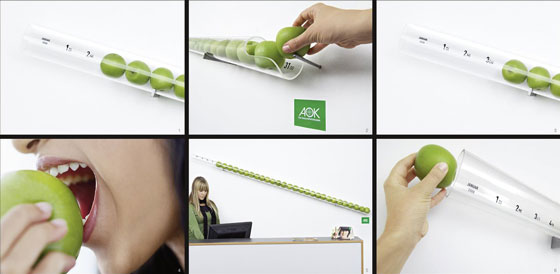 5. Keskin: Calendar [source]
This is an advertising calendar for all Keskin-dealer, which was intergrated in an original car tyre. Month to month the calendar sheets show a stylish new Keskin rim. In doing so changing the calendar sheet became changing the rims.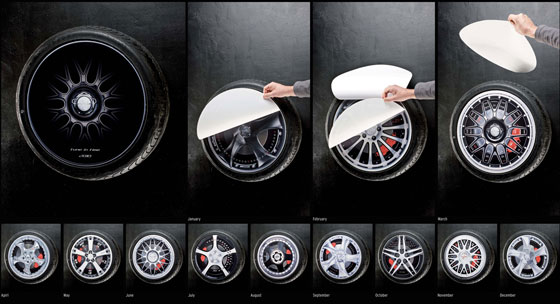 6. One Daily Drop Living Calendar [source]
The idea: A living calendar. A piece of design that reflects our cause and that aims at changing the perception of what people can do to help the planet. By just moving a finger for 3 seconds, we give water to a plant. If we repeat this small act everyday it becomes an act that supports our cause and will change the perception of what can we do to help the planet. 365 days, one drop of life everyday.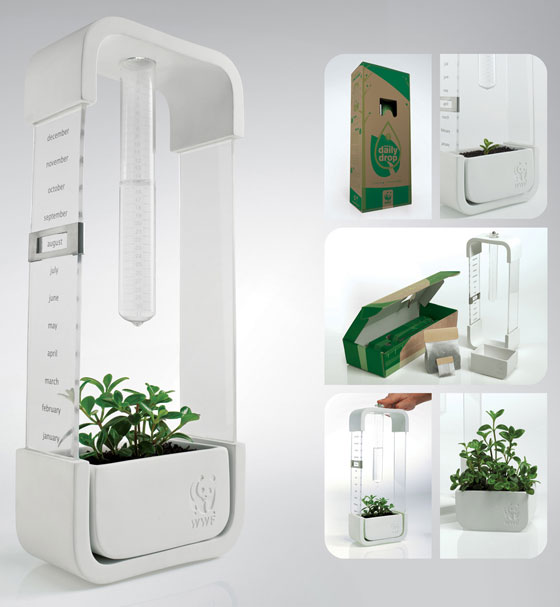 7. Wüsthof knives: Onion calendar [source]
To dramatize how precisely Wüsthof knives can cut an onion calendar was created, in which an onion was cut into 365 slices. Precisely as many as there are days in the year. Perfect for a tear-off calendar.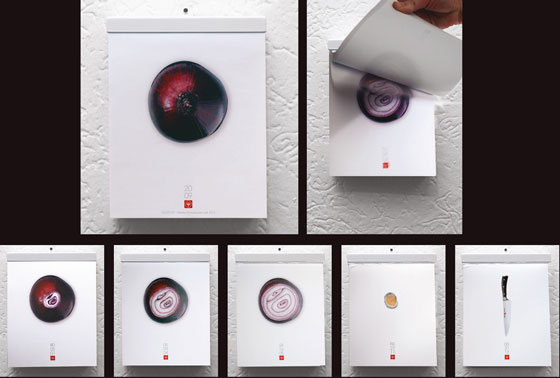 8. Valberg: Safe-calendar 2012 [source]
Safe keeps on protecting.12 security levels all the year round.
The calendar is made as an imitation of real safe, where each page contains a description of one of safe's characteristic. The safe guards so well, that thieves will rather get tired than open it. The calendar has a metal looking handle, and anyone can select necessary week by simply turning it. Each page has a gap for said handle, so the user won`t be able to turn the page for the next month before the handle is positioned correctly. The color of the all pages is similar to actual safe`s color, pages are combined with special retainers. The last page contains discount coupons for future purchases. The calendar will be presented as a gift to the corporate clients and partners.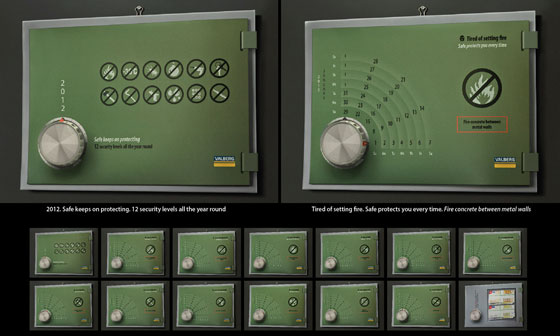 9. Siam Tamiya: Tamiya Calenda, the assembled calendar [source]
Background: A normal wall calendar is to be thrown away after a year but this wall calendar can be turned into 12 modelling kits to be assembled and displayed for others to see. Description of how you arrived at the final design: Every month make a different model. The anticipation for each month to end so another model can be built adds to the fun and excitement that lasts throughout the year.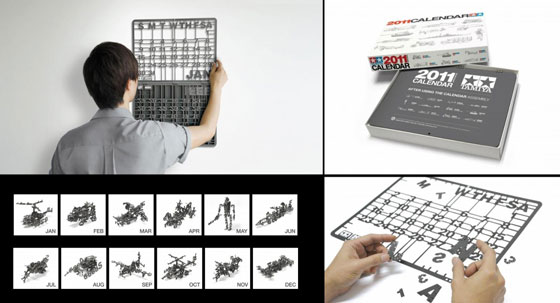 10. Companhia Athletica: Calendar [source]
Aiming at showing that the acquisition of fitness and health is a long-term arduous process. Companhia Athletica created two good-humored and differentiated calendars to the gym. One contained a male silhouette, and the other a female one. In January, we see the over-weighted silhouettes, but as the month go by, the result began to appear and they get in shape. The calendars were posted in all Companhia Athletica's branches. Besides that, students also received their own calendar.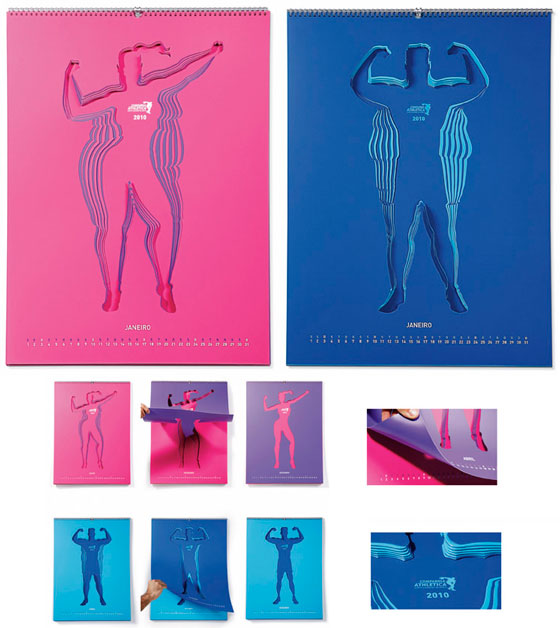 11. Sparkasse Bank: Annual balance calendar [source]
In order to create something that is both useful and entertaining, Sparkasse Bank developed a calendar that keeps Sparkasse Bank in customer's brains throughout the year and reminds them who should ask when investment decision to be made.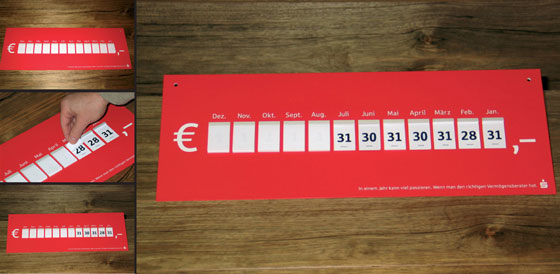 12. IWC Schaffhausen: 12 Parts [source]
WC's motto is "Passion for Details". This calendar was designed to create communication that would live up to this motto, get customers more involved in the brand, and inspire those who already own a few IWC watches to add a few more to their collection. Top IWC clients received a watch box containing a tiny calendar featuring 12 photographs of original IWC parts in their actual size. Next to the calendar were tweezers and a loupe – the same as those used by IWC watchmakers. This little glimpse into the world of IWC could be turned into a personalized tour of the factory in Schaffhausen with a simple RSVP. More than half of the customers who received the calendar signed up to take the tour. Many of them brought their family, ensuring that the passion felt for IWC by its current customers will live on into the next generation as well.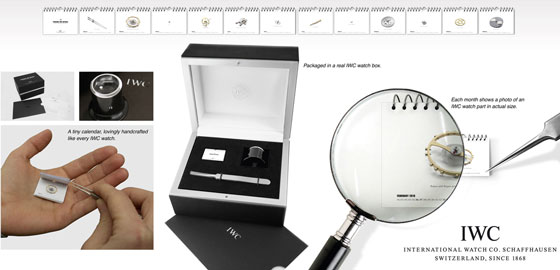 13. 3M Earplugs Calendar "Plug In" [source]
The goal of this calendar is to create a long-time reminder for the product as well as raising of major customers. This 3M calendar consists of ears – one for each month and one for each day. The 3M earplug is moved from one ear to another for 365 days.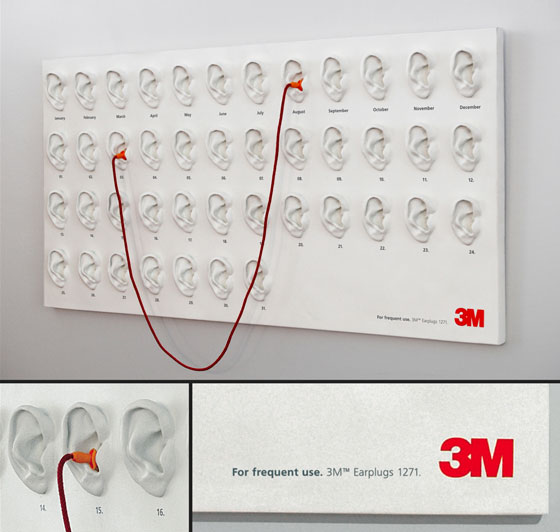 14. World Wide Bakery: Calendar 2010 WWB [source]
If you want the entire 2010 dates imprinted on your dessert or breads, you are going to love the World Wide Bakery 2010 Calendar. I'm not sure if it is a functional rolling pin, but it's certainly a cool looking calendar. For anyone who loves baked goods, this is a must.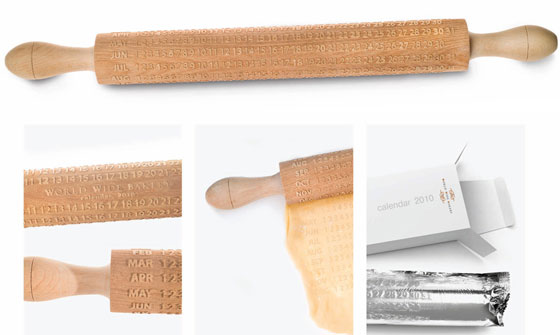 15. Balloon AA: Calendar [source]
Live for today… Plan for tomorrow… Party tonight…
Balloon AA company has created a special balloon – calendar especially for their clients to turn a stressful office into a 365 – day of party. Not only does this new calendar remind their client of the brand, with the website and contact number, it also lightens up the party mood every time the client look at it,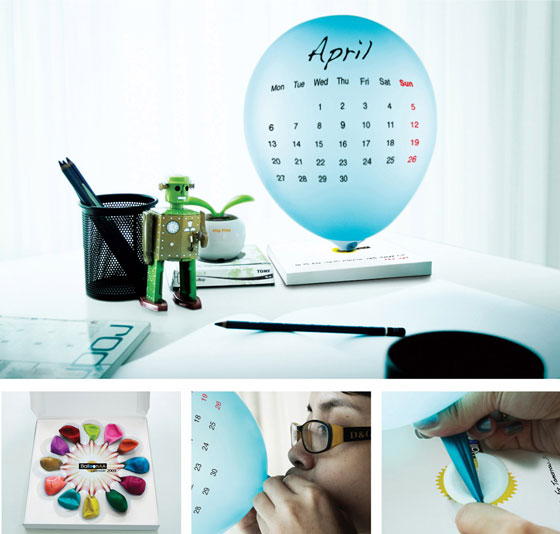 16. Kaffeine Communications: Construction set calendar 2011 [source]
The calendar represents a constructor set made of 16 separate cards with slots which can be joined in any combination. Each card contains a month schedule and an advice about how to make some good. Additional 4 elements are the agency's business cards. 16 is the quantity allowing constructing a certain figure, e. g. the Rabbit, the 2011's patron according to Chinese calendar. The main idea of the calendar lies in the possibility to construct one's year of good deeds. The calendar is Kaffeine Communications advertising agency's self promo. It was presented as a NY gift to the agency's clients, partners and friends.