As a first impression, a business card creates a physical connection and bond between you or your business and your customers. Just like in a website, business cards can become great interactive elements, but with the added ability to have real textures, different materials and shapes.
In this post, I will present you with 17 creative and unusual Business Card Design, each one has their special feature: eatable, usable, playful, plantable… so many great ideas behind those designs and convey their branding/service. Hope you enjoy the list and get some inspirations for your next time business card printing.
Adam Mayer Geared Business Cards [link]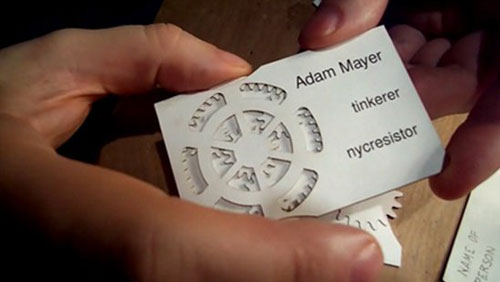 Leaf Business Card [link]
Your message or logo etched right onto a real leaf, no paint necessary! The resulting leaves are simple, stunning when looked at against the sunlight, and the best part is that if they are thrown away, there is no adverse effect on the environment.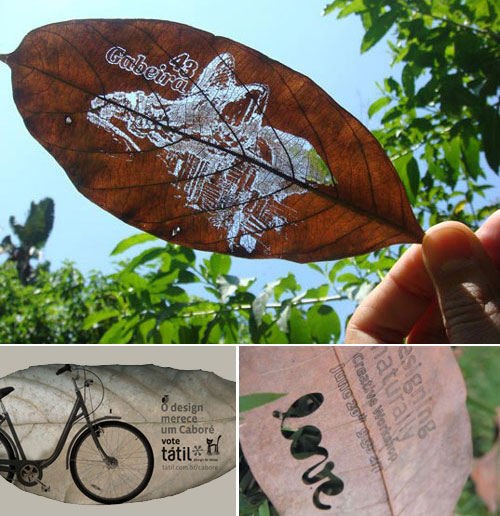 MEAT CARDS: BUSINESS CARDS MADE FROM MEAT AND LASERS [link]
Start with 100% beef jerky, and SEAR your contact information into it with a 150 WATT CO2 LASER. This is the most special business card I ever seen. Not sure about the practical usage, it does look visually impressive.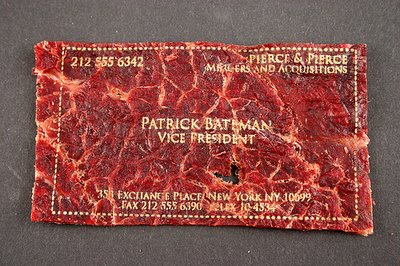 Semi-transparent Business card [link]
Although you can't eat this card like the meat card, using different material on the same card will make this card shinning in the ordinary business cards for sure. And most important, you can easily store it with all the other "normal cards".
Decorate your card with a bit of fluff [link]
feel it by yourself!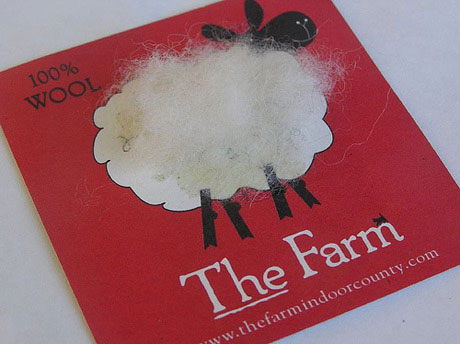 Animated Business Cards by Chung Dha Lam
[
link
]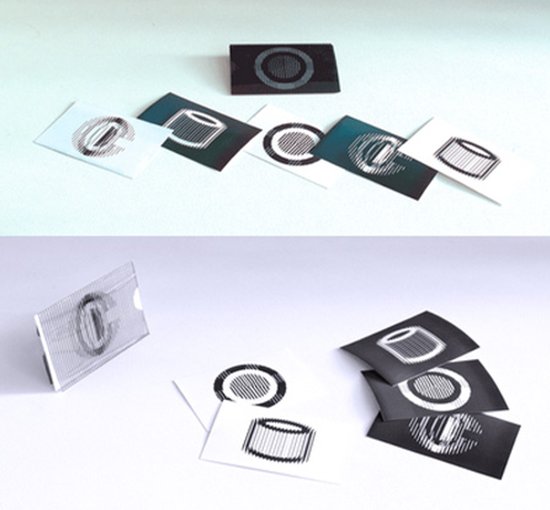 Mark Ramadan Business Card
[
link
]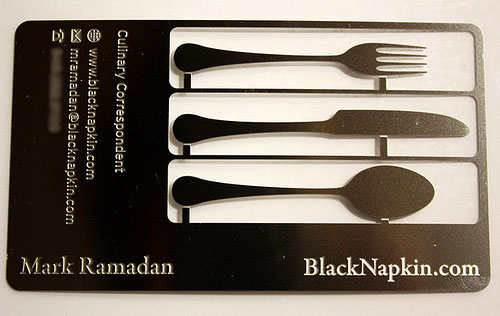 Adworks Media Business Card
[
link
]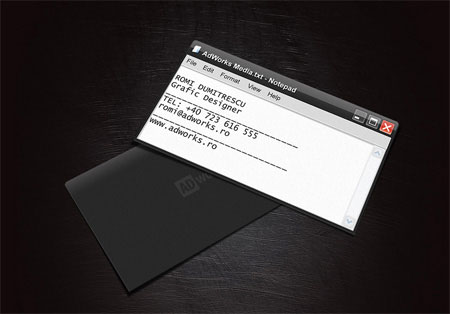 personal treiner rubber name card
[
link
]
Expandable rubber to test your strength. One more time. And, one more. One last time. Good job. Now, what was the number again?
A good idea? I am doubting…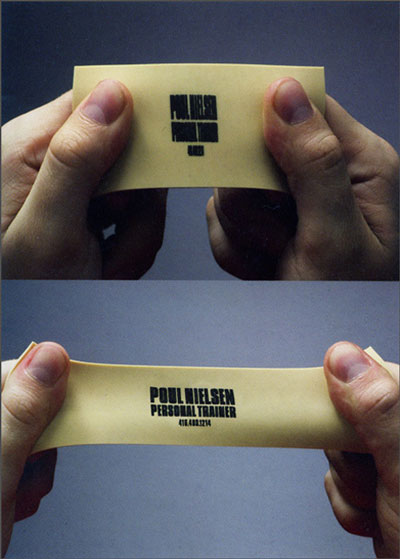 Headhumter name card
[
link
]
100% discreet business cards for head hunter Aert van Seggelen. Completely edible business cards with 'read it then eat it' instruction.
Wonder how the paper tastes like.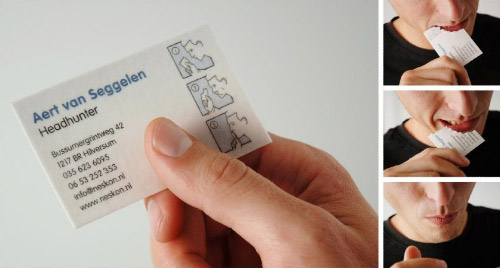 Business card on tied cloth
Business cards were typeset on cloth and tied in a knot. Clients would loosen the knot to reveal the name and information of the massage therapist.

Yoga One: Business Card
"Yoga One. Get Stretchy" – a playful business card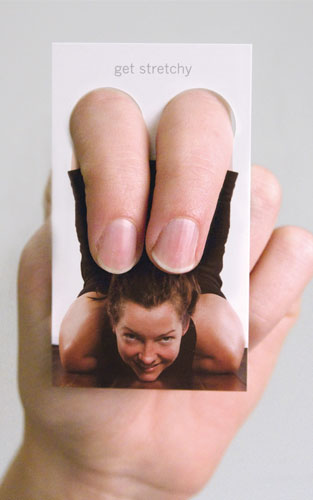 Business card which can roll up cigarettes – Fly Pizza's
Many FLY PIZZA's customers are young smokers and save money by rolling up cigarettes, so we created a special business card, made of smoking paper branded package, in order to be always within reach of the smokers and hit them during hunger attacks.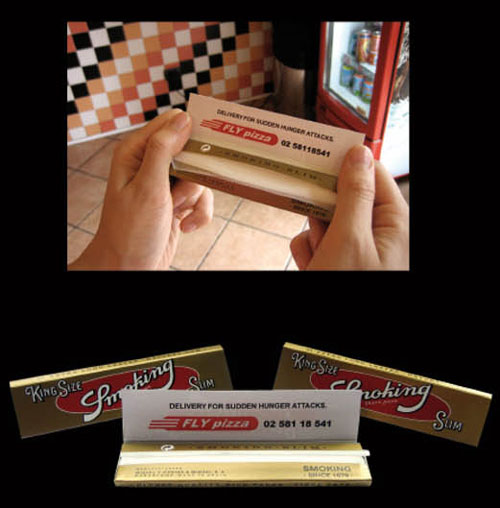 Lush – plantable business card
[
link
]
There is nothing better then a little freebie. In this case a few seeds demonstrating how lush can make your place greener.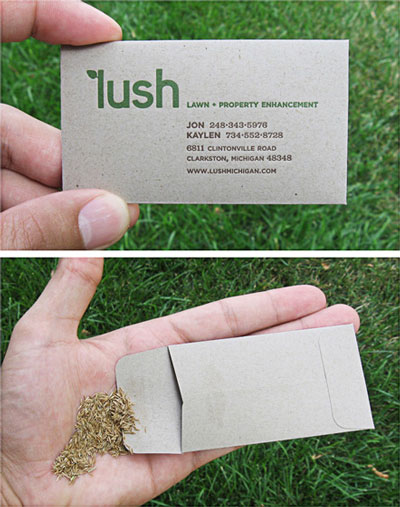 Mundo do Condomínio cleaning products: Sponge card
[
link
]
Business card printed on a real sponge. If you keep this in the kitchen, you probably will see it everyday till you throw it…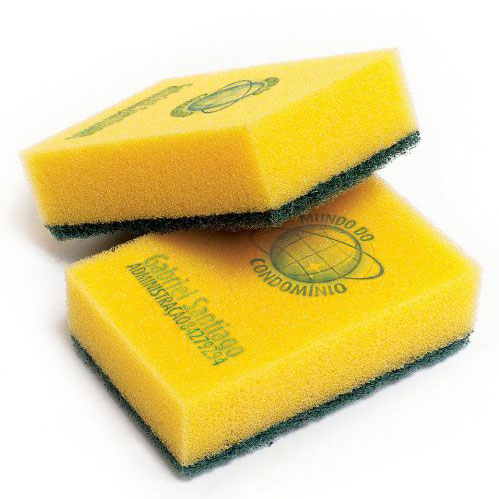 Business card for Proofreader
[
link
]
That is a clear idea for proofreader… pencil with extremely long eraser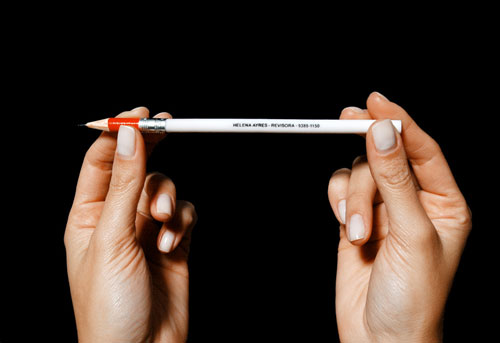 Business Card for Hair Artist
[
link
]
This one-color card can be customized by inserting hairpins through the die-cut along the top of the illustration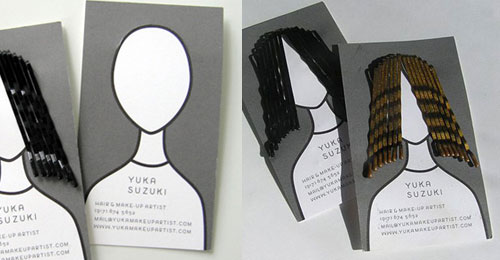 Business Card Transformer
[
link
]
The cardapult is a business card that transforms into a desktop catapult. It is powered by a small rubber band and is the thickness of 5 business cards.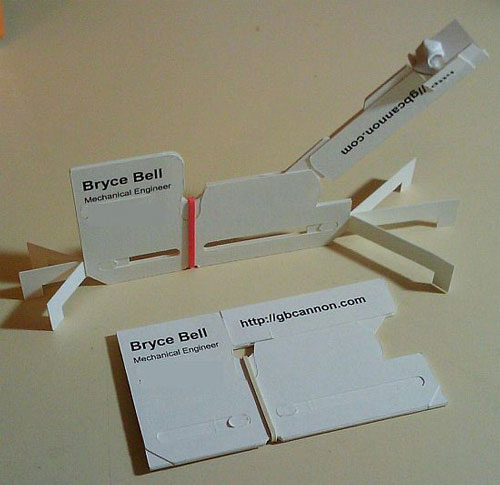 Which ones are your favorites? Please share your comments with us…