Mirrors are a decorative item that never gets enough fanfare. They can be used as a finish material on walls, and as a cladding on furniture. Hung over fireplaces and placed in frames, mirrors can transform a room from small to roomy in an instant. Mirrors are extremely versatile in that they can represent any decor style. In this post we will present you with 18 Beautiful and Modern Mirror Designs which will definitely help you spice your home.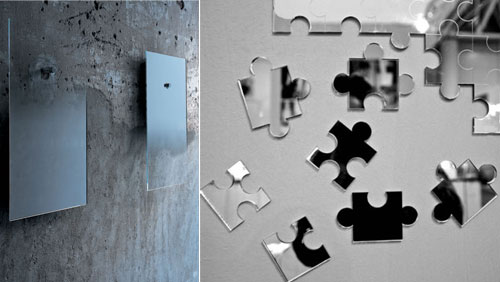 We are a participant in the Amazon Services LLC Associates Program, an affiliate advertising program designed to provide a means for us to earn fees by linking to Amazon.com and affiliated sites.
1. Suck UK Razorblade Mirror – Classic Imagery for Your Wall [[discontinued]]
All your dreams are made when you are chained to the mirror and the razorblade. We think this is what Noel Gallagher was talking about. Classic imagery for your wall. Not only is this a pretty cool object to put on the wall, it's also a perfect shaving mirror.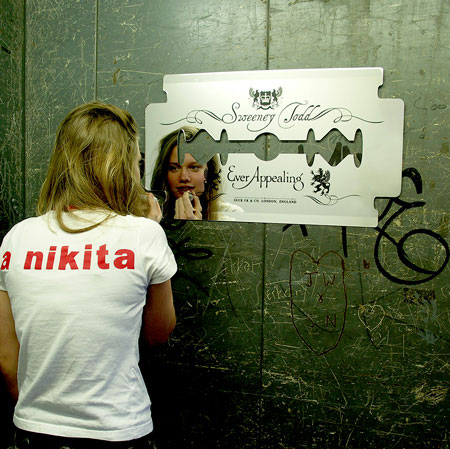 2. SUCK UK five x five Mirror [[discontinued]]
25 mirrored glass panels, each set at a different angle on a Polished stainless steel fram.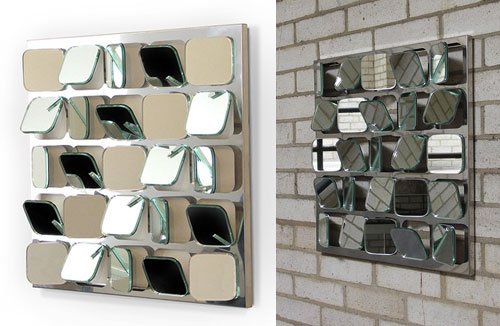 3. Umbra Mosh Multi-Mirror
[[discontinued]]
A cluster of stained and lacquered wood framed mirrors that come together to create one beautiful wall piece.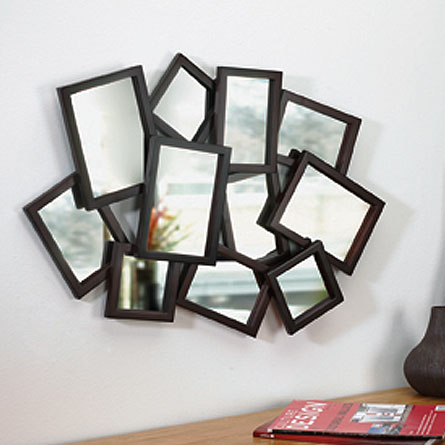 4. Sun Wall Mirror
[
buy on amazon
]
A distinctive wall mirror, this sun-inspired shape is gold plated ornately designed. 17 diameter.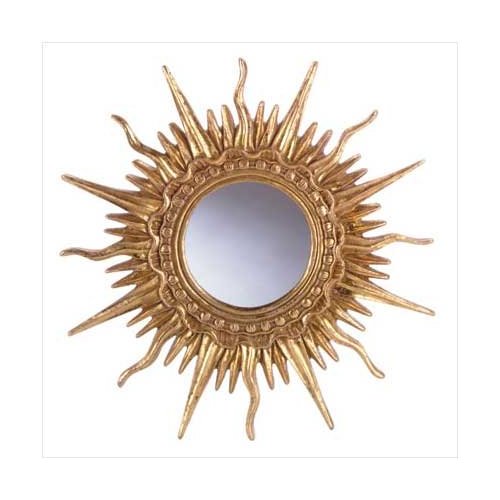 5. Mirror puzzle
[
link
]
Cool jigsaw puzzle inspired mirror that you can hang on your wall.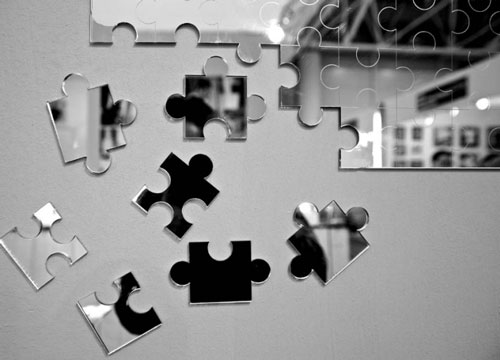 6. Mirror ruler
[
link
]
The Silk printed mirror designed by the Juanco – lorbus. A good idea you just face the mirror rule, you can know your height. You don't need line the wall, then measure it.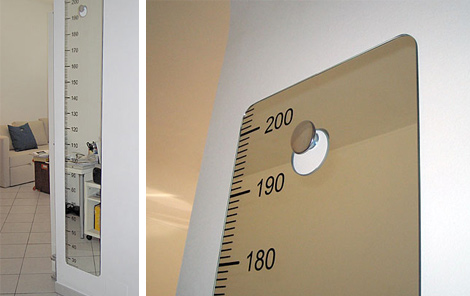 7. Choe and Tomlinson Death Wish Self Portrait Mirror
[
link
]
Choe and Tomlinson have caught us fixing our hair in the reflection of the drugstore window one too many times. So they have taken it upon themselves to make our next glimpse in the mirror a bit more humorous. After all, a goofy smile looks great on everybody. Jeannie Choe and Steven Tomlinson's Black Death Wish Mirror combines vanity and mortality in a pop Victorian silhouette.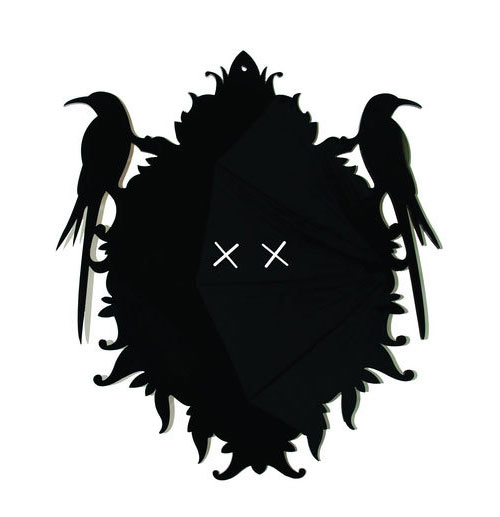 8. Fiction mirrors by Jean-Marie Massaud for Glas Italia
[link]
This series of "fiction" mirrors designed by Jean-Marie Massaud for Glas Italia are made in extralight glass with degrading shaded silvering. They hang on the wall with a chromium-plated metal cylinder. The small mirror can have a degrading shade upwards or downwards.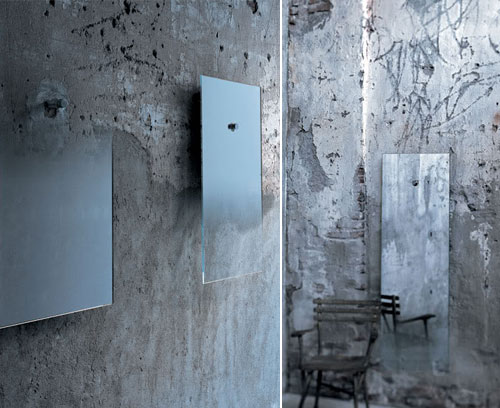 9. Broken Mirror Lighting
[link]
Broken Mirror Lights – The cracks are shaped into different patterns, including a leaf, a swimming fish, etc, and they seem great as the light is shedding through those cracks.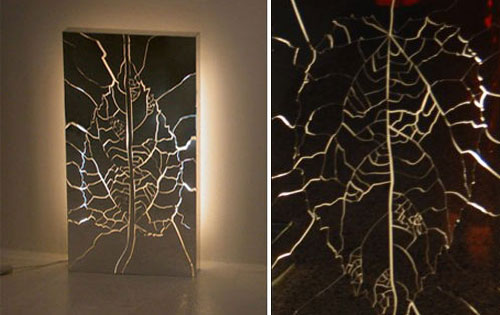 10. Circle Sun Contemporary Modern Abstract Glass Mirror Wall Art
[
buy on amazon
]
Wonderful Contemporary Spoke Wall Mirror. BRAND NEW. Measures 34″ in Diameter. This Beautiful Piece is Hand Crafted. Hang it from any wall in your home with the attached hardware. It can be used for any room in your home or office. In the Bedroom, Bathroom, or Living fits into any decor! The Mirror is Glass NOT PLASTIC as many are.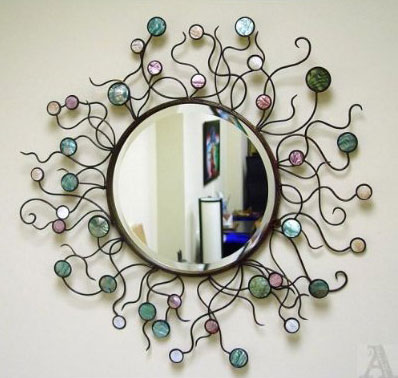 11. Vous mirror – You look great
[
link
]
Vous mirror, not only is a perfect mirror, it also is a really cool object to put on the wall. The design looks awesome, and is perfect for those with an cool lifestyle. Each time you look in Vous mirror it tells you: "You look great!"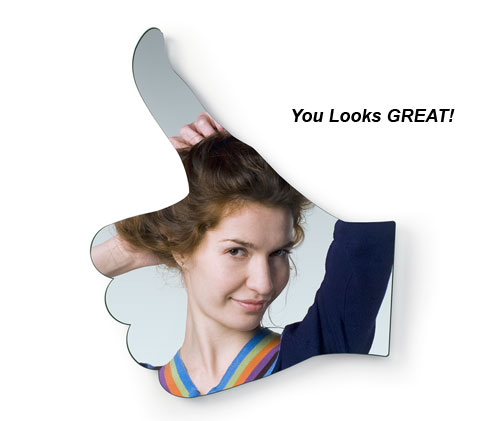 12. Nexxt by Linea Emile 17-1/4-Inch-by 26-Inch Mirror
[[discontinued]]
With sophisticated modern style, Nexxt by Linea's Emile mirror adds interest to a living room, foyer, or bedroom wall. Three rectangular mirrors and a deep brown Wenge-finish veneer frame create a sleek zigzag design featuring a play of crisp lines, rounded corners, and stepped sides. Not only is this a distinctive piece to look at, it makes small spaces seem larger and more dimensional. The mirror measures 17-1/4 inches wide by 26 inches high.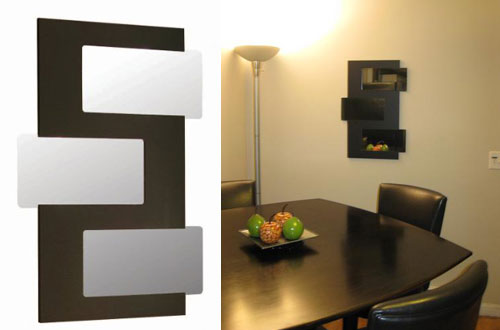 13. Set of 7 Zoe Round Wall Mirror
[
buy on amazon
]
* You will receive a total of 7 mirrors.
* Dimension: three in 3″ diameter, three in 6″ diameter and one in 9″ diameter
* Finish: Mirror
* Material: MDF Backer & Mirror
* Set of 7 Zoe Round Wall Mirror
* This item is a set of 7 fun and unique decorative mirrors.
* This set of mirror appears to float off the wall.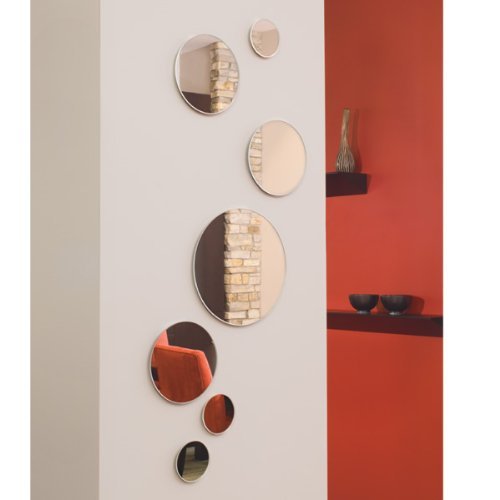 14. Miami Wall Mirror in Multi-Level Collage Design
[[discontinued]]
* Dimension: 30″W
* Material: MDF Backer & Mirror
* Miami Wall Mirror in Multi-Level Collage Design
* This multi-level collage mirror adds a retro feel to any room.
* The item can be hung vertically or horizontally and groups for multiple display options.
* No assembly required.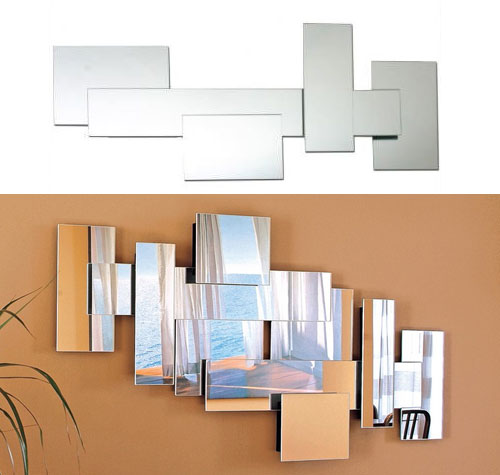 15. Melissa Floral Wall Mirror
[link]
# Mirror with transparent floral design
# Appears to float off the wall
# Can be hung vertically or horizontally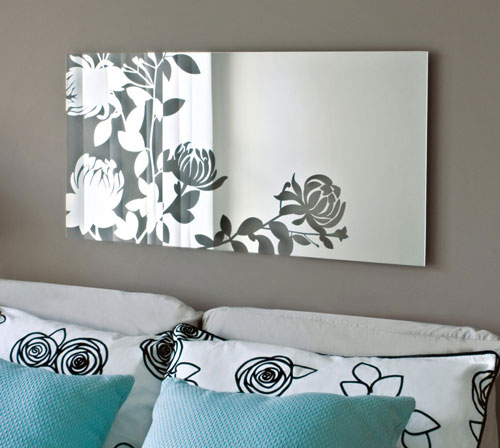 16. New Retro Large 39″ Sunburst Starburst Wall Mirror
[
buy on amazon
]
Our designers spent a lot of time making this beautiful mirror just right. Inspired by the space travel of 60's, this stunning starburst mirror has rhinestone planets and curving solar rays. With a convex mirror in the middle no detail is left out. Dark brown metal (almost black).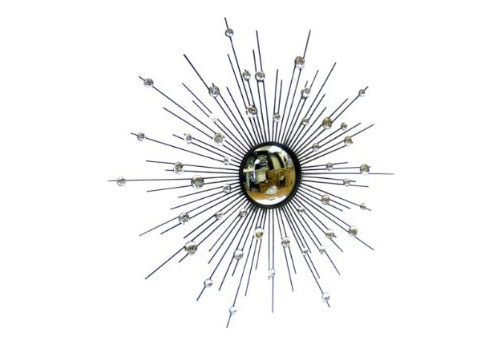 17. Fogless Shower Mirror with Squeegee by ToiletTree Products
[
buy on amazon
]
Look your best by taking care of your face in your shower. This patent pending mirror is guaranteed not to fog in the shower. Other fogless shower mirrors just don't work. No more suction cups falling off the wall! Our removable, soft silicone adhesive secures the mirror to all shower surfaces and will not damage tiles or shower walls! The mirror conveniently detaches from the bracket so you can easily fill the reservoir before each use. An included self-stored squeegee removes any excess water from the front of your mirror. An adjustable frame makes the mirror accommodating for multiple users and angles. Dermatologists recommend performing daily skin care regimen in the shower as this promotes healthier looking skin. The combination of heat and moisture open the pores and creates n ideal environment for shaving, exfoliating, tweezing and cleaning.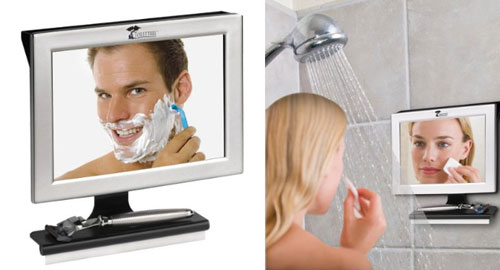 18. Grass mirror
[
link
]
The mirror is made from rectangular prisms, which each have been cut at a different angle and can be connected to one another. The grass planted in the prisms looks much bigger with the mirror effect. It might be a good home decoration, but I do doubt its functionality as a mirror.