If you are one of those people who like switching up their décor regularly, then you know how expensive and even stressful it can be. We usually drool over images of wonderfully decorated rooms that are outfitted with expensive new furniture and decorations and we immediately want the same for our living room too. However, spending a lot of money on such decorations isn't the only issue here. Sometimes, decorating can be a very overwhelming and time-consuming process in which you may end up not fulfilling everything you planned. Since the living room is where we relax the most in our free time, we want it to look perfect when we decide to update our bare walls and dated furniture. In order to avoid going through an unsatisfying makeover and spending a lot of money, we are giving you four ideas that you can use to update your favorite room in the house by doing small changes to it and staying on a budget at the same time.
Idea 1: Rearrange the furniture
Before you start rearranging the furniture, it is recommended that you clean up the unnecessary items that don't contribute to the appearance of your living room. So, before bringing new pieces in, you must take some out. Once you declutter, you can rearrange the furniture in the living room, changing the look and feel of it. For example, if your sofa is somewhere in the middle of the living room blocking the traffic flow, then you can simply move it to the opposite wall making the room more inviting. If the rearrangement seems impossible, that doesn't mean that you must buy new furniture right away to update the room. Instead, shop around the house and look for anything that doesn't fit in another room and put it in the living room. However, if you really want to update your old furniture, but still want to stay on a budget, then you can shop from online catalogues that offer you the opportunity to pay in installments, so you won't be spending too much money all at once.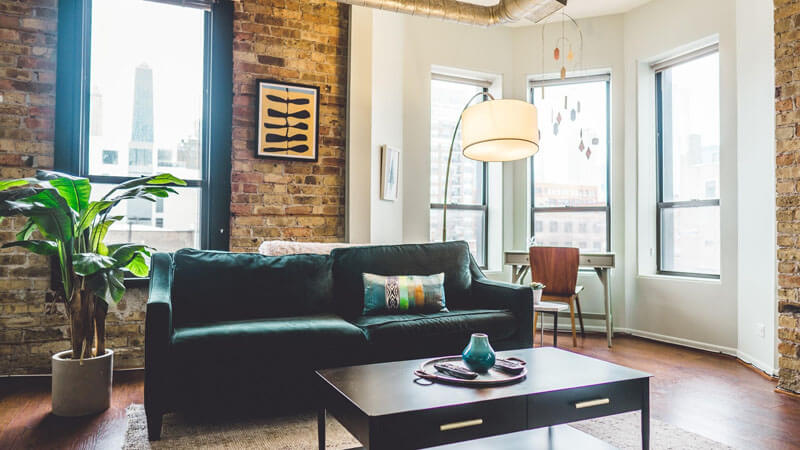 Photo by Chait Goli from Pexels
Idea 2: Add decorations
There are so many decorations that you can put in your living room without actually spending a dime on anything. Of course, the easiest way is to display any lovely and unique souvenirs you might have on tables, bookshelves, or counters grouped with scented candles. However, there are other actually free of charge items you can use to give your living a fresher look. For example, if you have some unused cans in your storage room, you can decorate them and use them as vases to put your favorite flowers in. Also, adding pillows and blankets with different colors and textures can transform your living as well, especially if you change them with the seasons. Next, if you have a low ceiling you can create a fake high one by installing a curtain rod that will be right above the window frame and hang up some draperies that will match your sofa. Even hanging up your favorite artwork counts as a decoration, so make sure you do that too.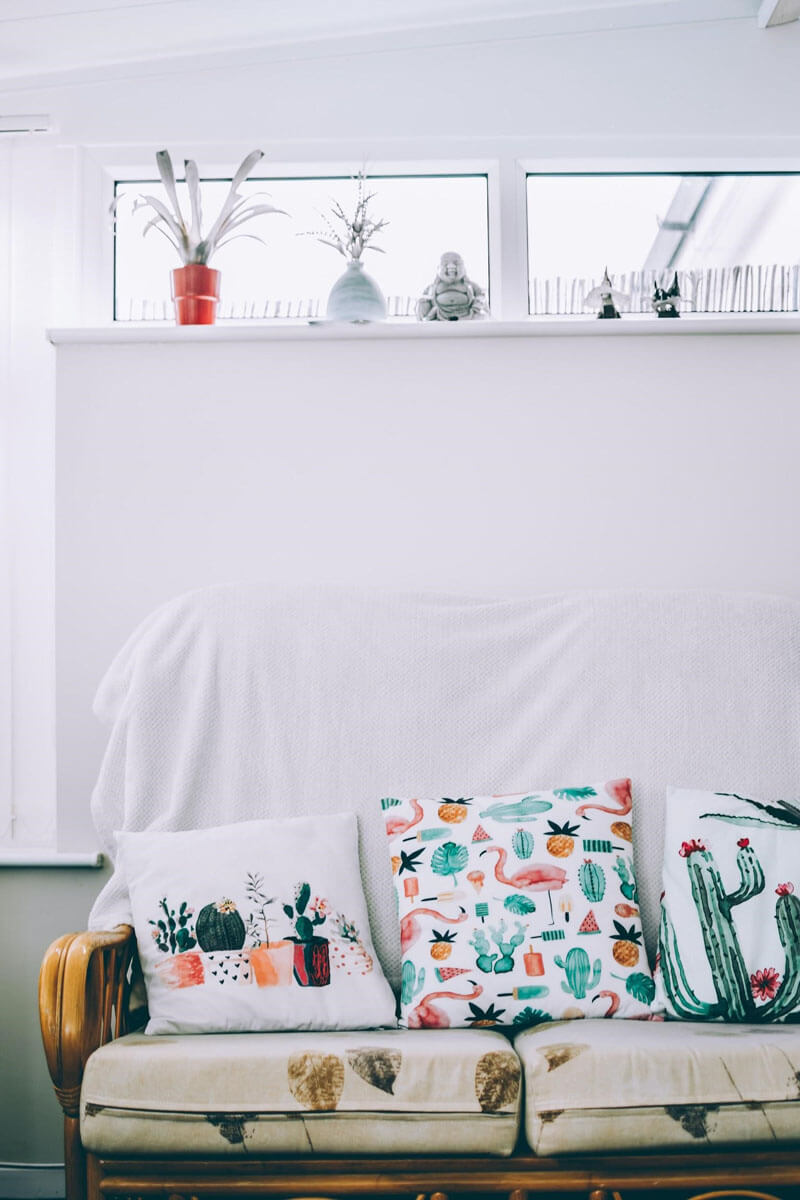 Photo by Lisa Fotios from Pexels
Idea 3: Paint away
Another cheap way to transform your living room is to paint. Most people have some leftover paint sitting in their storage, so why not use it to give your living room a fresh look. Painting is a DIY job that doesn't require much money, plus you will be working at your own pace. It can turn into a really fun project to do with your family and friends because you will actually get to see how your living room is going to transform. With painting, you actually have many options to change the appearance of your living room. For example, if your furniture is a brighter color, then you can paint the entire room or just a feature wall with a darker one. If you want to experiment more, you can combine different colors and create an interesting effect such as horizontal or vertical stripes with contrasting colors or maybe ombre if you are more ambitious and want to show an overlapping of bright and dark colors. However you choose to do it, you won't regret it because your living room will definitely look updated.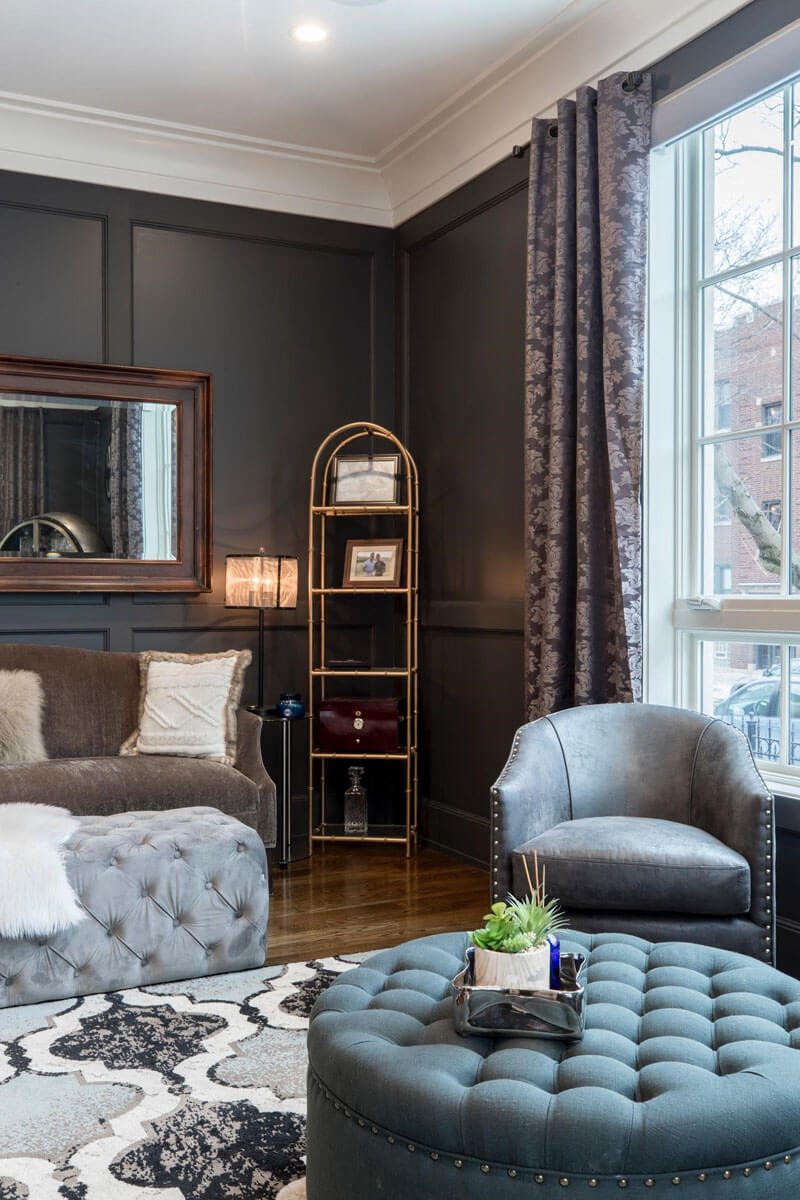 Photo by Alex Qian from Pexels
Idea 4: Create storage
Another DIY project you can engage in is creating stylish storage spaces in your living room. The key to storages is to be both perfectly practical and give your living room a fresher look. There are many options for doing this and it all depends on the appearance of your living room and your personal taste. The most affordable way to introduce storage space is baskets. They are especially useful for blankets and magazines making your living room look neater. Another cheap option is to install floating shelves which will make your room look more refined. You can stack your favorite books and decorative items giving your entertaining area a more polished appearance. A very popular way to add storage is to consider ladder-style shelving. If you have an old ladder stored in your garage that you haven't used in a while, you can paint over it and decorate it with flowers, books and photos. A leaning ladder shelf won't overwhelm your room and it is an interesting alternative to the traditional shelving.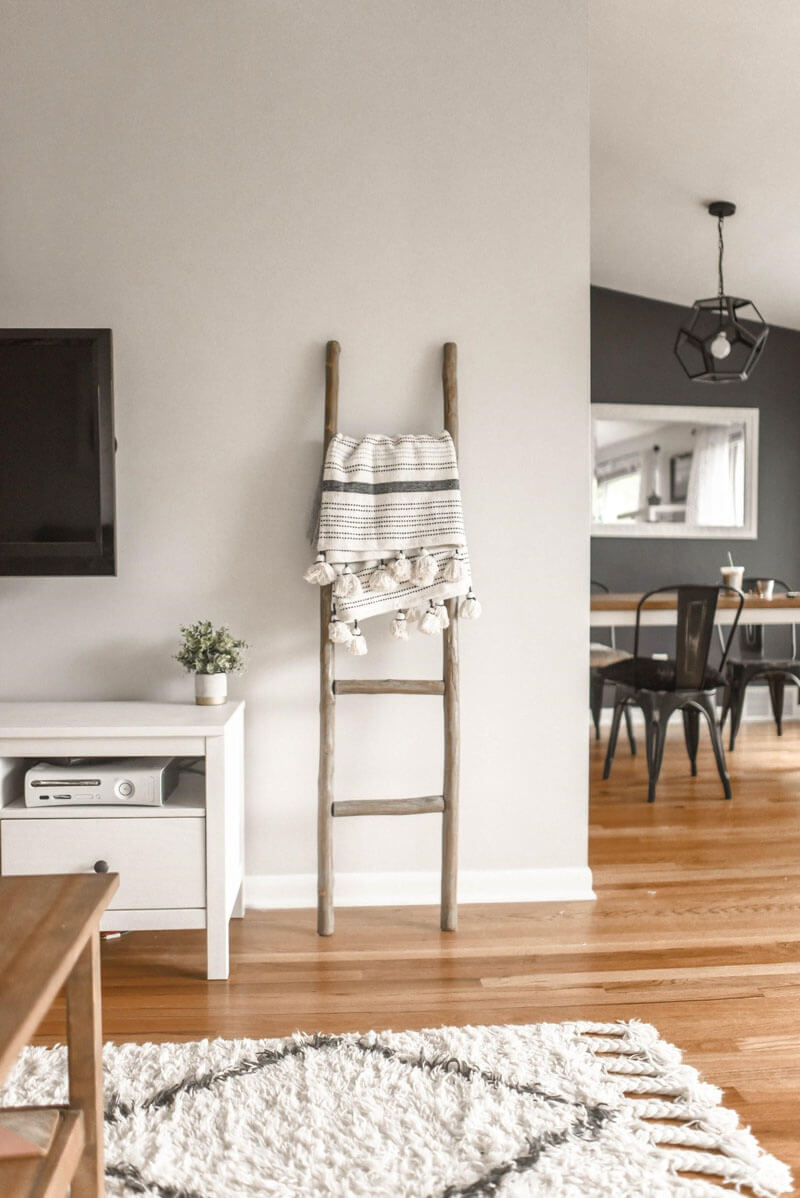 Photo by Element5 Digital from Pexels
Wrapping up
Transforming your living room and giving it a new, fresher look doesn't have to cost you a lot of money as remodeling would. All you have to do is to get creative with what you want to add and change entirely in order to make your living room more inviting. There are so many options for what you can do and all on a small budget, creating a home that looks like the ones in luxury magazines. There is nothing more satisfying than when you have redecorated the most used room in the house and get the feeling as if you have walked into a brand new home. So, use these few ideas and start redecorating.