The bathroom is one of the most crucial spaces in every home since it's where you get ready for the day and unwind in the evening. For that reason, it should not be just a place where you go to get groomed; it should offer a calm, relaxing, and beautiful environment. Whether you want to renovate your home or buy a new one, here are some décor ideas for your bathroom to make it more beautiful and functional.
1. Install Shelves-But Sparingly
Installing shelves is one way of decorating a bathroom without spending a fortune. They not only make a bathroom beautiful but functional as well. You can place your décor pieces or other items you use when in the bathroom, such as cleaning products and towels. Installing bathroom shelves is not difficult. You can easily install them without involving a professional if you have the tools and basic skills. However, you have to be very cautious not to overdo it, as too many shelves make a bathroom seem crowded.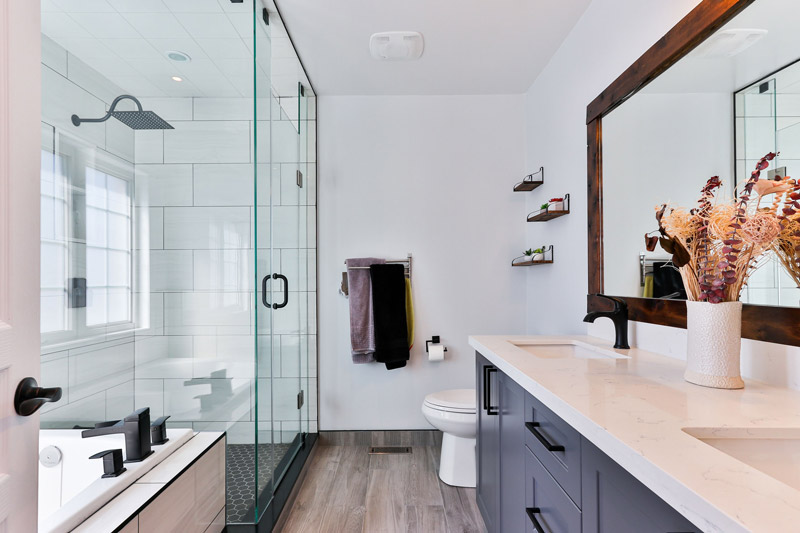 2. Get Some Plants
Some plants do well in the bathroom, despite it having varying conditions. Most plants do well in moisture, and the bathroom offers exactly that. However, there is one challenge. Not many bathrooms can offer sufficient natural light necessary for the growth of plants. That's why it's advisable to choose plants that thrive in moisture and don't need much light.
These include spider plants, air plants, lucky bamboo, snake plant, and Boston fern. When it comes to placing these plants, you have several options. You can place them on shelves, on the floor, or on other surfaces. You can also plant them in beautiful baskets or pots that complement the bathroom theme. If you feel like taking care of live plants is too much hassle, go for artificial plants. They are less demanding as the only thing you have to do is wipe them, and you don't have to do that every day.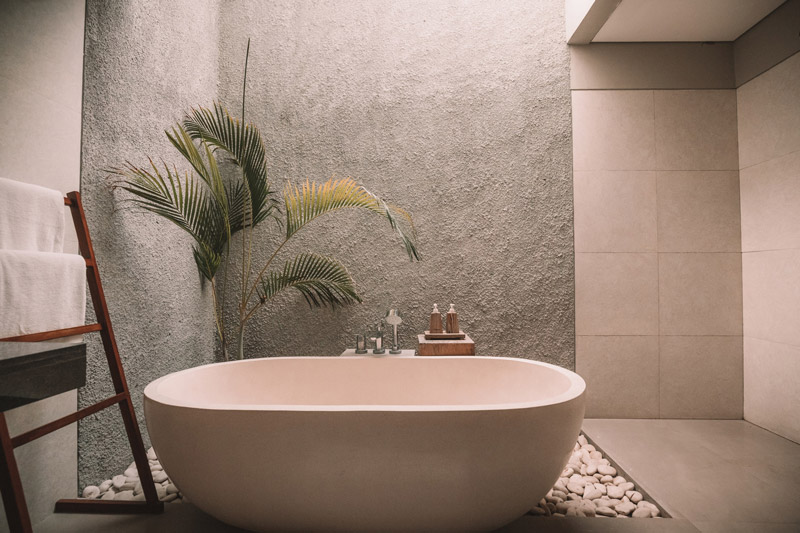 3. Don't Be Afraid to Combine Various Décor Themes
Do you prefer simple yet rustic, or traditional yet modern touches in your bathroom? You can achieve this by combining various décor themes to create a modern farmhouse bathroom decor. This design is loved by many due to its simplicity, since it uses natural materials like wood and steel.
Inspired by nature and vintage looks, this design is usually contemporary and offers solace and comfort. It creates the kind of space that not only calls you from far but also convinces you to stay longer. With this design, you are allowed to go a little bit creative. For example, the furniture doesn't have to have the perfect paint. It can be chipped in some parts to expose the furniture's natural look.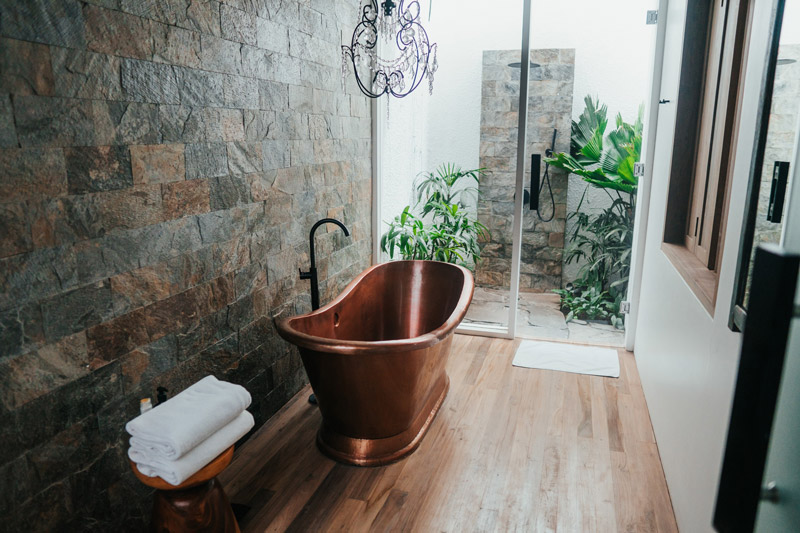 4. Get Some Beautiful Bathroom Art
Previously, bathroom art was greatly ignored. Nowadays, people are embracing this idea, as it transforms any bathroom in a great way. When it comes to bathroom art, there are several options you can go for. You can add beautiful wallpaper around the shower cubicle, hang framed prints, or even sculptures on the wall.
However, you have to add pieces of art that have the same bathroom color scheme to create a harmonious look. Any piece of art, be it a photograph, painting, or wall hanging, can be placed in the bathroom. However, being a high moisture area, you have to consider whether the art will withstand the moisture based on what it's made of. If the material is moisture-intolerant, placing it in the bathroom might not be the ideal option.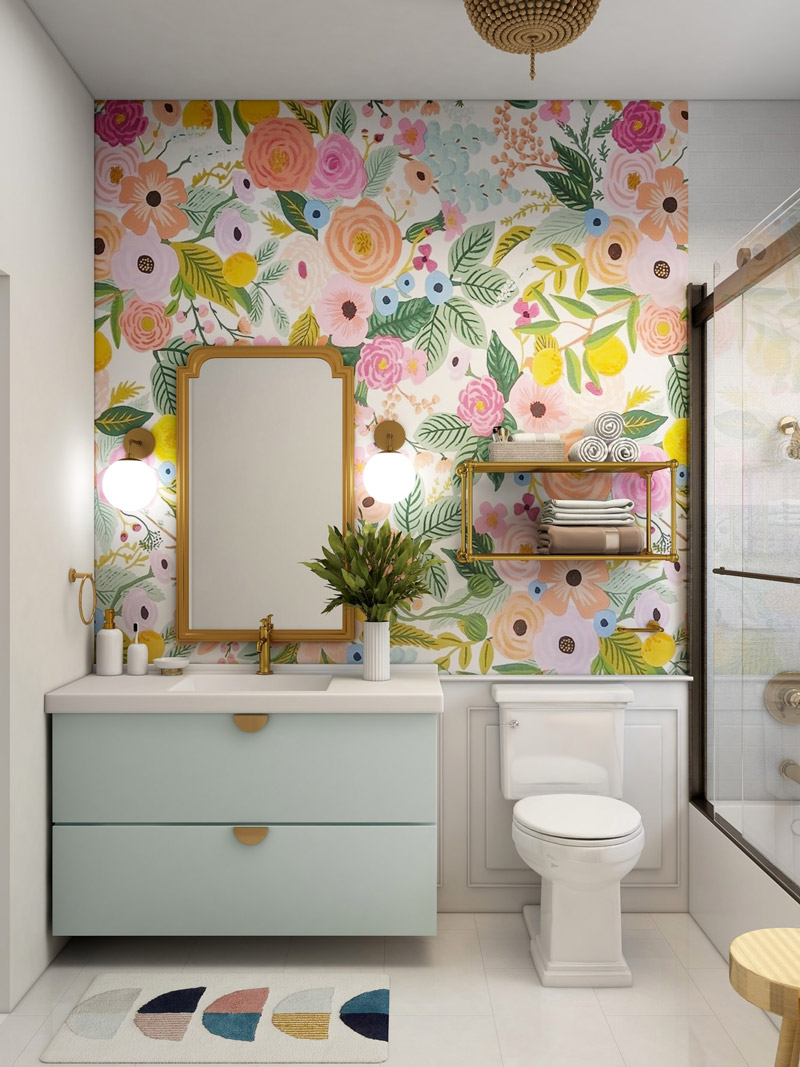 5. Add Some Mirrors
One good thing about mirrors is that they can be placed anywhere in the house. Mirrors do a lot in the bathroom. You can use them to look at your face. They also make it appear bigger. So, if your bathroom is small, adding mirrors can make it appear very spacious. There are several mirror styling options you can go for. For example, you can choose a mirror that extends from the floor all the way to the ceiling to double the visual architectural element. You can also go for a mirrored vanity to further glam the room. Additionally, you can hang a mirror with an interesting shape instead of the usual rectangular or circular mirrors.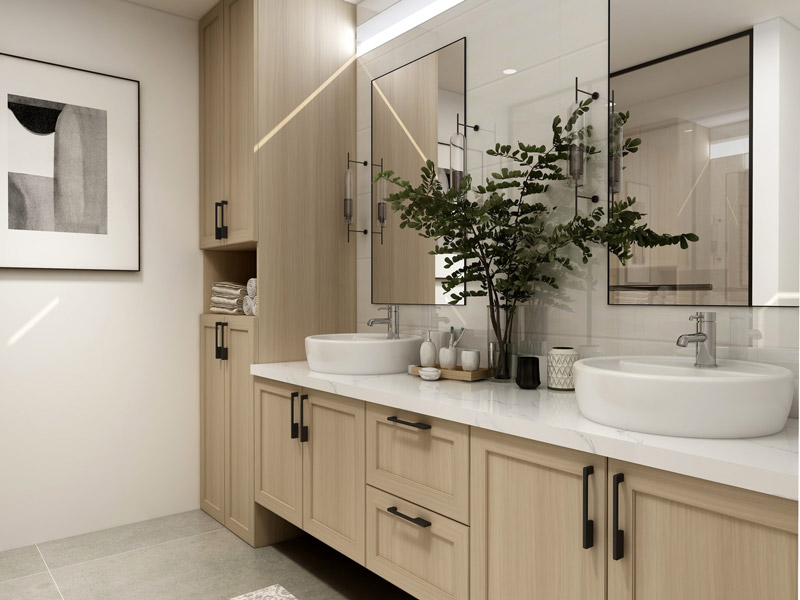 A bathroom doesn't have to be functional only; it can be beautiful as well. There are several options available, and you only need to consider a few things, such as the available space, budget, and preference, to decide which design to go for. And you don't have to do everything at once; you can do so in bits, and one day, you'll achieve your dream bathroom.