Did you say yes, a thousand times yes, to that beautiful couple who wants you to capture their big day? Congratulations, that's great – for all of you. If you are just starting out as a photographer or just recently made the switch to weddings, it can be tricky to put on paper what you will be doing.
As a wedding photographer, drawing up contracts is probably one of the least favorite parts of running your business. It's not creative, it requires a quite negative outlook on things, and you have no idea how to present it to the couple you will be working for.
No worries: contracts in the wedding industry, for whichever service you are providing, are completely normal. Let's look at some of the things you should include and how you should approach wedding photography contracts, so everyone can enjoy the day.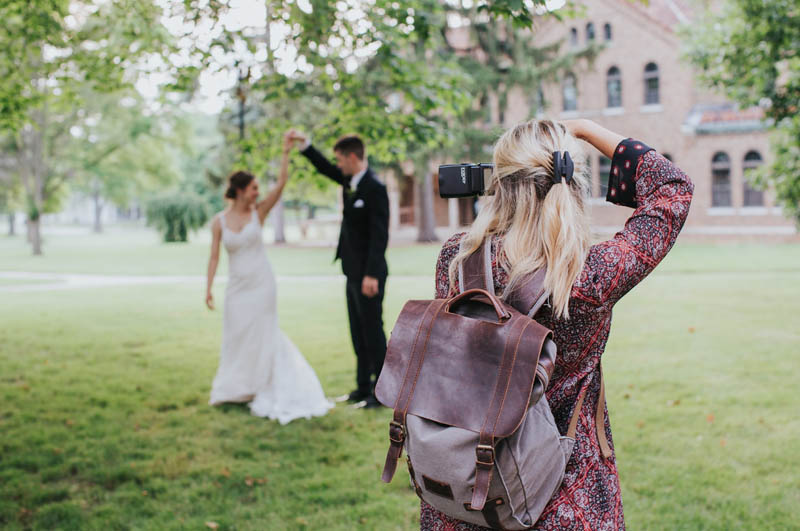 The tips in this article in short:
Remember that a wedding photography contract should benefit both parties. Making a list for both yourself and the couple on what you want included, ensures you don't miss any important information.
Don't leave any room for misinterpretation. Communicate in precise detail what you will be delivering, down to what moments must be photographed. You can't be everywhere at all times, so you can't photograph the first kiss and dad's look during that kiss at the same time.
Make sure you get paid properly. Wedding days can be chaotic,, and often you stay a little longer than you had originally planned for. Make sure to communicate any additional fees beforehand, so you don't have to send the lovebirds an extra invoice while they are sipping cocktails on their honeymoon.
Your equipment is your work. Include insurance and accident coverage in the contract, so everyone can dance and twirl with peace of mind.
At the end of the day, contracts are here to prevent legal trouble and long-winded lawsuits. Have a lawyer check your contract to make sure it's really airtight.
Why you should have a wedding photography contract
Weddings are beautiful but stressful events, and in organizing it all, you can't possibly expect the happy couple to remember everything they discussed.
Truth be told: nothing can be planned to perfection, even not for weddings. That's why contracts are so important. They don't just set expectations, they also provide a safety net in case things go south.
A contract benefits both parties. It will give all of you the peace of mind to enjoy the day and deliver the best possible work.
With that in mind, you can start drafting a wedding photography contract. No need to reinvent the wheel, you can use a Bonsai's wedding photography contract template as a foundation. Then, build on it based on your own needs and the tips below.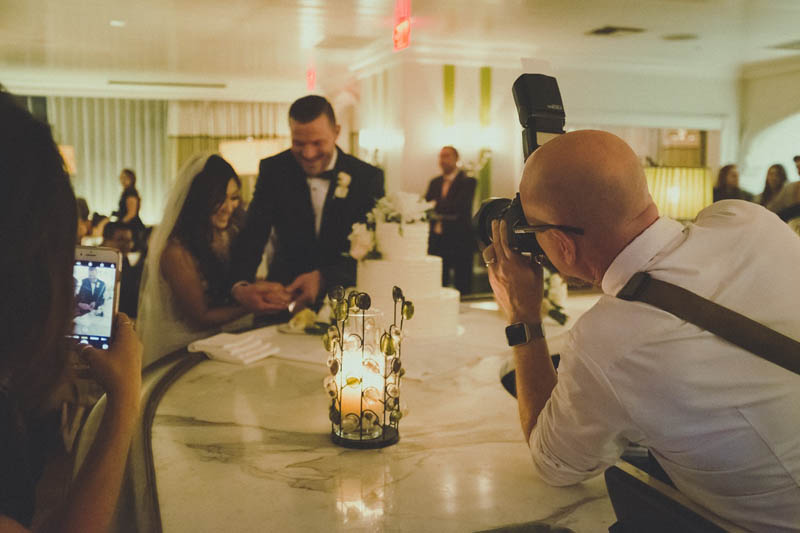 1. A wedding photography contract is for both parties
What you should always remember, is that a wedding photography contract is meant to protect both you as a photographer, and the couple that is hiring you. With this in mind, you could even create two separate lists: what do you want to see on the contract, and what would the couple want to be certain of? Then you can combine both lists to create a full-coverage contract.
One thing you should be looking out for on this two-way street, is cancellations.
Maybe one of the lovebirds bumps into their high school sweetheart a month before the wedding and decides to run away with them. Maybe one of them gets sick, or a pandemic strikes again. There are countless reasons to cancel a wedding. An estimated quarter-million engagements don't end with a wedding.
You should include a section in the contract that explains how much people will need to pay if they have to cancel, according to how soon they cancel. You will be holding the date and saying no to other possible gigs, plus preparing for the shoot, so you should get some kind of compensation.
Then there's also the possibility that you have to cancel. Maybe you're sick or have any other issues that will keep you from being the happy photographer at a beautiful wedding that day.
Don't assume that will never happen to you based on the fact that it hasn't happened yet. Will you have a replacement ready? What will you get paid? Knowing that backup is available will be a huge relief for the couple you'll be working with. Nobody wants to rely on the shaky iPhone pictures their artsy cousin takes.
Even if you end up not being the person who shoots on that wedding day, you will want the couple to see that you are kind and easy to work with – they probably have more friends getting married soon (couples always do, don't they?)
2. Be unmistakably clear on what you will deliver
It sounds so straightforward to couples: while they are partying and staring into each other's eyes, a photographer is around capturing all the best moments. Afterward they will get pretty pictures, and share them on Instagram.
Oh, if only those couples understood that a picture isn't just a picture. As a wedding photographer, you will have to be incredibly clear about what you will be delivering. You only get one shot to photograph a wedding, and you will want to be on the same page with the couple on what visual memories they will be getting.
Your contract should include a summary of what end products they will receive. Roughly how many pictures> Of what parts of the day? Will it be edited pictures, or will they also get raw files? Will you be bringing props, or do they need to bring those themselves?
Another important thing to include is a printing release and a copyright reminder. With a printing release, people are allowed to make prints of your photographs for personal use only. A copyright section will remind people that it's not allowed to use your work in any way for financial gain.
3. Don't beat around the bush when it comes to money
Let's be real here for a second: a contract, for you as a photographer, is for a big part about money and security. You will want to make sure that you'll receive some form of payment, and preferably also know when that money will be in your account.
Many wedding photographers opt for a payment schedule that has people pay right before the wedding. That gives them more safety, and lets the newlyweds enjoy their honeymoon without getting constant reminders about outstanding invoices.
You should also make clear what it is people are exactly paying for. Not only in terms of pictures, but also in terms of hours worked. Go ahead and include an overview of the hours needed for editing in the contract too.
You should also include additional fees in case the wedding lasts much longer than expected. If people book you for a full day, that's a full day. But avoid being ambiguous about this. What if one of them has a nervous breakdown à la Chandler Bing and the wedding starts a few hours later than expected?
What if you need to stay more hours than you had originally planned, possibly intervening with your transport home? Include extra charges for these scenarios so that on the day itself, nobody will have to improvise a solution.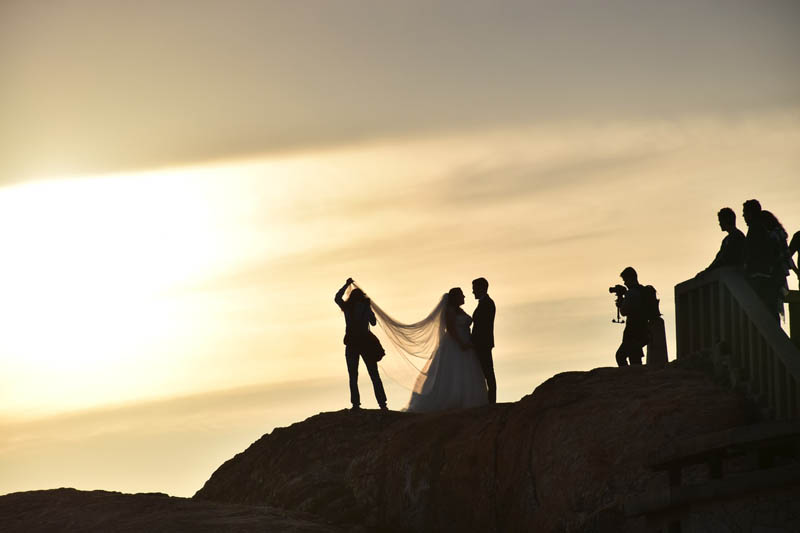 4. Take your equipment into account
What happens if uncle Bill and auntie Christine attempt the lift from Dirty Dancing after a few too many, and instead jump into you and your expensive camera?
Give yourself and the happy couple the peace of mind by putting accidents like these in the contract: what is insured, and what could you potentially claim?
5. Have a lawyer look it over
Wedding photography isn't cheap, and unfortunately, it does happen that people claim you didn't deliver what was promised, or simply refuse to pay. Taking them to court can take ages, especially if the language used in your wedding photography contract isn't as clear as it should be.
It really pays off to have an expert look over your contract to erase all ambiguous language and give you advice on how to phrase something, so conflicts can be resolved quickly.
Remember: contracts are also a form of communication
Before you start getting ready for your next wedding, we want to give you a last piece of advice. Contracts are communication, just like the content on your website or what you write in your emails. Make sure that it is clear but also on brand: these are the details couples will remember when recommending you to the ones who caught their bouquet.