Adding anything floral to your interiors will surely make the space more appealing. With their unique colors and patterns, flowers can turn any dull-looking room into one of the most pleasing spaces on your property. Plus, with the number of floral designs to choose from, you won't have any problems finding one that perfectly suits your home's theme and unique personality.
Adding floral vibes to your interiors is a great way to decorate your home, but you need to be wary of your decisions. Adding too little or too many floral elements can negatively impact your space—it can set the wrong tone or mood in your interiors.
If you want to master the art of adding floral vibes to your interiors, pay attention to these tips:
1. Dried Flowers
Dried flowers are excellent options for home decors as they come in different designs and don't require any maintenance. Many companies also offer dried bouquets delivery services today, which means you can decorate your home without visiting several physical stores.
There are many ways to decorate your home with dried flowers, and you can start by:
Putting them on a vase: After having dried bouquets delivered to your doorstep, place them in a glass vase and use them as a centerpiece. Using floral centerpieces is an effective way of creating a welcoming ambiance.
Leave them hanging: Give your plain walls some colors by hanging dried flowers. Depending on your preferences, you can hang dried flowers individually or secure different varieties in a bundle.
Make a potpourri: Mix some organic oils and fresh herbs into a bowl of dried petals to make a potpourri. Use colorful tins or woven baskets as containers so you'll have an aesthetic home accessory and an all-natural air freshener.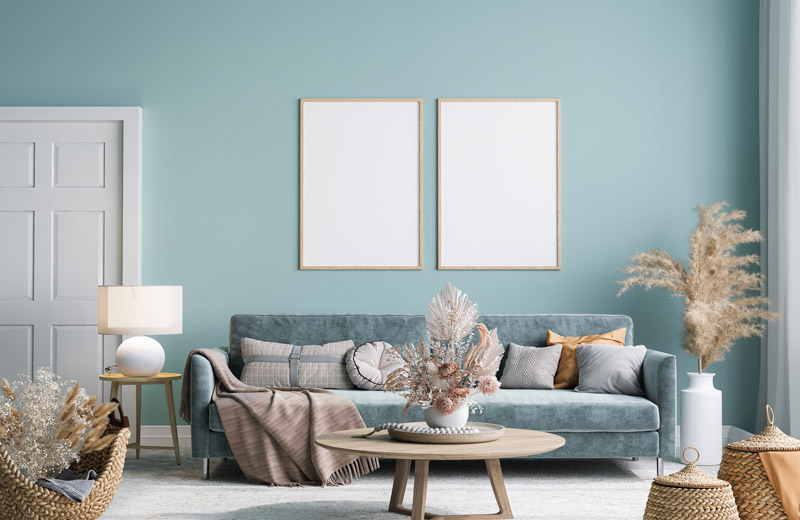 2. Wallpaper
While some people are happy adding various trinkets here and there, others are looking for decorating hacks that will make a statement. If you're one of the latter, using floral wallpapers is an ideal option for you.
Floral wallpapers add character to any room while hiding imperfections on your walls. You can also customize your wallpapers, allowing you to showcase your unique style.
When using floral wallpapers, pay attention to the design of the upholstery present in the room. Generally, you should choose floral wallpapers in similar shades or hues as the upholstery in the room. For example, if you have orange chairs in your dining area, pick floral wallpapers that show hints of lighter or darker shades of orange. This will make your space look clean and cohesive.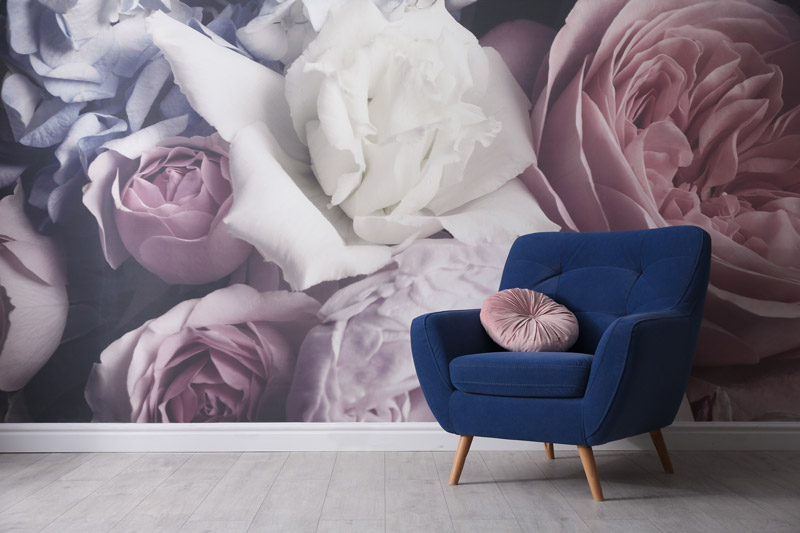 For patterned upholstery, use floral wallpapers that have smaller or larger patterns. This combination will add visual appeal to your space and build a connection between different design elements.
3. Soft Furnishings
If you're not yet ready to commit to floral wallpapers, consider adding floral themes to your soft furnishing. This is an excellent way of softening up rigid interiors while adding texture and pops of colors to neutral-colored rooms.
There are many ways to add floral vibes to your soft furnishings. For starters, you can choose one plain-colored chair in your dining room and have it upholstered with floral patterns. You can also invest in floral-patterned rugs or carpets or use floral throw pillows. If you want to make your bedroom feel cozier, accessorize with floral blankets.
4. Blinds And Curtains
Windows and glass doors are already functional on their own, but adding floral patterns will make them more aesthetically appealing. In fact, floral blinds and curtains can enhance the form and function of your windows and glass doors at home.
To maximize the visual effect of floral blinds and curtains, consider the colors dominant in the room. You can create a cohesive look by choosing blinds and curtains in a pattern that complements the shades of your walls. For example, curtains with cream flowers will look good in neutral-colored rooms.
Alternatively, if you want your floral blinds and curtains to become the focal point of the room, you can choose patterns that contrast with the walls and furniture. For instance, you can use floral blinds with bold colors of red in an all-white kitchen.
5. Wall Art
Are you looking for ways to freshen up boring walls? Are you tired of staring at plain-colored walls in your home? If you answered "yes" to these questions, adding wall art that showcases floral designs or patterns is the best way to go.
You can add large-scale floral paintings on your walls to add color and set the tone of a small room. Curating a gallery wall featuring floral paintings in different sizes and colors can give your room an interesting touch. You can also hang three framed floral paintings side by side.
Aside from floral paintings, you can also spruce up your walls with metallic floral wall art or hanging mirrors with floral frames. You can also use floral wall clocks to beautify your foyer.
Don't Overwhelm Yourself
To lessen stress as you're incorporating floral vibes into your home decors, start slow by following one or two tips from this article first. Once you're happy with the results, you can continue adding more floral elements to your home.