What can be made from cardboard, which is known by most people only as packaging material. Due to its durable feature, many designers give some clever thoughts and give those ordinary cardboard a second life. Here we have 7 Cool and Unusual Products Made from Cardboard, ranging from functional to decorative. Take a look and tell us what is your favorite cardboard product.
We are a participant in the Amazon Services LLC Associates Program, an affiliate advertising program designed to provide a means for us to earn fees by linking to Amazon.com and affiliated sites.
1. Cardboard Christmas Tree [source]
This really eco-friendly Christmas tree called "bespoke", is designed by Giles Miller. Come in two different sizes: the smaller one is 16.5 inches tall and costs £25 while the larger tree, which is 31.5 inches tall, costs £15 more. Compared with its real or fake alternatives, the cardboard is way less messy to deal with. In order to erect the tree, one need only attach the wooden base and a lovely wooden bird.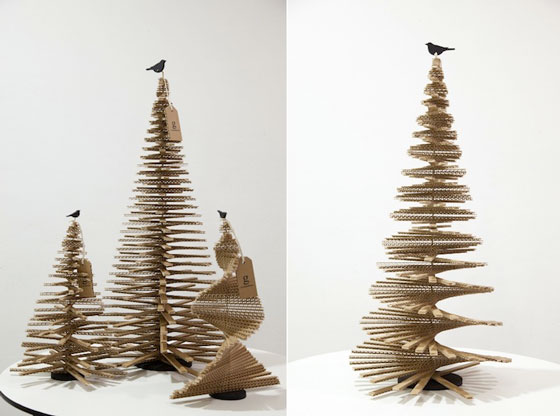 2. Cat Cocoon [source]
The Cat Cocoon is layered corrugated cardboard sculpted into a unique pod shape with playful holes bored into it that your cat will stick its paws thru, have much fun in, and hide out. The cardboard is great for sharpening their claws as all cats love to do. The entire piece is thick enough as well to last a very long time. It is heavy duty and durable for the toughest cat use.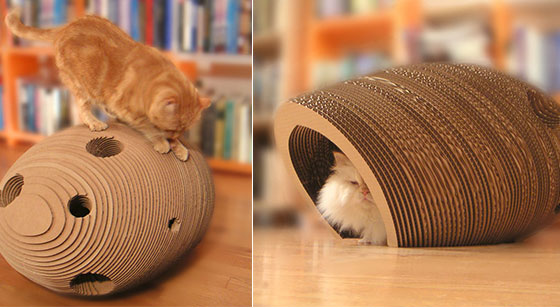 3. Animal Friendly Cardboard Trophy Head [buy on amazon]
Hanging the poor animal's head on a wall as a trophy is not acceptable for many people. If you really want to have something special as wall decor, take a look at this animal friendly cardboard trophy head. These trophy heads are laser-cut for precision fit and easy assembly using slotted construction. They look great in their native brown or white and can be decorated with paint, glitter, wrapping paper or other craft materials. Each trophy is made from recycled cardboard, a non-toxic, environmentally friendly product.

4. Berlin Boombox [buy on amazon]
Made by Berlin-based designer & illustrator Axel Pfaender, Berlin Boombox is a kind of build it yourself electronics. Comes as a kit and makde from heavy corrugated cardboard. It features a strong carrying handle and a single big knob for power and volume. Digital 2×5 watts amplifier, Hi-Fi speakers and it is compatible with any MP3 player, including iPhone 5. A perfect example of old school boombox design meets new technology.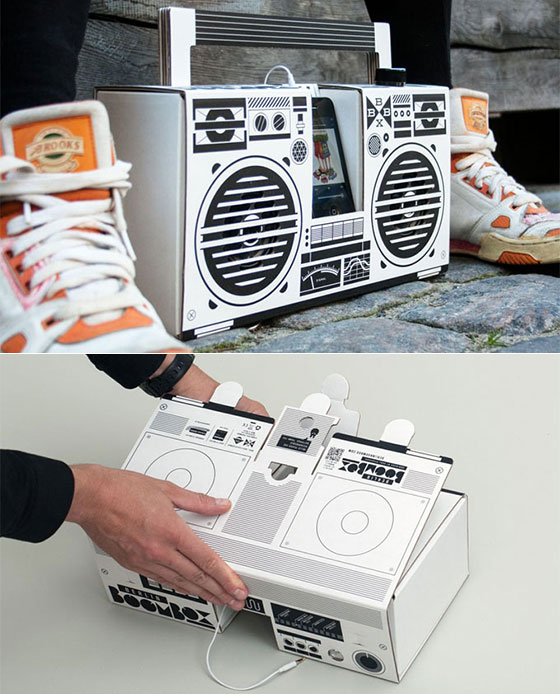 5. Cardboard wall pocket [source]
Inspired by barnacles and simple geometric shapes, Wallpockets look like wall decorations but actually are clever cardboard storage clusters. Each pentagonal pocket is die-cut from 100% recycled cardboard, and has integrated notches for easy and reversible assembly. They beautifully occupy any underused wall space and can store a large variety of items inside. With those colorful wallpocket, you can easily add a pop of color and a layer of textural depth to the walls as well as keep everything in order.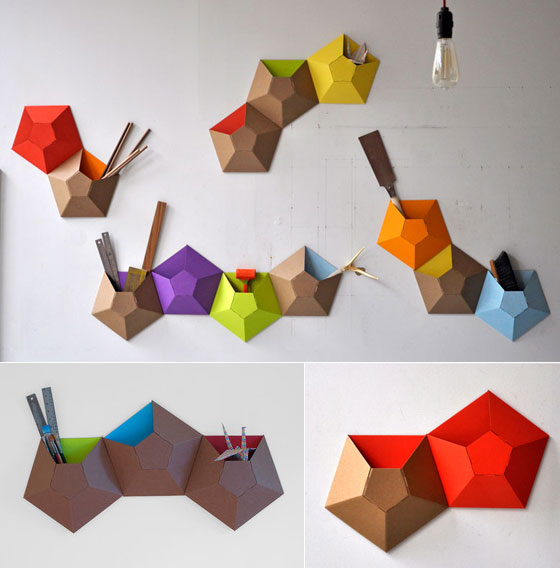 6. Suck UK Cat Scratch [buy on amazon]
Cats scratch furniture to mark their territory, exercise their muscles and for sheer pleasure. This DJ Cat Scratch is something good for your cat to get his claws into and protect your furniture at the same time. The decks come flat packed and fold together into a simple structure with poseable tone arm and a top which spins as your cat paws at it.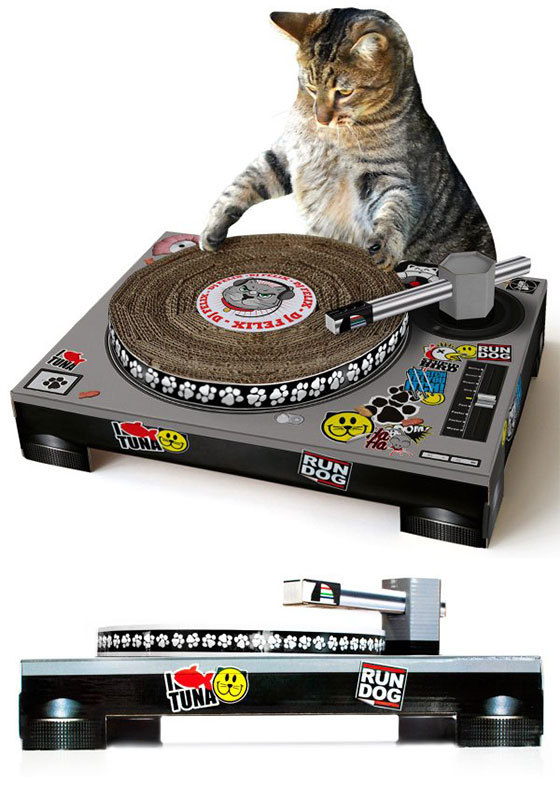 7. Re-foldable Cardboard Furniture [source]
Founded by Zach Rotholz, Chairigami produces furniture made entirely out of triple-wall cardboard, which means it is recyclable, lightweight, flat-packed, and easy to assemble. Right now, this cardboard furniture line covers sofas, desk chairs, standing desks, coffee tables and shelving. The chairs last about a year, while the tables can make it up to four years. No glues or fasteners are necessary to put the recyclable items together–they all just fit into slots.