If you are one of those who like to enjoy tea by themselves, then this is the post for you. Explained by its name "tea for one" is a cute little set has everything you need for a tea party of one: a cup and a teapot. And the best part? It all fits perfectly together into one streamlined package. Hence, it is easy for storage and pleasure to use. It just make every cup feel like a special occasion.
We are a participant in the Amazon Services LLC Associates Program, an affiliate advertising program designed to provide a means for us to earn fees by linking to Amazon.com and affiliated sites.
1. Appletree 7-Inch Flight of Fancy by Babs Ceramic Tea for One [buy on amazon]
The 7-Inch crafted fine hand painted ceramic tea for one, one pack. It can be used as a beautiful centerpiece for home and garden. The product is designed by Babs, with a whimsical, stylish and an artist look. A functional to the casual or give you many joys on the dinning table. Hand washing recommended for earthenware and made in china.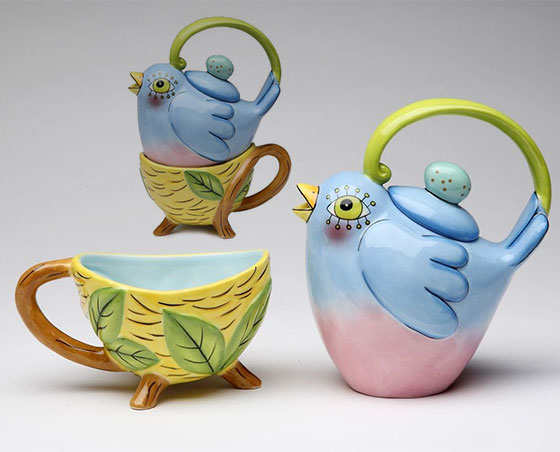 2. Grasslands Road Ambiance Tea for One Teapot and Cup [buy on amazon]
Cream colored stoneware teapot with matching tea cup in two styles, sold individually
Blue bird embellished lid style features blue flowers, pink butterfly style has lovely pink floral design
Dimensions: 6.5-inch by 8-inch, teapot holds 20 oz, tea cup holds 12 oz
Dishwasher and microwave safe
Add blue or pink color style to gift message area during checkout
3. Eiffel Tower "Tea For One" Tea set [buy on amazon]
Eiffel Tower "Tea for One"
Made of ceramic (hand-washing recommended).
5-pieces: teapot and lid, teacup, mesh brewcup and tower top.
10″ in height when assembled. 4.5″ square base.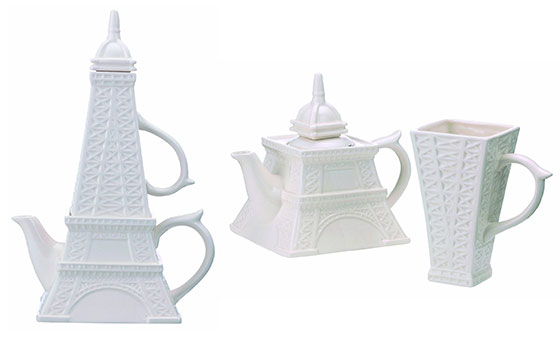 4. Lady Lux Tea For One Teapot Babs Keller [buy on amazon]
Its a teapot and cup all in one. Display it proudly whether youre drinking tea or waiting for a moment of solitude.
Teapot measures 6.875″W x 4.5″D x 4.25″H
Cup measures 5.375″W x 3.75″D x 3.5″H
Ceramic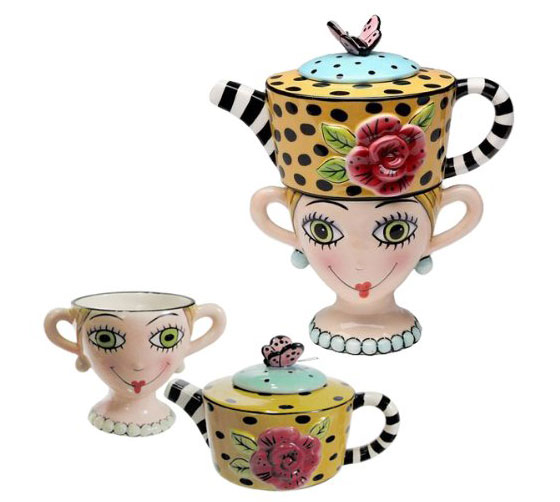 5. Eva Solo My Tea Teapot, Porcelain [buy on amazon]
The Eva Solo My Tea teapot is a smartly designed self-contained single service teapot with lid that is also a cup. The combined teapot-and-cup design is easy to carry around the house or out on the patio year for relaxation and enjoyment of your favorite tea. The teapot made of porcelain with a stainless steel carrying handle and silicone drip-free pouring spout is dishwasher-safe. It holds .75 liters and can be supplemented with the matching Eva Solo My Tea thermo cups, so you can enjoy sharing tea time with others.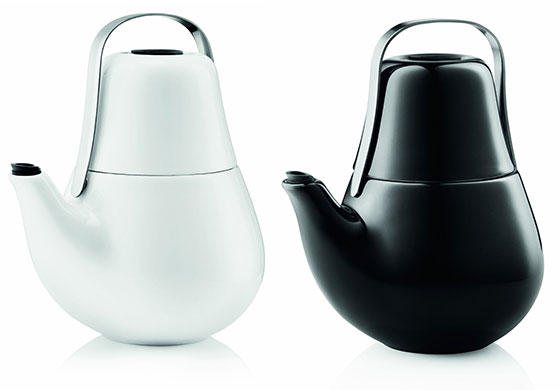 6. Sanderson Fifi by Portmeirion Tea for One with Saucer [millyskitchenstore]
Sanderson Fifi is a fabulous new vintage-inspired tea-time collection from Portmeirion, produced in partnership with Sanderson and their original 1950s wallpaper print.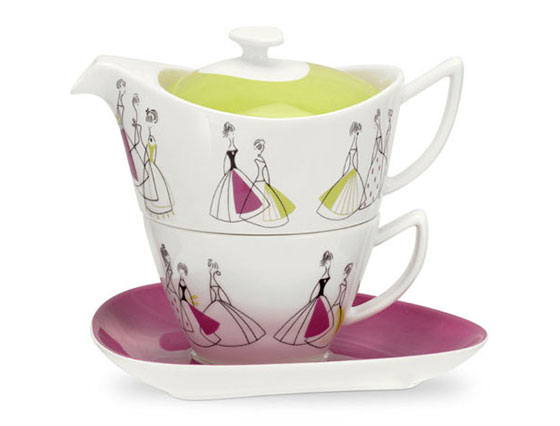 7. Chickadee Tea for One Set [buy on amazon]
Includes teacup and teapot
Refreshing modern design
White ceramic
Beautiful Addition to any Kitchen Décor
Bird design