The Japanese rock garden or "dry landscape" garden, often called a Zen garden, creates a miniature stylized landscape through carefully composed arrangements of rocks, water features, moss, pruned trees and bushes, and uses gravel or sand that is raked to represent ripples in water. It is antidote to the stresses of modern living, it is very relaxing and stress relieving.
Zen gardens use rocks and gravel or sand to recreate the essence of nature. The swirling patterns give a complete look to a Zen garden. If you won't be able to have a formal garden at your home and enjoy some peaceful time. Having a little zen garden on your desktop will definitely help. In the collection below, we have rounded up 7 Elegant Zen Garden Kits for your inspiration.
Premium Beautiful Japanese Mini Zen Sand Garden Box Set
The Japanese zen garden kit include 14 items, a black 32x20x2cm wooden tray with white zen sand, zen stacking stones, Succulents, bonsai tree and cherry blossom mini tree, pagoda and bridge, and 5 different unique meditation accessories and traditional tools; Enclosed a information booklet to help discover the history and meaning of Japanese Zen garden and its features.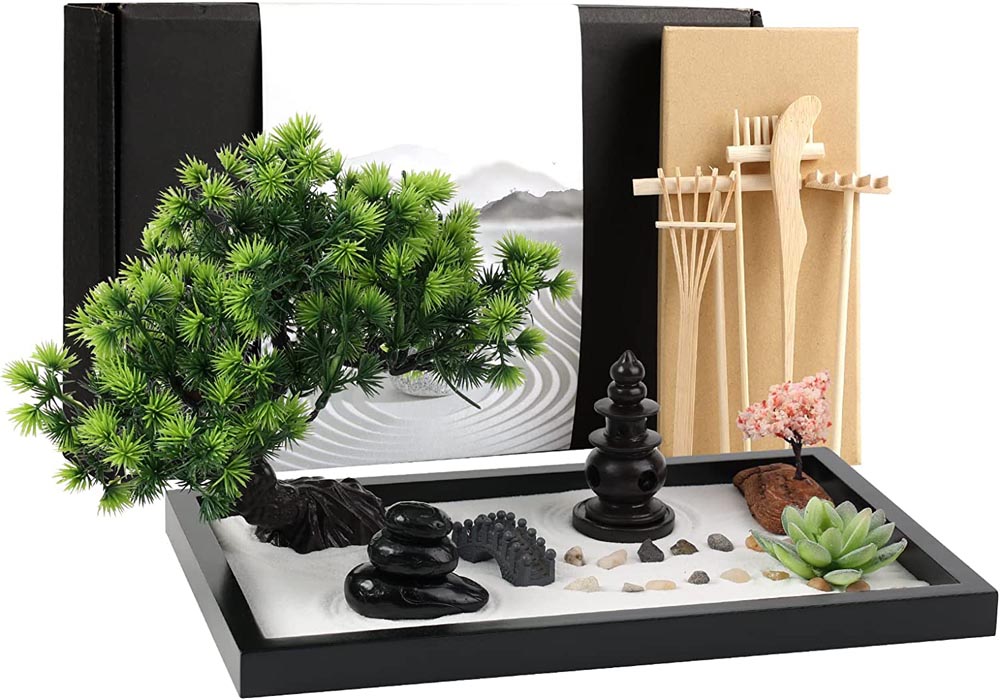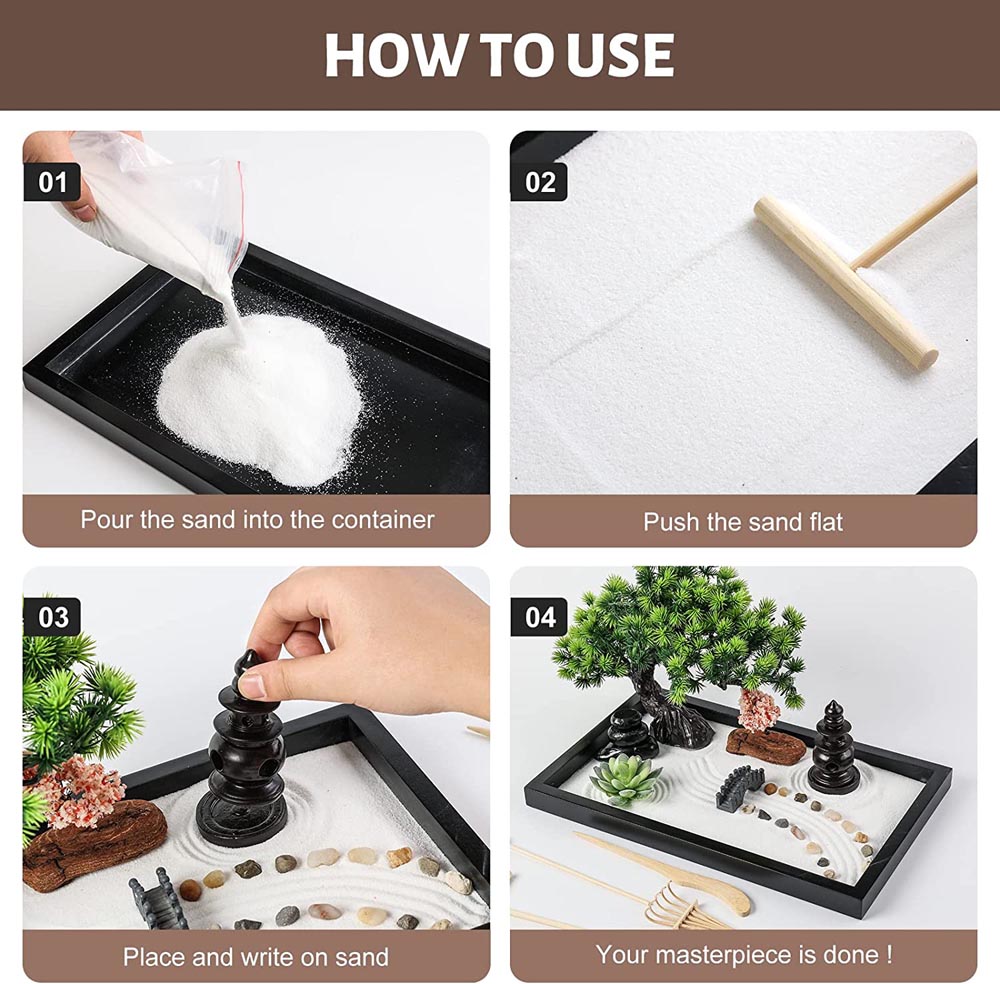 [buy here]
Rock Sand Bonsai Zen Garden for Desk Decoration
This tabletop Zen garden has 10 items: 10.7″ X 3.5″ X 2.4″ small decorative iron tray, a bottle of white sand, rake, hand-carved stone bridge, small pagoda, meditation monk, ceramic crane bird, artificial bonsai tree and 2 koi! It can be placed in your Zen room, home or office in a quiet meditation corner. Enjoy your own private Zen garden time, even if your space is short!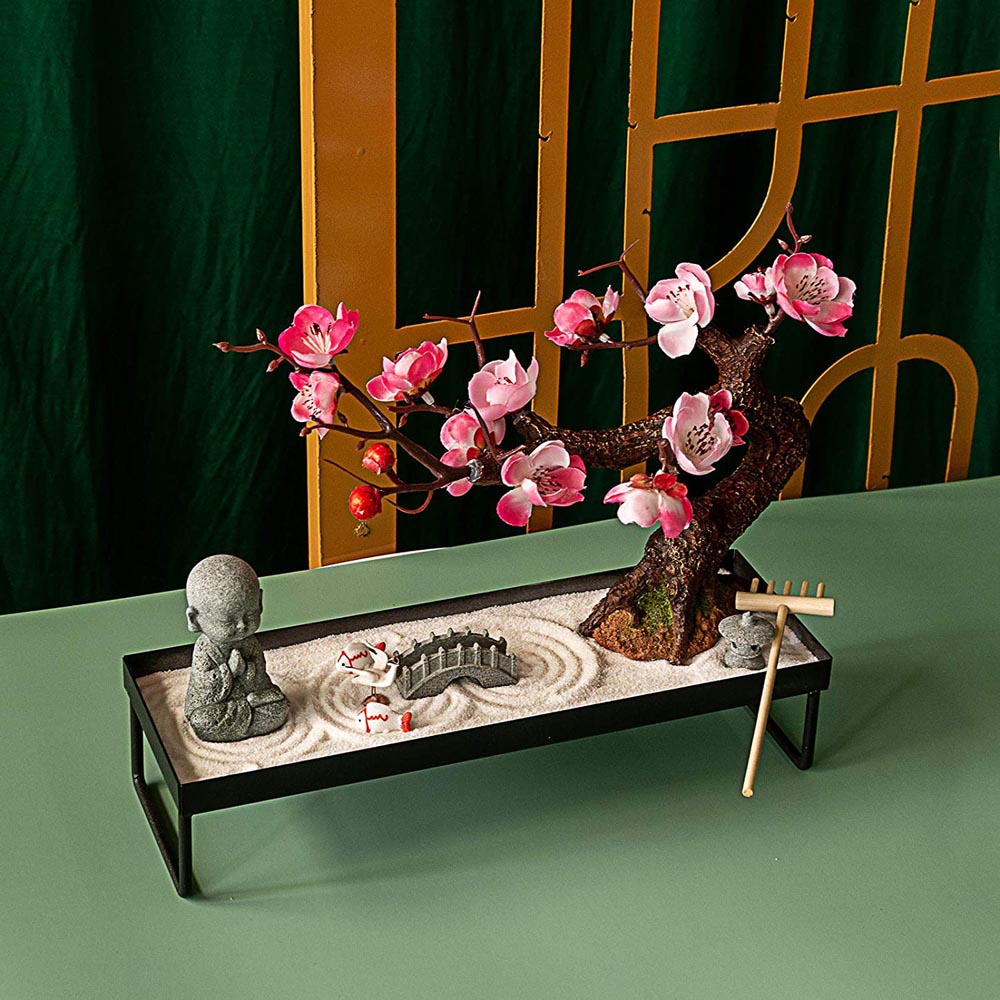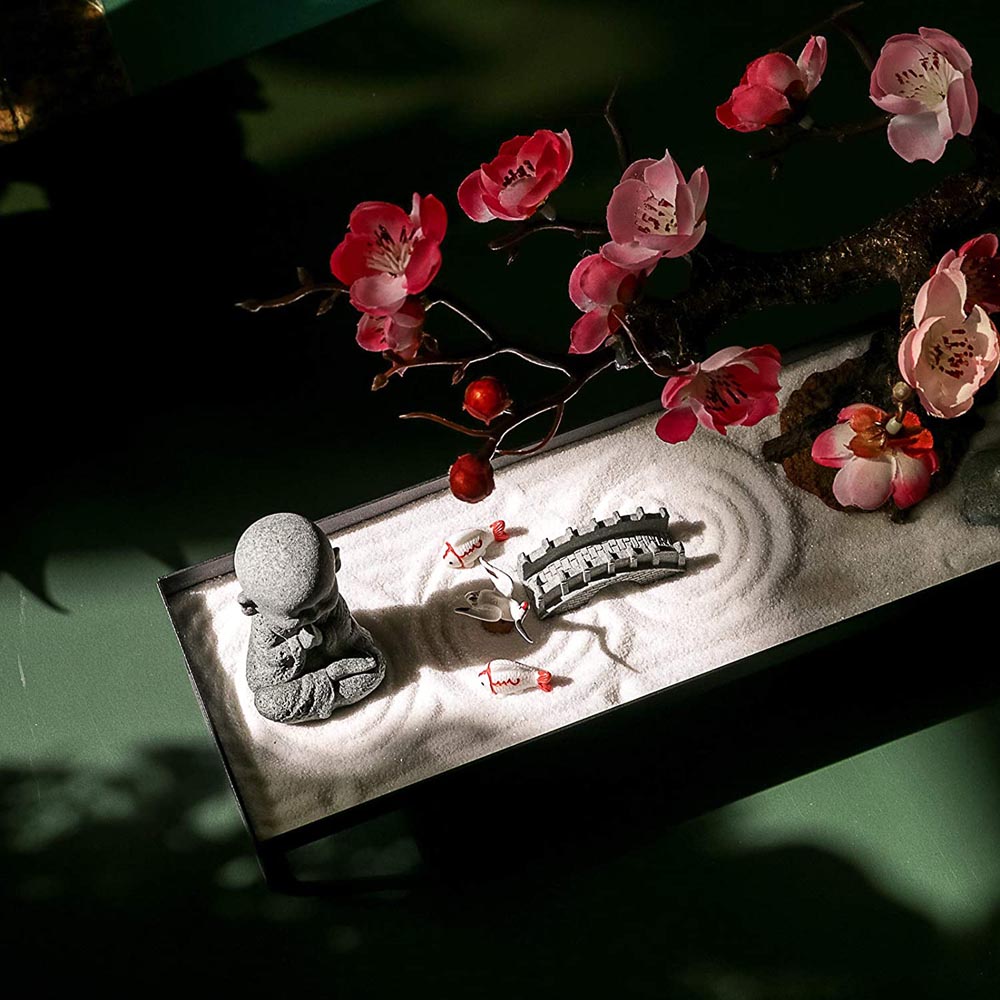 [buy here]
Zen garden kit with lantern and moss bowl
Wooden tray is made of pine and painted black. The tray itself is 7,8 inch (20 cm) length, 3,5 inch (9 cm) width and 1,37 inches (3,5 cm) height.
The bowl is very elegant and effortlessly beautiful. It's like having a miniature, maintenance-free moss garden indoors. Preserved moss will never wilt and it keeps its color and shape really long (just avoid the direct sun).
3D printed black Japanese lantern. It`s 2,16 inches (5,5 cm) in height and 1.6 inches (4 cm ) in height.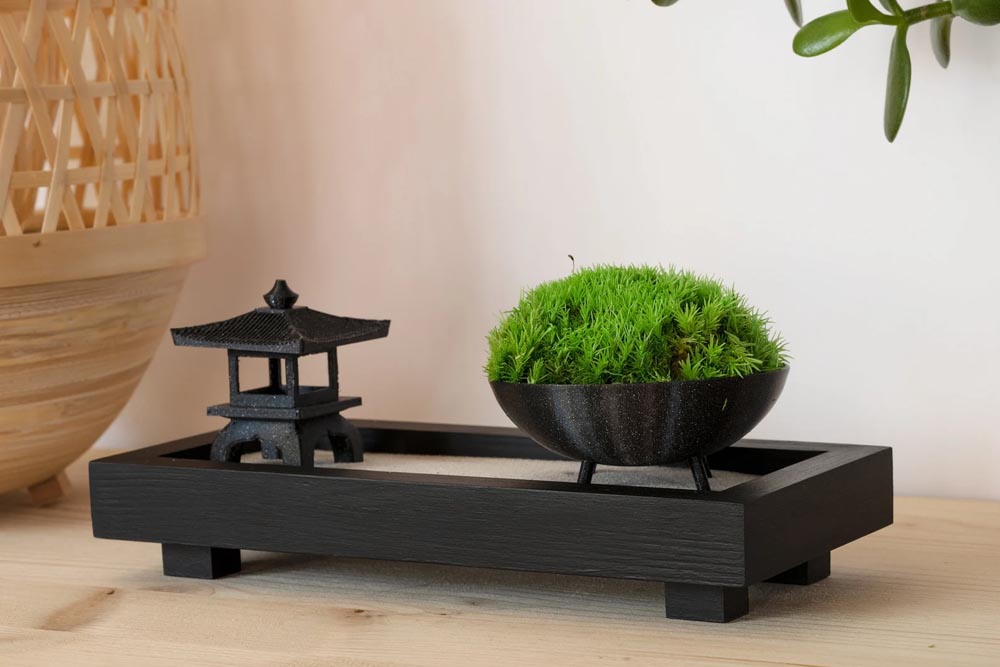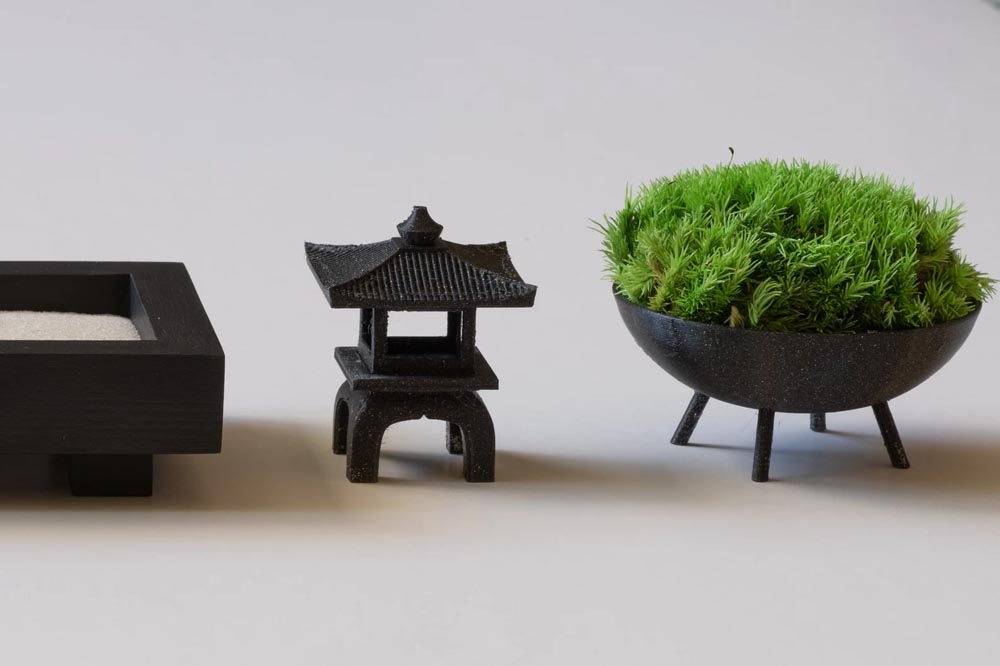 [buy here]
Zen garden kit with lantern, moss bowl and two forest spirits
MINIATURE ZEN GARDEN KIT:
1 wooden tray
1 big preserved moss bowl
3 tiny preserved reindeer moss pots
1 Japanese style lantern
2 forest spirits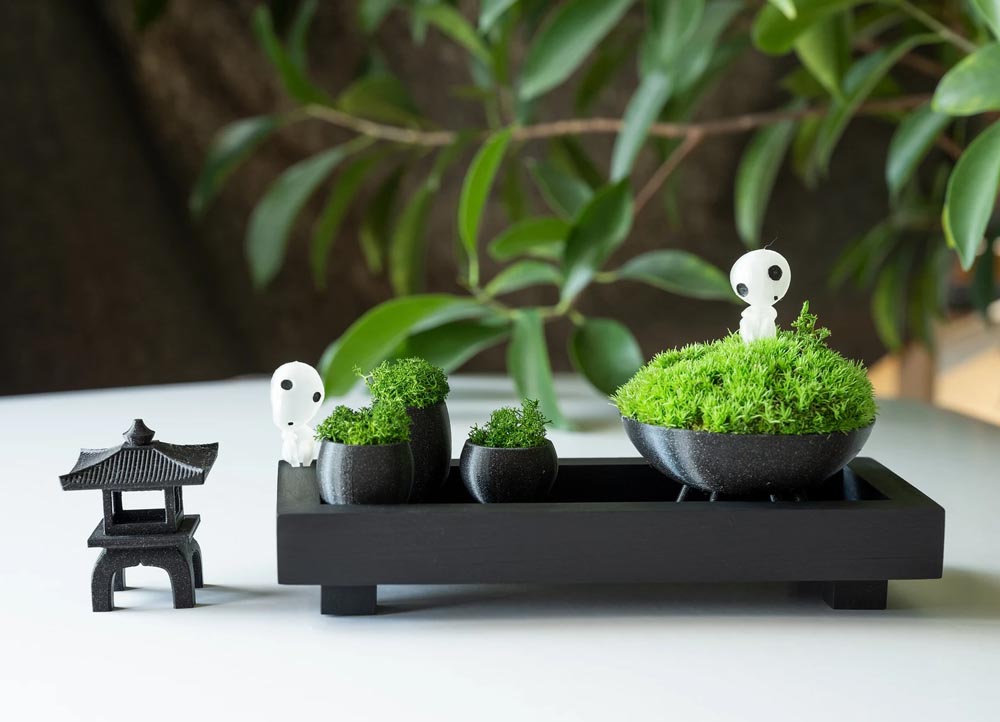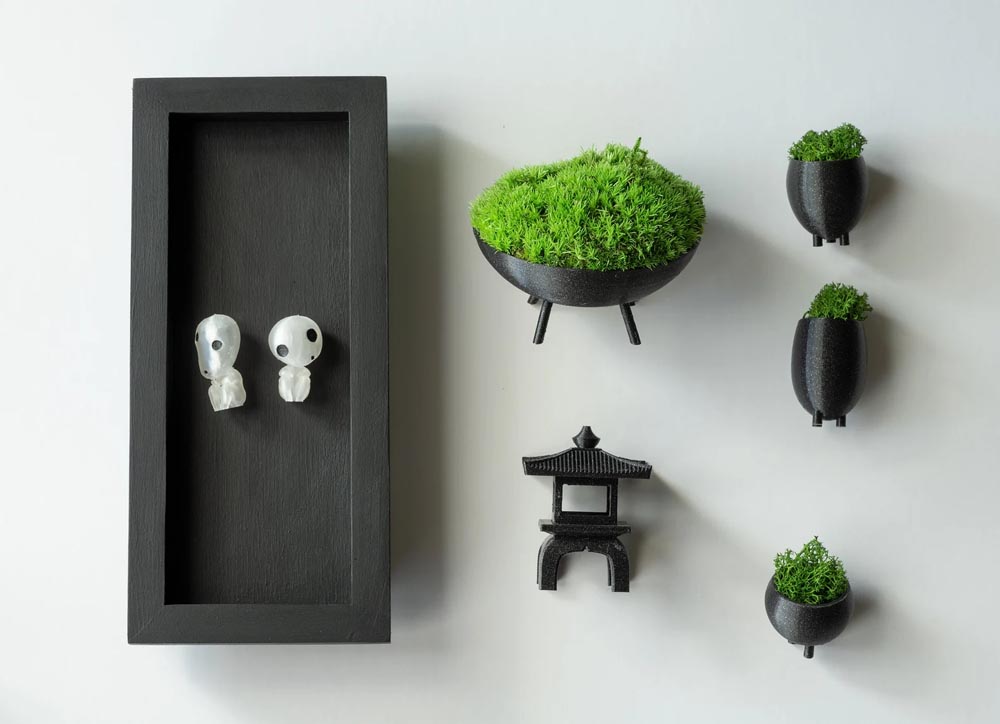 [buy here]
Meditation Crystals Airplant Home Decor
This Miniature Zen Garden will bring peace, calm and a touch of sparkle to your home, room, or meditation corner. The package contains:
Bamboo wooden base, 23 cm in diameter.
Bag of white sand.
Small bamboo rake.
Airplant (Tillandsia). This plant does not need soil to grow. Spray once a week with water.
Candle holder with candle. The candle holder on the pictures is not available anymore, a similar candle holder is included.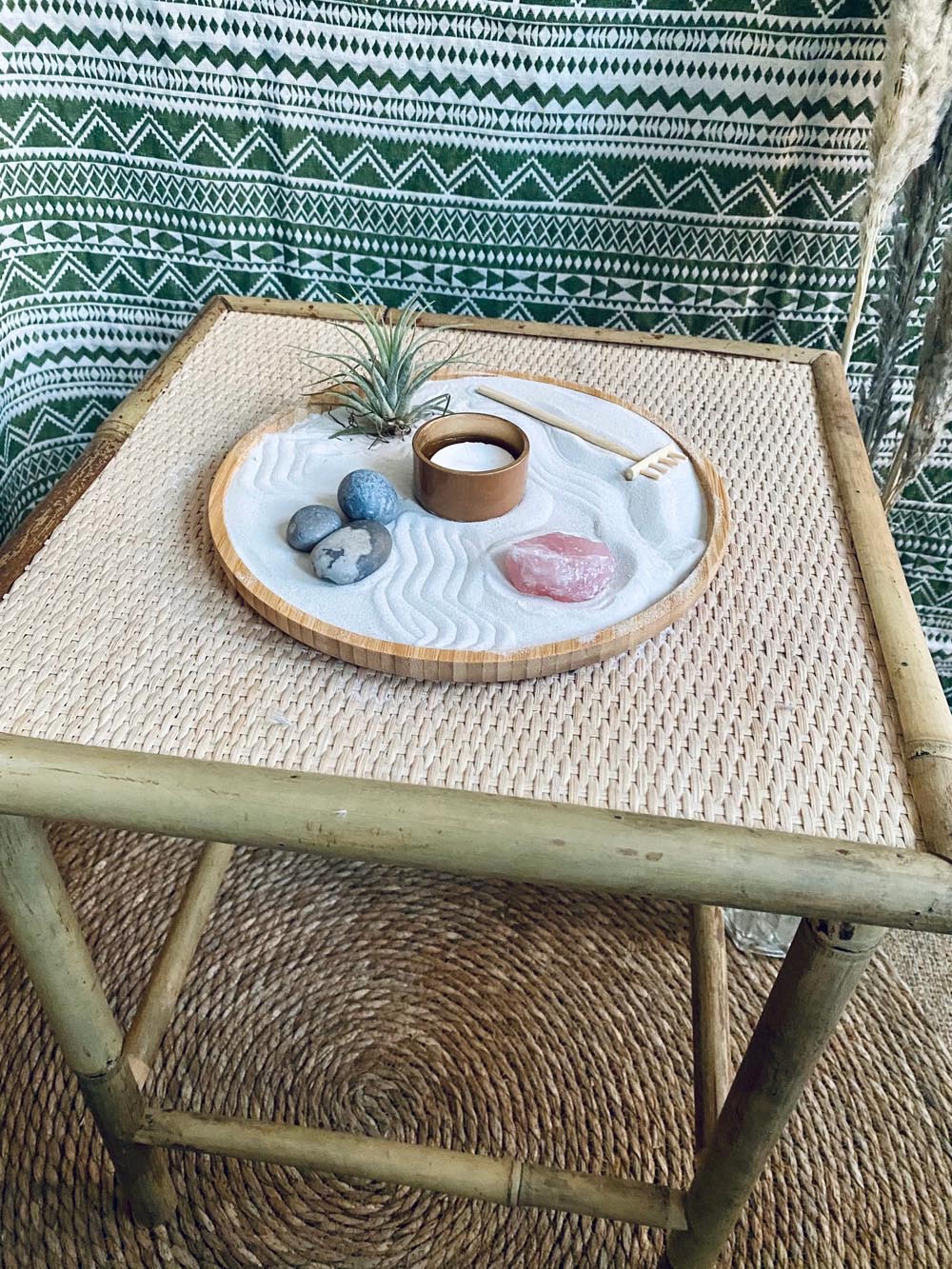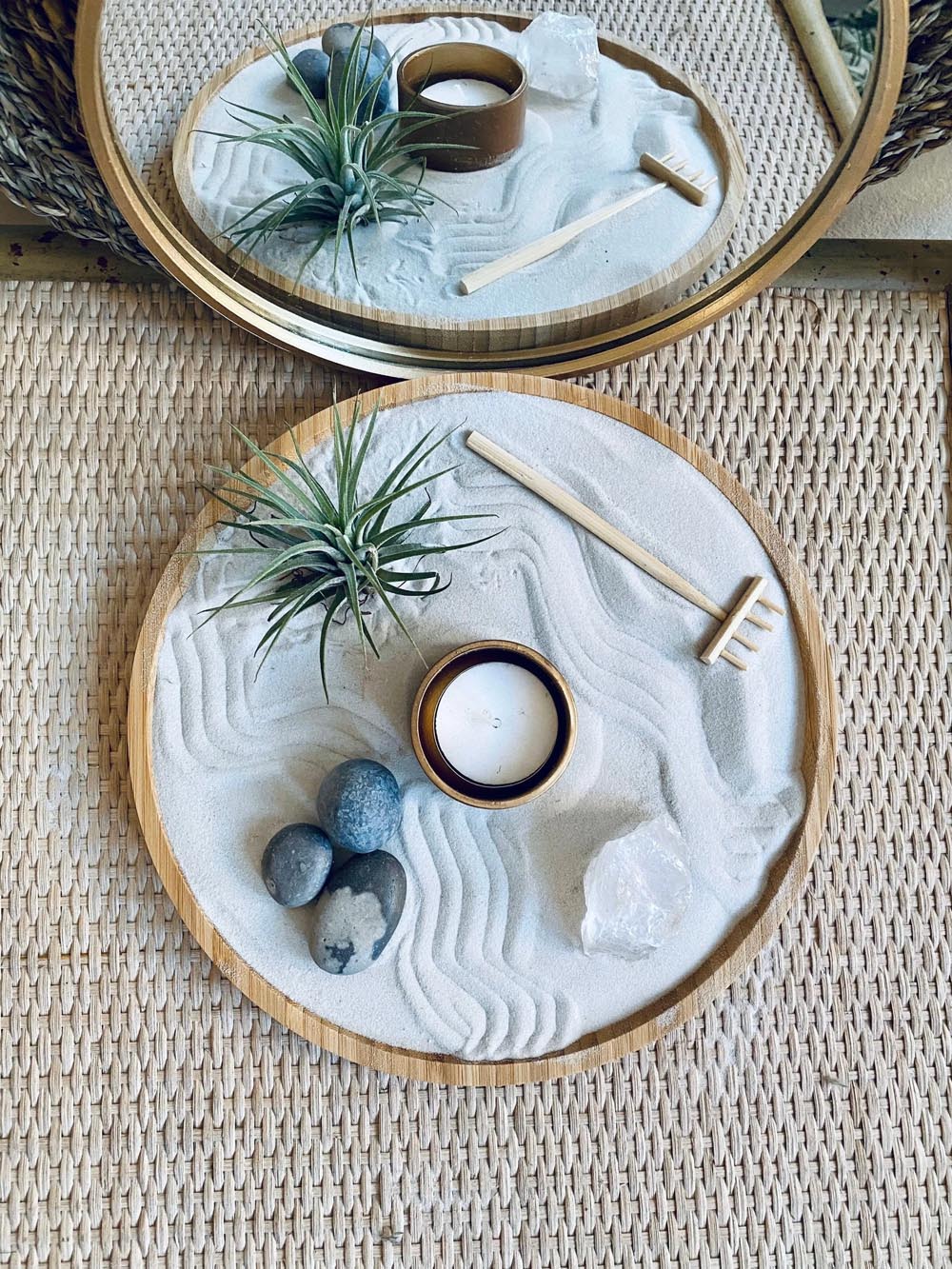 [buy here]
Zen Garden Rectangular with Ganesha or Buddha
Take a break and relax with our lovingly handcraftetd ZEN Garden. It is made of FSC controlled plywood, ecologically stained and treated with linseed oil. 3 basalt stones, 3 flat pebbles to stack, an air plant (a tillandsia) and a Buddha / Ganesha figure made of compostable eco-resin are embedded in fine white sand. Dimensions wooden frame: approx. 20 cm x 18 cm x 3 cm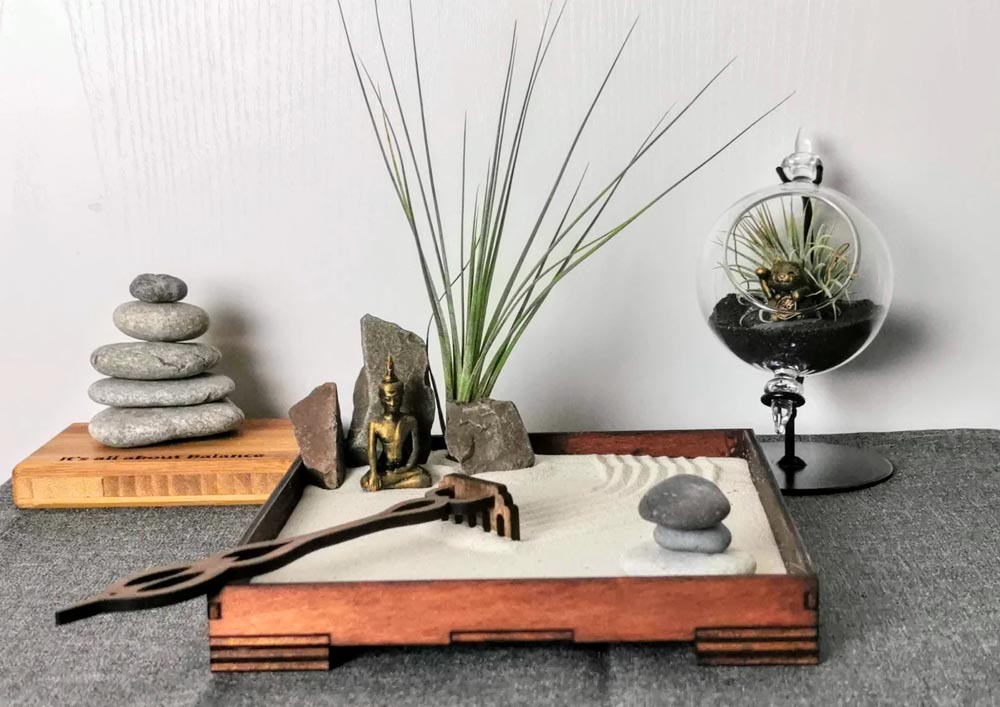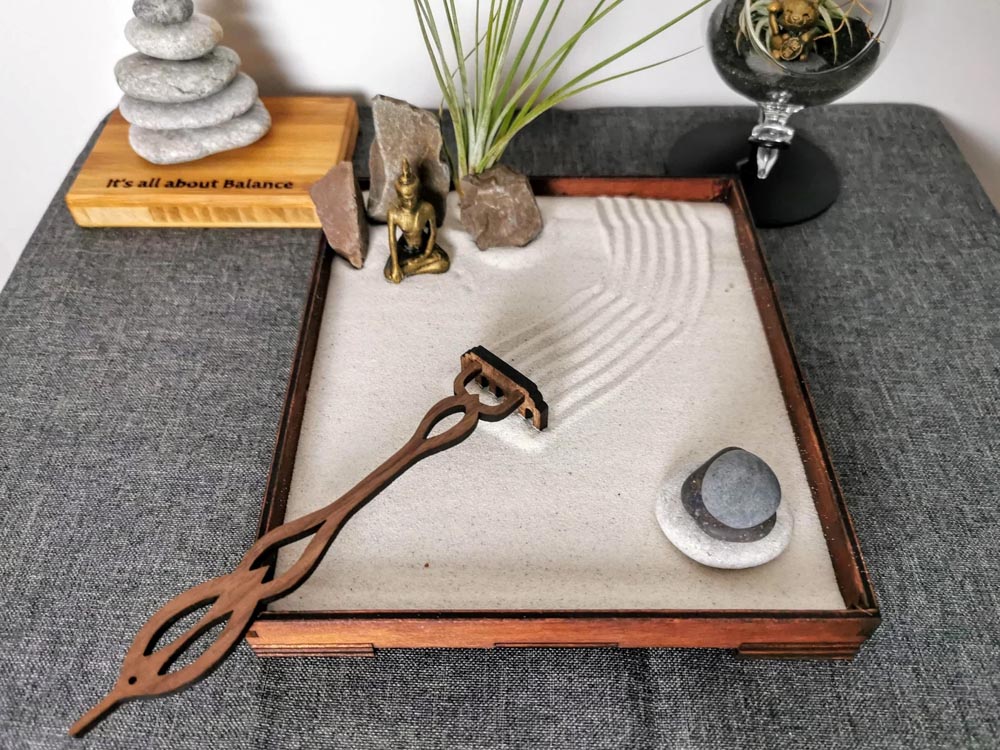 [buy here]
Buddha Zen Desktop Garden With Sand
Ying Yang Garden With Buddha. Complete with Black & White Sands, Buddha, Rake, Foliage, Stones and Tealight Holder.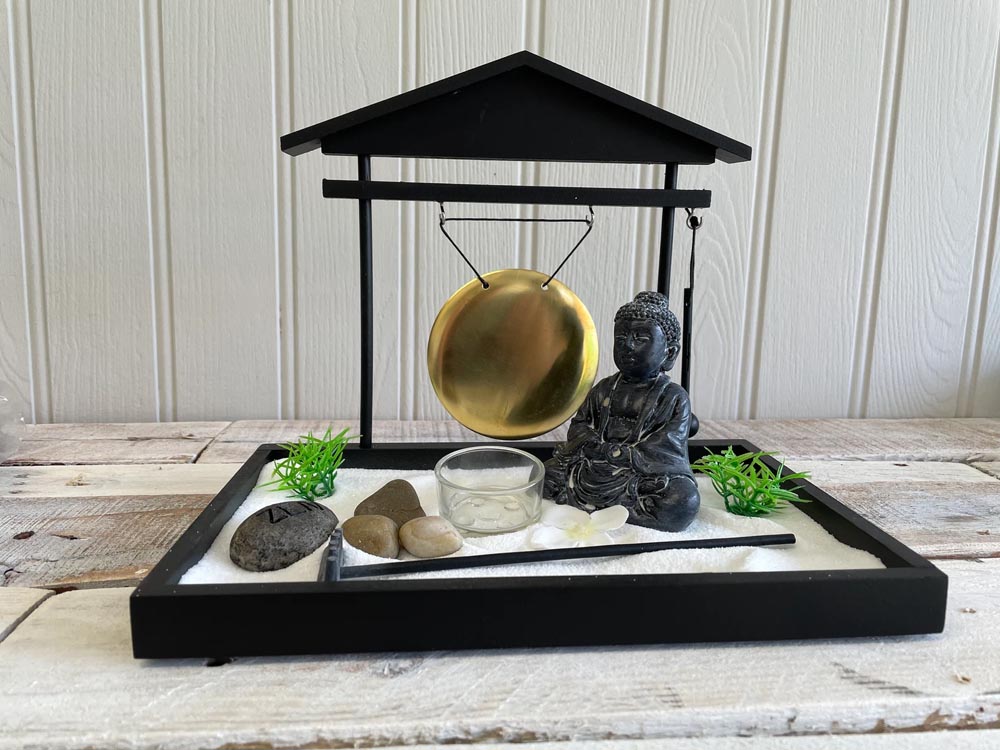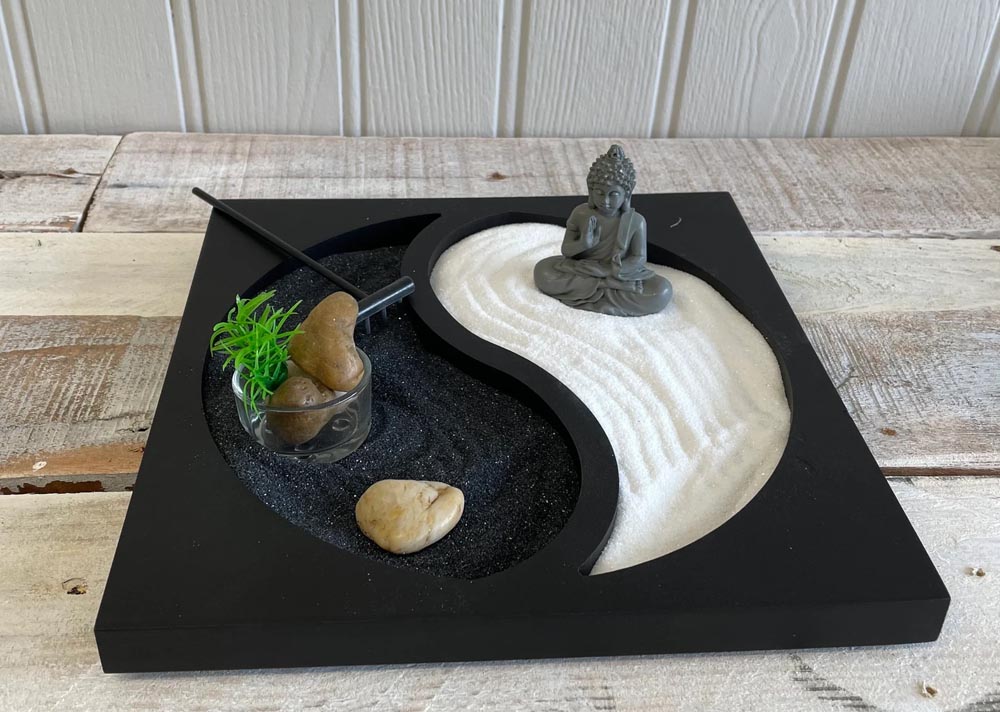 [buy here]
This post may contain affiliate links. If you make a purchase, Design Swan may earn an affiliate commission. Please read our disclosure for more info.