Contemporary rugs are well known for their bolder colors, bold patterns, and modern appeal. You can find contemporary rugs in both natural materials and synthetic. Contemporary simply refers to the primary pattern of the rug. If you've picked up a modern, contemporary rug or want one, these decorating tips will help you make your home look fabulous.
Place Rugs Under a Table
A large, rectangular rug brings a pop of personality to an elaborate dining table. It can instantly help a cocktail table become a centerpiece. Real estate agents love to use a cocktail table with a rug underneath as an accent piece to instantly make a home more appealing. You can use this trick even if you're not selling your home!
Keep Color Scheme in Mind
If you're unsure about which color to use, opt for neutral palettes. Bright or bold colors look exceptional, but only if you use them correctly. Too many bright or bold colors in a room can be overwhelming. Instead, you want to use those rugs to bring a pop of color to a room. Bold rooms call for neutral rugs. Neutral rooms call for bold colors on rugs.
Geometric color block carpets with high contrast colors look exceptionally well in calm rooms of beige and tan. These rugs truly bring the room to life.
Using small ones as table runners on a holiday table is another great idea! Table runners are not just for the holiday table, though. They also have a home on a circular side table, coffee table, or even a gothic style oak table.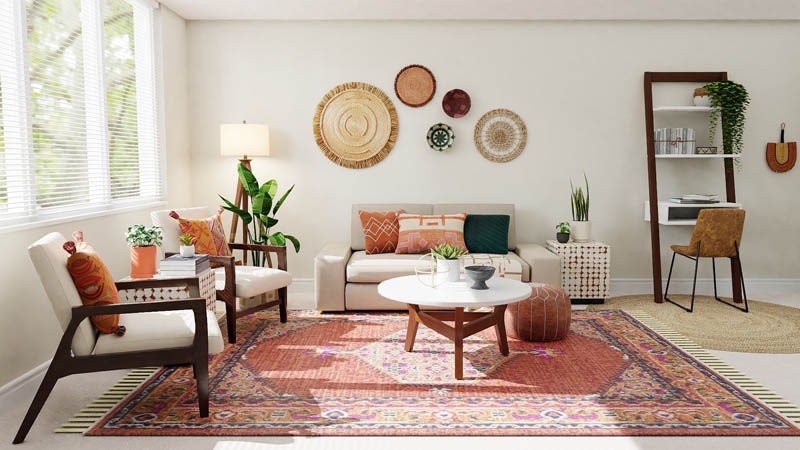 However, you can look at other color palettes as well. Muted greens, pinks, and neutral colors pair well with an eco chic and nature inspired style. Bright colors offer a nice contrast when paired with industrial styles.
Remember, there is no modern color. Modern is the style or pattern on the rug. You can find that same style or pattern in any color that you would like.
Pair Rug Style and Decorating Style
The decorating style of your home should perfectly coordinate with the style of your rug. Homes with a modern Moroccan style call for Moroccan style rugs. If your home has a beach style or coastal style, consider using rugs with Bohemian style designs. Eclectic design styles truly work well with the eclectic styles that can be found on contemporary rugs.
When using a decor style approach, keep decor style trends in mind. You don't want to use the main colors that were considered chic styles ten years ago.
Match the Rug Color to Your Accent Wall
If you have blue walls and pair them with a blue rug, the end result will be that there is too much blue. However, if you have a blue accent wall, you can find a rug to match the blue accent wall. This will help bring the entire room together.
This applies to every color. You can also do this with a beige wall.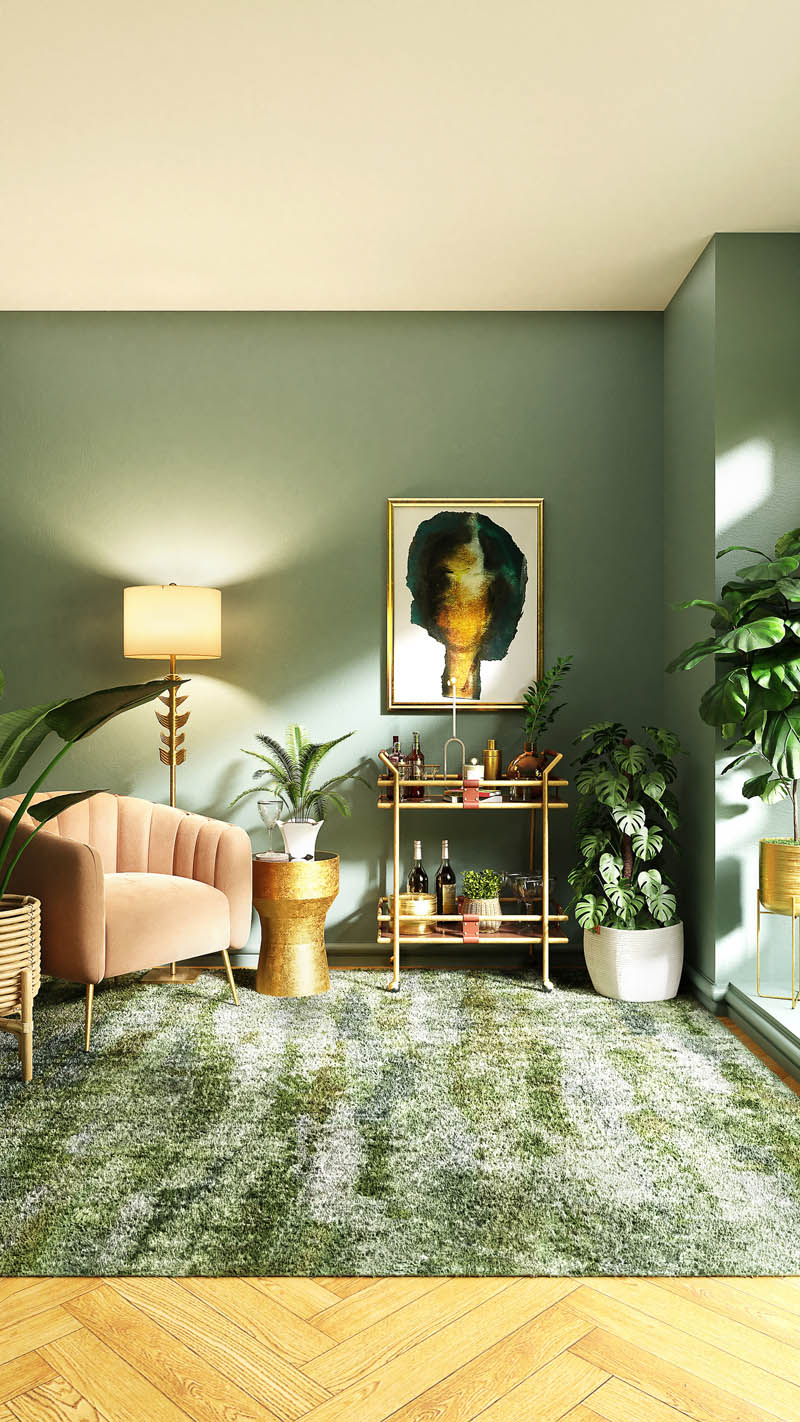 Consider Your Living Style
If you love bright colors and consider your home to be the definition of bright living, consider throwing the decorating rules out of the window. Pick a colorful rug for colorful living. Opt for pastel colors to display a friendly living environment.
If you are a fan of having a neutral living environment, opt for a modern contemporary rug in neutral colors. Neutral living designs open the door for a lot of decorating possibilities down the road.
Place a Rug Under a Conversation Piece
Conversation pieces are often pieces that are put on display. These are also known as feature pieces. A feature piece is anything that is put on display. This may be decor, graphic pieces of artwork, or even a special family portrait. Placing a contemporary rug underneath them is a great way to complete the look.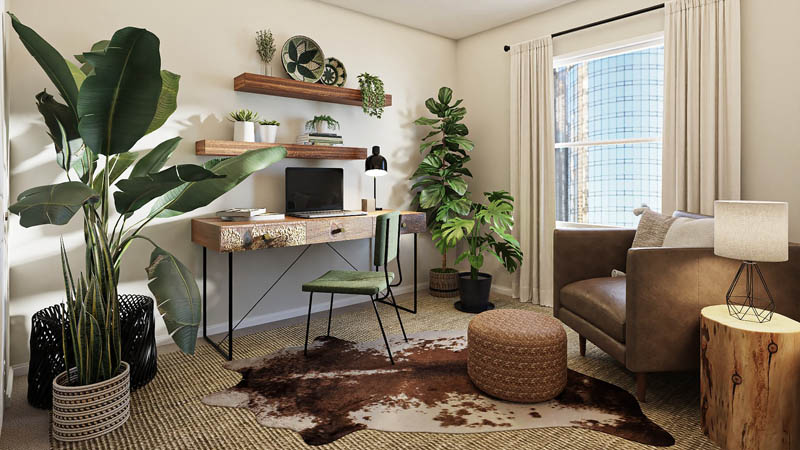 Make Sure Rugs Coordinate With Curtains
If your rugs and window treatments are not from the same color palette, they can clash horribly. This doesn't apply to neutral curtains or those that are black, grey, or white. You need to be careful with colored curtains. For example, blush curtains will not look good if you have a rug with a neon, geometric pattern.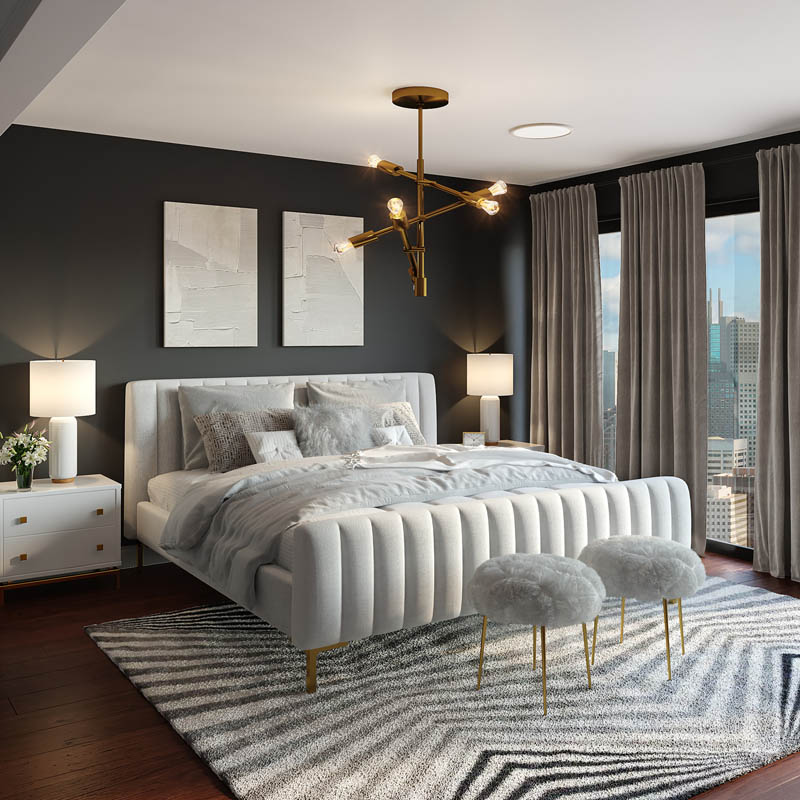 Avoid Plush Rugs and Floor Lamps
If you have a floor lamp, avoid plush rugs. Your floor lamp will not sit evenly on the rug. It can tip over easily, presenting a danger to you and your family.
For more decorating advice, check out rugs SF!