You may be forgiven for not immediately associating Portugal with great graphic design. Admittedly the discipline is relatively young, as the first design courses only launched in 1969. Later, in 1975, Universities in Porto and Lisbon both started offering graphic design on their syllabus. Despite its relative youth, graphic design in Portugal is booming, with approximately 12,000 graphic designers registered with professional organizations.
Due to its historical roots as a sea-faring nation, Portuguese design is known for its openness to global influences. However, it's also forging a unique design aesthetic, inspired by the country's beautiful landscape and the particular quality of light, as well as its ceramic tiles and historic buildings. The designers we're showcasing have distinctive styles, but there are shared characteristics: splashes of rainbow color, organic shapes, stunning typography and a humorous take on life. Here are just 7 of some of the country's most talented graphic design professionals working today.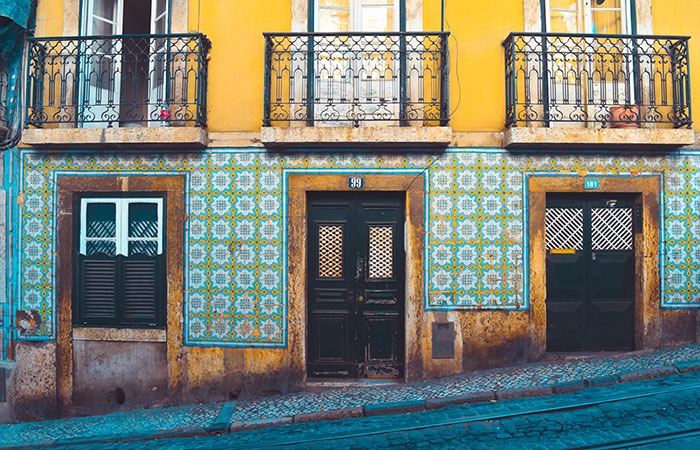 1.Cartaz Design
Specializing in promotional posters, Cartaz Design produces work that is unique, stand out, and has a strong use of typography balanced with accent colors. Their service is accessible 24/7, and they pride themselves on a quick turnaround.
2.Danny Ivan
Based in Porto, Danny is a 3D artist and graphic designer. His 3D illustrations explore patterns and color to create other-worldly, strangely beautiful creations. Clients include brands such as Apple, Huawei and Adobe, as well as adverting heavyweights Wieden & Kennedy London, TBWA\CHIAT\DAY and JWT London.
He says: 'The region has influenced me a lot, especially with all the light. We have lots of sun and hot weather, so the colors pop out in every single corner.'
3.Ana Seixas
Also Porto-based, Ana is an illustrator and designer. She produces screen printing and flat illustrations of beach scenes and daily life. Her work is characterized by vibrant color, warmth towards the characters she portrays, and quirky wit. Due to specializing while studying, Ana's work lends itself to children and teenagers' publishing.
She says: 'The Fine Arts School is where most great projects are born. I see musicians working with performers and painters and illustrators with graphic designers.'
4.Rosario Badessa
Rosario has an architectural visualization studio based in Lisbon, delivering architecture, rendering, 3D visualization and infographics projects. His clients are wide-ranging and based across Europe, from Iceland and Switzerland to Austria and France.
He says: 'The art scene is rejuvenating these days. New museums and galleries are opening, and many international artists are moving to Lisbon.'
5.Constança Soromenho
Based in Lisbon, Constança is passionate about graphic design, illustration, typography, editorial, and branding. Her work features beautiful examples of branding for a range of clients, having gained experience working for agencies such as McCann Erickson and Deloitte Digital.
She says: 'For me, Portugal is a small but culturally rich country … The city [of Lisbon] is quiet but vibrant, old but contemporary, familiar but sophisticated.'
6.Serafim Mendes
A graphic designer and illustrator based in Porto, Serafim's work is both colorful and geometric, often 3D illustrations of creative alphabets. He lists his interests as typography, 3D illustration, and editorial design. Currently studying for an MA in Communication Design, he also freelances at a range of studios in Portugal, the UK and Finland.
He says: 'My references don't come from a single place. And with access to the internet, you are able to see work from people all over the world, at any time.'
7.Aheneah
A Lisbon-based graphic designer and illustrator, Aheneah's work is lovingly detailed, featuring a blend of typography and imagery using thread. Combining her design skills with embroidery knowledge passed down from her grandmother and mother, Aheneah's work explores the connections between digital and analog media.
She says: 'Portugal is a small country but the artistic community is growing, day by day.'
Inspired by their beautiful, historical setting and cross-pollination between different influences, these exceptional practitioners are part of a wave of contemporary Portuguese graphic design that shows no sign of stopping.