Quite a while ago, we once talked about 20 playful food shaped furniture/fashion/accessory designs around us. But it looks we only not like to use these "food themed" designs on us, but also on our pets.
I wasn't aware of that until the "delicious" cat bed got popular on our site. Then I started to wonder how we can pair our pet with food. After some looking and finding online, here are what we have: 7 Playful and Delicious Food Shape Pet Bed. Besides the fruit tart and omelet bed, we also have something savory like hot-dog and fried egg. Take a look and let us know which one you like most. Personally, I think the toast bread one is my favorite.
This post may contain affiliate links. If you make a purchase, Design Swan may earn an affiliate commission. Please read our disclosure for more info.
Fruit Tart Pet Bed [buy here]
Material: Plush and sponge.
Size: Length: 15.75inches/40cm.Width: 15.75inches/40cm.Heigth: 4.33inches/11cm.
The cute tart appearance and all kinds of fruit shapes attract the attention of pets,relieve the boredom of a pet.
Made of soft and durable cotton fill,offer your pet family a nice place to play,sleep and rest,soft and warm for your kitty and dog.
This is removable pet cushion,you can put it in pet cage or on the floor,as a chair sofa cushion to people for office,home,hotel and more.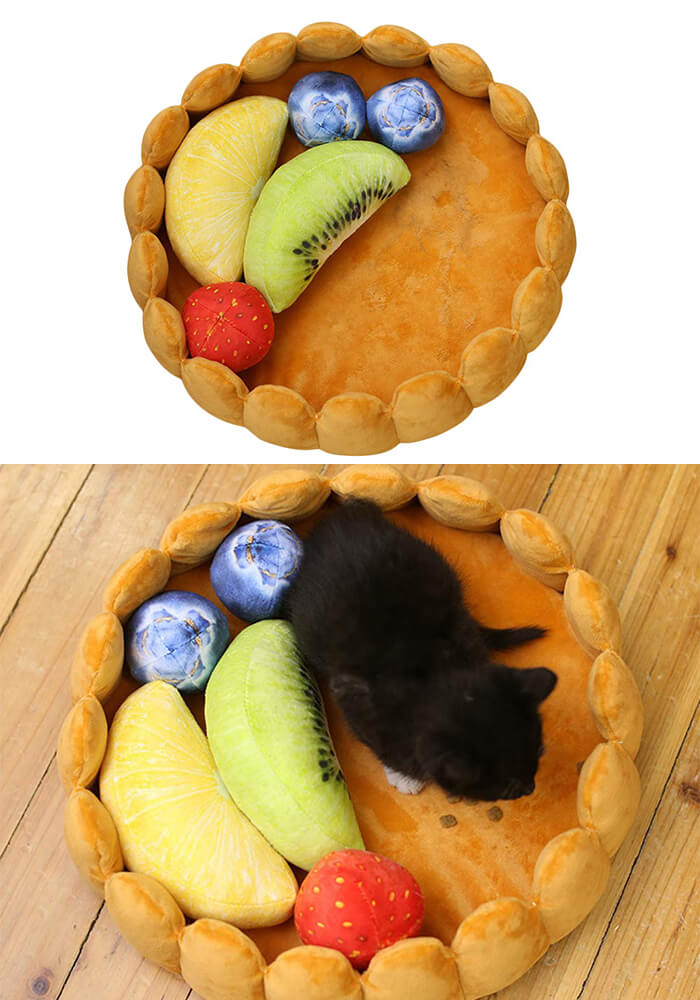 Toast Bread Slice Pet Bed [buy here]
Product description: SIZE: 15.8 X 15.8 X 2.8 inches
Features:
– Cat pet bed mattress cover with deep convolute foam provides your pet with extra support and cushioning for maximum comfort.
– Better rest for your pet can lead to improved health.
– Both cover and core are washable.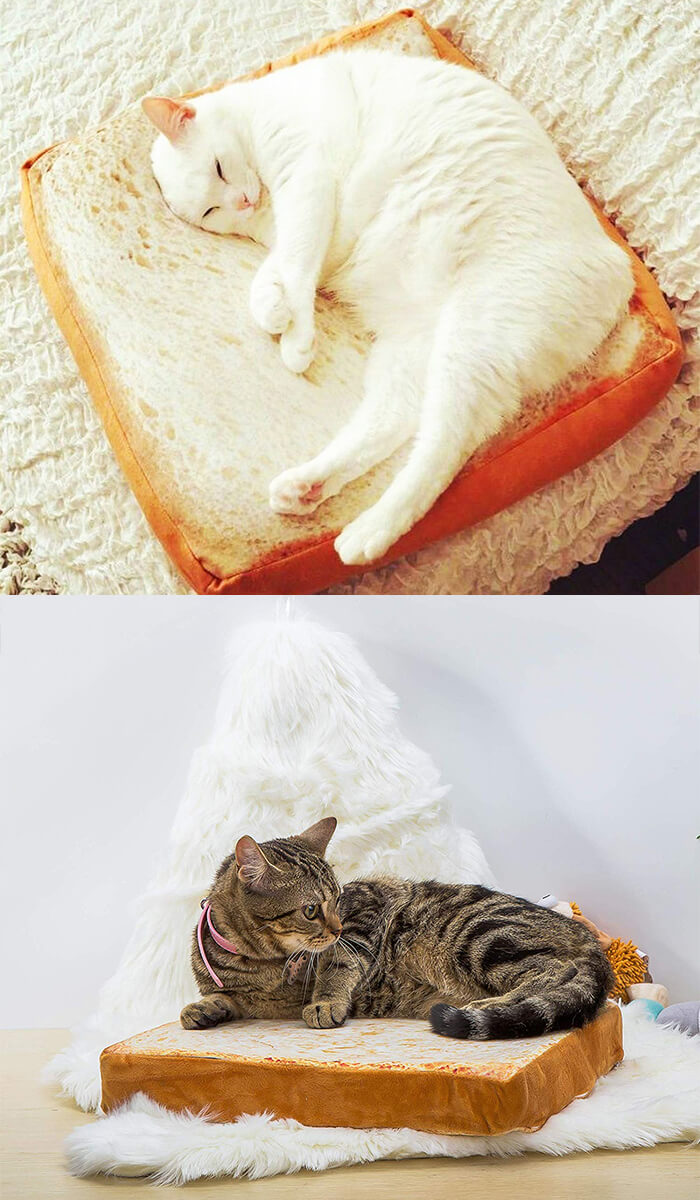 Crepe Omelet Pet Bed [buy here]
A perfectly fried golden omelet-like crepe, surrounded by strawberries and kiwis, makes the perfect setting for your cat to look like a yummy dessert filling. The cover of the "crepe" has a snug fit that will convey an immediate sense of security and comfort, while the dimensions are ample enough to accommodate basically all cats – and even some small-sized dogs.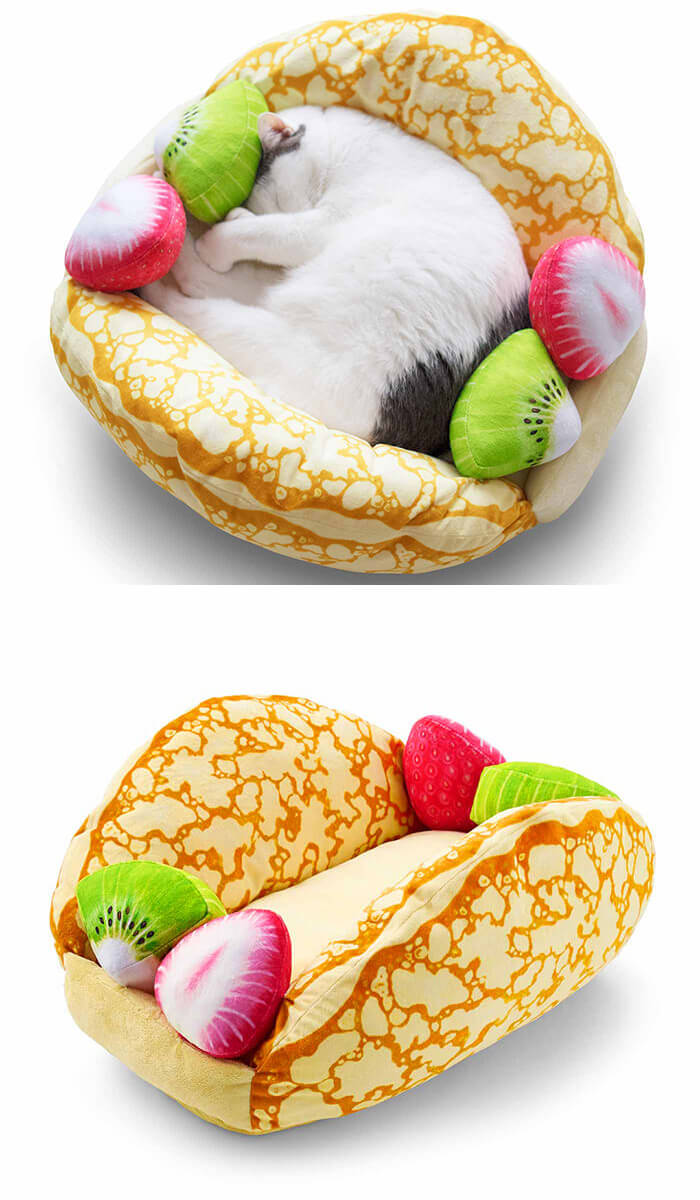 Cream roll cake Cat Tunnel [buy here]
Material: inner part – Polyurethane; Filling material – polyester
Size: Height 25 cm (not including strawberries), width 27 cm, length 40 cm, entrance diameter about 14 cm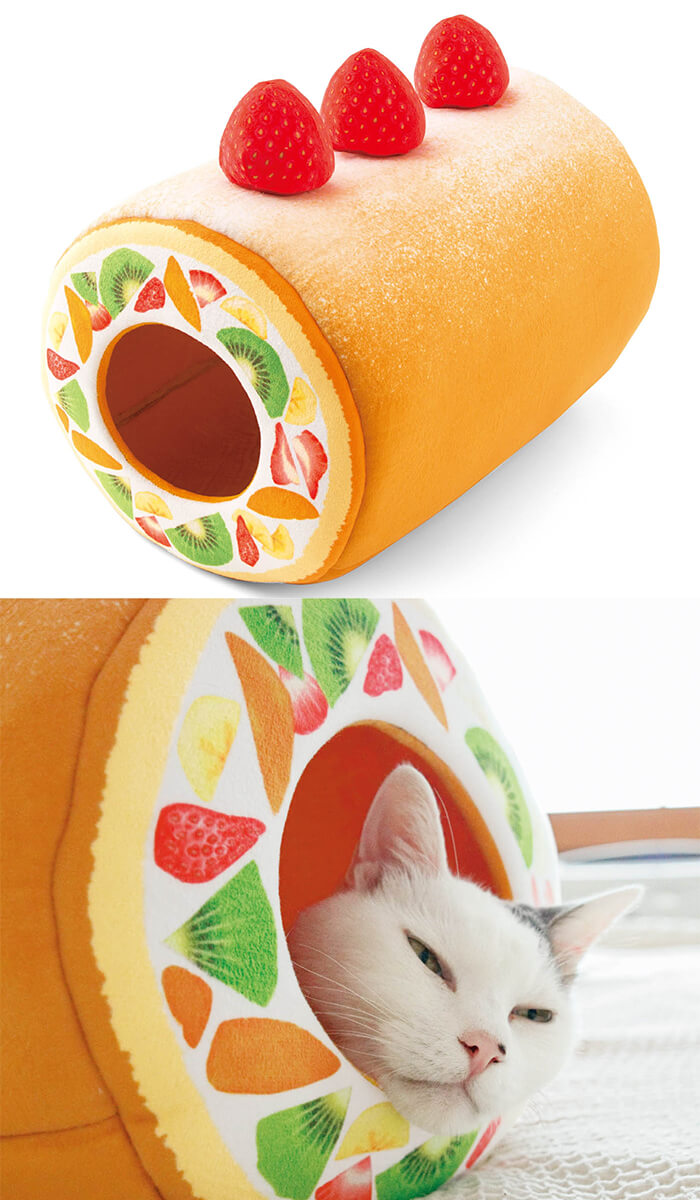 Banana Pet Bed [buy here]
Lovely yellow Banana designed, It's not just a cat's bedding house, also decorated your home.S
emi-open Lid designed, give your pet a private and cozy place.P
Provide a soft and cozy place for your pet to rest and relax.M
MEDIUM, LARGE, EXTRA LARGE sizes can be selected, choose one for your pet and give it a wonderful bed.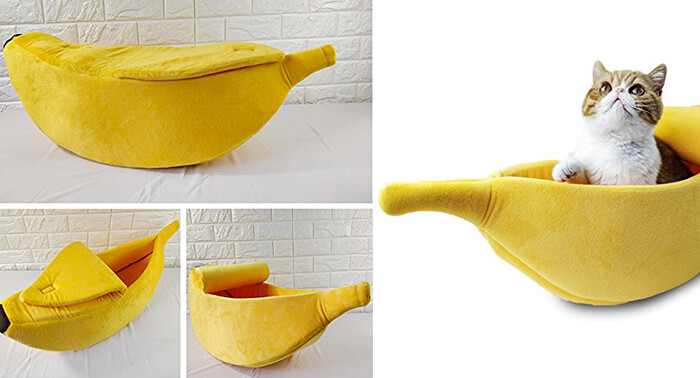 Fried Egg Shaped Pet Bed [buy here]
– Color: As shown in the picture.
– Material: Super soft fuzz.
– Dia.: 60cm/ 23.6 inch.
– Adopts high-grade super soft fuzz, this blanket is gentle and comfortable with delicate texture.
– Fried egg shape design brings a nice decoration to your pet's bed.
– Bring more fun and pleasure to your cat.
– Can help to shield your bed, carpet, sofa or couch from uwanted pet hair.
– Ideal for pet beds and carriers. Ultra-soft fuzz blanket provides warmth and comfort to the pets.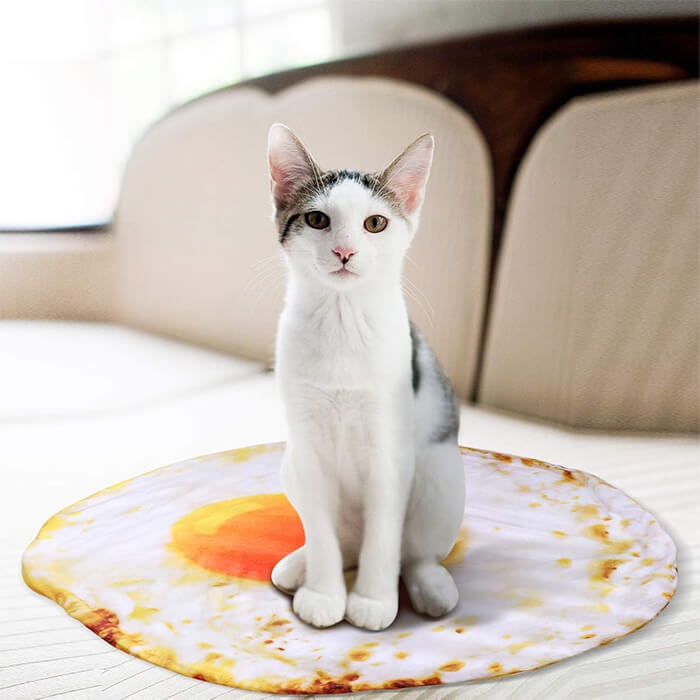 Hotdog Shaped Pet Bed [buy here]
Easy to carry, durable, portable, convenient and easy to use
Protect your pet from the cold, keep your pet warm
Fashionable with a compact and delicate design High quality soft materials, make your cat comfortable, with a breathable background and non-woven to moisture.
Create a comfortable bed for your healthy pet to sleep and rest.
Small Size:59*50*23cm
Package Content:1PC Pet Bed