A door stop is a wedge attached to a wall or inserted beneath the door to hold it open at a desired position. We usually make any item into a door stop but because of our craftsmanship, door stops nowadays are being modified and are now decorative objects aside from serving a utilitarian purpose. Here, we rounded up 8 Cool and Creative Doorstops that will hold your door open or closed in style.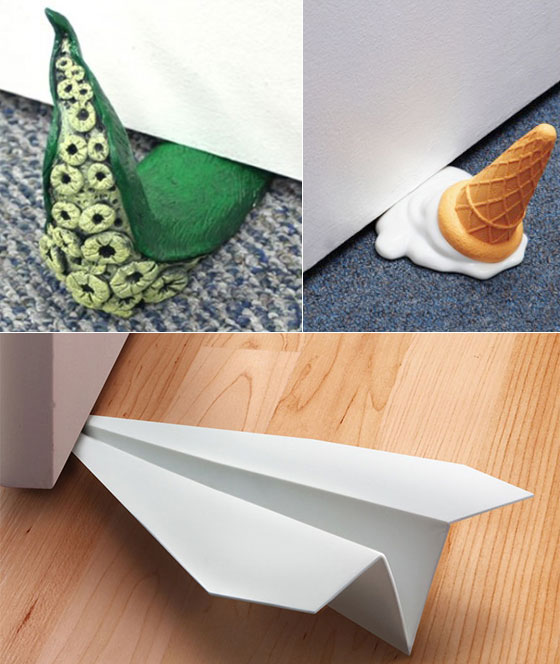 We are a participant in the Amazon Services LLC Associates Program, an affiliate advertising program designed to provide a means for us to earn fees by linking to Amazon.com and affiliated sites.
1. Tentacle Doorstop [source]
Doorstop shaped like a tentacle is crawling out of the door
Works on all kinds of floor (carpet, wood, concrete, laminate, etc.)
Exquisite level of details
Material: tough urethane resin with 1/8″ thick rubber padding for tight grip
Unique: no two are exactly alike – paint details may vary as these are hand painted.
Size: 5″ x 2-1/4″ x 5″ (12.7 cm x 5.7 cm x 12.7 cm)
Made in USA – Handcrafted by local artisans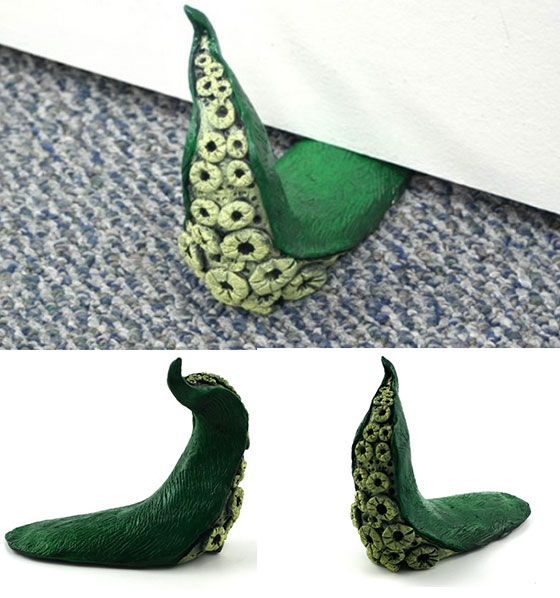 2. Pop The Weasel Door Stop [buy on amazon]
Pop's hindquarters are splayed out behind him. This forms the wedge shape that fits so neatly under doors.
His quirky features are all molded and then hand-painted. They are all fully safety compliant, and have passed the British Safety EN71 test.
He measures a statuesque 18 cms from outstretched paw to flattened tail, and 10 cms across from paw to paw.
At 300 grams he's a fine figure of a weasel. Although the poor thing is only half the weasel he once was.
The coffin packaging is made from sturdy card. A warped wood pattern is printed onto it. Lift the exterior lid, and underneath is a plastic lid allowing you to see the gore inside. The coffin is 26 cms long by 15 wide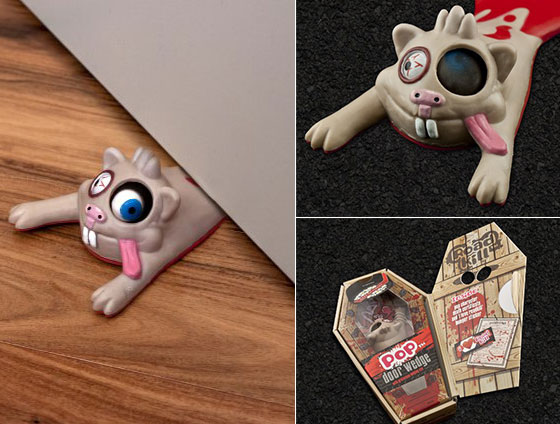 3. James the Doorman [buy on amazon]
James is the perfect gentleman and will hold the door open for you by wedging his foot under it. He will bring a stylish welcome to any interior. Made of rubber. We want to show that 'designed' products can be made affordable without compromising their quality. The aim is to create innovative products that will charm and entertain. Hopefully you will get as much enjoyment from a black+blum product, as we got from designing them.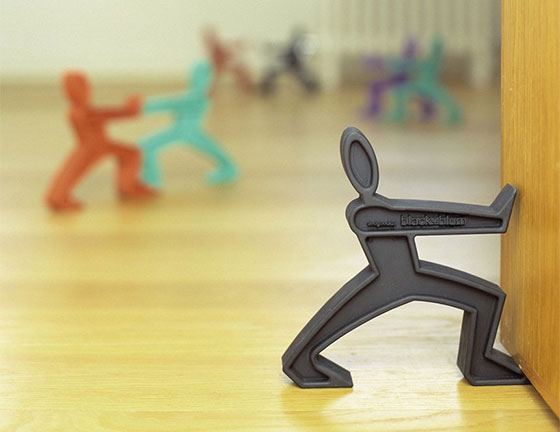 4. Loose Leaf Doorstop [buy on amazon]
Loose Leaf looks like it wafted out of the sky and flitted to your entryway. But looks can deceive – it's actually a very reliable and practical doorstop, as functional as it is evocative!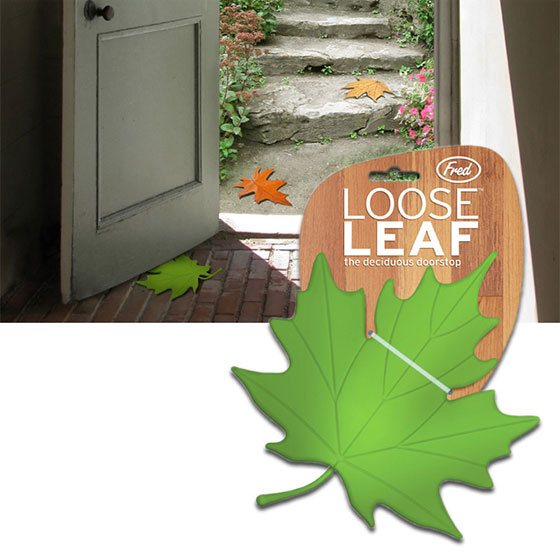 5. Melting Ice Cream Cone Door Stopper [buy on amazon]
Cleverly designed vinyl doorstop.
an also be used as a paperweight, or to fool the unsuspecting with a faux-gooey mess!
4″ long.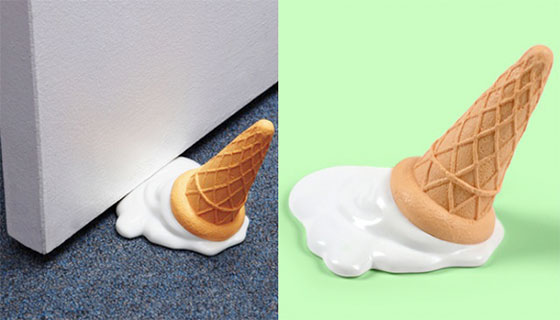 6. zuny Doorstop Gorilla Milo [buy on amazon]
hand made from soft PU leather
high-quality workmanship
nice and heavy, keeps doors open easily
suitable as a bookend or doorstop
limited edition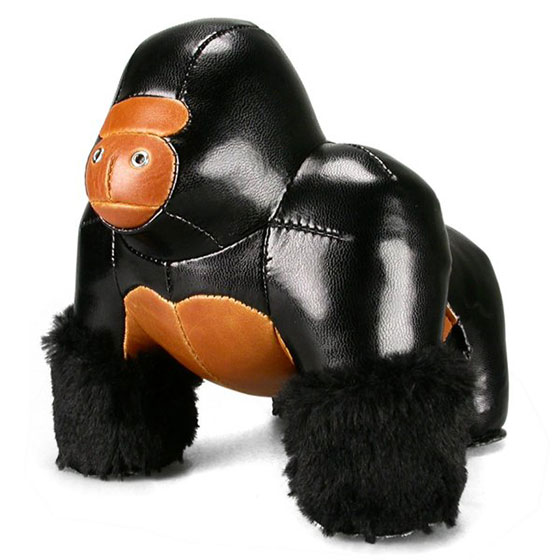 7. Stop Doorstop [buy on amazon]
No door too heavy! This fearless SUCK superhero will save the day in many a door-related crisis. Have you been the victim of poltergeist doorslamming and terrifying draughts?? Worry no more – this hero may be mini, but it's made from silicone rubber with a big grip footprint, and can resist the biggest and baddest of doors.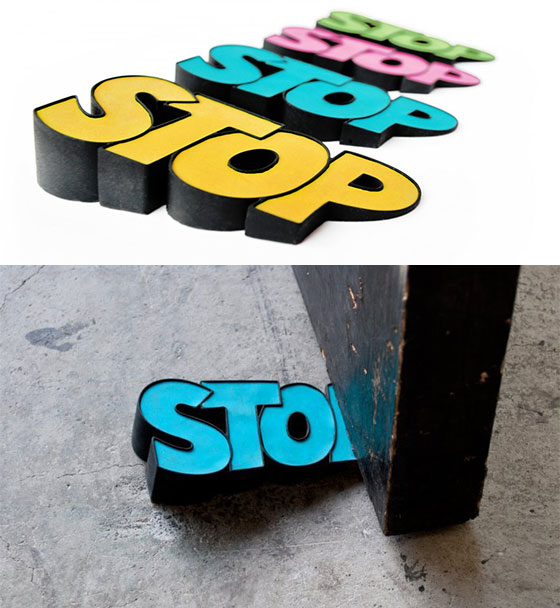 8. Paper Airplane Doorstop [buy on amazon]
ade from strong, durable eva plastic
Unique doorstop appears to be crisply folded paper
8-1/2-inch long and packaged in a full color giftbox
Fun and easy to use