Creativity is everywhere, and it even appears in your kitchen. We would like to share some Cool Multifunctional Cutting Boards with you guys in today's post. From draw embedded cutting board to over sink cutting board, from tempered glass cutting board to rinse and folder cutting board, these creative cutting boards are dynamically designed and a big help to your chopping job.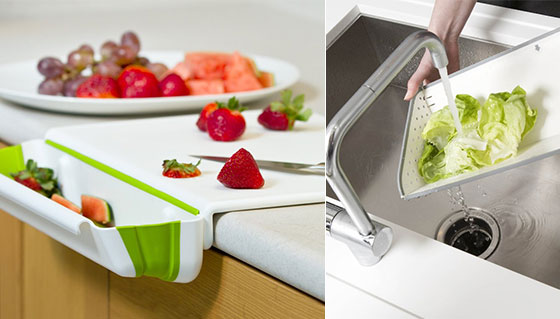 We are a participant in the Amazon Services LLC Associates Program, an affiliate advertising program designed to provide a means for us to earn fees by linking to Amazon.com and affiliated sites.
1. Mocubo Bamboo Chopping Board With Drawers [buy on amazon]
Mocubo is a prime example of an everyday product with added functionality. With the combination of a bamboo cutting block and three concealed drawers, this chopping station is there to make food prep as easy as possible. You may be searching for wooden chopping boards but bamboo is a slightly less pourous material than hardwood, therefore more resistant to moisture.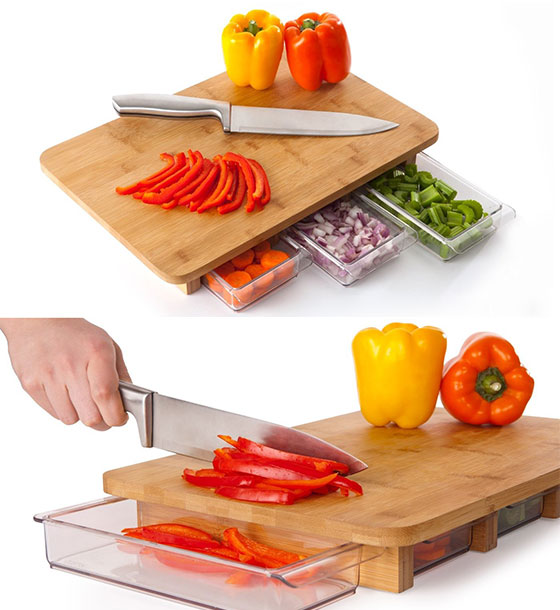 2. Totally Bamboo Over Sink Cutting Board with Silicone Colander [buy on amazon]
Totally Bamboo Over Sink Cutting Board with Green Silicone Colander is the perfect tool for prepping fruits and vegetables. It has colorful non-slip corners designed to secure and balance board and a collapsible colander for rinsing foods before / after prepping. Overall, board measures 24 by 12-1/2-Inch. It's 5/8-Inch thick – making it maneuverable and easy to store.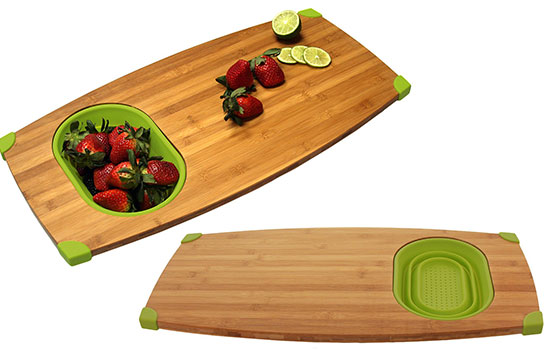 3. Instant Counter Tempered Glass Cutting Board [buy on amazon]
– Instant Counter Glass Cutting Board Features
– Constructed entirely with high grade virtually unbreakable tempered glass.
– Equipped with four heat resistant non slip silicone coated feet.
– Have been tested going from 0 degrees F for 24 hours to 120 degrees F for 24 hours without – structural fail.
– Dishwasher safe and handwash safe up to 110 degrees F.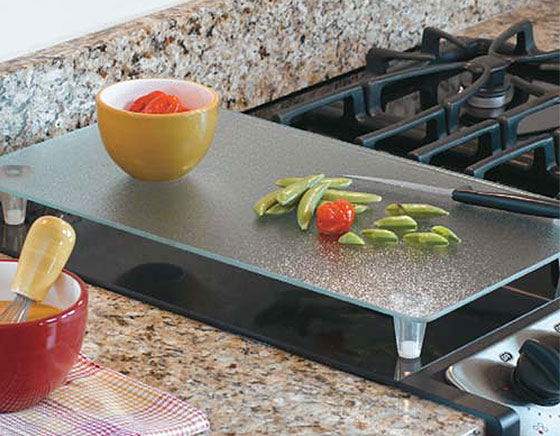 4. Cut and Prep Bamboo Cutting Board and Bowl Set [buy on amazon]
– Bento seven-piece cut-and-prep set by umbra contains one cutting board, five prep-bowls, and – one tray/storage base
– Solid bamboo cutting board; molded bpa-free bowls and tray
– Prep bowls double as measuring cups: two 1-cup, two 2-cup, and one 3-cup
– Measures 16 by 11 by 3-inch; nests for compact storage when not in use
5. Counter Edge Cutting Board with Collapsible Scrap Bin [buy on amazon]
– Counter edge poly cutting board with integrated removable bin; collects food and scraps and collapses for easy storage
– Bin slides easily into place; features a seal between board and bin to ensure liquid does not fall on the floor; 4-cup capacity
– Board features L shaped edge design to fit over sink and counter, non skid feet; measures 11 by 15-inch
– Bin attaches to board and collapses for easy storage
– Dishwasher safe; patent pending design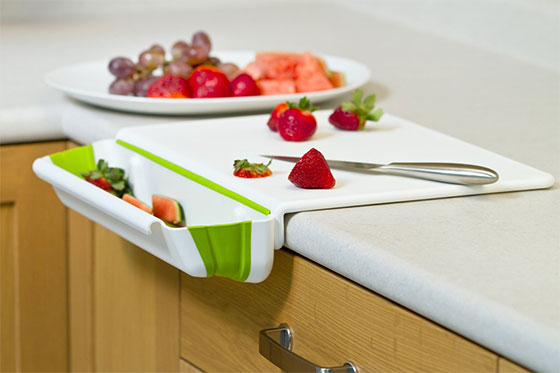 6. Classics Bamboo Cutting Board with 7-Multi-Color Mats [buy on amazon]
Let your inner chef come alive with this multi-purpose cutting board by seville classics. Made from bamboo, the chopping board is naturally anti-microbial and is 16-percent more durable than solid maple. With 7-unique cutting mats, you no longer have to wash and disinfect the board each time. Simply switch out the mats and place a new mat onto the large 15-inch by 12-inch surface area. Each mat is color coordinated for each distinct food groups and is also designed to fit perfectly on the board for a safe and smooth cutting experience every time. The cutting board also has a unique storage compartment for the mats when the board is not in use. The board itself measures 16-1/2-inch by 13.4-inch and by 1.2-inch thick.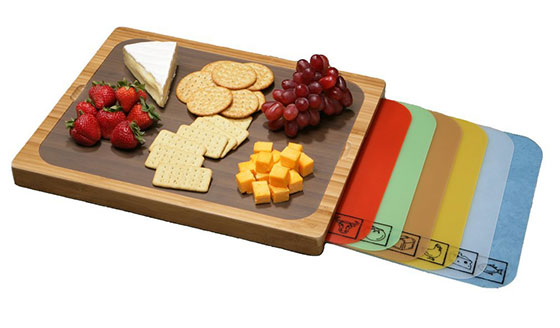 7. Chopping Board with Integrated Drawer [buy on amazon]
This highly practical unit comprises a sturdy plastic chopping surface with a handy, integrated drawer that can be pulled out and used to collect chopped food or unwanted food waste. Simply slide the drawer out when preparing food and scrape the chopped pieces directly off the board into the drawer. The draw can be completely removed and the contents poured straight into a pan or bin. The ultimate in tidy food preparation, the unit has non-slip feet and finger recesses molded either side for easy lifting. In addition the drawer makes a convenient place for storing a small, sharp knife. Dishwasher safe. Measures 11-3/4–inch x 8-1/2–inch x 1-1/2–inch.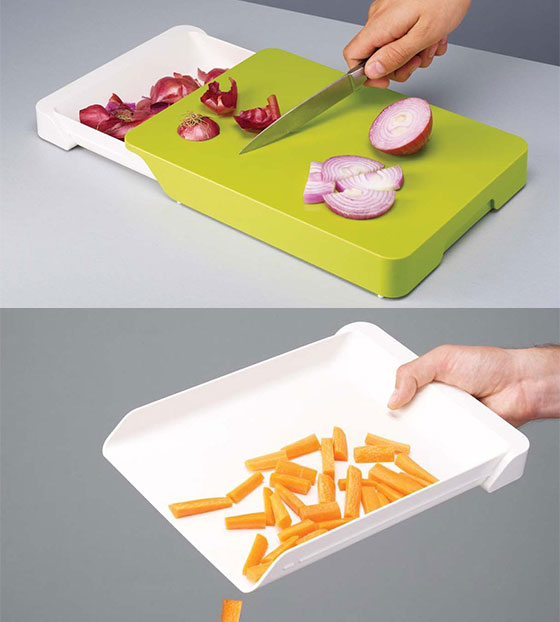 8. Rinse and chop Chopping Board and Colander [buy on amazon]
This multi-use kitchen essential not only eliminates wasted space, it also makes preparation easier and much more enjoyable. It's easy to use; adjust one end to rinse fruits and vegetables, rinse then straighten and chop. Nebyt, readjust Rinse and Chop and pour fruits or vegetables into a pan. Voile. It features a non-slip rubber grip around its edges. It's made of dishwasher safe polypropylene, so cleanup couldn't be easier. With the Rinse and Chop, you'll have it all, all in one compact and convenient place. Flattened, unit measures 17 by 11 by 0-1/2-inch.