I never used the egg cup when I was a kid. And I don't really know the advantage of putting the egg in these tiny, cute little tableware besides a nicer presentation. And probably many share the same ideas as me, think these cups are just an extra (and perhaps unneeded) part of a table setting.
While this has been changed a bit since my family starts to enjoy eating soft boiled egg. Because if you just let the soft boiled egg rolling on the plate, it does look pretty messy, especially when you have a little one with you. As a result, egg cup becomes part of my table when we eat soft boiled egg. Why and how the egg cup can help?
The small cup holds a single soft boiled egg upright so the egg doesn't fall to its side as you crack it open and dip the toast points into the runny yolk. Although it might seem like a small addition to your place setting, it really will simplify your morning. Besides its practical function, the egg cup comes with many cute and playful egg cup designs. Undoubtedly, your breakfast setting can be easily livened up.
At this time, we will present you with 9 Adorable Animal Inspired Egg Cups. Hope you like them.
This post may contain affiliate links. If you make a purchase, Design Swan may earn an affiliate commission. Please read our disclosure for more info.
Puffin Cup [buy from Etsy]
For all of you Puffin lovers out there, meet the beautiful, handmade ceramic Puffin Egg Cup. Made from stoneware. Made in Sri Lanka.
Not dishwasher safe.
12cm high.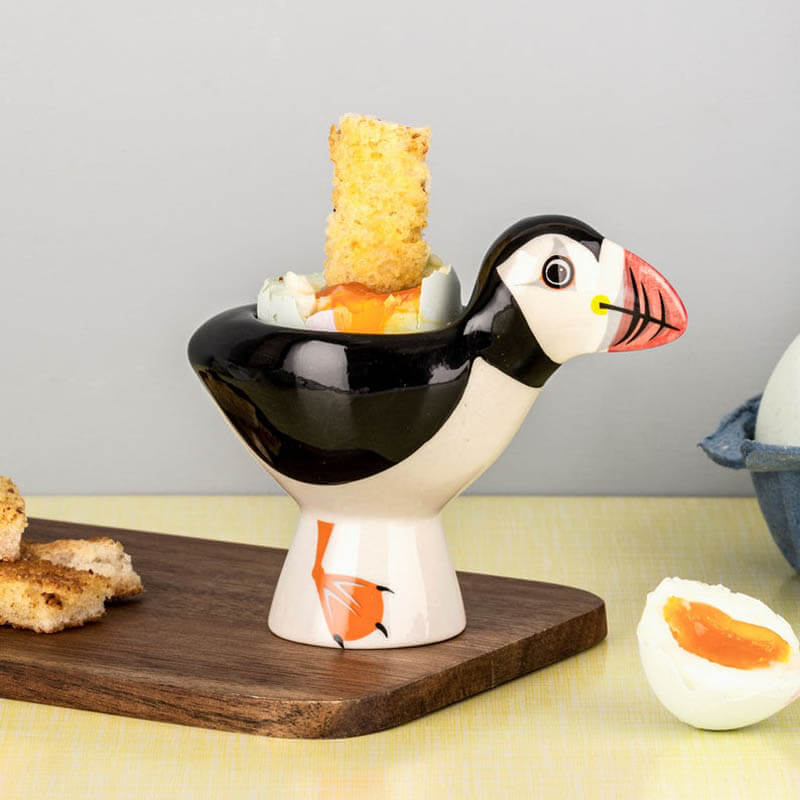 Turkey Cup [buy from Etsy]
With it's bright red neck and impressive tail feathers it will certainly grab some attention. The most seasonal bird to be immortalised by Hannah, the Turkey Egg Cup.
Made from stoneware ceramic with a decal transfer decoration. Not suitable for the dishwasher due to being hollow inside.
12 cm high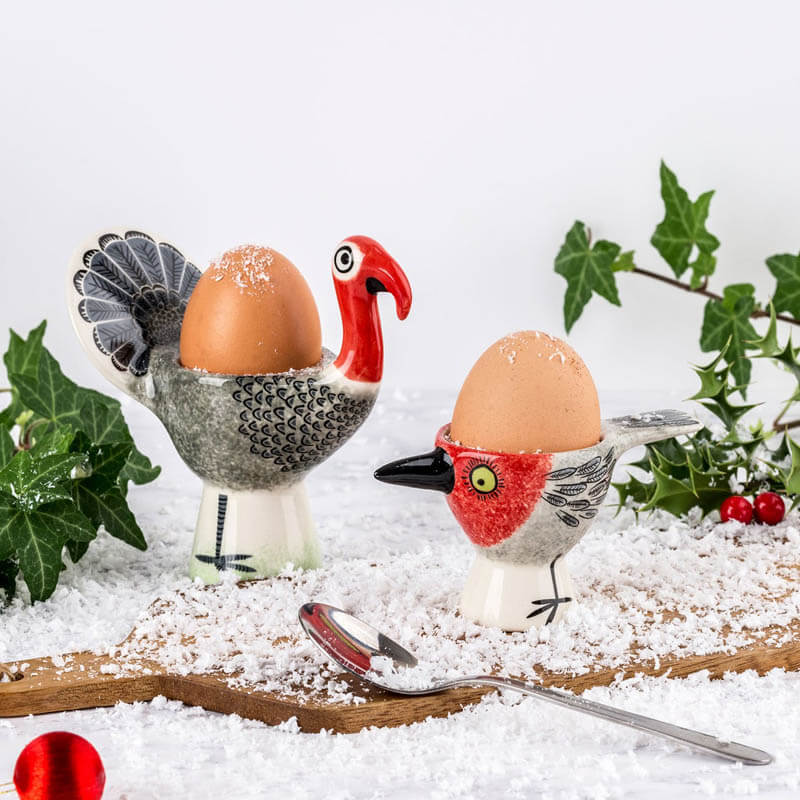 Flamingo Cup [buy from Etsy]
Inspired by collectable, fifties vintage kitsch it forms part of Hannah's growing range of fabulous ornamental egg cups, the flamboyant Flamingo is really creating a stir.
Handmade from ceramic
15cm high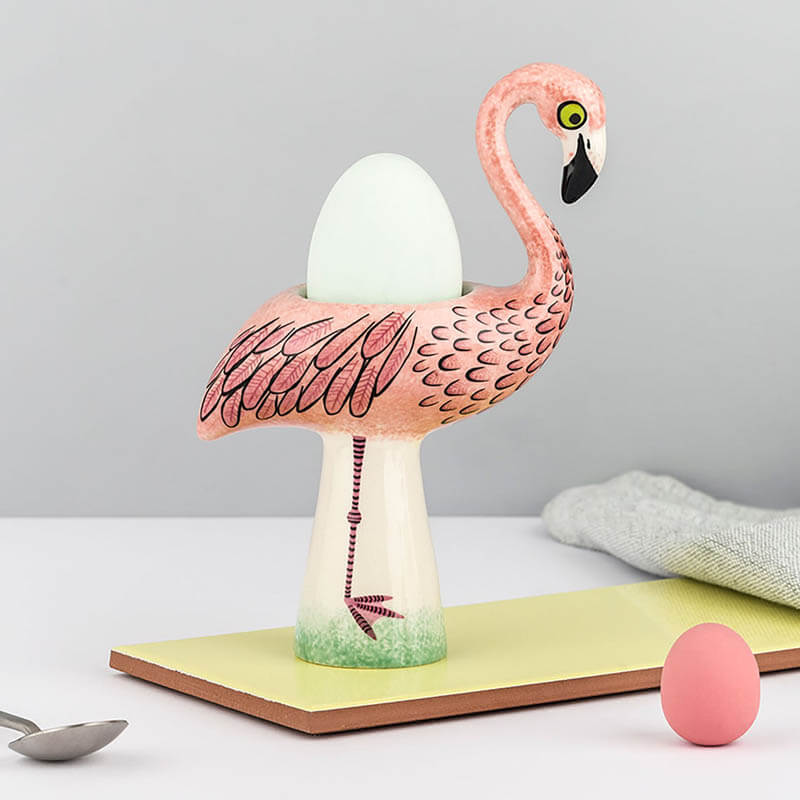 Poodle cup [buy from Etsy]
Brighten-up breakfast with our kitsch Poodle Egg Cup, they create a fab kitsch addition to the kitchen. Available in two colors: Pink and grey
Handmade in Sri Lanka from stoneware ceramic.
Not suitable for the dishwasher.
9cm high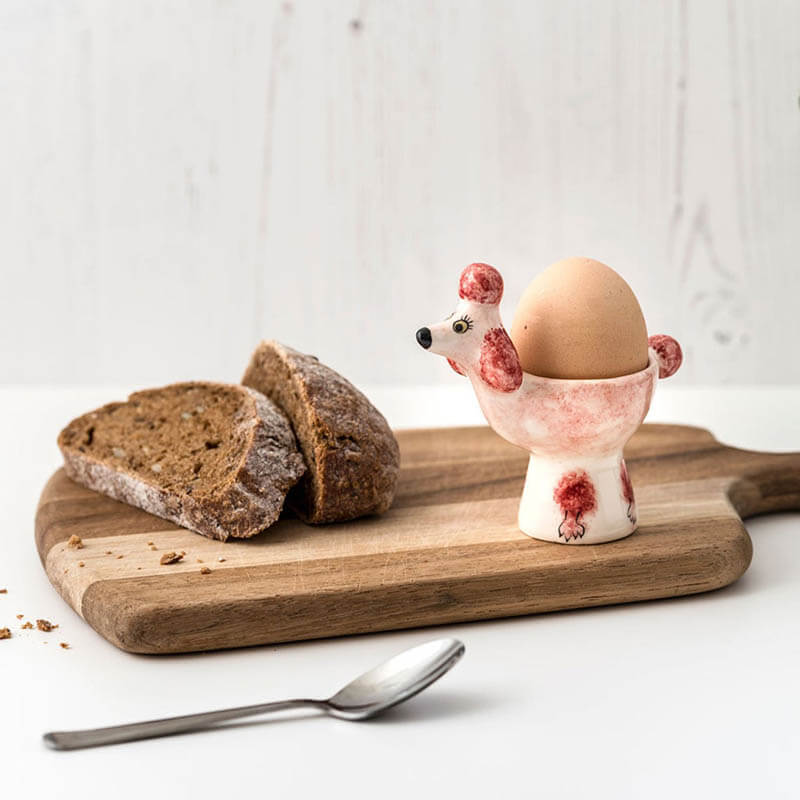 Toucan Cup [buy from Etsy]
Brightly marked with characteristic large, colourful beaks and beady blue eyes, Hannah's Toucan egg cups are a great addition to the breakfast table.
Handmade from stoneware ceramic with a decal decoration.
Made in Sri Lanka
10cm high 16.5cm long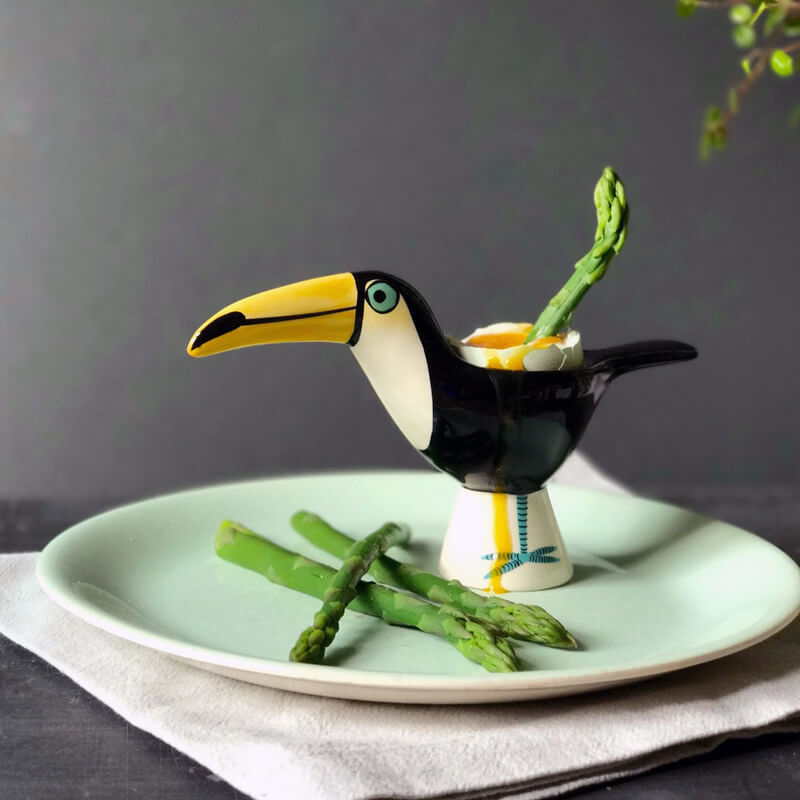 Swan Cup [buy from Etsy]
A beautiful, handmade ceramic Swan Egg Cup is both decorative and functional and has all of the charm of Hannah's ornamental birds, with the bonus of being able to hold your morning boiled egg!
Available in Black or White
Made from stoneware ceramic with a decal decoration.
8.7cm high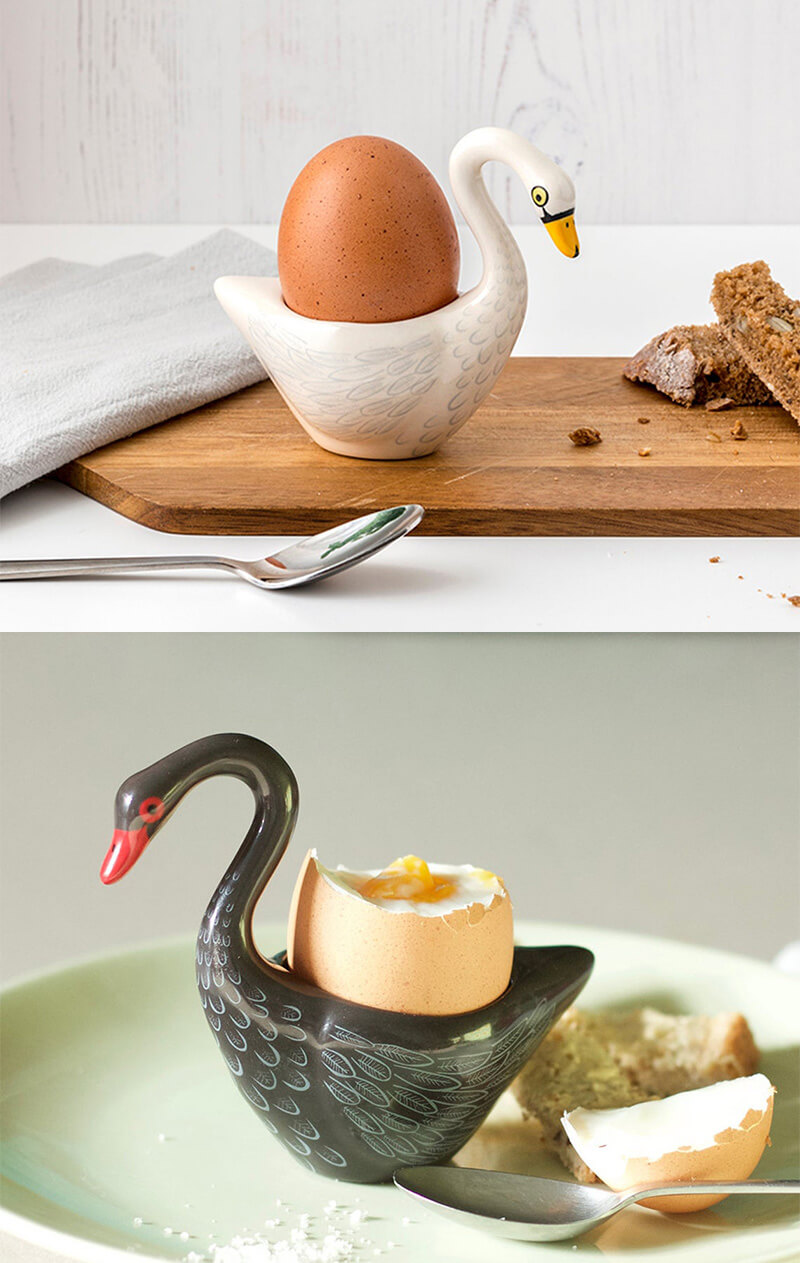 Cat Cup [buy from Etsy]
Make a purrfect breakfast table setting with these Cat Egg Cups.
These cat egg cups will add wit and charm to any breakfast table.
Available: Ginger, Tabby, Black and White and Tortoiseshell.
Not suitable for the dishwasher.
7.5cm high 5.3cm wide and 8cm long from nose to tail!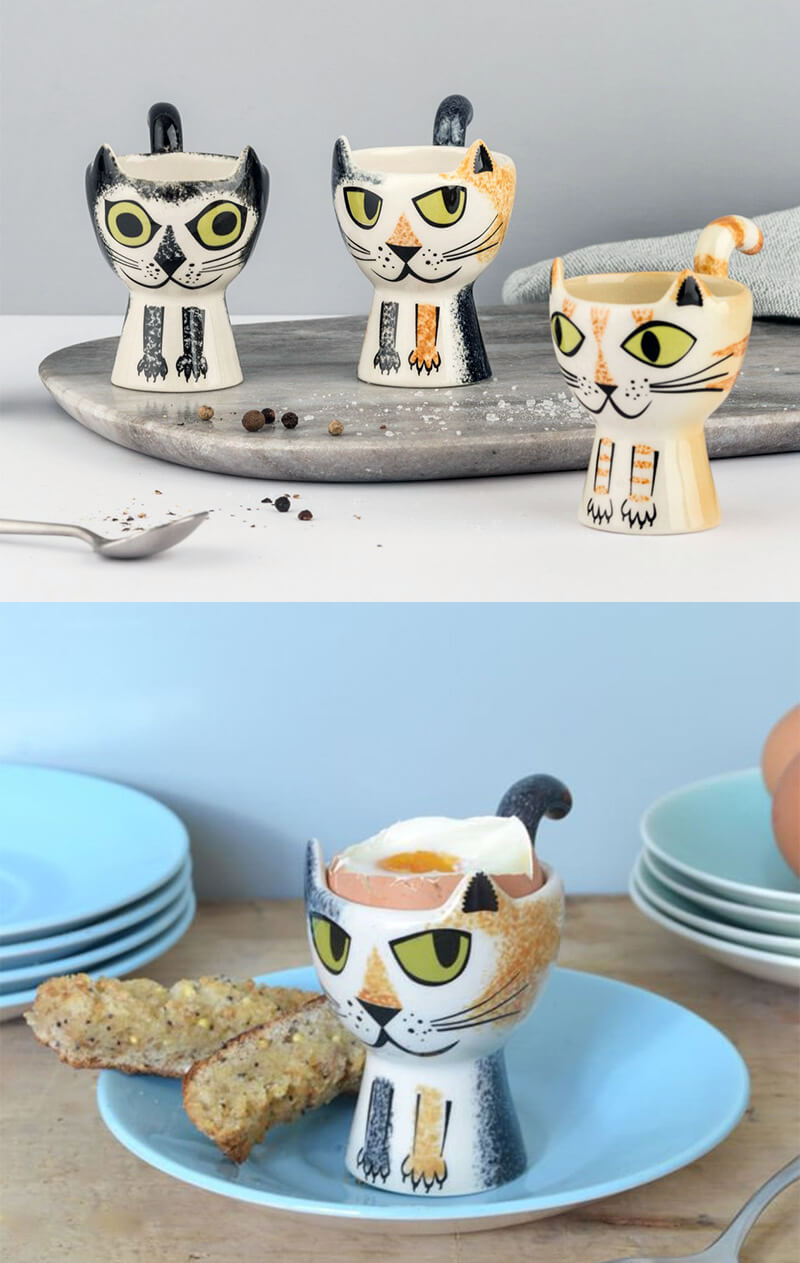 Owl Cup [buy from Etsy]
A beautiful, handmade ceramic owl egg cup for your breakfast table, this adorable owl egg cup would liven-up any breakfast setting.
Here to add wit and charm to any breakfast table, they could double up as a toy too, fly them through the air when the egg is eaten!
7 cm high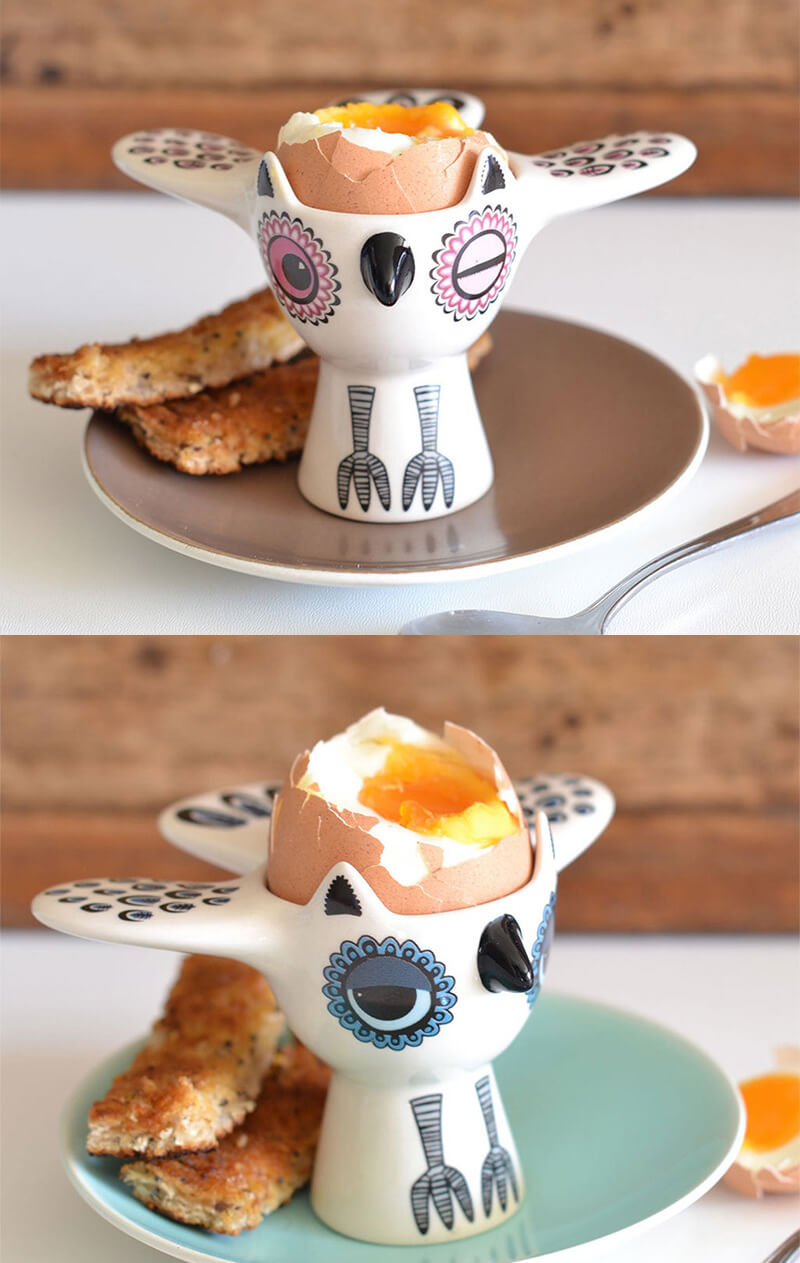 Bird Cup [buy from Etsy]
These ceramic bird egg cups, designed in Bristol by Hannah are sure to amuse and delight. The cheeky little bird characters really bring the table to life. Available in 4 juicy colours, why not buy all four?
Made from stoneware ceramic with a decal decoration, it's a great way to start your day.
6cm high