You don't need much to be a great griller, but there are a few things that make grilling easier and more successful. Here we listed 9 Cool and Great Grill Accessories and Tools for all your grill needs – skewers, planks, racks, baskets and pans. It is time to heat up your grill and enjoy the coming BBQ season. Check our previous list for 13 more cool grill tools and accessories.
We are a participant in the Amazon Services LLC Associates Program, an affiliate advertising program designed to provide a means for us to earn fees by linking to Amazon.com and affiliated sites.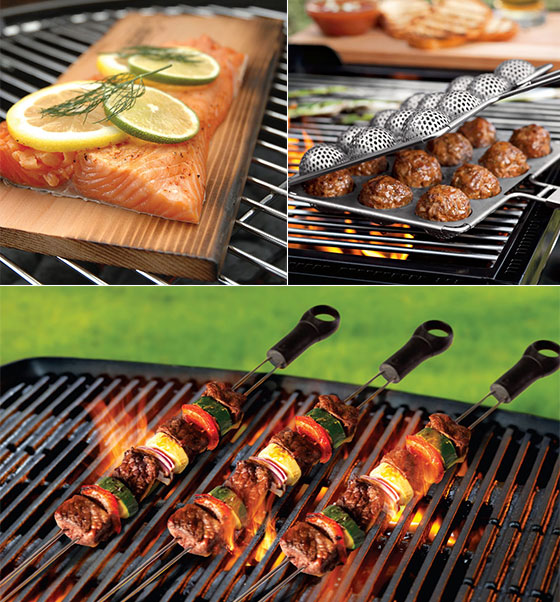 1. Slide and Serve Skewers [buy on amazon]
Make your cookouts a knockout success. Sliders is a set of 4 double-prong skewers that keep food securely on while grilling. The ceramic sliders stay cool enough to touch and guide food off easily when you're ready to eat. These are so simple to use that everyone can just focus on the cuisine and each other.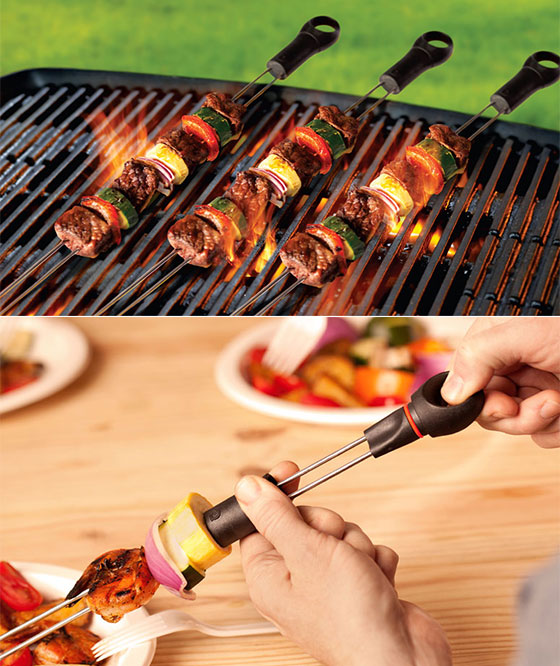 2. Cedar Grilling Planks [buy on amazon]
Grilling on cedar planks infuses food with the subtly delicate flavor of smoked cedar. Plank grilled food is a great way to tip up to gourmet grilling. Tip: soak planks in water or other liquid before grilling to create more rich flavor and extend the life of the plank. Set of 3, 11.5-inch by 5.5-inch cedar planks.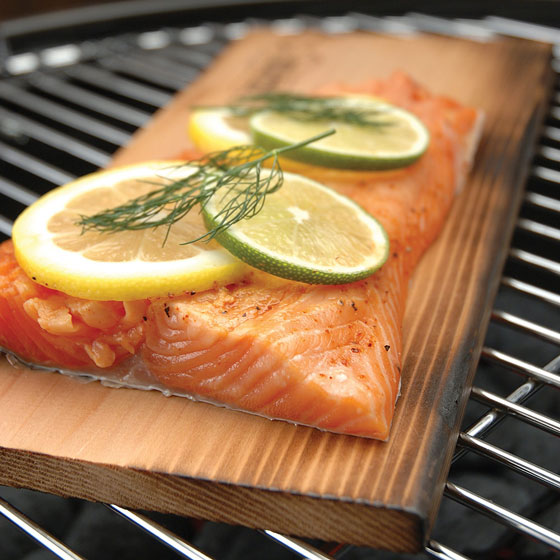 3. Barbuzzo BBQ Branding Iron with Changeable Letters [buy on amazon]
Cooking steaks and burgers to perfection is an art. The trouble is that, once they're done, they all look the same. The BBQ Branding Iron solves this problem. Serve your steaks and burgers with style and avoid mix-ups by branding your meat. Create your name or a message or say just about anything. Comes with 52 letter and spaces.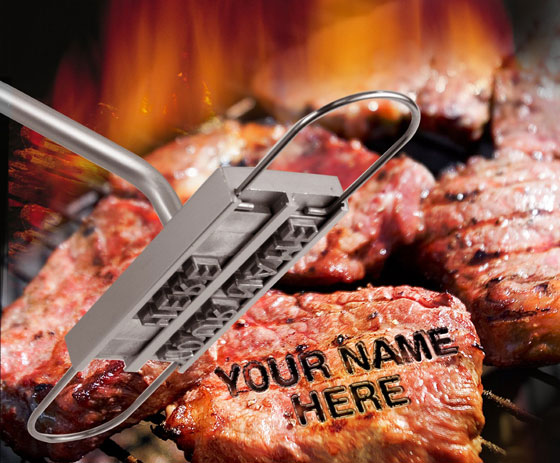 4. Vegetable Grill Clips [buy on surlatable]
If you really love grilled asparagus and other similar singular vegetables, but tend to fling them or drop them into the flames when flipping, then you need these cool new Vegetable Grill Clips. Although they may look like stainless steel clothespins, this set of four handy grill clips are designed to keep individual portions of asparagus, green onions, zucchini slices, etc. organized and easy to flip on the grill.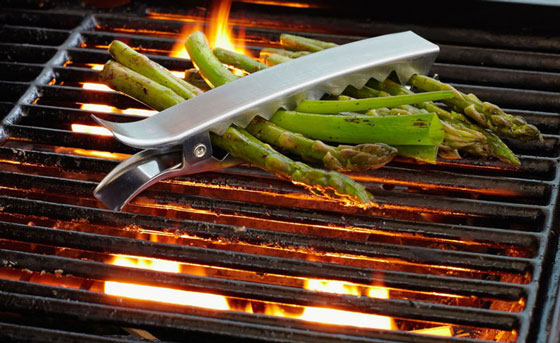 5. Stainless Steel Grill Wing Rack [buy on amazon]
The stainless steel wing rack allows you to hang chicken wings, thighs, drumsticks and cook without flare ups on your grill. The stainless steel pan captures the drippings to create a wonderful smoke flavor. When you are finished cooking, the rack folds for convenient storage.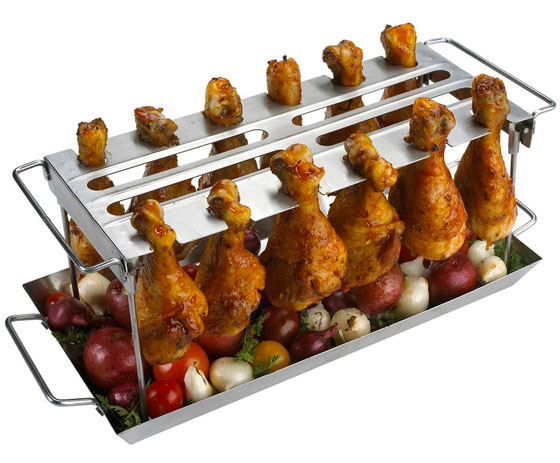 6. La Fiesta Grilled Taco Rack [buy on homewetbar]
Warm tacos on the grill without worrying about them falling apart in our grilled taco rack! This innovative taco holder fits four hard shell tacos and is perfect for a small dinner party or fiesta with your amigos (friends). This taco rack features two side handles for easy lifting and placing on the grill and four individual sections. Just assemble your tacos, place in the taco holder, and warm on the grill! La fiesta grilled taco rack is made of grill-safe metal and measures 14" (including the handles). Taco rack alone measures 10½". Not dishwasher safe. Rack will become hot when on the grill; use caution when handling.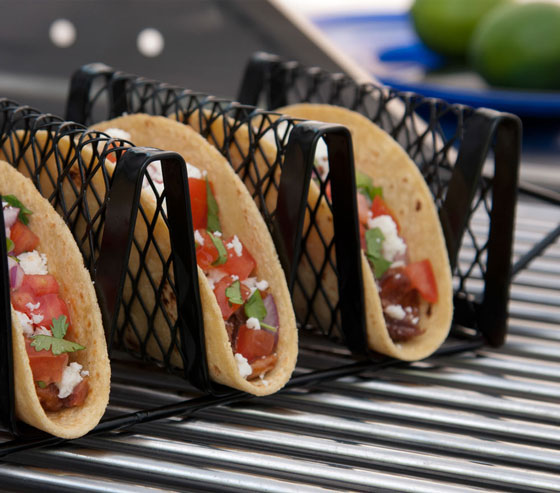 7. Beer Can Chicken Roaster and Flavor Enhancer w/ Potato Prongs [buy on amazon]
This vertical chicken roaster features a removable cup for grilling with assorted marinades, and flavors. This multi-purpose beer can chicken roaster also features four baked potato cooking prongs. Beverage infusing ensures that your bbq chicken is moist with a crisp, golden brown exterior.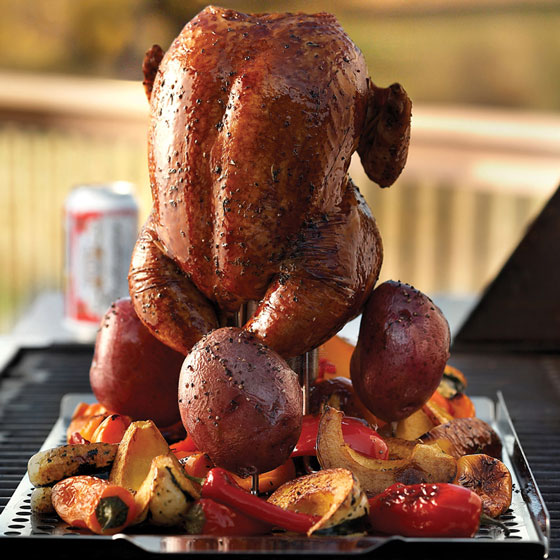 8. Meatball Grill Basket [discontinued]
Sturdy stainless-steel basket has 12 perforated wells to brown meatballs while excess fat drips away.
Works with beef, lamb and poultry as well as vegetable mixtures.
Handle removes to free up grill space and provide clearance for the grill lid.
Based on customer feedback, we've increased the size of the wells' perforations to allow for easier cleanup.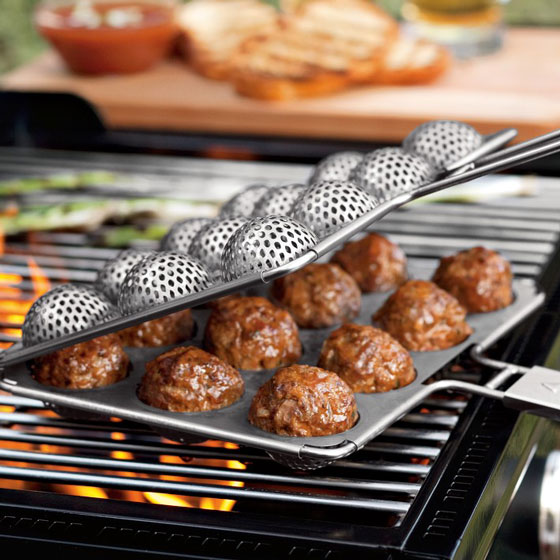 9. Maverick Mesh BBQ Grill 12-Inch Fry Pan [buy on amazon]
Mesh fry pan for cooking 'frying' and sautéing foods and vegetables typically cooked indoors, out on the grill
Featuring food-grade #304 stainless steel mesh to contain and cook foods both large and small
Strong, durable handles to easily move food from grill to table-side
Wide, flat bottom and shallow sides for easily tossing vegetables and meats during the cooking process
Dishwasher safe; 21-1/4 inches by 12 inches by 3-1/4 inches