We love our computers, photos and all the gadgets. They bring us a lot of enjoyment, convenience and also some trouble – the mess of cables/wires come along with them. If you have some wires crossed around, then this is the post for you. Here, we handpicked 9 Cool and Useful Cable Organizers which will help you manage your cables in style.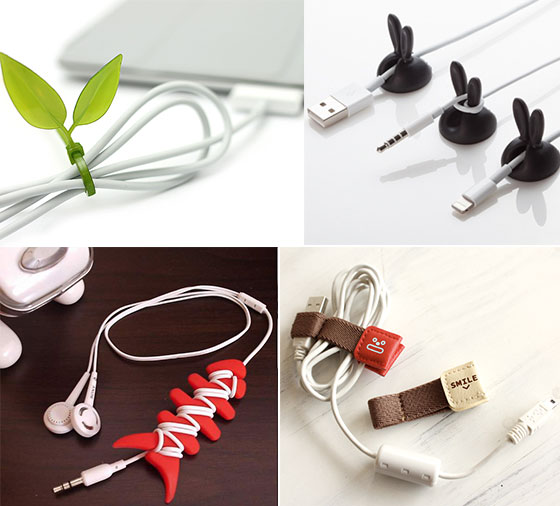 We are a participant in the Amazon Services LLC Associates Program, an affiliate advertising program designed to provide a means for us to earn fees by linking to Amazon.com and affiliated sites.
1. LEAFKEEPERS Cable Ties [buy on amazon]
The design of the LEAFKEEPERS makes the cables look like wrapped twigs. For young children or people that live in the city that tire from the artificially modern environment, the LEAFKEEPERS can for a short while let them experience a hint of nature.
Set of 12, 7.5″ long cable ties
Pass tab end through locking hold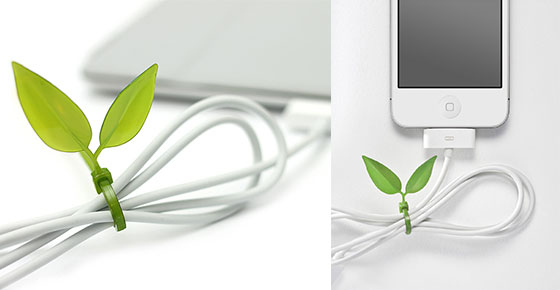 2. Blue Lounge CableDrop Cable Management System [buy on amazon]
Fixed behind or on the desktop, even onto a facing wall, anywhere in fact where you wish to have cables temporarily held yet easily removable or extended. CableDrop gently grasps your power and peripheral cords so they do not fall off your desk every time you unplug your laptop.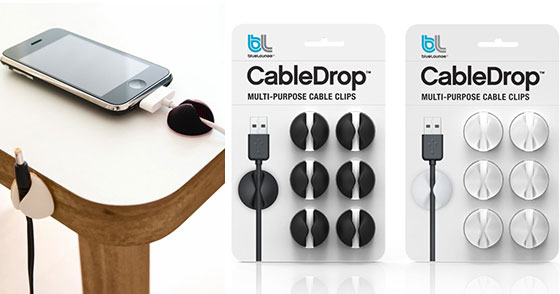 3. Quirky Cordies Desktop Cable Management [buy on amazon]
Five rubber grips with four slots, each of which can hold the ends of several cords
Weighted base for stability
Perfect for power cords, USB cords, cell phone chargers, audio cables, headphones, FireWire cords, and more.
Small footprint (fits even the most cluttered workspaces)
Ability to stack cables on top of each other within each loop.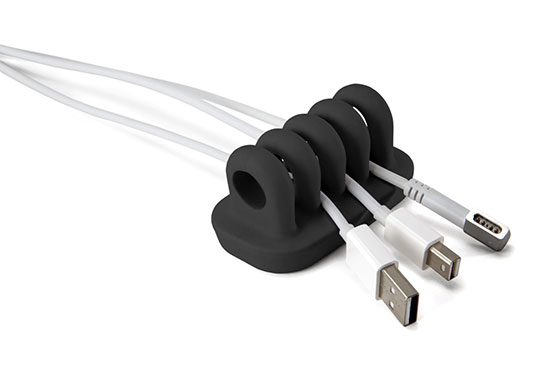 4. Rabbit Cable Holder [mochithings]
The Rabbit Cable Holder is a very cute and adorable cable holder! You can use the Rabbit Cable Holder to hold your cables and keep it organized! You can also wrap your cables around the rabbit's ear in case you want to shorten or want your cables held tight too!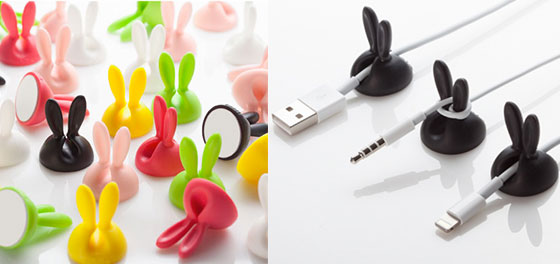 5. Cable Winder Set [buy on amazon]
The Cable Winder Set is a very cute and uniquely designed earphone organizer. The Cable Winder Set features an elastic band where you can attach at the end of the cable and then weave cables through the mid section of the winder to begin organizing. After you are done weaving the cables you can then close and secure your cables with the button. Since the Cable Winder Set is built as an elastic band, no matter how large or small your cables are, it will still hold and and secure your cables.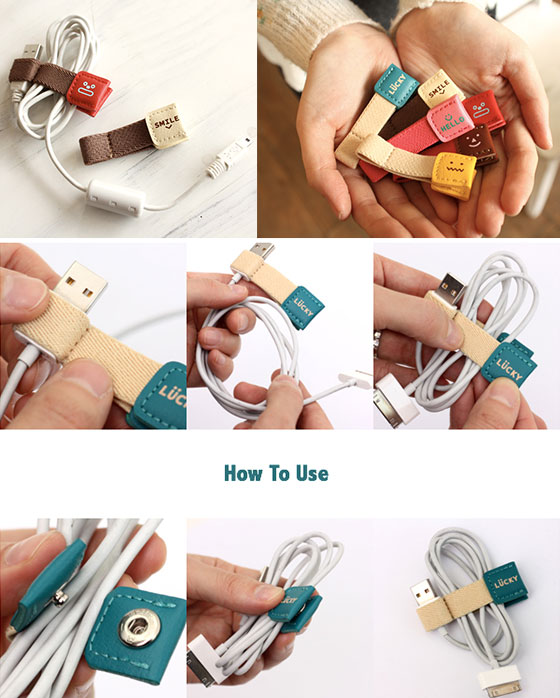 6. CableKeeps [buy on amazon]
They secure your USB docking cable to Apple power adaptors used with iPads, iPhones, & iPods so cable & charger stay together. The intuitive design will keep your cables tangle free when shoved in a bag, pocket, or purse and can shorten and organize when plugged into the wall. Goldie features a secondary function as a charging pedestal for iPhones & iPods.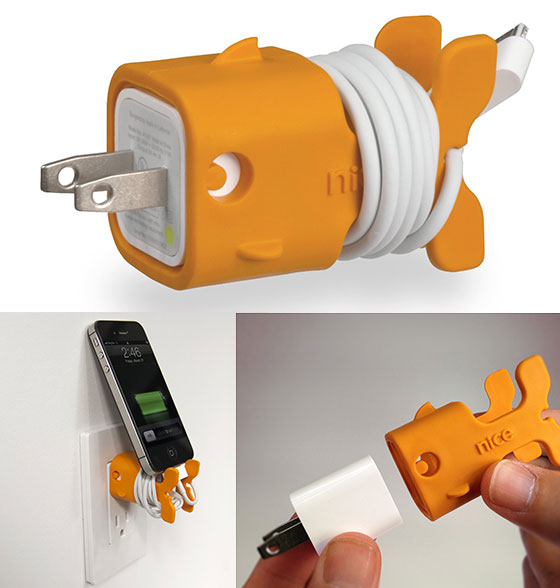 7. Fishbone Headset Wrap [buy on amazon]
Made of soft, dust-repelling silicone
Keep your cables tangle-free and just the right length
Accessory ONLY. Phone NOT included
Color: Black
All headsets for iPod and MP3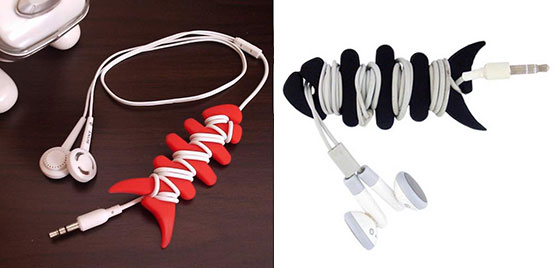 8. Mr. Babba Earphone Organizer [discontinued]
The Mr. Babba Earphone Organizer is a very cute and well made earphone organizer! The Mr. Babba Earphone Organizer allows you to easily wrap your earphone wires around its body and holds it in place to keep your earphone wires tied up and organized. You can also use the Mr. Babba Earphone Organizer as a cable tie as well!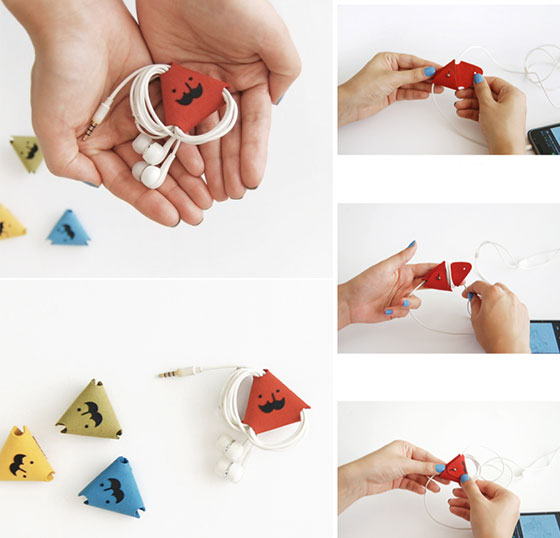 9. Moustache Headphone Wrap for Earbuds [discontinued]
Dress up your headphones with this handy dandy moustache! Its fashionable profile keeps your cords from getting hopelessly tangled up. Plus, if you need a quick disguise, you could use it as a fake moustache!