Spring is finally here and many people start to clean up their garden maybe and add some new plants. There are many things you need for your garden, such as soil, seeds, fertilizer, and all kinds of gardening tools. But there is one thing not always shown on the list – bee house. But if you want to enhance the productivity of pollination for your garden and enjoy beautiful blooming flowers, it actually plays an very important role.
Generally, bee house provides a shelter to create a safe environment for native pollinator bees. Well designed bee house can also be a lovely decoration, adding fun and cheer to your garden. Help protect the bee population while keep your flowers looking amazing. Bee fun and Bee Cool!
Bee House
Made from durable FSC certified Timber
Just hang in your garden and watch the canes fill up
Attracting Mason bees to the garden is beneficial to the pollination of flowers, fruit and vegetables
Dimensions approx 5.1 x 5.1 x 7 inches
Weight 2.0 pounds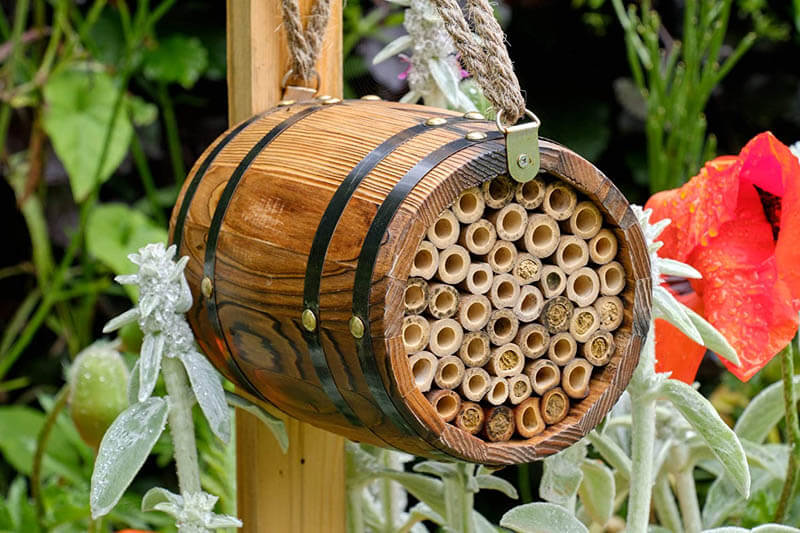 Native Leafcutter Bee and Mason Bee House [buy on amazon]
Made with flame-treated wood and bamboo hollow stems – they are designed to attract a variety of beneficial pollinators that help increase garden productivity and local pollination. With the natural wood finish, this chateau is easy to customize for your own garden design or mount unpainted for a natural garden feel.
When installing the house, make sure to select a location that receives early morning sunshine and provides protection from wind and rain. Look below for the types of pollinators you can expect to see.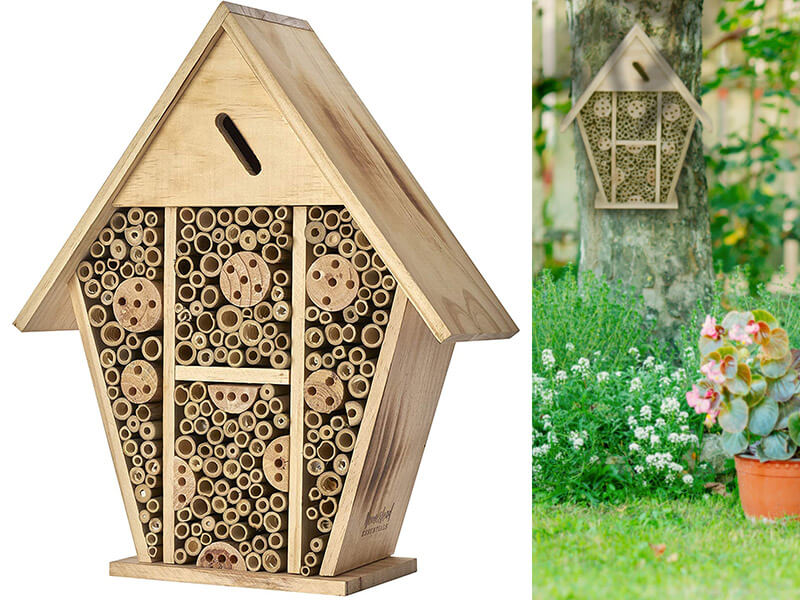 Size:4.25″W x 4.5″D x 12"H
Material: Made of Pine and Bamboo;
Net weight: 2lb;
Attracts Primarily: The bee house provides a safe environment for various species of beesand an excellent nesting spot for female bees. Hang this natural bamboo house on a tree or wall where it will get morning sun,so the bees can enjoy a pleasant and warm environment. Also the bamboo hive looks so beatuiful create a lovely decoration for your garden.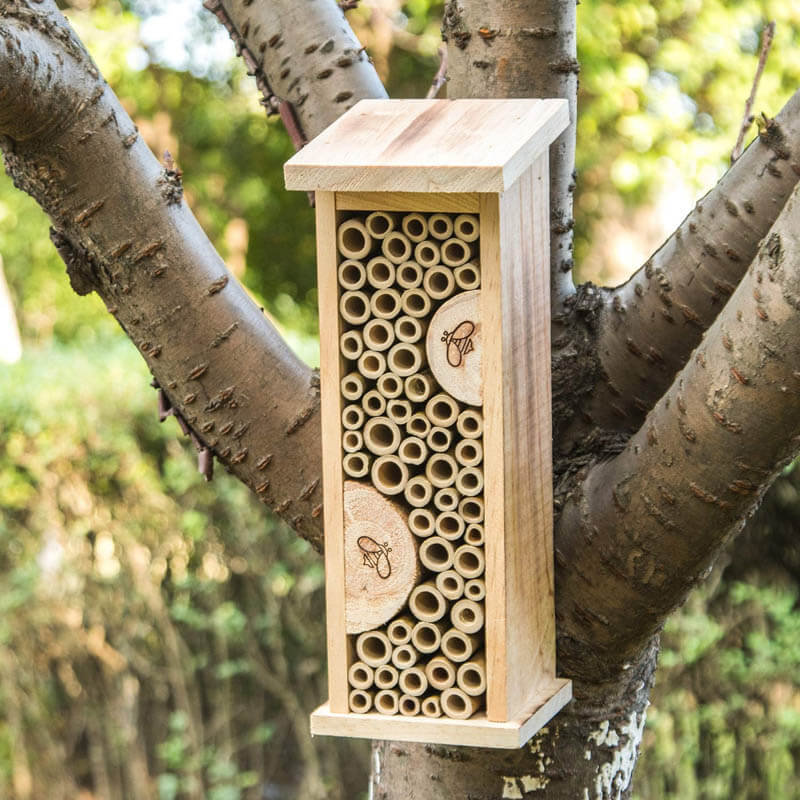 A natural hanging rope makes it easy to mount the bee hive (6x6x3,5 inch / 14,5×14,5×9 cm and 1.10 lbs / 0.50 kg) to any branch without causing harm to your trees, but it also can be placed on your balcony, at your roof gutters or overhang. Please make sure the bee house is hung against a flat surface for a secure support (e. g. in case of high winds).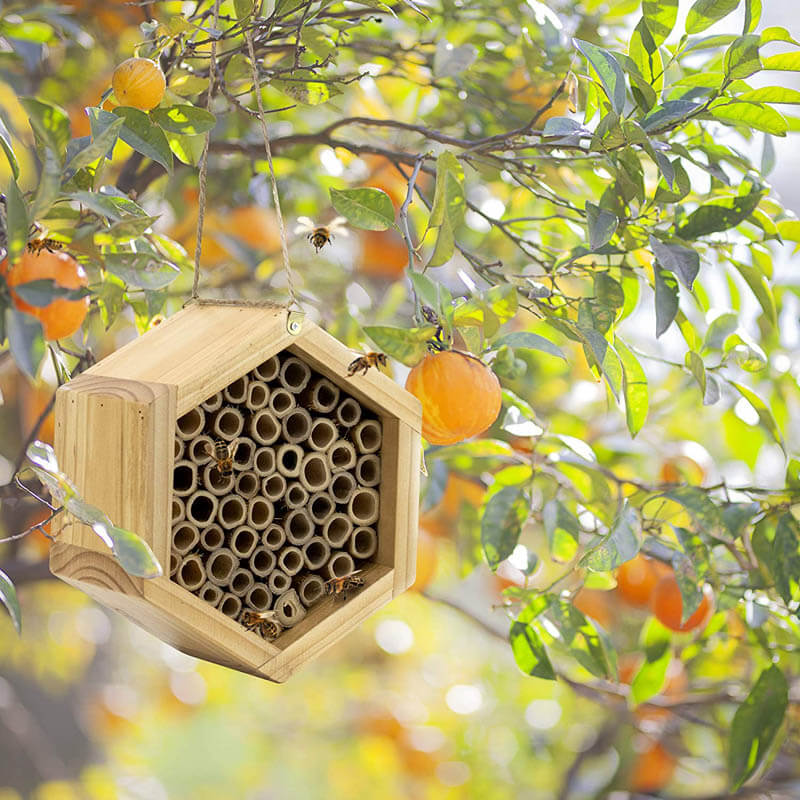 The gently flowing teardrop bamboo design looks great mounted on a wall or hanging from a tree branch.
Watch as wild pollinators zip in and out of this bee habitat collecting pollen and giving rise to the saying "busy as a bee".
This bee habitat is made from sustainably sourced bamboo, a fast growing and renewable material that requires zero chemicals.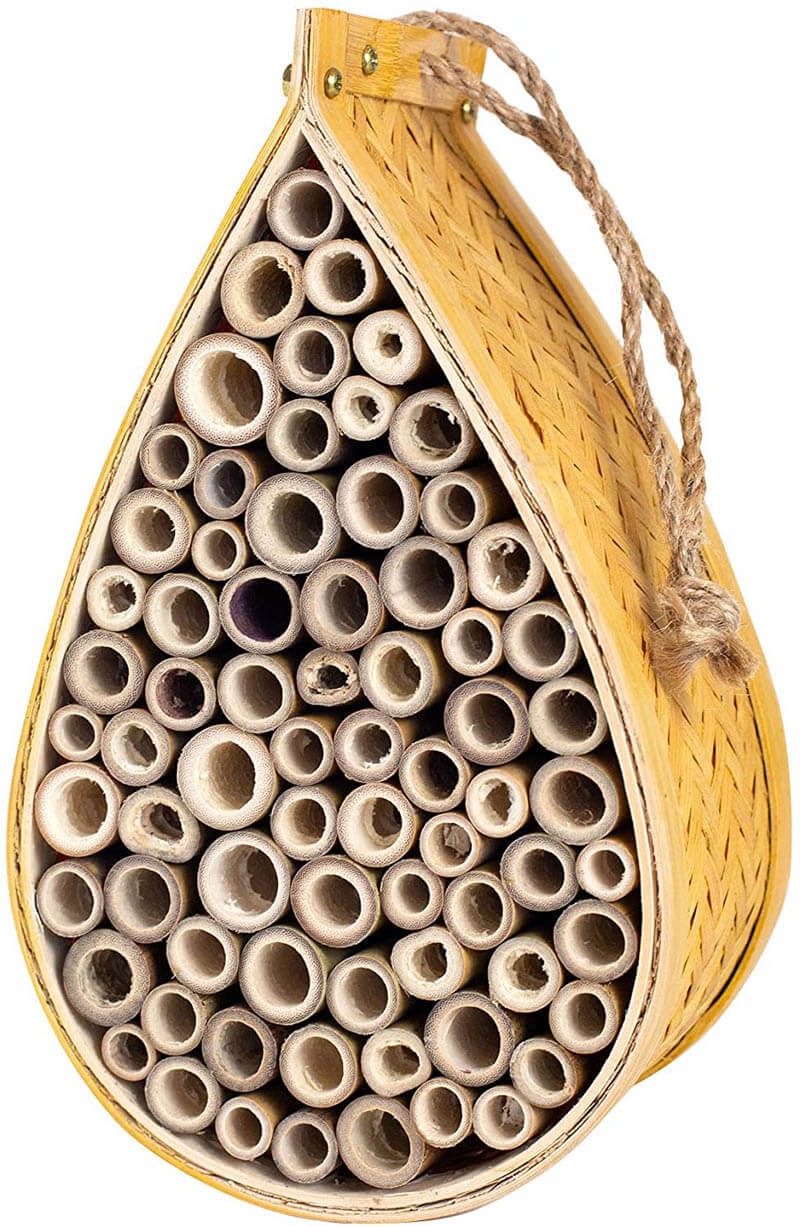 Multi Habitat Insect House
Heart – Shaped Bee and Insect Hotel [buy on amazon]
The Bugtique Bee and Insect house is designed to attract solitary bees such as mason and leafcutter bees which are hugely beneficial for garden plant pollination.
Its generous size (28cmx28cmx9cm / 11″x11″x3.5″) and unique design holds approximately 100 nesting tubes. The h3 structure is handcrafted using natural high quality materials consisting of pinewood, bark and bamboo nesting tubes.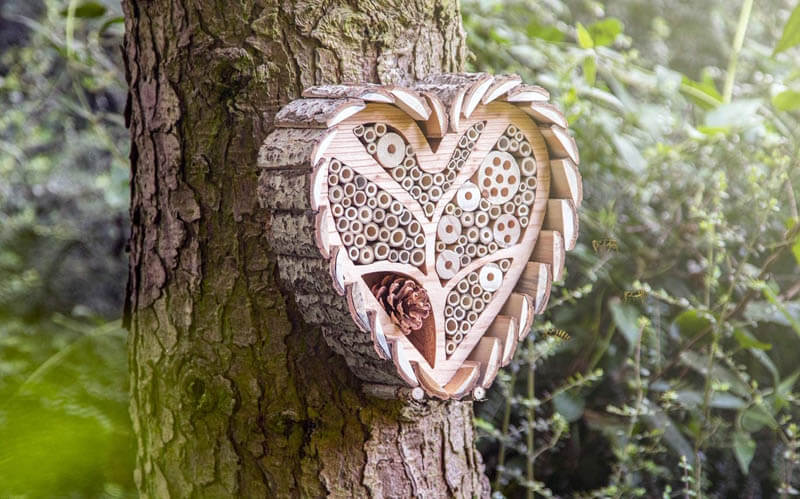 11" Woonden Multi Habitat Insect House [buy on amazon]
Good decoration for your garden and wall.Wonderful gift for cavity nesting insect, this multi habitat insect house can provide the perfect place to build a nest and other species may use them as temporary shelter.
Dimension:11.5"W x 2.5"D x 11.5"H,
Made of Pine and Bamboo, Outdoor Garden Decorative Wooden Insect Hotels.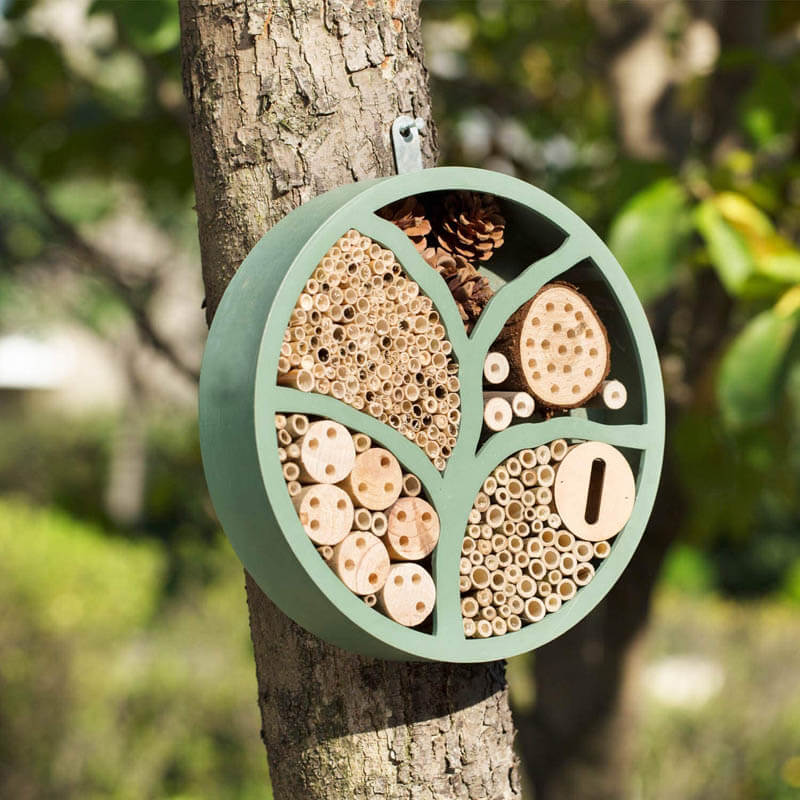 Multi Habitat Insect House [buy on amazon]
11" Multi Habitat house, Light Green
10.25"W x 3.5"D x 11.75"H; Made of Pine and Bamboo.
The wood material is essentially maintenance easily, the houses will maintain their beauty and structure for years to come without the need for water-proofing or staining.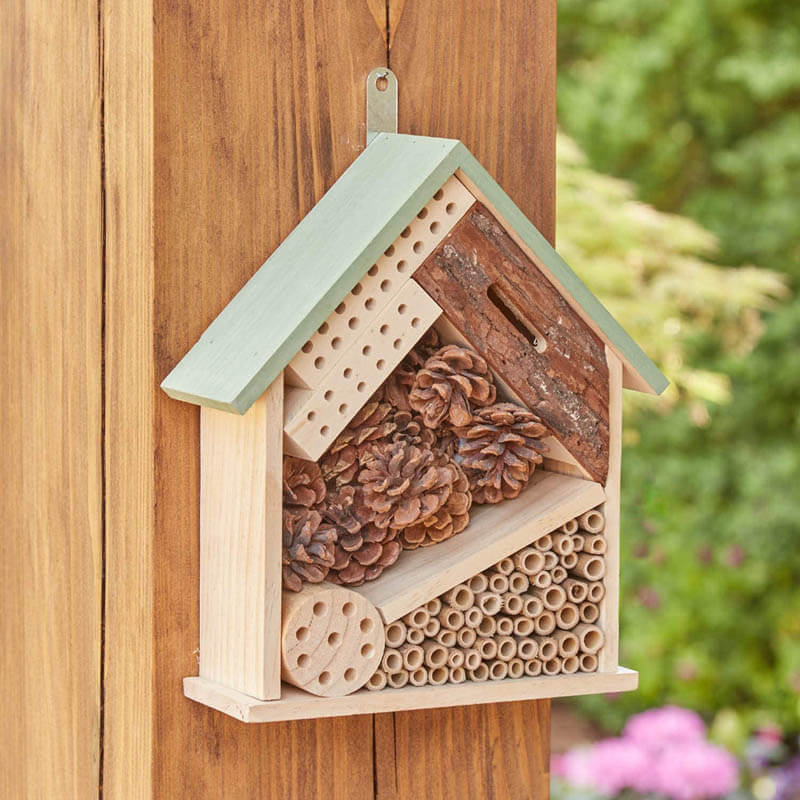 Natural Wooden Hotel Bee Bug House [buy on amazon]
Hand-manufactured using solely natural materials
High resistance against weather conditions
Dimensions: 7.5 x 2.8 x 8.7 inches (W x D x H)