Find it is difficult to find things on desk? What you need is always buried underneath something? We all know to be more productive at work, it's essential to keep work space clean and clear of any unnecessary clutter. How it is quite impossible without the help of desk organizers. Here we rounded up 9 Cool Desk Organizers, which will not only help to keep your working area clean and functional but add some fun to your desk as well. From quirky retro styles to sleek and chic implements, now you can keep your pencil/pens, cord, stationary, electronic device in order and some of them can also work like a charging station or iPad stand. So, are you ready to make work more fun with these cool desk organizers.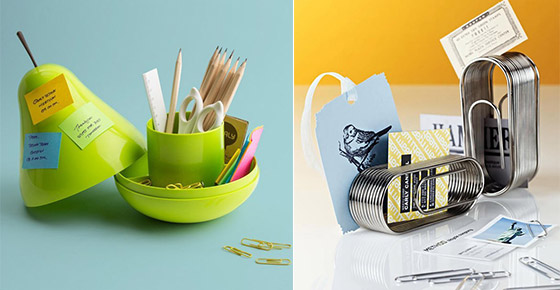 We are a participant in the Amazon Services LLC Associates Program, an affiliate advertising program designed to provide a means for us to earn fees by linking to Amazon.com and affiliated sites.
1. iStick Multifunction Desk Organizer [buy on amazon]
This multifunctional desk organizer includes photo slot, cup holder,3 USB port, Multi card reader (Micro SD, SD/MMC, XD, MS/MS PRO DUO) , Pen Holder, Memo pad box, Business card box, misc storage box, letter opener, mobile phone slot and paper holder. It is divided into several functional compartments allow you to organize all your stationery items and provide you an efficient way to organize your work space.

2. W+W Organizer [buy on gnr8]
W+W Organizer is made out of wood and white ceramic, two materials that complement each other beautifully. The tray contains:
1. a white cubby – which houses pens, paper clips, and other small items
2. a memo pad with A7 sized paper
3. a smartphone stand
There are also grooves within the tray that can hold the charging portion of the iPhone 4/4s/5 when not in use.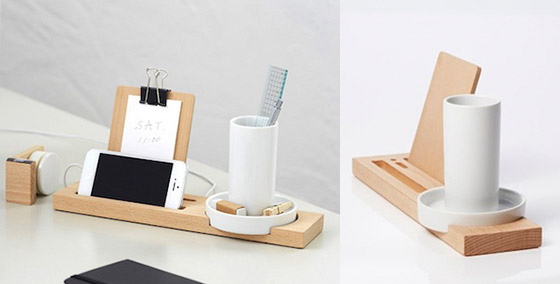 3. Deskstructure Desk Organizer [buy on aplusrstore]
Beautiful porcelain desk organization sets inspired by a ship, a warehouse and a city landscape. Pencils, clips and other bits and bobs have a place to live in these fine porcelain containers.
SIZE:
Ship: 13″ w x 4.5″ t x 2″ d [33 x 6.5 x 11cm]
Warehouse: 13″ l x 2.6 h 4.3″ [33 x 6.5 11cm]
City: 13″ x 2.6″ h x 6.5″ [33 x 6.5 h 16.5cm]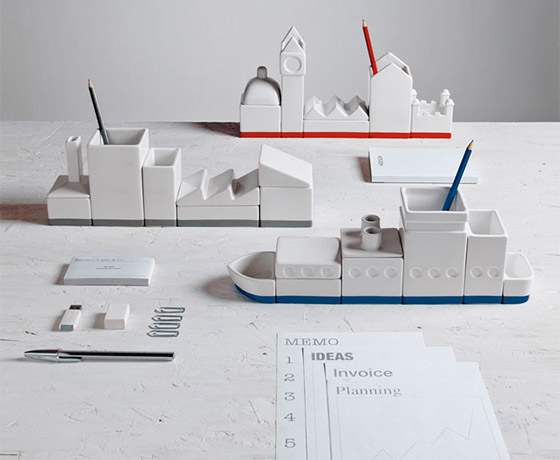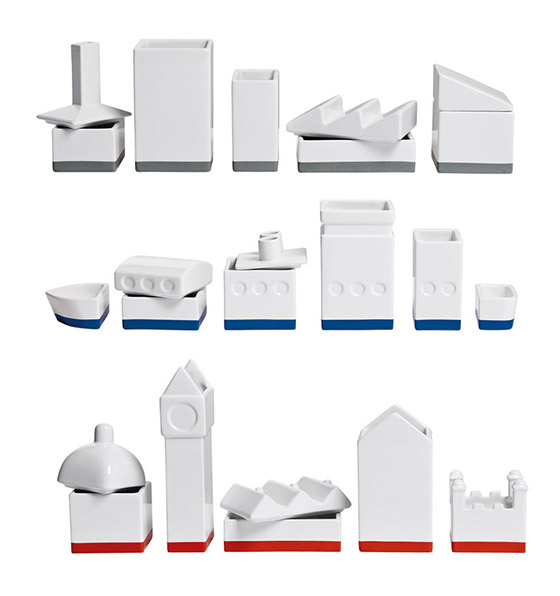 4. Giant Paper Clip Desk Organizer [buy on stylishlife]
Made from stainless spring steel, this giant paper clip organizer is to separate your notes and business cards, photos and receipts, keeping them sorted and in secure. The wires easily separate to accommodate objects up to a quarter inch thick and then spring back into place when the object is removed.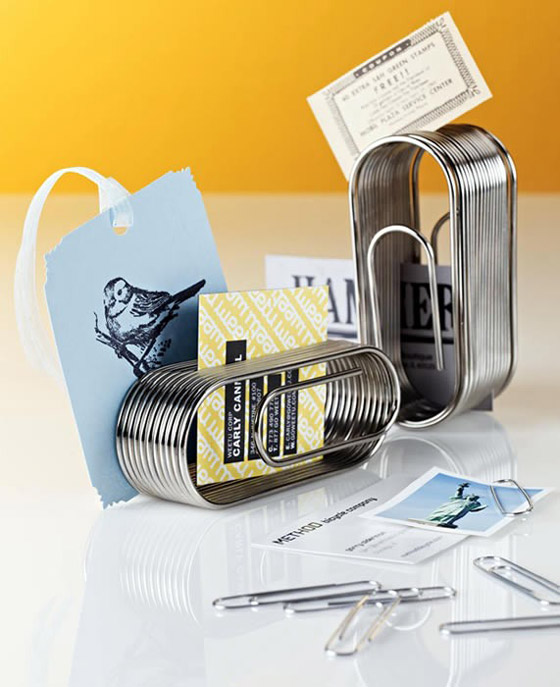 5. Cordies Executive [buy on amazon]
This Cordies Executive keeps all of your cables and devices organized and weighted down: phones, e-readers, chargers, cords, cable, whatever isn't in use but shouldn't be flopping around. Various slots accommodate accessories like smartphones, e-readers and notebooks, and keep cables from sliding off the table.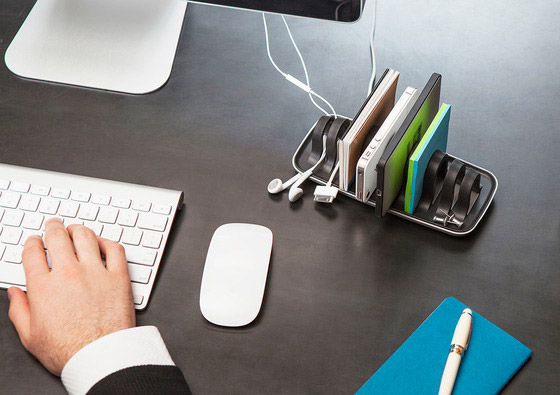 6. Pear Pod Desk Organizer [buy on fancy]
This cute pear will be a nice decoration and a handy storage for all your small items. Made of ABS plastic, it has a total of five boxes where you can organize your stuff such as pens, pencils, erasers, paper clips.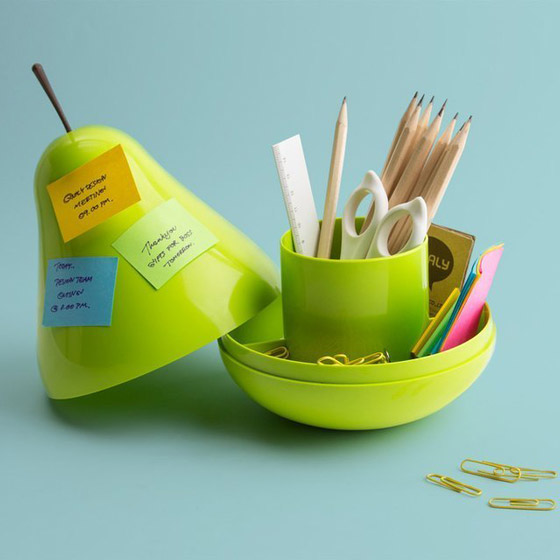 7. Modo Modular Desktop Organizer [buy on amazon]
Modo ("Modular Desktop Organizer") is unique in its ability to adapt to any environment and accommodate a large variety of objects you use daily. Modo is a fully customizable plug and organize system that will adapt to whatever devices and equipment you use both now and in the future. Plug the aluminum pins into any combination and you are ready to go.
There are 4 cable management channels and 3 USB flash drive slots. Modo can be used to organize anything from pens, letters, paper clips, push pins, USB flash drives, CDs, sticky note pads, charging and sync cables, phones or tablets, and much more.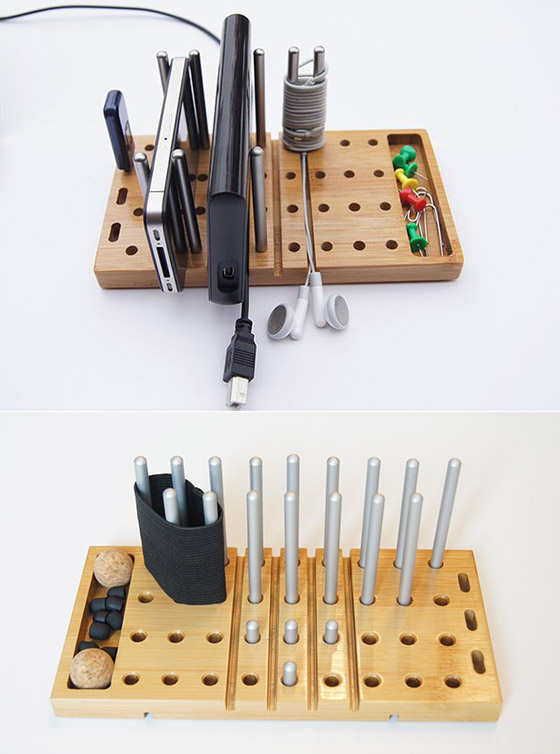 8. i/o Desk Organizer [buy on kaijustudios]
The i/o Organizer is an exploration of the working desktop landscape. i/o, or input /output, consists of modular elements which can be "plugged-in" to a sectioned felt and walnut base for customization. The design uses natural, warm materials that are ecologically responsible. In addition to the touch and interaction that is encouraged by the tactile quality of these materials, they also stand in contrast to the many metal and plastic desktop accessories currently available.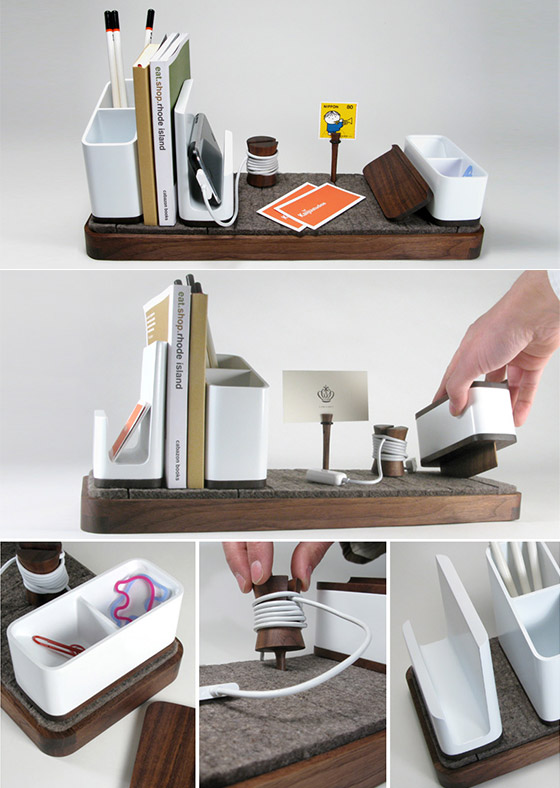 9. TOBAGO WALNUT – desk organizer & tablet stand [buy on etsy]
Desk organizer/display stand made from solid walnut – perfect for your desk, credenza, console or buffet….or even that conference booth or exhibit table! The ipad fits into stand to it facilitates typing and solid wood base amplifies musik if speaker are facing bottom. Material: Apr. 500g massive American walnut wood with beautiful grains. Dimensions: 20 x 12 x 3 cm (7.9" x 4.7" x 1.2"); fits iPad2, iPad3, Samsung Tablet, ASUS, Kindle and others.