Get bored of your regular box look wooden knife block? Looking for some elegant and beautiful knife set for your favourite knifes? Have some morbid fantasies but nowhere to release? Check this post, we collect 9 creative and unusual knife block/set designs from world, and hope there will be one appeal to you.
We are a participant in the Amazon Services LLC Associates Program, an affiliate advertising program designed to provide a means for us to earn fees by linking to Amazon.com and affiliated sites.
1. Throwzini's Knife Block [buy on Amazon]
Whether you have a zeal for throwing steal or you're a cutlery connoisseur, Throwzini's Knife Block is for you! In 1938, the Wheel of Death introduced a spinning target! Decades later, knife throwing still lives on in the modern day circus and it can live on in your kitchen with the Throwzini's Knife Block. Made of hand crafted wood, it comes complete with 5 stainless steel razor sharp professional chef knives. Each knife is held securely by magnets in individual protective sheathes. Just give it a spin. It's stylish, versatile and functional. The Throwzini's Knife Block is a cut above the rest.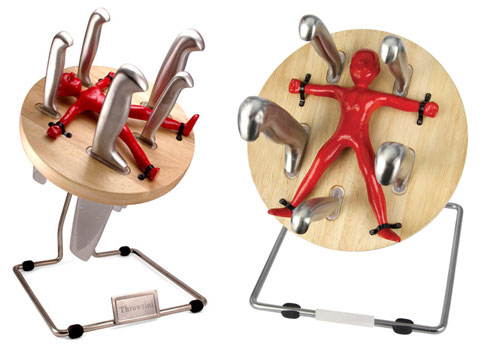 2. Tilt Knife Block by SIDD [link]
Any guy who's got a great set of knives in the kitchen will appreciate this beautifully minimalist knife block design from SIDD. It takes one week and one craftsman to hand build each knife block and each are signed and numbered by the artisan who built it.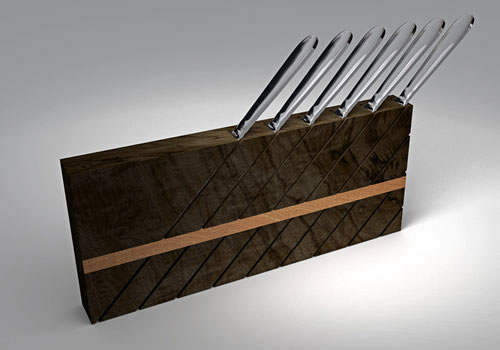 3. Human Head Knife Block
[
link
]
Put simply, this solid lime-wood knife block shaped like a human head would be a refreshing addition to any boring kitchen. This piece was hand carved by Irene van Gestel.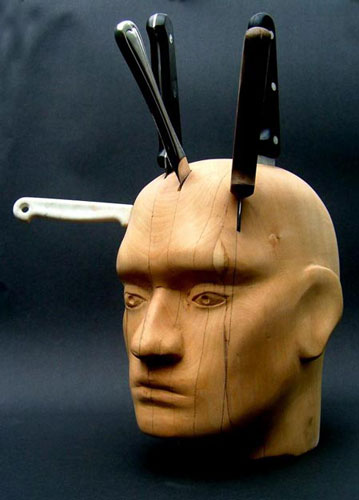 4. Cutlery Set with Fanned Wooden Block
[
link
]
Check out the new 6-Piece Cutlery Set with Fanned Block. Sure you only get 6 premium knives, but that fanned out wooden block is just plain wicked and is actually practical for easy access. Really for the most part, this is all you'll ever need and your guests will absolutely love that block.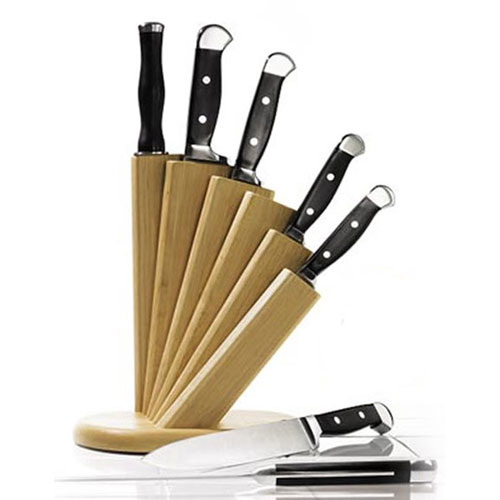 5. Heart knife block & knife set
The Love Heart Knife Set is wonderfully unusual in terms of originality & design. Crafted in rich red, shiny plastic, the highly stylish Love Heart has five slots in which to place five quality knives, which are also included. Although it makes quite a conversation piece in any kitchen, hopefully you won't be slicing up your dinner alone this Valentine's Day.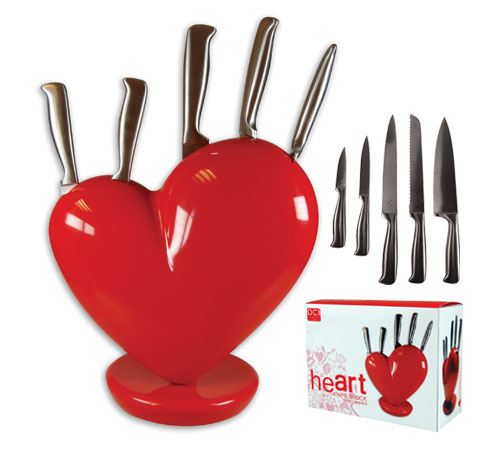 6. Casa Bugatti knife block
[
link
]
this unique, modern knife block will add a new style for your kitchen that you will fall in love with.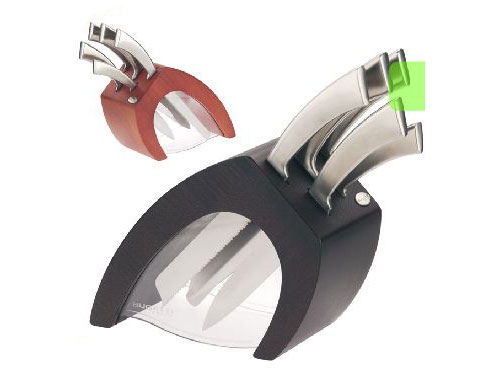 7. The Ex 5pc Knife Set with Unique Holder
[
buy on Amazon
]
Though frowned upon by many, stabbing your ex can really give you some closure, although it's often the kind of closure that leaves you closed for thirty to life. 'The Ex' knife set, as featured in Jim Carrey's film Yes Man, is the perfect solution to all your morbid fantasies. The razor sharp precision cutting blades slice easily through all types of foods. This set makes a great gift for any occasion and it's also considerably cheaper than therapy.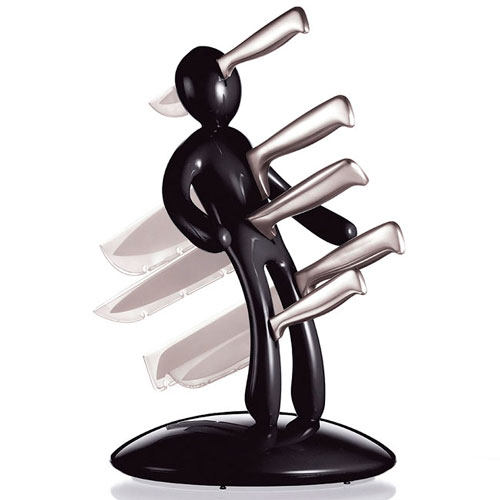 8. schaschlik knife block
"Schaschlik" allows you to put your equipment into your knife block without thinking about where it has its determined place. Furthermore it holds not only standard cooking knives but also your chic new japanese ones. The skewer-filled box will hold almost any longish cooking equipment safely. Handmade with European pine and bamboo skewers.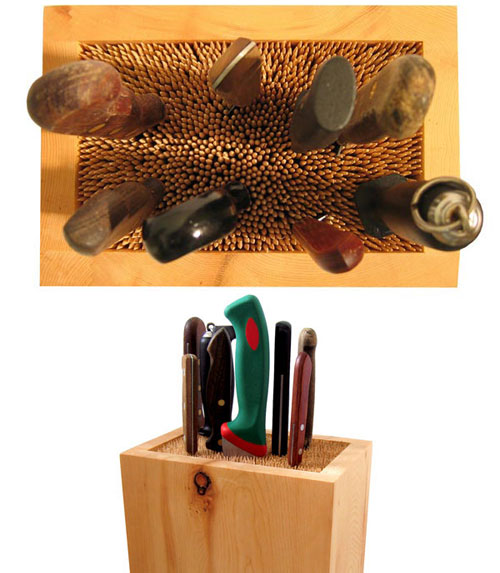 9. 'Mesblock' by Robert Knight
[
link
]
Robert Knight describes this mesblock with "Love it or Hate it" that statement fits. Definitely nothing for the Hello Kitty fans. The Mesblock is a design piece by Robert Knight, a designer based out of the Netherlands. The Mesblock is limited to 10 pieces and is handmade by the designer. The main material used on this cat knife box is Polyurethaan.