The whale is commonly associated with emotion, inner truth, and creativity. They teach you about listening to your inner voice, understanding the impact your emotions have on your everyday life, and following your own truth. Its powerful tail movement, fluid body shape and waterspout just gave so much inspiration to designs that we have many cute and lovely whale shaped designs. From flower vase to tea infuser, from bookend to hanging lamp, take a look at our exclusive collection of Cute Whale Shaped Products.
We are a participant in the Amazon Services LLC Associates Program, an affiliate advertising program designed to provide a means for us to earn fees by linking to Amazon.com and affiliated sites.
1. Floating Whale Flower Vase [behance]
Designer from Portugal Alessandro Bêda has created interesting concept of flower jar consisted from two porcelain or ceramic pieces. This vase looks like floating whale produced a fountain from flowers.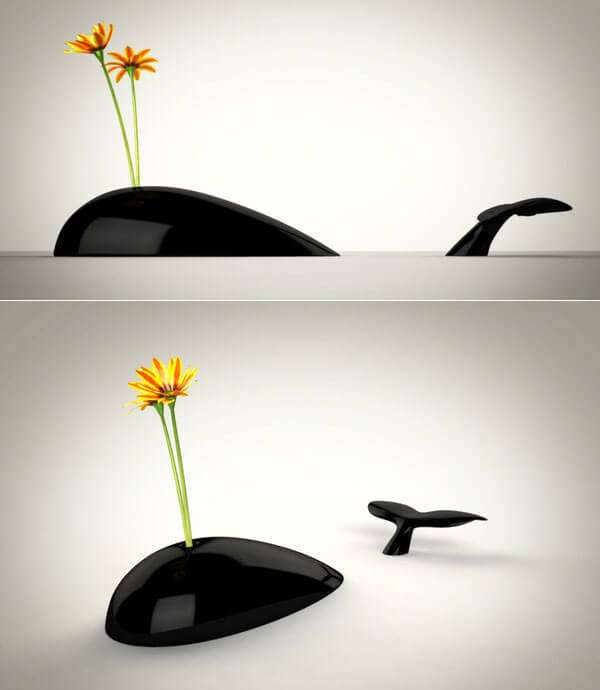 2. Wooden Whale Lamp [etsy]
Designer Eduard Golikov has created an elegant wooden whale sculpture that doubles as an unconventional lighting solution. Crafted from birch wood, each piece is laser cut and assembled into a series of concentric shapes that form a sleek and stylized version of the beloved water-based creature. After its construction, Golikov coats the lamp in white paint and inserts an Edison bulb to cast a soft glow. Like the whimsical lamp? Get it from Golikov's etsy shop.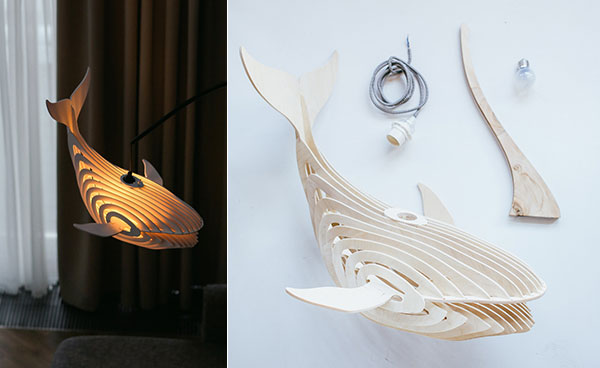 3. Whale Chair by Maximo Riera [maximoriera]
Spanish designer Maximo Riera continues to create stunning animal chairs. In addition to Octopus, Rhino, Walrus and Elephant chairs he created new Whale Chair. This chair honors the blue whale, the world's largest animal. "Whale Chair" was designed to be the centerpiece making it ideal for open spaces due to its extensive its size and dimension. the fin is showcased in a manner that replicates the lift of its tail fluke in the water, while its asymmetry balances the composition of span in relation to the seat. This piece serves as a reminder that we need to understand how to responsibly sustain our marine life population to prevent a decline in our earth's endangered species.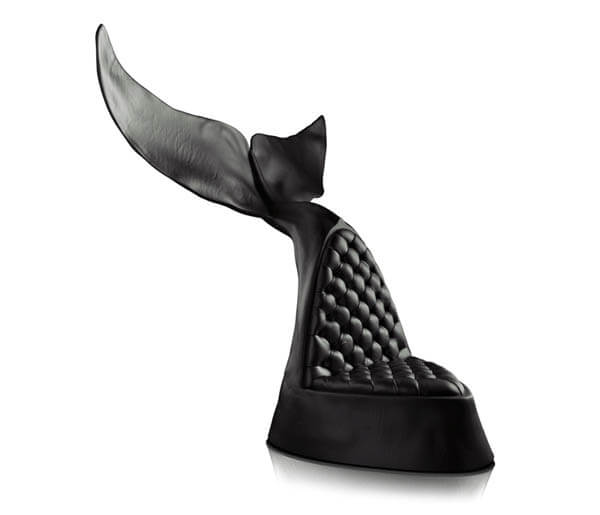 4. BREW WHALE Tea Infuser [buy on amazon]
Fill Fred's legendary brew whale with tea leaves and submerge into the hot depths of your teacup. When the steeping's complete, just heave on the waterspout handle and help her breach the surface. Food-Safe silicone makes an ideal, easy-to-clean infuser that is oceans of fun to use!.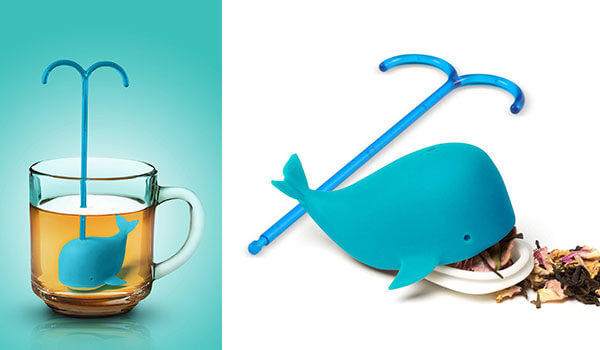 5. Moby Whale Party Picks [buy on amazon]
Moby Whale Appetizer Pick set includes a porcelain white whale shaped pick holder with 32 reusable blue plastic spouting picks, great for parties and the holidays. Measuring 2″ long by 1″ high, it's compact and easy to set among appetizers on a table. Hand wash only.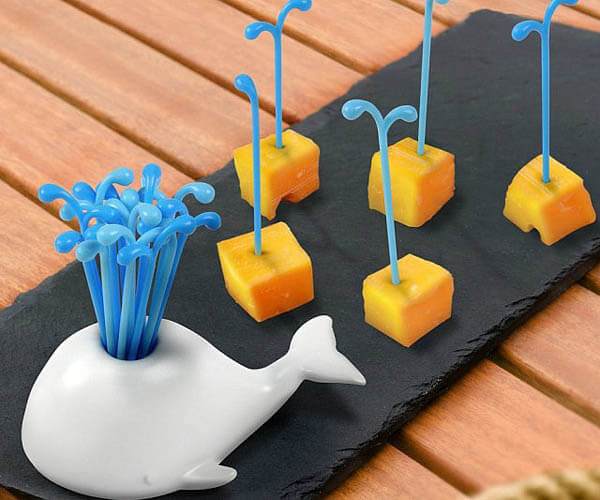 6. BIG BLUE Whale Strainer [buy on amazon]
Sure, harbor seals are charming and dolphins are smarter than most senators, but when it's time to strain the pasta from your big pot, only a whale will do. Fred and friends big blue is a big help in the kitchen! unlike its unlovely counter parts, this whale of a strainer can be picked up and placed over the pot, instead of having to dump the pasta into it. The pasta strainer is food-safe hips plastic and is molded to look like the biggest animal on earth. Make macaroni and cheese, linguini, rigatoni, and all other pasta more fun with this unique kitchen gift.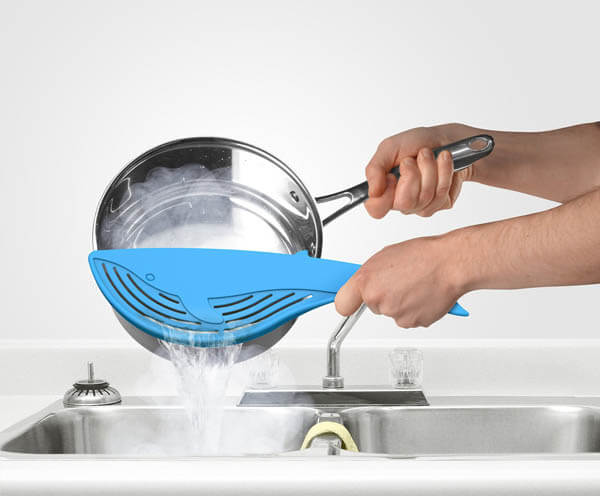 7. Resin Whale Bookends [buy on amazon]
This beautiful whale bookend comes as a set of two.
8. Whale Chopstick Rests [etsy]
Two whale chopstick rests in white and cobalt blue. Each whale measures 7.5 x 2 x 3 cm. Chopsticks with mother of pearl tips included.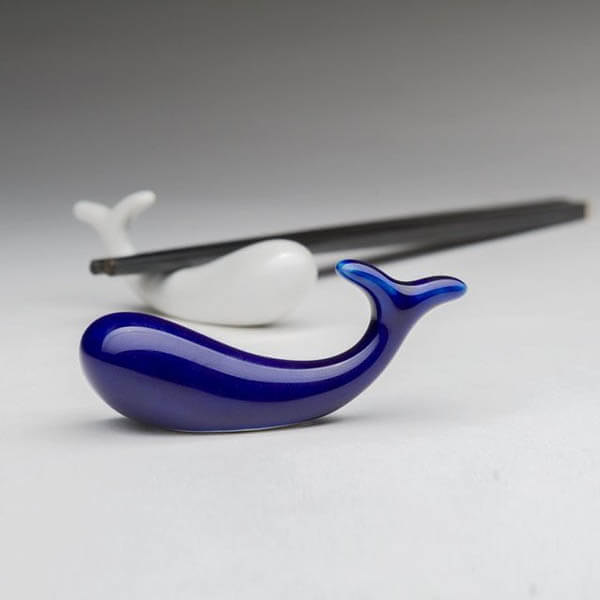 9. Wood Whale Desktop Organizer [houzz]
The Wood Whale holds all of your desktop belongings so they don't stray. Pens in the spout, phone in the mouth, letters in the tail. Service with a smile. Each Wood Whale is hand-crafted in Michigan using reclaimed timbers.