The summer months are made for outdoor entertaining. Whether you want to hold a full-fledged barbecue, invite a friend over for an intimate happy hour, or just upgrade your family's evenings outside, outdoor entertainment spaces are a convenient and cost-effective way to make your home more livable, flexible, and fun.
There are some essential outdoor furniture. And serving bar table or cart is definitely one of them. Styles of outdoor bar tables and carts vary significantly, from simple standalone counters to more elaborate sets with shelves, storage areas, and stools. These tables and carts are designed to integrate well with the great outdoors, and come in a variety of styles, from classic to modern.
We spent hours researching the best outdoor bar tables and carts and here are 8 recommended by us.
Outdoor bar table with cooler
The extendable tabletop features 2 adjustable heights of 22.5" or 32.5", which stably keeps at certain position to prevent it from falling. In addition, the tabletop brings much convenience to store or take out your drinks from the ice bucket, which can support up to 165lbs.
Outdoor Bar Table with 2 Steel Shelves
Modern design matches your patio furniture. It is a perfect wicker bar patio table for your outdoor party to serve drinks and snacks. 2 layer steel shelves are designed for ample storage space. Stemware rack for hanging wine glasses allow for easy access to drinks.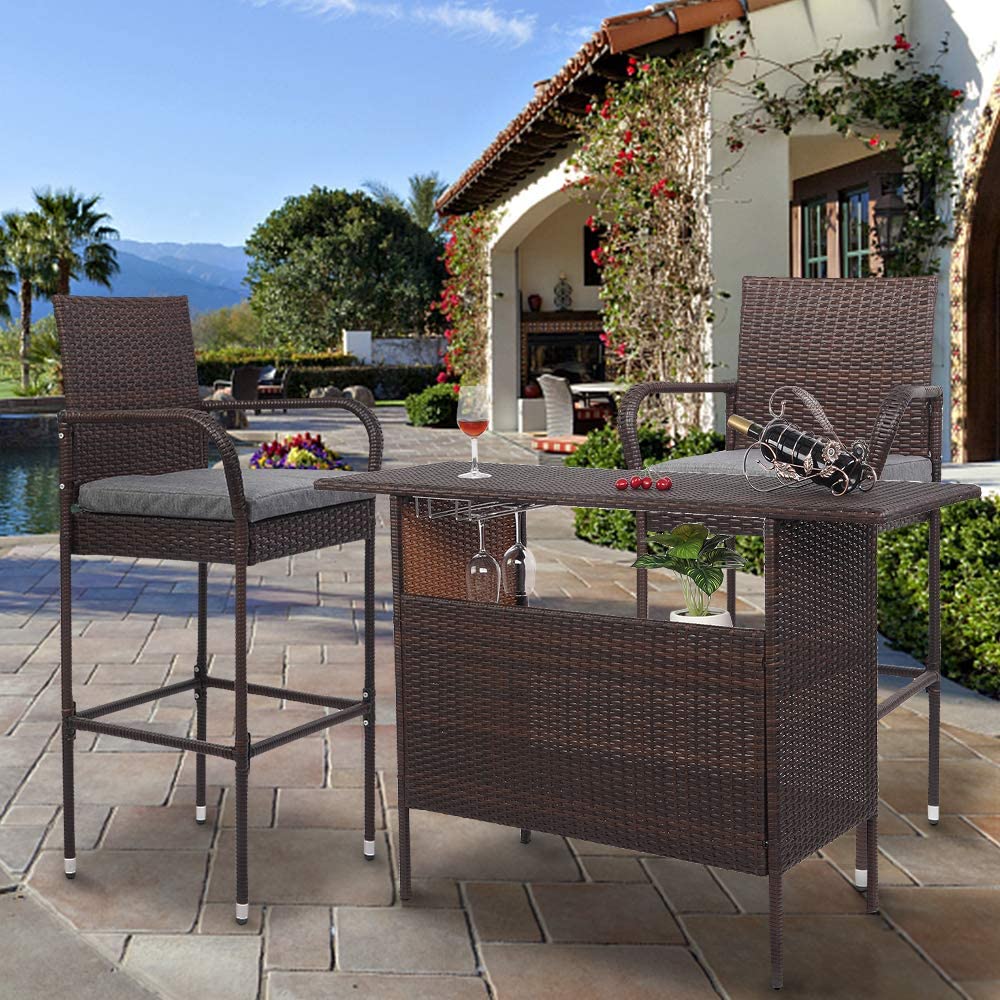 [buy on amazon]
Wicker Bar Cart with Wheels and Ice Bucket
This wicker bar cart comes with a spacious and solid glass tabletop to display drinks, snacks and food. What's more, this bar cart is equipped with a 2.5 gallon large capacity ice bucket to keep your drinks cool, offering you icy experience on hot days. And the ice bucket is removable for convenient use. Moreover, this cart is multifunctional that can be used not only as a serving cart for entertaining guests but also as an outdoor party buffet storage table.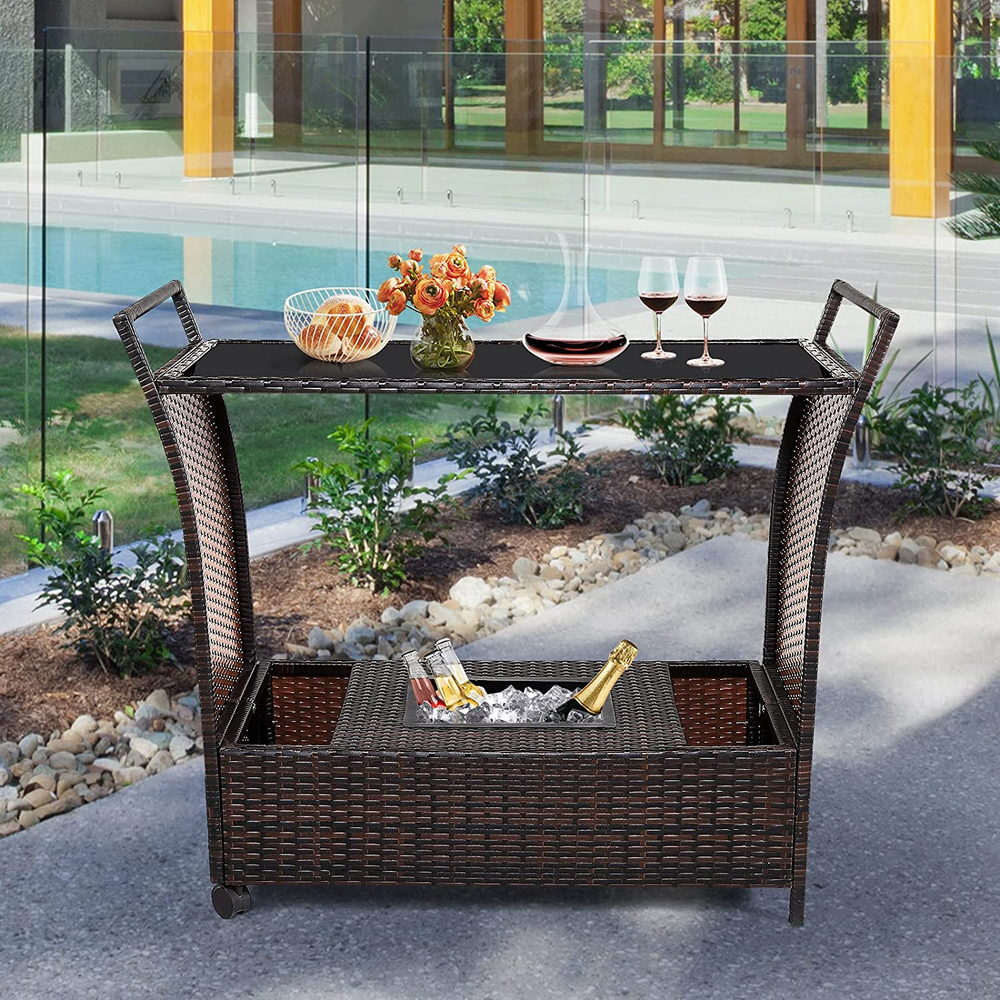 [buy on amazon]
Portable Table Cooler Trolley Cart
This portable cooler trolley is made of high-quality PE rattan wicker and iron frame. It features a lightweight yet durable and stable construction. Two rattan shelves are equipped to place drinks, snacks, and bottles. With a rattan handle, it is easy to open and close the top lid. Four universal wheels are featured for labor-saving movement. Plus, it drains easily with an inner drainage hole.
Outdoor Dining Cart Table
Black table flattop can be for placing a portable grill or griddle; Also creating ample workplace for outdoor cooking, kitchen or serving area with an easy to clean finish.
Contains a 3.2V, 600mAh rechargeable battery and a premium solar panel. Charge in the sunlight and enjoy at night for 6-8 hours.
The left side tank hook for bearing 20 lbs gas cylinder.
With 3 multifunctional tool hooks designed for additional space to place brushes or scoops.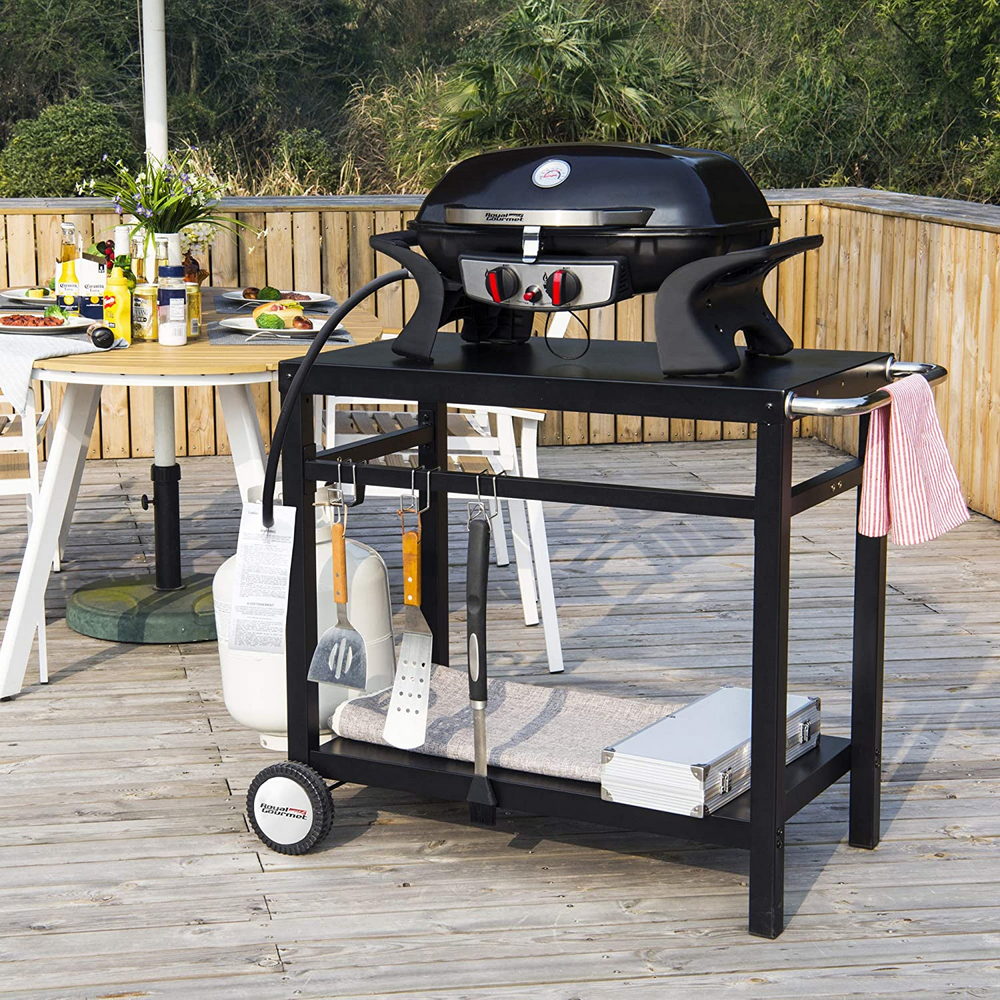 [buy on amazon]
5-Piece Outdoor Wicker Bar Table Set
Designed with a bottle opener built into the table and a hideaway storage shelf inside the magnetic door, this 5-piece set ensures a convenient outdoor dining experience. 4 lightweight, bar-height stools with comfortable footrests are included, perfect for hosting family or friends for good food, wine, and hours of enjoyable conversation.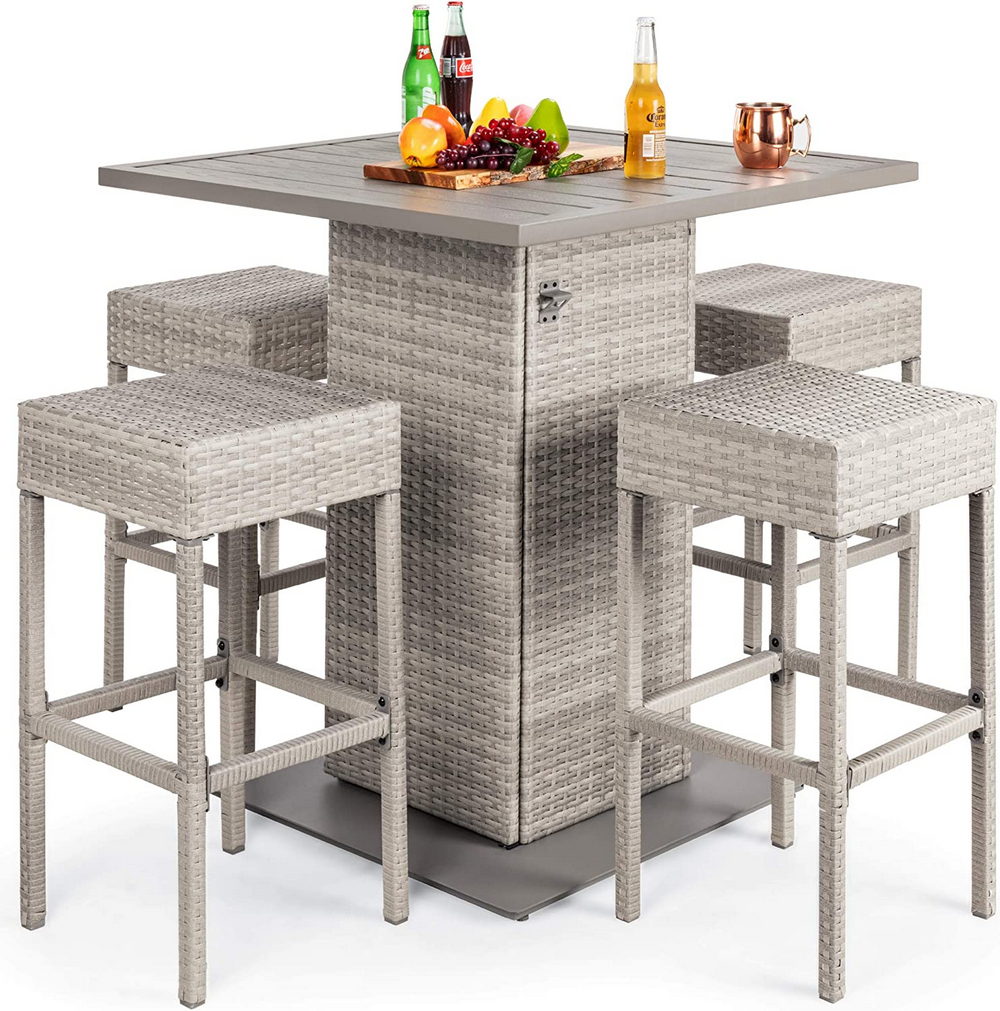 [buy on amazon]
Outdoor Bar Cart Rustic Metal
Made with acacia wood that brings a sleek and exotic look to your space, this durable hardwood naturally withstands outdoor elements and will not darken over time. The sturdy construction of this iron frame ensures that this bar cart will hold up under heavy use.
This bar cart offers four shelves of various sizes to organize and hold your items in an accommodating manner. With large top and bottom shelves and two smaller shelves in between.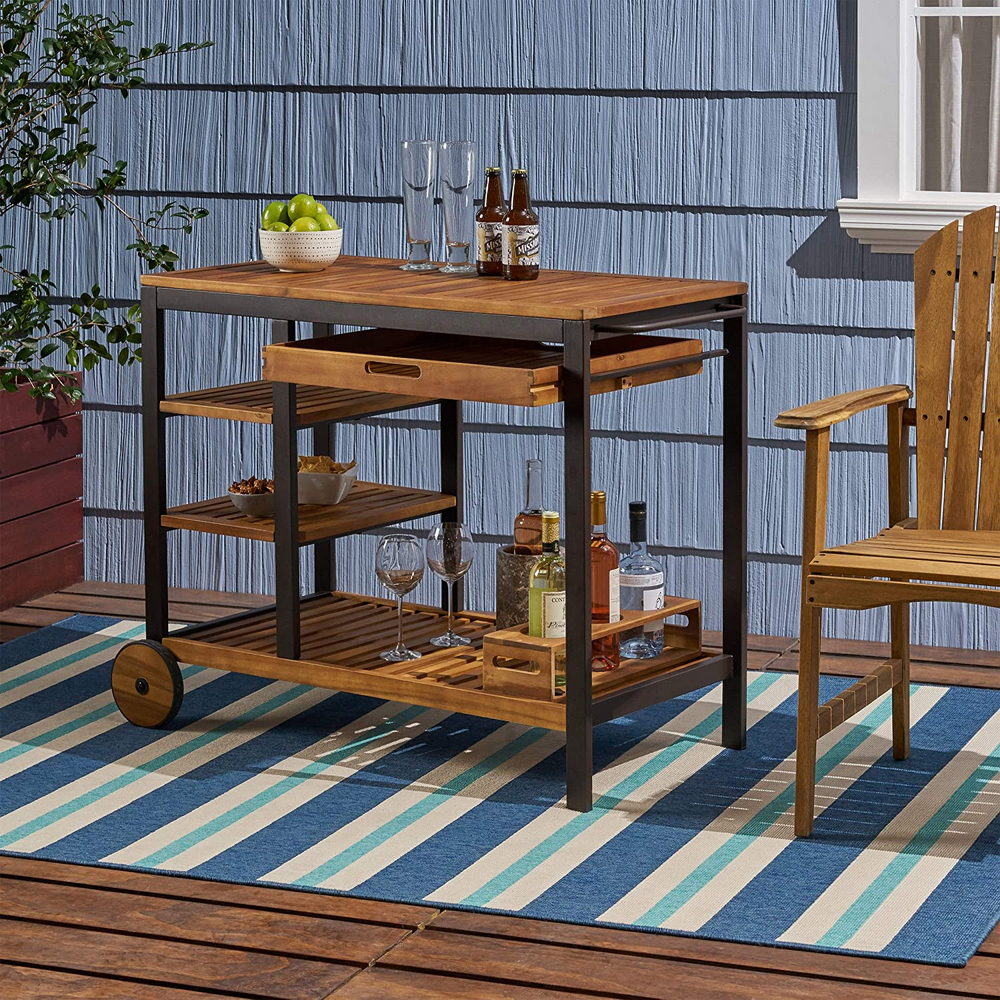 [buy on amazon]
Farmhouse Cottage Acacia Wood Bar Cart
This bar cart is a wonderful way to present food to your guests when hosting. Not only is the top adjustable with two leaves to create either a rectangular or circular shape, but there are removable trays on the second level to really wine and dine your guest. This cart also comes equipped with space to store your wine bottles, allowing you to host all from one place, leaving your table open for plates and conversation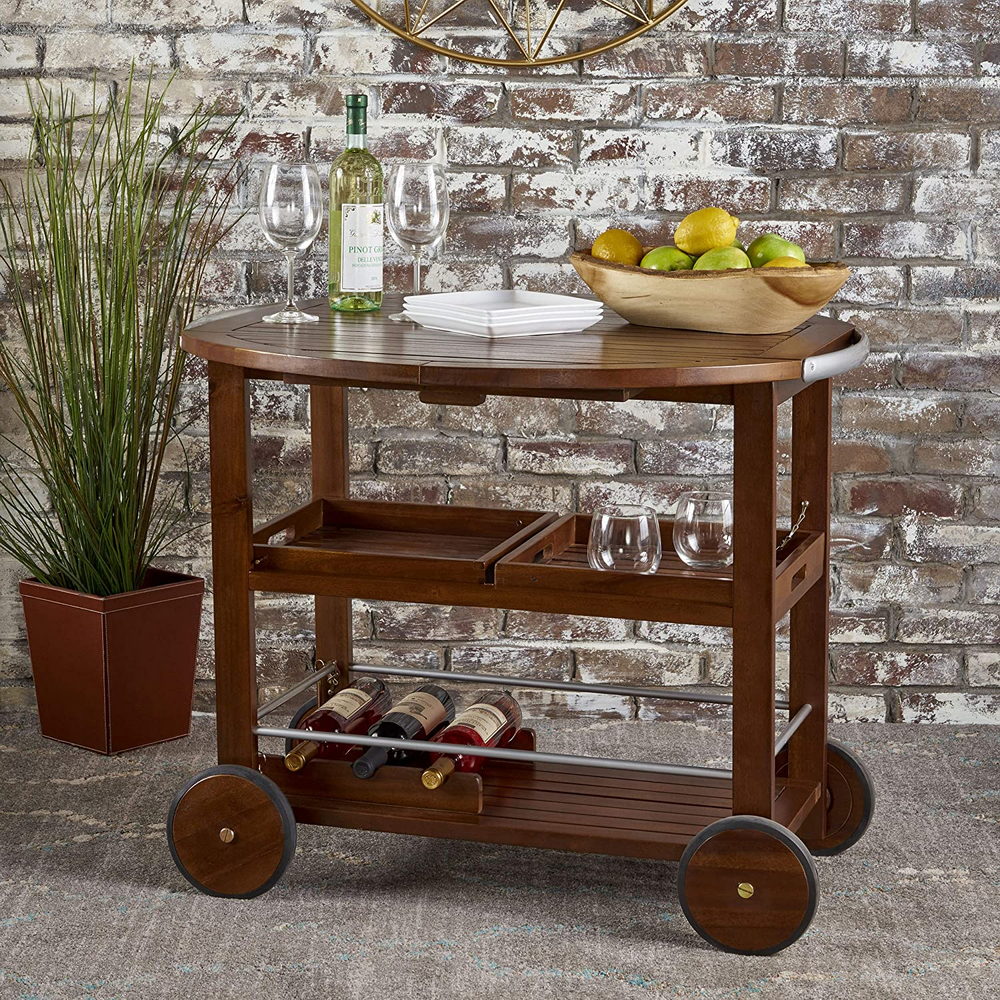 [buy on amazon]