Humanity has been able to obtain an additional amount of clean electricity since the introduction of solar technologies. The scale of modern production is extremely large. According to Gitux, the US alone has 97.2 GW of solar capacity. At the global level, this indicator is much higher and it grows every year. However, production volumes are increasing not only due to the introduction of solar panels in their traditional format.
Recently, the artistic use of solar energy is gaining popularity. More inventors and artists are increasingly interested in technology, which contributes to the appearance of fantastic objects. Most of them have a non-standard design that gives people pleasant emotions and impressions and also brings benefits by producing certain amounts of electricity. In the prepared material, you can find out about the creation of decorative solar objects and several vivid examples.
Why Did Artists Decide to Create Art Objects Based on Solar Energy Innovation?
Art has always been the branch in which the most unusual solutions and projects were implemented. This is because creators take as a basis for their ideas any objects from those that surround them. With the appearance of structures that convert solar energy into light, the focus of attention of many of them has shifted to these technologies. In addition, solar energy companies are constantly working on improving designs and periodically expanding their range. If earlier manufacturers could only create overall heavy models that could be installed on a site or roof, now the range is much wider.
Solar energy companies offer flexible thin-film varieties that can be installed almost anywhere, top-of-the-line models (ranking high in the rating of solar panels), structures that can be integrated into the roof or other parts of the building, and many other types. They can be actively used by the owners of residential buildings and implement interesting ideas. However, in this case, it is worth remembering certain nuances. For instance, solar panel leasing affects your home insurance and the cost of housing.
As for the creation of solar-powered art in non-residential buildings, the possibilities are much wider. Thanks to the creation of new technologies, artists can realize even the most unusual ideas. Architectural wonders using solar cells provide several advantages at once. They make it possible to improve the space, give pleasant emotions to the audience, and also give a reason for reflection.
In particular, about the fact that renewable energy is the future of the world, as well as about the wide possibilities of a clean source of electricity. It is worth noting separately the value of artistic solar designs in public places (parks, squares, etc.). They not only serve as decorations but also provide power for certain devices and become the subject of discussions about environmental protection.
How Do Solar Technologies and the Design Ideas of Artists Combine?
This direction has become interesting for architects and engineers in many countries. Some of them have already been able to implement impressive solar-powered decorations, which are still admired by visitors. We suggest considering the best of them.
Sonic Bloom
This original creative solar art invention belongs to Dan Corson, an American artist who was inspired by innovative solar energy technologies. The artist managed to combine large colorful displays and supporting structures in an architectural object. From these elements, he was able to form huge solar-powered sculptures that look like sunflowers.
However, these are not just static high-tech figures, but multifunctional elements. Impressive elements in the form of flowers are illuminated and accompanied by music. It allows you to hold real shows.
It was also important for the artist that the flowers moved in the direction of the sun. This allows visitors to observe how the slope of the structures changes depending on the position of the sun. You can see the famous solar sculpture at the Pacific Science Center, which is located in Washington.

Source: Smithsonian Magazine
Stylish Public Solar Stations for Public Use
Another example of the combination of solar energy and decorative utility is the creation of original places in public parks and squares that have built-in devices for charging gadgets. Each of them is created based on solar panels that convert radiation into current. In practice, such stations are quite effective and useful for those who are left with a discharged gadget in a difficult situation.
Some of these solar art projects must be created according to modern architectural projects, which are developed in cooperation with designers. As a result of such work, original structures appear that give aesthetic pleasure and impress with non-standard designs. One such example was developed at MIT. It is called Soofa. It is an unusual design with a place to sit and connectors for connecting gadgets.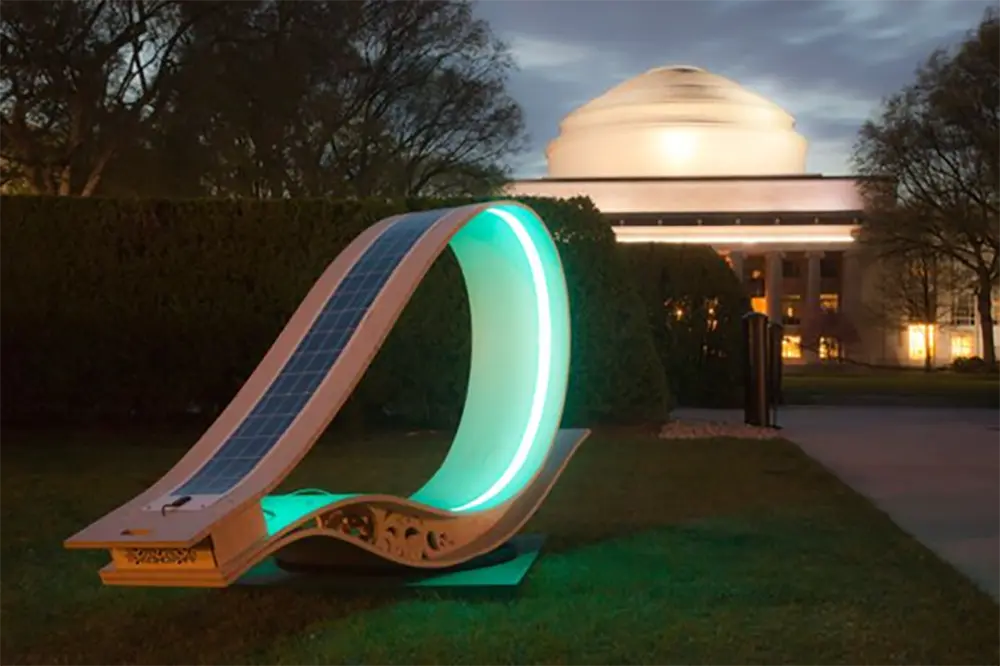 Source: Home Harmonizing
Prismatic Cloud
An interesting example of the combination of clean energy technologies and original design ideas can also be seen in Los Angeles. Here, the famous American artist Sarah Hall created an extremely beautiful structure, which was named "Prismatic Cloud". In the process of creating this architectural object, inspired by solar energy design, masters used more than 1 thousand prisms.
Each such element is attached to a special frame and works thanks to the use of solar energy. As the radiation hits each of the prisms, a true pattern of refracted sunlight is created. The installation is special in that it can react to the movements of visitors.
The result is a change in the color gamut and patterns formed when the rays pass through the prisms. That is why the management invites visitors to interact with the object. This type of solar art installation has the same purpose as other similar projects. It helps raise awareness of and learn more about technologies that convert clean energy into electricity.
Structure "Sunflower"
This is another impressive example of solar energy integration in art. The first installation of this format can be seen in Boston, at the Benjamin Franklin Institute of Technology. It is a giant structure that looks like a flower. Experts from the SmartFlower company managed to produce petals based on solar panels of a certain capacity. Those elements are designed to generate large amounts of electricity. Solar panels also have efficient turning mechanisms.
They provide an increase in the efficiency of electricity production by moving the components for better capture of the rays. In addition, they can be closed and opened. These movements depend on the level and volume of available solar energy. Another structure in the form of a sunflower is installed in Texas.
The work on the project was carried out by Harries/Héder Collaborative. Experts managed to implement something similar to the structure created by SmartFlower. However, it has certain differences. During the day, the structure can produce a certain amount of electricity, which is used at night to illuminate the flowers. Thanks to this, visitors can watch a bright and impressive show. The presented sustainable art solutions can be called a true embodiment of a harmonious combination of architecture and technologies aimed at preserving the environment.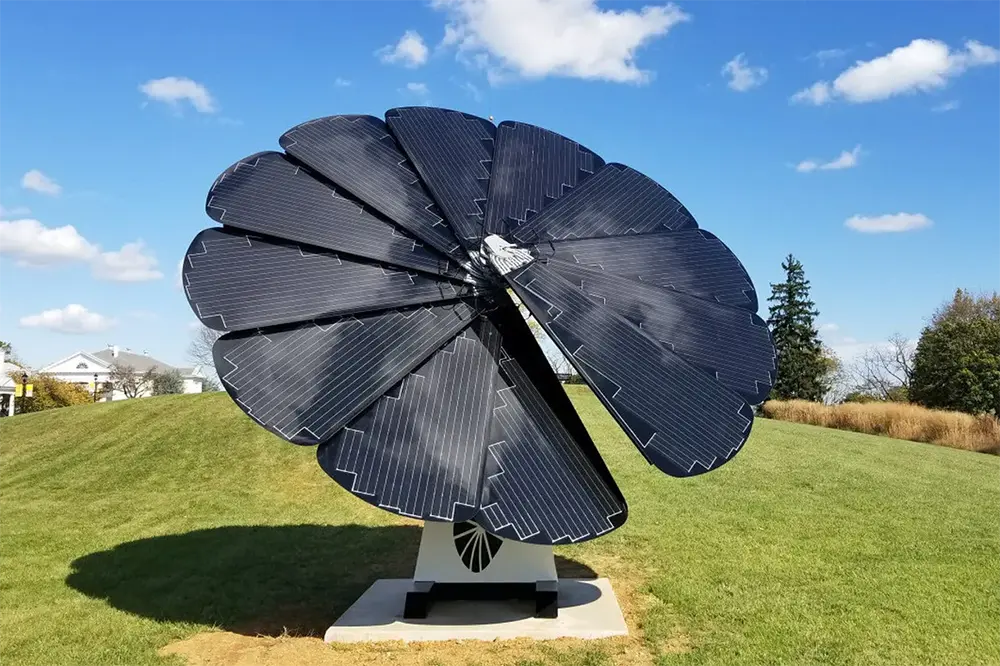 Source: Curbed
Sunny Tree
An interesting design idea using solar technologies was implemented in Australia, namely in Sydney. Due to its unusual structure, the Solar Tree is a unique solar power solution. It combines a unique design idea and green technologies. The structure was created by Nicolo Baie. He is a famous artist whose works are distinguished by their originality and functionality. At the base of the Solar Tree are several photovoltaic panels that work according to a standard principle. During daylight hours, they absorb solar energy, which is converted into electricity suitable for consumption by electrical appliances.
The current is stored and used to power LED lights at night. Thanks to this, impressive lighting is provided. The building is truly exclusive. Its height reaches 15 meters, which ensures similarity with a real tree.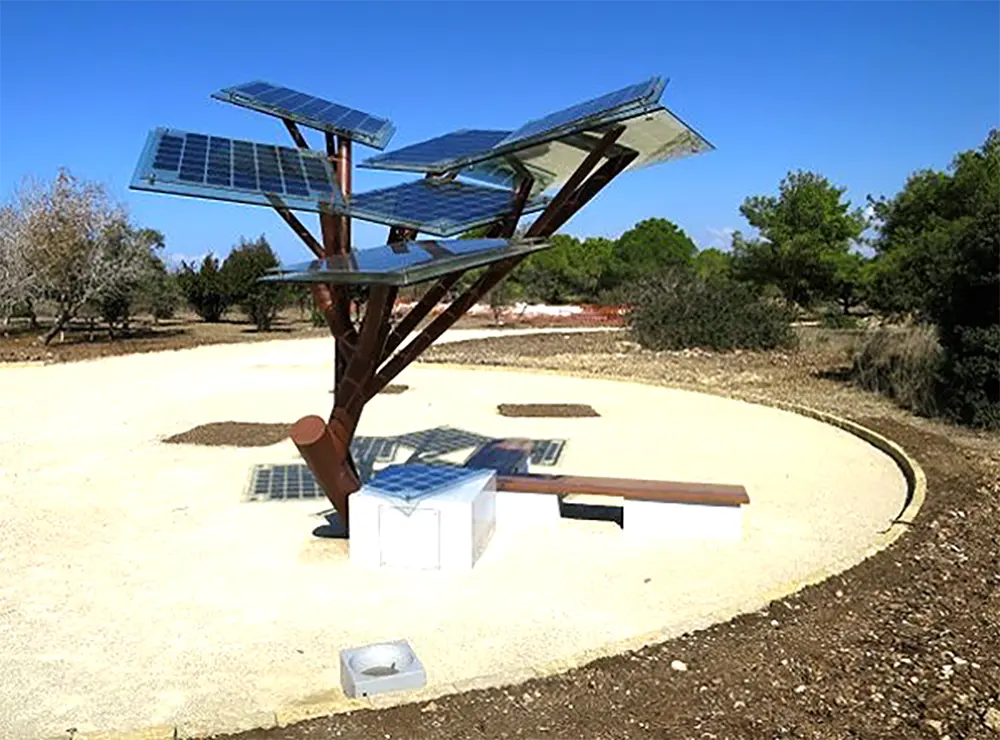 Source: Australian design review
Lamp "Little Sun"
This is another unique work of art that combines cheap solar panel solutions and a designer approach to development. It belongs to the famous German sculptor Olafur Eliasson. The artist named the purpose of creating this device to expand opportunities for access to electricity in areas where there is no technology for sufficient volumes of production.
We are talking about countries that are developing and do not yet have sufficient technologies to obtain sufficient amounts of electricity. To help everyone who lives in these places, the sculptor decided to construct a unique development – Little Sun. The device is a small light lamp powered by solar batteries. It is portable and is possible to be used anywhere. This allows you to improve comfort without installing additional devices and get other benefits of solar-powered home decor.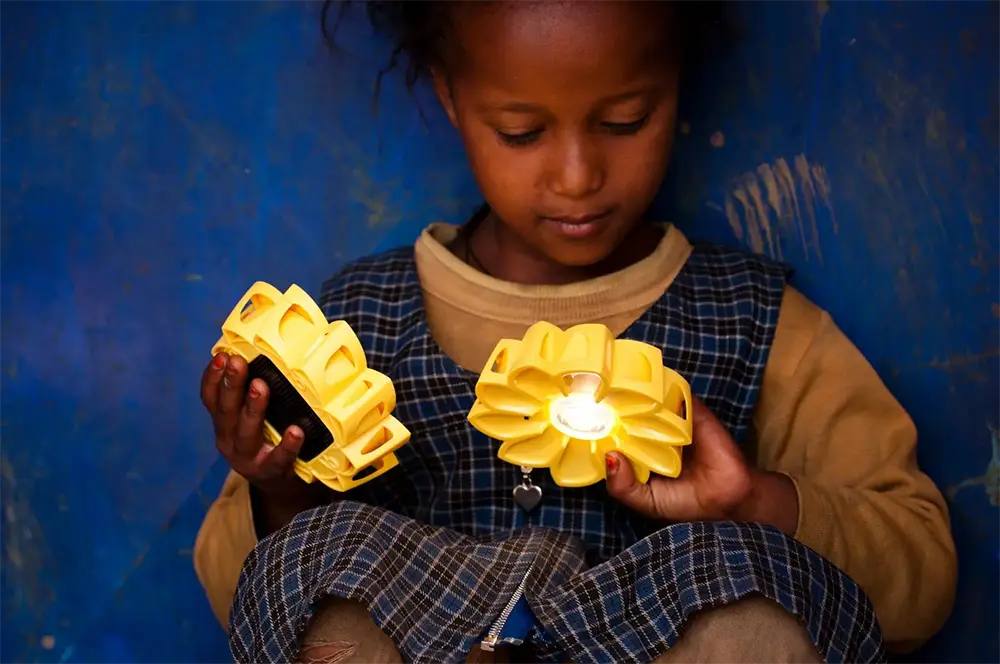 Source: PlasticsleMag
Sun Lily
This name hides not one specific building, but a full-fledged project in the field of renewable energy art, which involves the use of solar panels. A team of specialists has been engaged to work on it. It includes sustainable energy experts Mark Davies (engineer) and Lily Chen (artist). All these people have come together to work on the development of a collection of giant structures that look like lilies.
The main power source of each element is solar batteries, which are built into the structure. Solar art installations are intended for use in gardens, public parks, and other public spaces. In this way, they will not only become an additional decoration of the landscape but also provide the generation of an additional amount of electricity for the operation of electrical infrastructure and street lighting.
Conclusions
Solar technologies are constantly developing and improving. This is a completely natural reaction to the needs of the market, which periodically change. The result of such efforts is the appearance of solar-powered design objects. These structures are not only a beautiful addition to landscape design but also useful solutions for generating clean electricity. Bright examples can be the Solar Flower, the Solar Tree, the Prismatic Cloud, the "Sun Lily" project, and many other architectural installations.