Not sure are you a chess lover… but my father is . Even though he doesn't play that well but he does like to collect various chess sets.He has lots of collection, from the normal wooden one to the stone, glass, steel and even jade…When I am looking for some present for his birthday, I came cross some interesting chess set. They either have some special material or use some special characters to represent pieces. The first four designs are from an exhibition for 49th edition of Milan furniture fair. Those artists infused their own interpretation of the board game in real dimensions.
'modern chess set', rachel whiteread 2005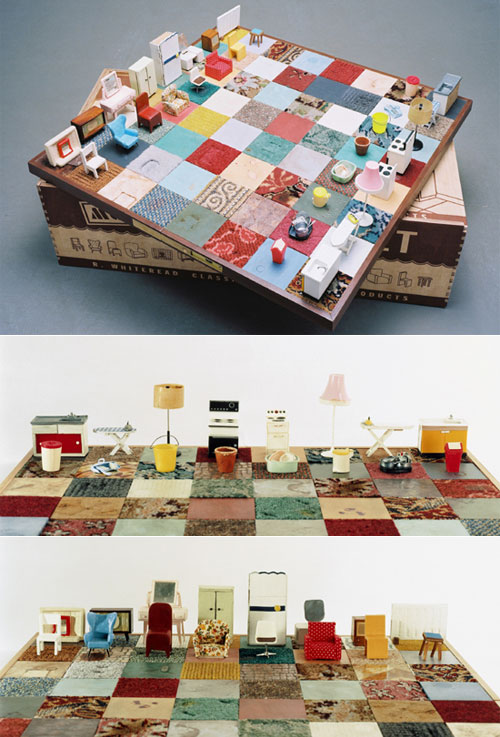 'chess set', jack and dinos chapman 2003 (Link)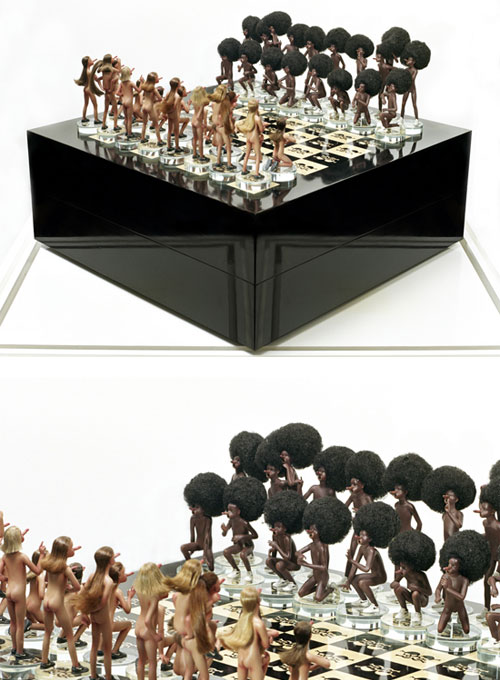 tom friedman 2005 (Link)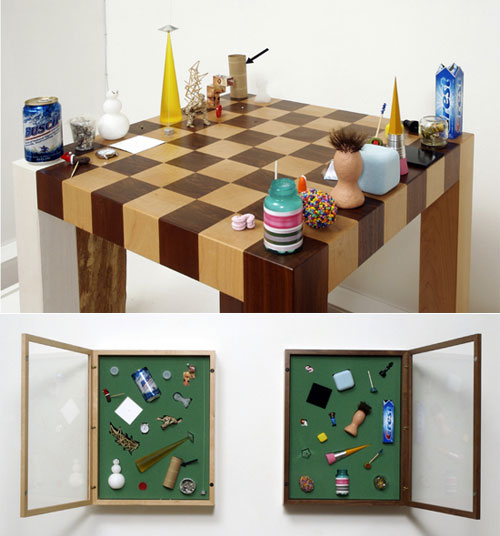 'amorphous organic', alastair mackie 2008 (Link)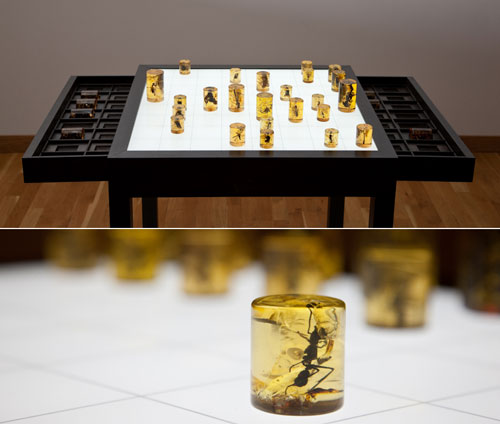 Knitted chess set from CozyColeman
This unique crocheted chess set was created for the Woodstock fair. It won first place prize as well as a Superintendent's award.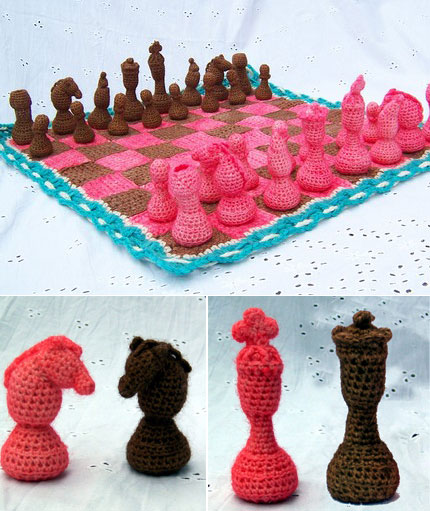 Wooden, Woolen and Whimsical Chess Set
Pieces: wooden spools and doll pins wrapped in gold and plum wool, adorned with brass charms and other miniature delicates.
Board: hand painted metallic and cream squares atop a hinged wooden box.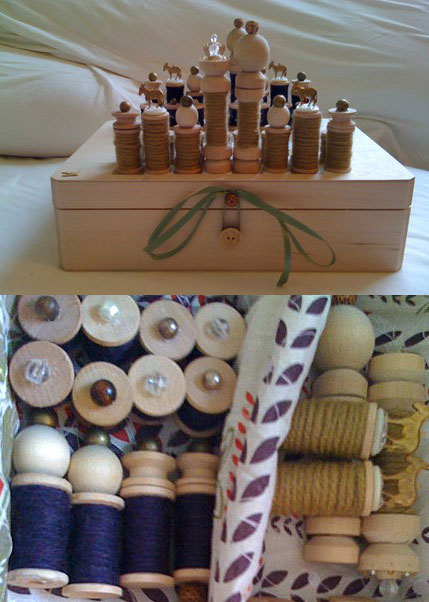 Paper Mache Chess Set (Link)
This one is a bit weird to me…
This eccentric, eco-friendly chess set is made from salvaged materials like paper, cardboard and bottle caps. Hand made and hand painted.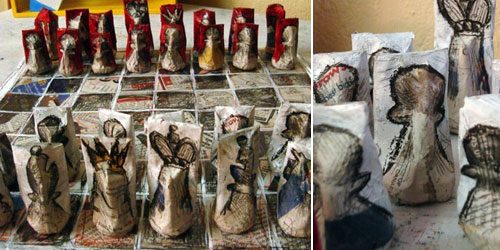 3d Chess Set (Link)
This is a unique chessboard which comes with 3D terrain. Thanks to this different design, it will make you have a better chess experience, just like in the real battlefield, maybe.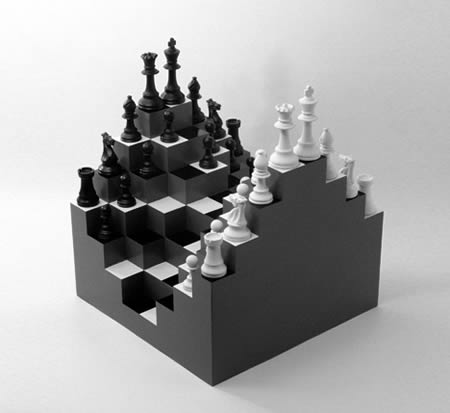 Good and Evil Chess Set
Designed by artist Mauricio Cattelan, with hand painted porcelain figures representing people he admires and despises like "White King" Adolph Hitler and "Black King" Martin Luther King, surrounded by characters like Rasputin, Donatella Versace and Gandhi.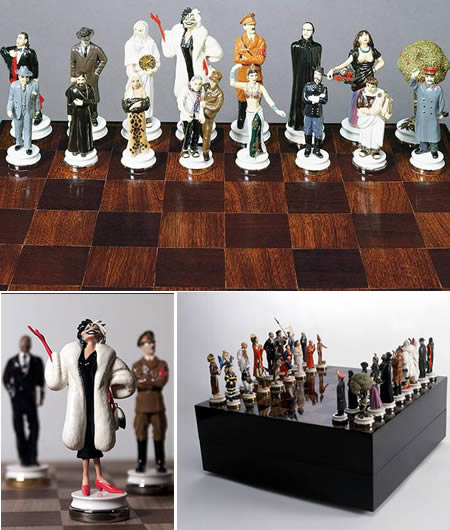 Wobble Chess set from Adin Mumma (Link)
Give your chess game a shiver of sophistication with this modern chess board that makes the game come to life. Designed by Adin Mumma, a concave landscape stabilizes freely quivering chess pieces, creating a lively interaction between board and pieces. Made in China with cherry and maple wood.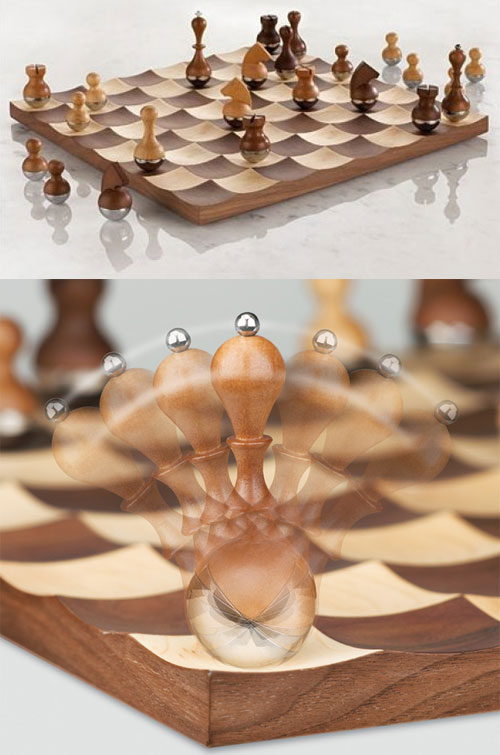 Samurai Chess Set (Link)
One of the most unique chess boards you will ever see!
Hand-made from solid hardwoods, the board measures 42″ wide by 30″ across. There are 7″ by 27″ sand gardens on either side of the playing surface. The sand gardens contain rocks, a walking bridge, and three LIVE Bonsai trees. The pieces are hand-carved…the Samurai king stands about 7″ tall, the gate pawns about 3″ tall. Other pieces include the Japanese Princess for queen, the cane carrying elder advisor for bishops, Samurai Headdress for knights and Pagodas for the rooks. The board has the Kenji for the Samurai in the middle of the board.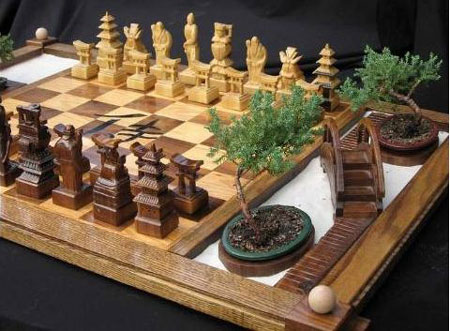 Edible Chess Set
An entirely edible chess set, the pieces are solid chocolate, the board is an icebox cookie held up by chocolate cake.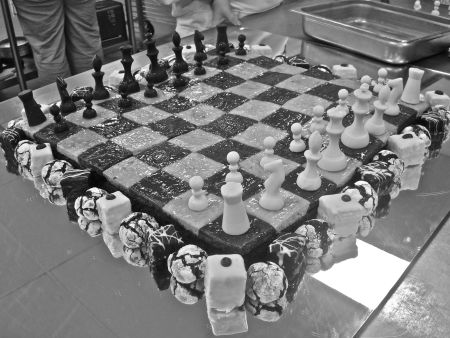 Catholics and Jews Chess Set (Link)
Made in flame-worked glass by Gianni Toso, who was raised Catholic but converted to Judaism; it's at the Corning (NY) Glass Museum.
It is said, this really is a chess set where one side is Catholic and the other side is Jewish. It is made completely of glass, and is part of the permanent exhibit at the Corning Museum of Glass.