Have you noticed that posh picnicking is the hottest trend in event planning? Indeed, party pros are going wild with the pop-up picnic theme, throwing luxurious yet laid-back dinners and gatherings in the grass or on the beach. But you don't have to hire a high-cost planner if you want to recreate this vibe in your own backyard. We've got all the tips, décor ideas and seasonal recipes you need to knock this theme out of the park.
Setting the Stage with Picnic Décor
The most important element of a high-end picnic is, of course, the environment. What makes a picnic different from a typical party is that your guests will dine while seated on the ground, so it's important to set up the environment in a way that's clean and comfortable. Floor cushions and soft blankets are absolute necessities. Here's what you need to achieve this look, quite literally, from the ground up.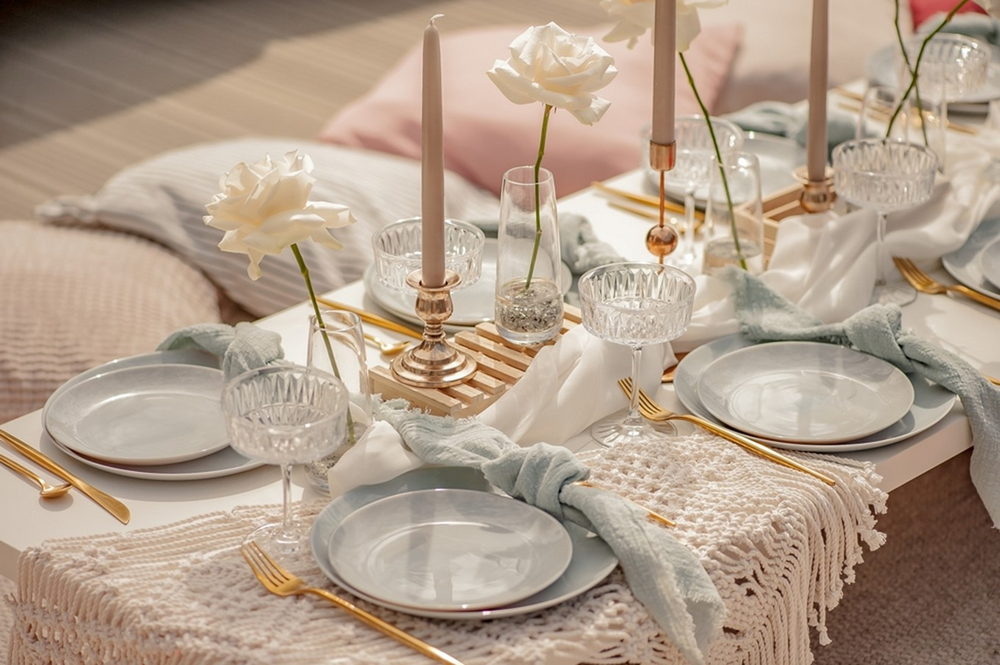 Blankets and Floor Cushions — When it comes to choosing your blankets and pillows, follow the mantra "the more the merrier." You don't want anyone left sitting on the ground. Lay out plenty of blankets (preferably ones you can toss in the wash afterwards) and top them with plush, comfy floor cushions.
A Low Picnic Table — Your regular picnic table will probably be too tall for this kind of event, unless of course it has adjustable legs you can shorten so it sits low to the ground. You can also build a makeshift table using plywood boards and bricks or old pallets. If you plan to host many picnics in the future, invest in a low picnic table that folds up for easy storage (there are plenty available online!)
Picnic Tableware — The next step in achieving your dreamy picnic design is to build a tablescape that honors the theme. Start with plates, flatware and kitchen accessories that are safe for outdoor use. For example, you'll want to skip the glassware and go for less breakable options, such as melamine. If you want to keep it as simple as possible, choose single-use plates made of eco-friendly bamboo or palm leaf, as these are much more attractive and sustainable than plastic.
Table Décor — Bring your table to life with table decorations that suit your theme and style. Fresh flowers or greens are an absolute must-have for fresh-air gatherings, so don't be afraid to make them your primary centerpiece. We love placing taper candles around the center of the table and decorating with earthy organic cotton or linen tablecloths.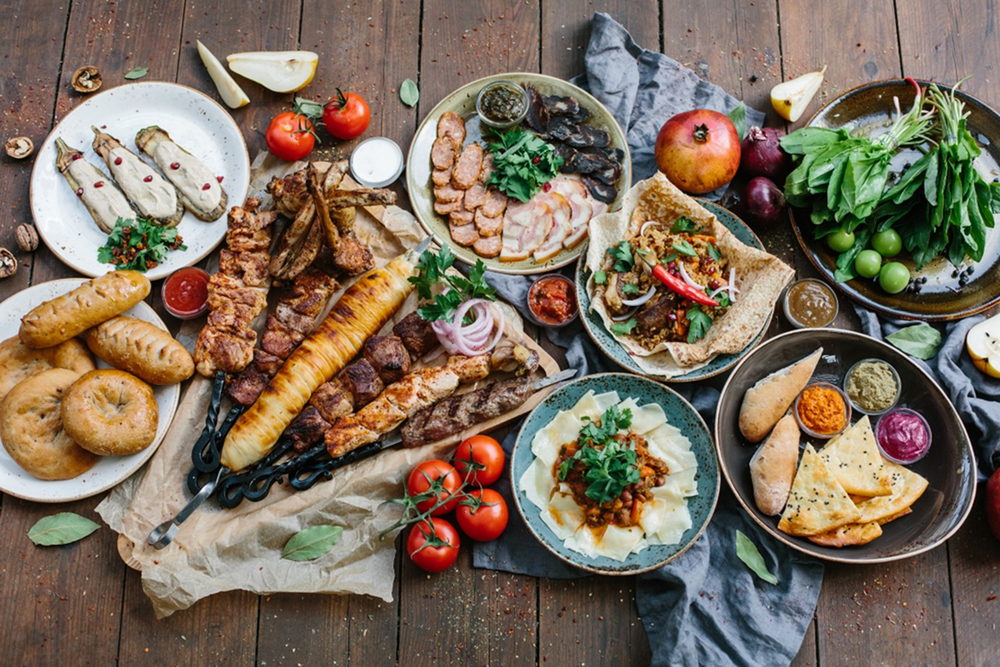 Picnic-Perfect Recipes
Your picnic theme wouldn't be complete without the finest spread inspired by the bounties of the season. There are a few things you want to keep in mind when selecting picnic recipes, though. First and foremost, consider that picnics are quite literally down-to-earth events, which means you don't want to get too complicated with the menu. Unless you have an extra-large dining table, we'd recommend doing buffet style rather than a seated dinner. Oh, and make sure to choose recipes that bring in ingredients and flavors of spring and summertime.
Appetizers — For apps, choose unfussy handheld options that your guests can enjoy while standing or roaming around your garden. Skewer appetizers are always great for relaxed outdoor gatherings. We're huge fans of antipasto skewers, caprese skewers and grilled veggie skewers. If you want to keep it playful and relaxed, consider mini corn dogs or mac and cheese bites.
Entrees — For the main meal, we recommend keeping it simple and summery. Firing up the grill is always a great route to take when the weather is warm. Grilled flank steak, shrimp, fish, veggies and corn on the cob (or elotes) will delight a crowd. For sides, add some pressed sandwiches, pasta salad, green goddess salad, arugula salad or quinoa salad. If you don't want to take the grill route, consider going for something out of the box, such as lobster rolls or wood-fired pizza.
Dessert — Dessert is one of the best parts about a picnic. Since it's summertime, you want to make sure you use plenty of fresh fruit. Anything with strawberries, raspberries, blueberries and rhubarb are warm-weather staples. Add them to fruity pie bars, cupcakes, tartlets and dessert cups. Sorbet, ice cream, homemade popsicles, custard cakes, cheesecake and cobblers are also essential for the season.
Drinks — The best drink to serve at a picnic is, of course, lemonade. Make homemade lemonade using fresh lemons and serve it in a large beverage dispenser. If you're serving alcohol, make large-batch cocktails in summery flavors, such as sangria or mule punch. If it's really hot outside, make sure to offer plenty of water. If you want to get fancy, add fresh-cut lemon rounds or cucumber to your pitchers.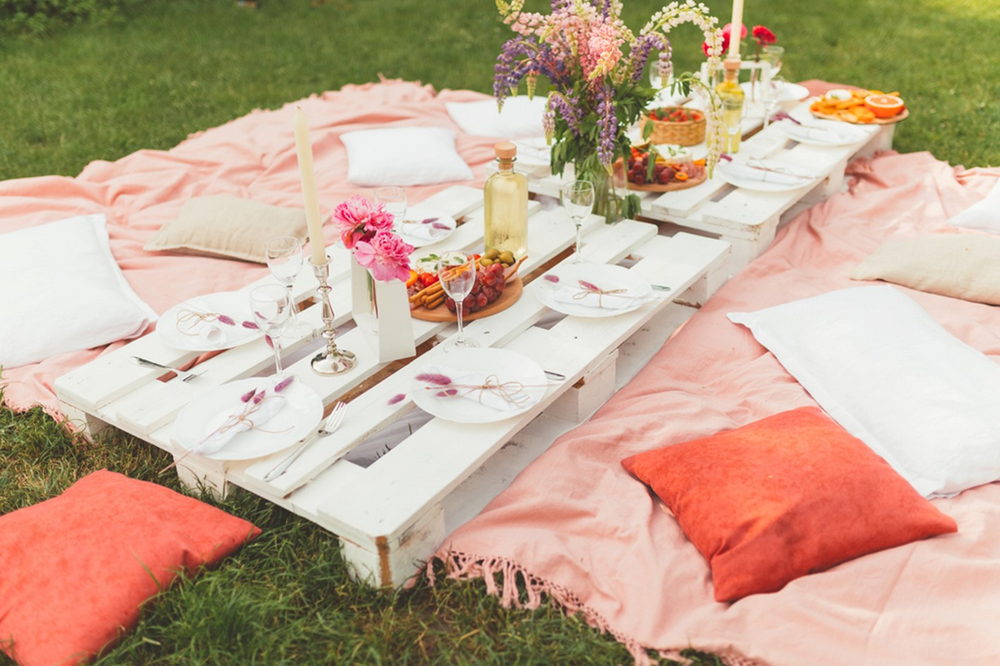 A Summertime Staple
Whether you're entertaining a crowd or want to surprise your partner with a romantic backyard picnic, the above ideas will help you make it extra-special. We're here to help you capture that inviting, summery vibe through the right décor, food and essentials. Happy picnicking!