Darth Vader is one of the most well known characters around the world, and as such, a source of inspiration. Hence, Darth Vader themed products are released every year and found in our life everywhere. The graphic Darth Vader print on T-shirt is almost one of the simplest implementation and actually, believe or not, Darth Vader can help us more in our life.
From toothpick dispenser to shower head, from waffle maker to mist humidifier, from pillow blanket to LED night light, this guy actually contribute quite a lot in our daily life and home decoration. So forgot about the costume and collectibles, take a look at below list and actually let Darth Vader does some good for us. ;)
This post may contain affiliate links. If you make a purchase, Design Swan may earn an affiliate commission. Please read our disclosure for more info.
Darth Vader ToothSaber Toothpick Dispenser [buy on amazon]
Imported straight from Japan the Darth Vader Toothsaber Toothpick Dispenser is a toothpick dispenser made out of the figurine of Darth Vader. He hands you toothpicks from his toothsaber sheath at your heart's desire.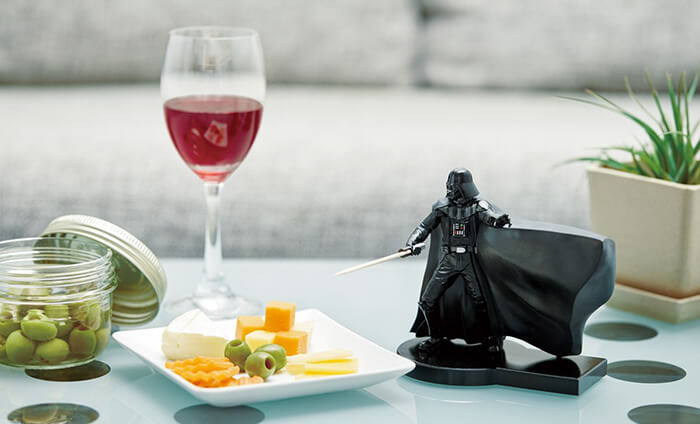 Star Wars Ceramic Salt and Pepper Shakers [buy on amazon]
Star Wars Darth Vader and Stormtrooper Salt and Pepper Shakers – Feel the power and might of the Empire on your dining room table with this salt and pepper shaker set.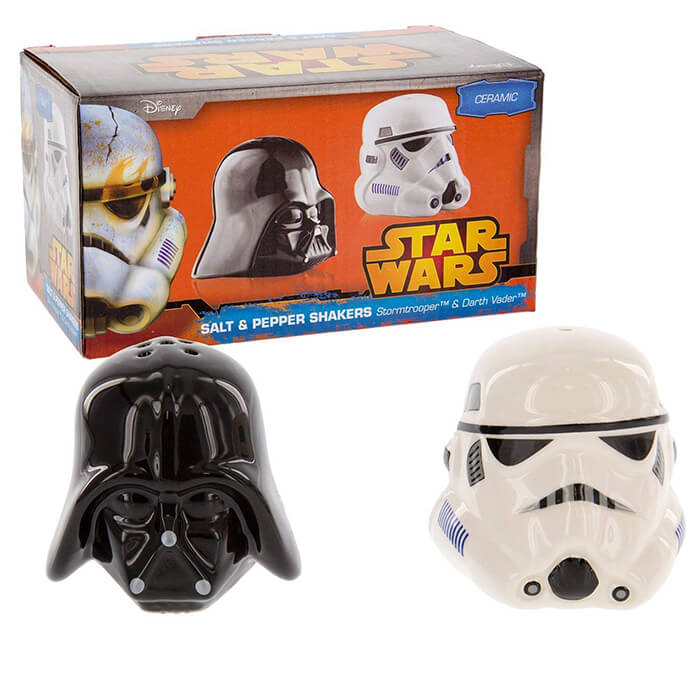 Star Wars Darth Vader Mug [buy on amazon]
Drink your coffee in style with Star Wars Darth Vader comics featured mug. This is extremely cool and charming mug that depicts the helmet of Lord Vader from Star Wars anime. The cup is made up of 100 percent ceramics, molded and chromed in silver to look like Star Wars Lord Vader helmet. The mug is shiny to match the reflection of objects just like the real thing. This exclusive mug is BPA-free and heat reactive. Slip your fingers around the Star Wars mugs hidden handle to enjoy sips of your favorite drink in style.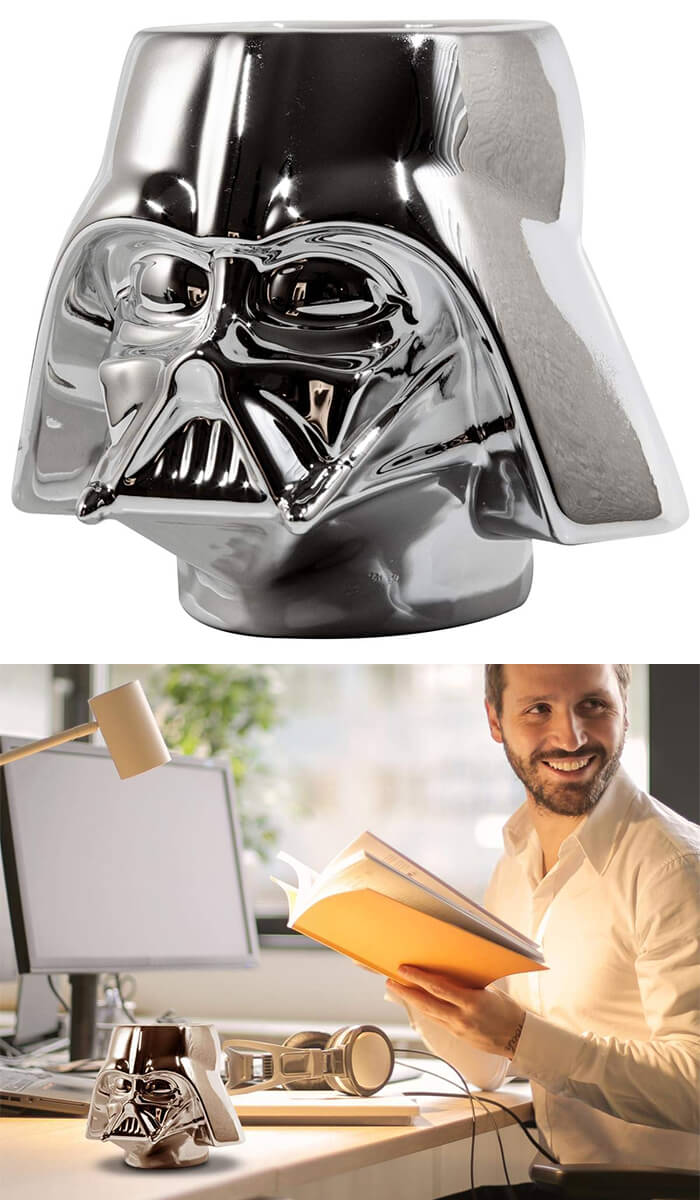 Darth Vader(TM) Handheld Shower Head [buy on amazon]
Rule your shower with your very own darth vader handheld shower head! you can now take the force with you in the shower with a full-force shower head fit for a sith lord. It's the perfect way to turn your shower in your own empire. And you'll find the many features of this shower head impressive… most impressive. It has a rubber grip designed to reduce slipping, a comfort control lever that adjusts water pressure, and 3 spray settings.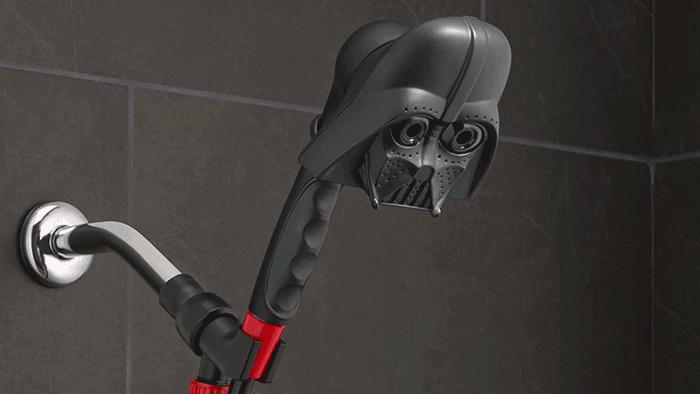 Darth Vader Toaster [buy on amazon]
Molded in sturdy black plastic and meticulously detailed, the Darth Vader Toaster will make a striking addition to any kitchen counter. Pop in two pieces of bread, frozen pancakes, hamburger buns or English muffins, and in moments Vader ejects them with the Star Wars logo toasted right on them. Like your toast on the darker side? A handy dial provides temperature adjustment.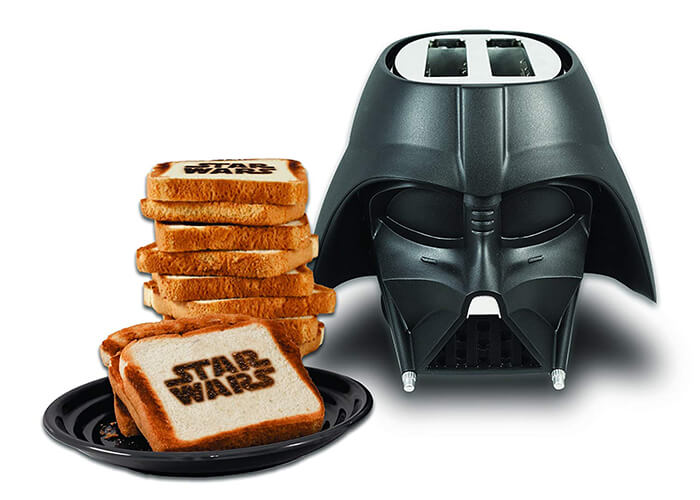 Darth Vader Waffle Maker [buy on amazon]
The Darth Vader Waffle Maker will make a striking addition to any kitchen or dorm room!
Regulating thermostat and weighted lid ensure perfect and even browning
Five temperature settings let you make waffles tender and golden or brown and crispy with a turn of the dial.
Dual indicator lights let you know when its time to pour the batter and when the waffles are ready.
Waffle maker stands upright and cord wraps under base for compact storage.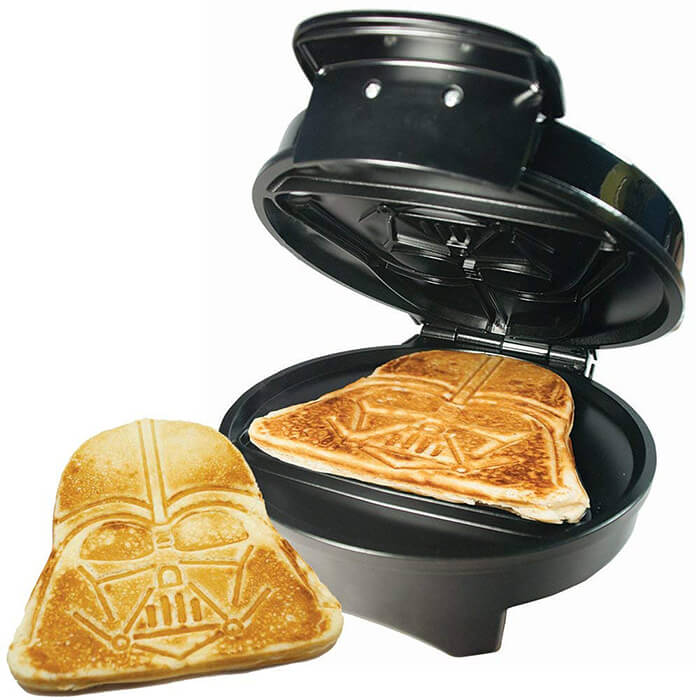 Star Wars Darth Vader Helmet 3D Deco Light [buy on amazon]
See your favorite Star Wars characters like you've never seen them before! Beloved and new Star Wars characters are coming to your home in a new way. These cordless, battery operated decorative wall lights appear to break out of your wall with a fun 3D cracked effect. They're simple to install and are COOL – never getting hot to the touch. With energy safe LED bulbs, you'll enjoy it for hours without ever having to change the bulbs.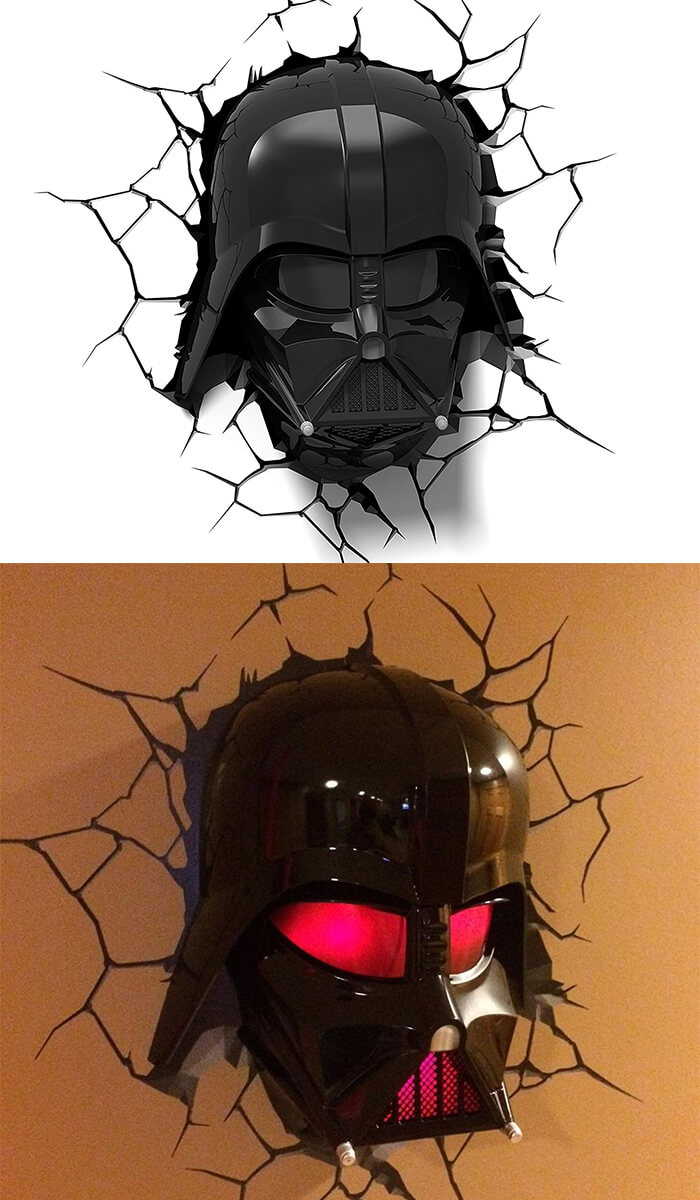 Darth Vader Lotion Pump [buy on amazon]
Complete the ultimate Star Wars bathroom with this "classic saga" bathroom collection. Complete with imagery from the original films printed in high resolution with vibrant colors, as well as sculpted acrylic bathroom accessories, this collection is perfect for fans of all ages.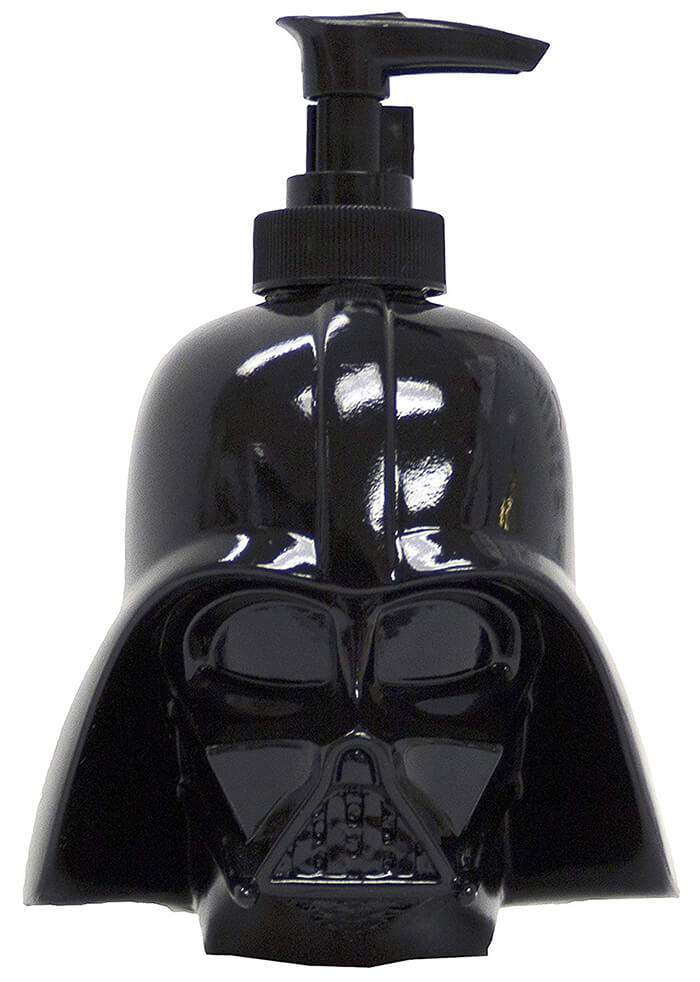 Darth Vader Ice Tray [buy on amazon]
A long time ago, in a galaxy far away, there was nothing cooler than Star Wars…oh wait, that time is now and the galaxy is here! Make your drinks as cold as Hoth with this super cool Star Wars ice cube tray! These malleable and easy-clean silicone tray can be used to make ice, Jell-O, chocolate, and more in the shape of Darth Vader and Stormtroopers!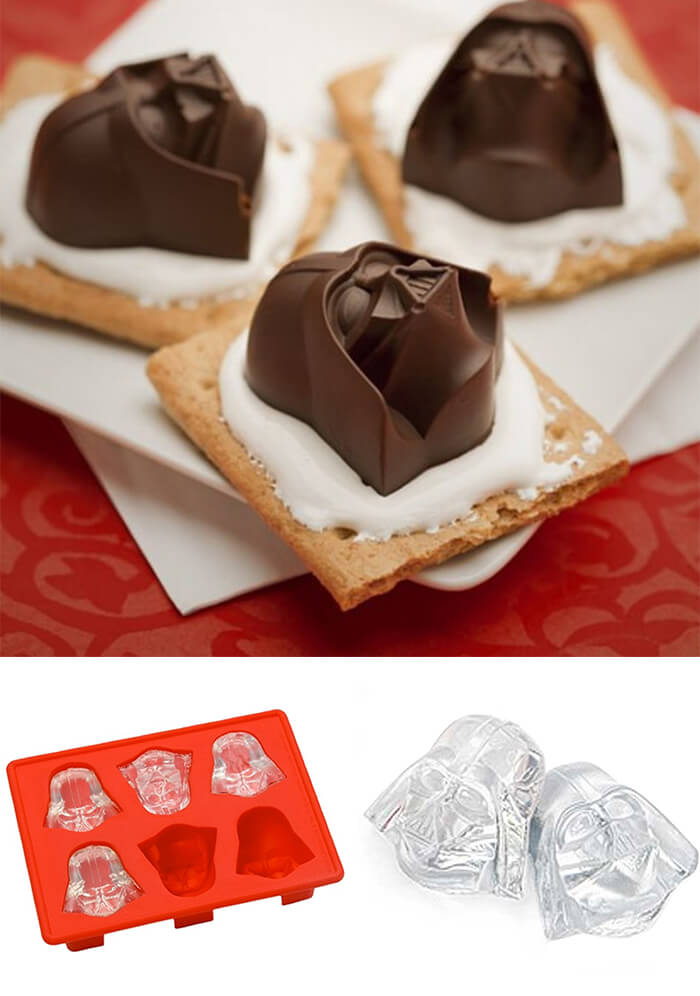 "Being Darth Vader" Character Pillow and Fleece Throw Blanket Set [buy on amazon]
Want to be Darth Vader? This Star Wars Being the Character Pillow and Throw Set by The Northwest Company is perfect for you! Travel into the galaxy and become your favorite dark side character! The 11″ square pillow shows off Darth Vader's face, while the throw shows off his body. Place the items next to each other to recreate this villain! Cuddle up with this 40″x 50″ throw and pillow set while watching every Star Wars episode! The throw is 100% Polyester and machine washable. The pillow is 100% Velboa and spot clean only.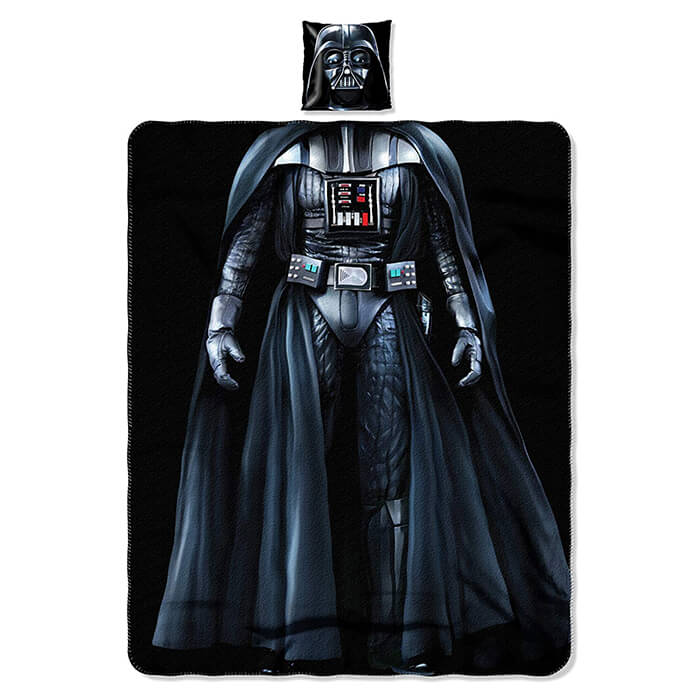 Darth Vader LED 3D Optical Illusion Smart 7 Colors Night Light [buy on amazon]
3D VISION EFFECT- especially in the dark or take a photograph, the vision thrill will be strong!
SMART TOUCH BUTTON & EASY TO USE- by which the light can toggle between 7 kinds of monochrom color mode and 1 flashing color mode.
DURABLE & ENERGY SAVING- durable base in which there are 9 LED beads, powered by 5V USB Cable connected to PC or your home adaptor,this make it more energe saving. Power spend: 0.012kw.h/24 hours, LED life span: 10000hours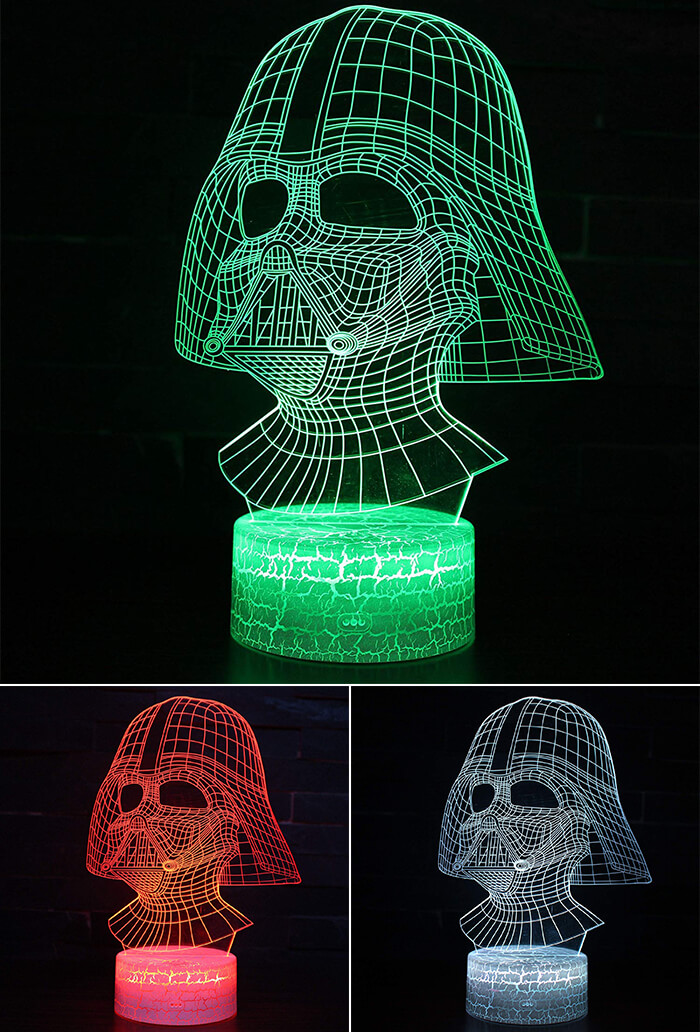 Darth Vader 3D Helmet Plush Slippers [buy on amazon]
Hard outsole for indoor & outdoor wearability
Memory foam padded sole for added comfort
Size: S(5/6) M(7/8) L(9/10) XL(11/12) – Unisex
Material: Upper: PU Lining: Faux Fu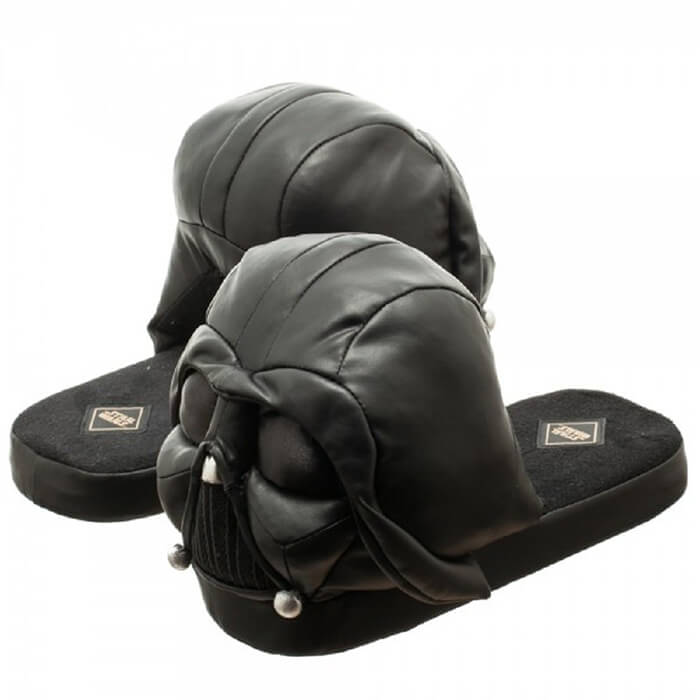 Darth Vader Ultrasonic 2 Liter Cool Mist Humidifier [buy on amazon]
Darth Vader 2 Liter capacity ultrasonic cool Mist humidifier adds moisture to any room! it fights mold and mildew and features anti-microbial technology, on/off dial (min/max settings) and a Mist nozzle.