Having an all-white kitchen is a dream that all homeowners have since its clean aesthetic makes the room look bigger. But, sometimes it is good to change things around and try new trends. That's why, today, we are going to talk about white kitchen cabinets with dark floors. A style that has the perfect balance and combination of tonalities.
Having a white kitchen is a risk-free move. This means that when all the elements feature this neutral tone, it will be easy to match everything. But, if homeowners are looking for something unique, they can twist the original version and insert their personal style. There are several ways to do this, but before talking about this, let's talk about the rules.
All-white kitchens with dark floors work well with a traditional or a modern design. The versatile layout allows homeowners to adapt it in any way they want. However, it is crucial to keep in mind some guidelines. First, decide which colour palette is going to work with this style. It can either be light or dark. One way to enhance it is by using the main tone in the hardware and light fixtures.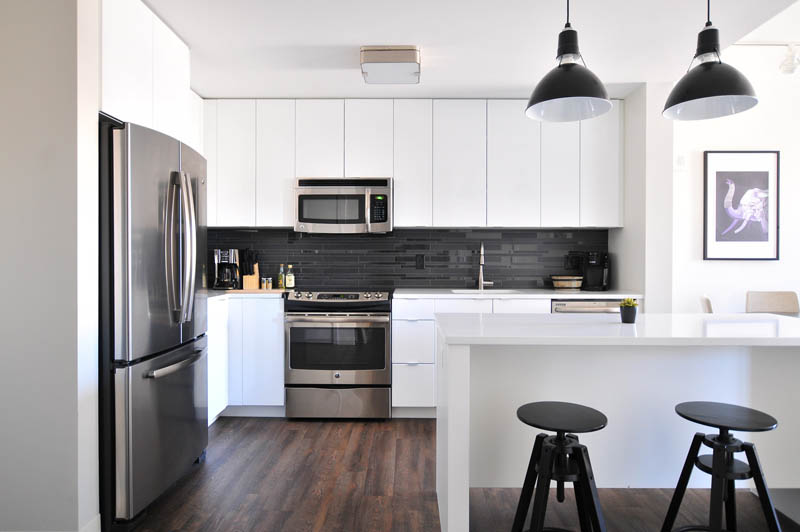 To help create some contrast in the design, it is crucial to insert some texture using carpets or decor. But, if the flooring already has some intricate tiling design, the best thing to do is to opt for a minimalistic ambiance.
Taking into account all of these rules, let's look at some inspirational ideas.
White kitchen cabinets with dark floors
When homeowners start looking through magazines, they start wondering if a white kitchen with dark floors will look good in their homes. Overall, this style will transform any room, but in the long term, there is a golden rule. Larger kitchens are the ones that look better with this design. Why? Well, white kitchens with dark floors are elegant, but the tonality contrast will immediately make the room look a bit smaller.
People with limited space in their kitchen should probably go for something more neutral. If that is your case, check out some alternatives here
1. Unique cabinetry
Most people think that white kitchens with dark floors are all the same, but that is not true. In fact, there are many things that homeowners can do to create a unique style. One of them is purchasing large cabinetry up to the ceiling to make the room look larger. The advantage of doing this is that they will have more storage space. To add some colour, get some big flower vases or some decorative plants.
2. Adapt the design
We all love white kitchen cabinets with dark floors, but sometimes it is a good idea to play with the layout. That means instead of having cabinetry on the upper and lower part of the kitchen, we are going to use open shelving. This new trend allows homeowners to showcase their unique dishware. But, don't worry, there will still be plenty of storage space in the cabinetry installed below the countertop. To complement this design, add more golden hardware.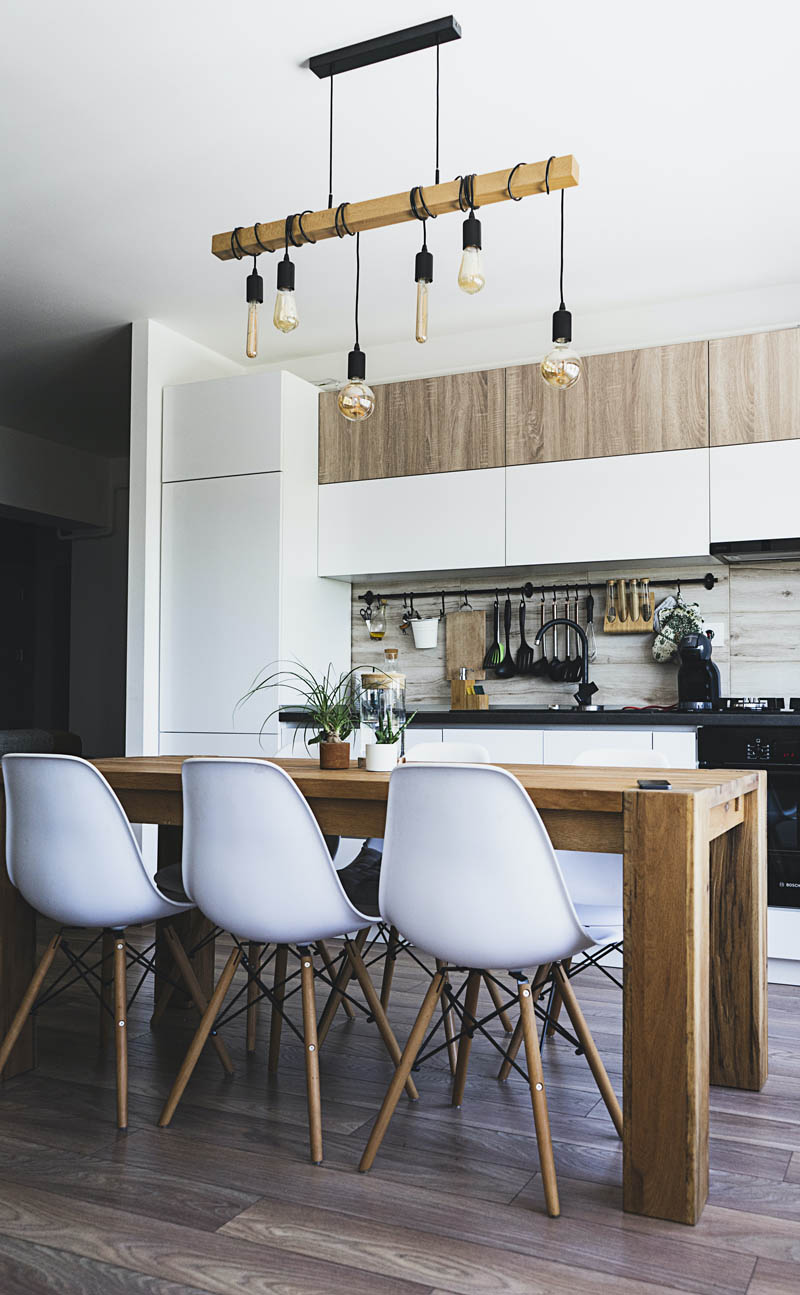 3. Stainless Steel
White kitchens with dark floors provide a neutral canvas in which homeowners can play with different colours. In this regard, one element that will enhance the whole room design is a stainless steel countertop. The advantage of installing this kind of surface is that it is safe for meal preparation and easy to clean. Plus, homeowners can also combine them and have a stainless steel-wood countertop. That way, the different areas of the kitchen will be separated.
4. Whole look
There are many ways in which homeowners can add a personal touch to a white kitchen with dark floors. One of our favourites is by matching the countertop with the backsplash. When choosing this design, people need to be careful regarding the textures. Otherwise, the kitchen will look busy. To avoid this issue, it is better to choose either a solid colour or a natural stone with some delicate veining. Even though dark colours look modern, we prefer a neutral palette that makes the kitchen look larger.
5. Remove barriers
The only downside of a dark floor's white kitchen is that sometimes the black and white contrast will make the room look smaller. However, homeowners can easily fix this by eliminating the tone barriers. The only thing that they need to do is paint the walls of the kitchen and the adjacent room white. That way, there won't be a colour separation. This means the space will look larger and more welcoming.
6. Delicate style
A white kitchen with dark floors is extremely versatile, and it can allow homeowners to play with different layouts. Even if we all prefer something classic and trendy these days, a delicate style will always be a fan favorite. To create it, first, it is essential to cut some of the dark tones in the kitchen. We can do this by placing some colourful rugs over the floor. Then, paint some of the walls with a light blue tone. To complete the look, install some stainless steel appliances and decor.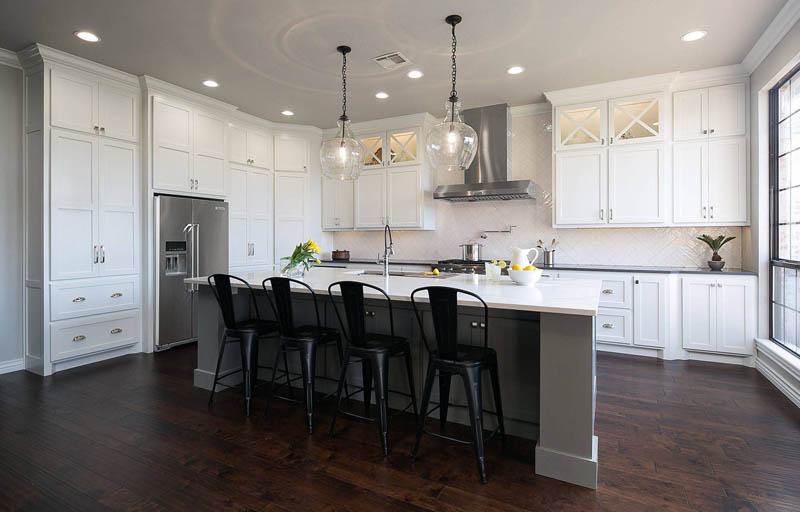 7. Cozy Christmas
If homeowners are looking for a style that will enhance their Christmas Spirit, a dark floor white kitchen will be perfect. For this idea, we would recommend a wooden floor, because it can easily create that warm environment we are looking for. For the cabinetry and the walls, instead of a plain white tone, try out something more creamy. Since this style needs a little colour, we would recommend a palette that has some green and brown tones.
Final Thoughts
In this article, we have talked about some of the rules when it comes to creating a dark floors white kitchen. Plus, we have created a list of inspirational ideas that they can use for their next home project. Overall, a kitchen with dark floors is a look that can be adapted to any home, and its versatility allows people to play with colours and textures.