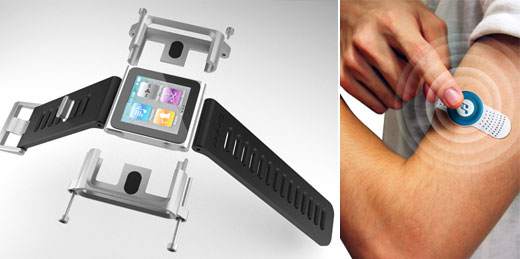 In today's post, we will continue our design trends exploration and present you with
10 creative Product and Concept Designs
, you might find they are creative and useful; or crazy and unacceptable. They might not be really new designs, but for me, it is first time to see them and find they are kindly of interesting. Now, let's check the post and let us know your thoughts, which one you think are the coolest?
We are a participant in the Amazon Services LLC Associates Program, an affiliate advertising program designed to provide a means for us to earn fees by linking to Amazon.com and affiliated sites.
1. Tube grip [link]
The tube which is made from poilvinyl chloride helps people when they are shopping, carrying lots of baggage by its very light weight and it eases the pain caused from taking heavy shopping bags. When air fills up in the tube you can use it by supporting grips of shopping bags from below. It has great advantages over climate change and can absorb external shocks well. What is more, it is eco-friendly tube handle because it does not waist any kind of resources' except for air. It is easy to fold the tube when the air comes out of the tube so it can be kept and carried without any difficulties due to its lightness and small size.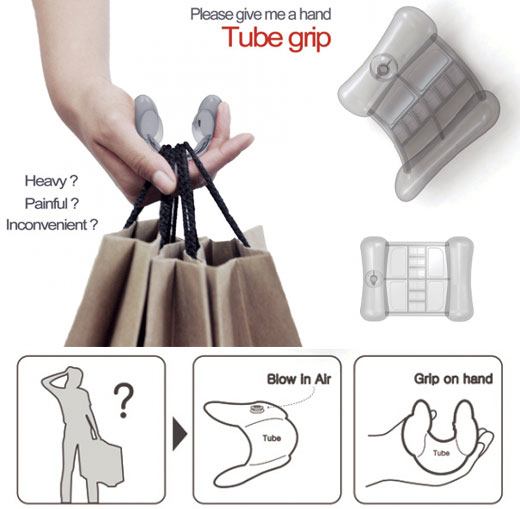 2. UNDERABOVE dual lens camera concept snaps the best of both worlds [link]
It's a dual-lens buoy-style camera that bobs on the surface of the water positioning one wide-angle lens above the waterline and one lens below to let aquatic shutterbugs capture the best of both worlds.
The UNDERABOVE features a symmetrical body made of polypropylene, with the top half filled with air and the bottom half filled with water so it straddles the waterline. There's also an LCD display located halfway up the device's central sphere that provides a view of both the underwater and above water camera views and which can also be used for viewing previously taken shots. There's also two flashes, one for each lens, and a timer for taking self-portraits.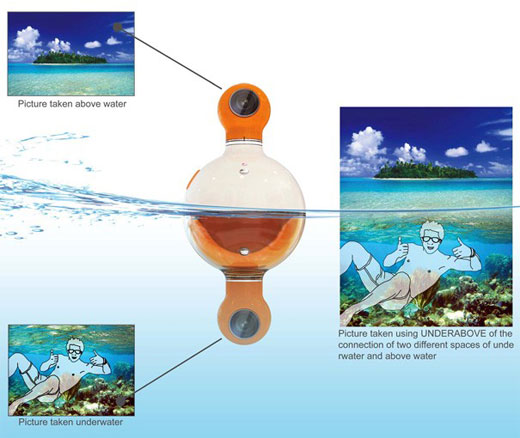 3. Boomerang Wok
[
buy on amazon
]
The Boomerang Wok not only makes stir-frying a bit easier, but larger pieces of food, such as a fillet of fish or meat can be turned in no time at all using the unique patented cupped edge. The Boomerang Wok means it is no longer necessary to lift up the pan; the skills of a Chinese chef are incorporated in this pan. Stir-frying has never been as much fun and as easy, and the cooker stays clean!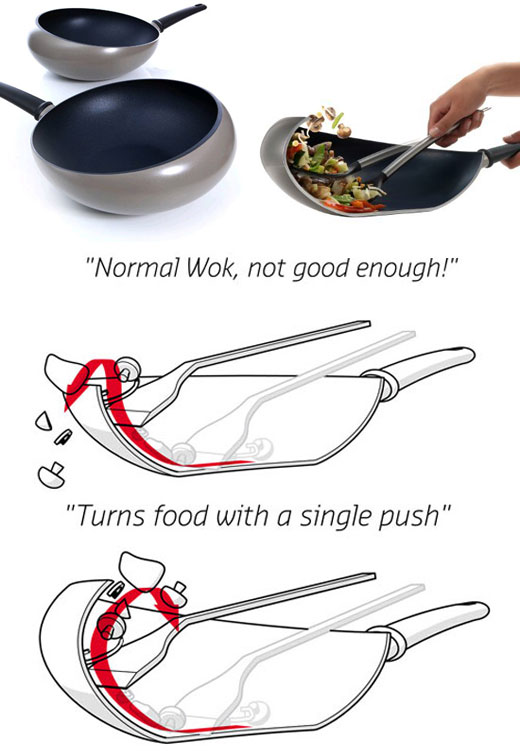 4. iPod Nano Watch – TikTok and LunaTik
[
link
]
TikTok and LunaTik simply transform the iPod Nano into the world's coolest multi-touch watches.
TikTok is a simple snap-in design. It allows the user to easily and securely snap the Nano into the wrist dock. It cleanly and simply integrates the Nano and transforms it into a modern multifunction timepiece.
LunaTik is designed and intended to be a premium conversion kit for someone that wants to dedicate their Nano to being a watch and the newest conversation piece with their friends. It is forged from Aerospace Grade Aluminum and then machined via CNC into its final form.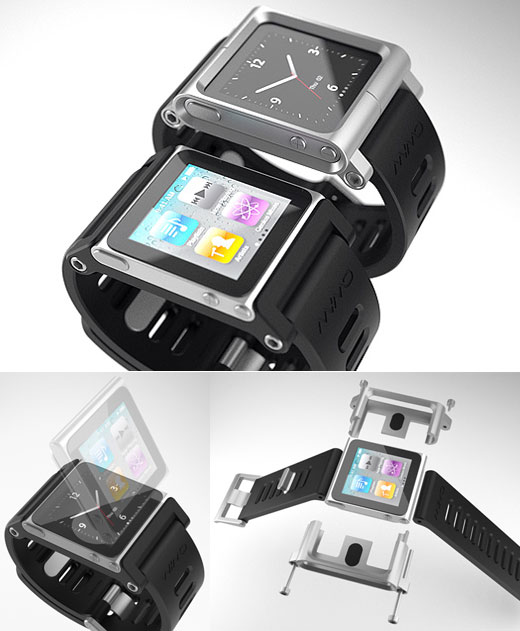 5. Thanko's Laptop Table Bag
[
link
]
It's called the Laptop Table Bag and it looks like a surprisingly normal, if decidedly corporate-issue, laptop bag. But, out of the bottom pivots four legs to hold your mobile device at what may or may not be a comfortable height. The 5980 yen ($75) contraption weighs about six pounds empty, making it a poor companion for your ultralight, but if your machine is more of a luggable — or if your manservant does the carrying for you — you may not even notice the extra heft.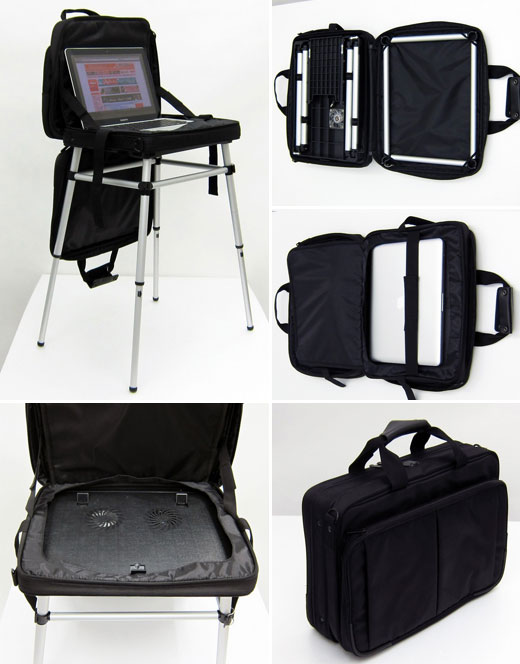 6. DarkFin Gloves
[
link
]
Looking to improve your performance in the water? Darkfin Gloves are durable latex rubber gloves that allow for dexterity-second only to bare hands. Their webbed design and contoured fit make them ideal for scuba diving, swimming, and surfing. Advantages include easy water treading, improved upper body strength, and the obvious – you get to have duck hands.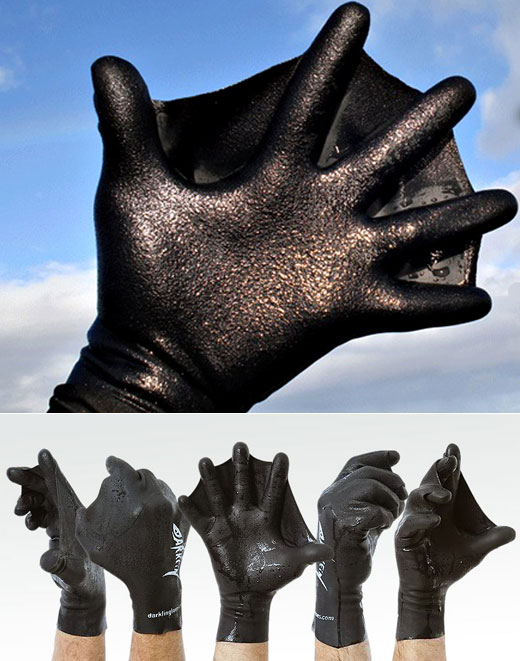 7. Pentax Swallows Paint and Robots, Vomits Camera
[
link
]
Pentax has a history of colorful experimentation, from the "world's reddest DSLR" to the rainbow-colored K-x which "requires sunglasses to use". But with this Korejanairobomoderu, or Korejanai robot edition, Pentax has reached a new high. Other than its candy-coated shell (and decapitated robot head), the camera is unchanged from the stock K-r. It does have a matching lens, though, a special-edition version of the 35mm ƒ2.4, which equates roughly to the length of a 50mm when used on a crop-frame body.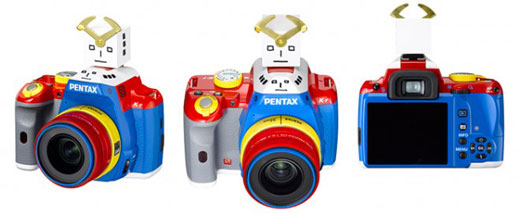 8. iProp – Hands-Free use of the iPad
[
link
]
The iProp™ will allow you to further enjoy your tablet in ways you have only imagined, enabling you to experience reading, movies, videos, tweets and apps all hands-free in nearly every situation.
* Full 360° rotation of iPad®
* Ball and socket connector allows tilt and swivel in all directions
* Heavy duty, V-shaped base
* Easy to insert and remove iPad from ABS plastic holder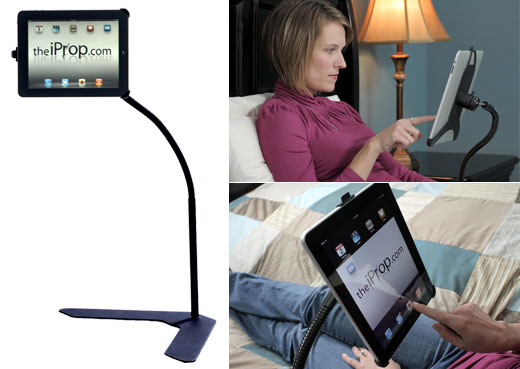 9. One Album Band Aid
[
link
]
The concept here with the Skinny Player is to offer one album space on a portable – Band Aid-esque device. The self-sticking player houses a play/stop button and flexible speakers. The user-scenario is for exercise or such places where you want to keep your hands free, but still carry your music with you. The unique angle to the player is that hopes to use your body heat for powering the device.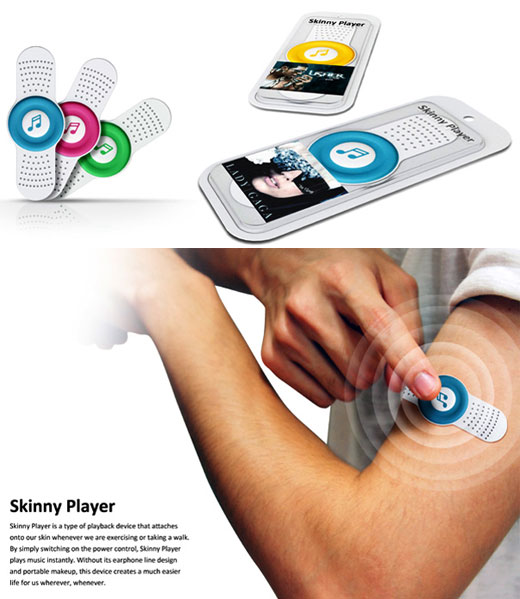 10. iFan, charge your phone with wind.
[
link
]
The 'iFan' prototype represents another original approach to technological production, allowing an iphone to be charged exclusively on wind power. The hardware consists of a custom rubber case to which a modified computer fan is attached; it currently takes six hours to charge the battery to completion. Veenhoven has also designed an 'iFan' mount to respond specifically to the needs of tour bicyclists, who use iphones for navigation but dislike the extra weight of conventional battery chargers. Not yet in production, the adapter will provide easy visibility of the iphone display, while situating the fan to both minimize additional wind resistance and capture maximum wind energy.