Entitled of "Knowledge", below are series of sculptures onto books Stéphanie Kilgast. Known for her intricately detailed works using discarded materials and trash like crushed cans or plastic bottles, her recent pieces explore incredible biodiversity utilizing books as her canvas to create below amazing book sculptures.
As Kilgast mentioned "Our era has never had such free and easy access to knowledge. Yet it is also a time of fake news and bigotry. Knowledge seems to be discarded for stupidity or financial gains. Science is discredited by conspiracy theories. But without knowledge and the will to learn and understand, we can't form intelligent opinions and decisions. There is cognitive dissonance between our scientific advancement and how our societies function and evolve."
Millions of titles are published each year in the U.S. alone, meaning billions of individual copies—a vast number of which eventually end up in landfills. Kilgast draws attention to these discarded objects by giving vintage editions new life. She constructs delicate mushrooms, blooming flowers, and colorful coral in painstakingly detailed miniature environments as a vivid reminder of the impact humans have on the environment and the tenacity of nature.
HAPPY OR DOOMSDAY COLORS
A composition in three colors, phthalo blue, mangenta and yellow orange, mostly inspired by decay and rapid mushroom and slime growth.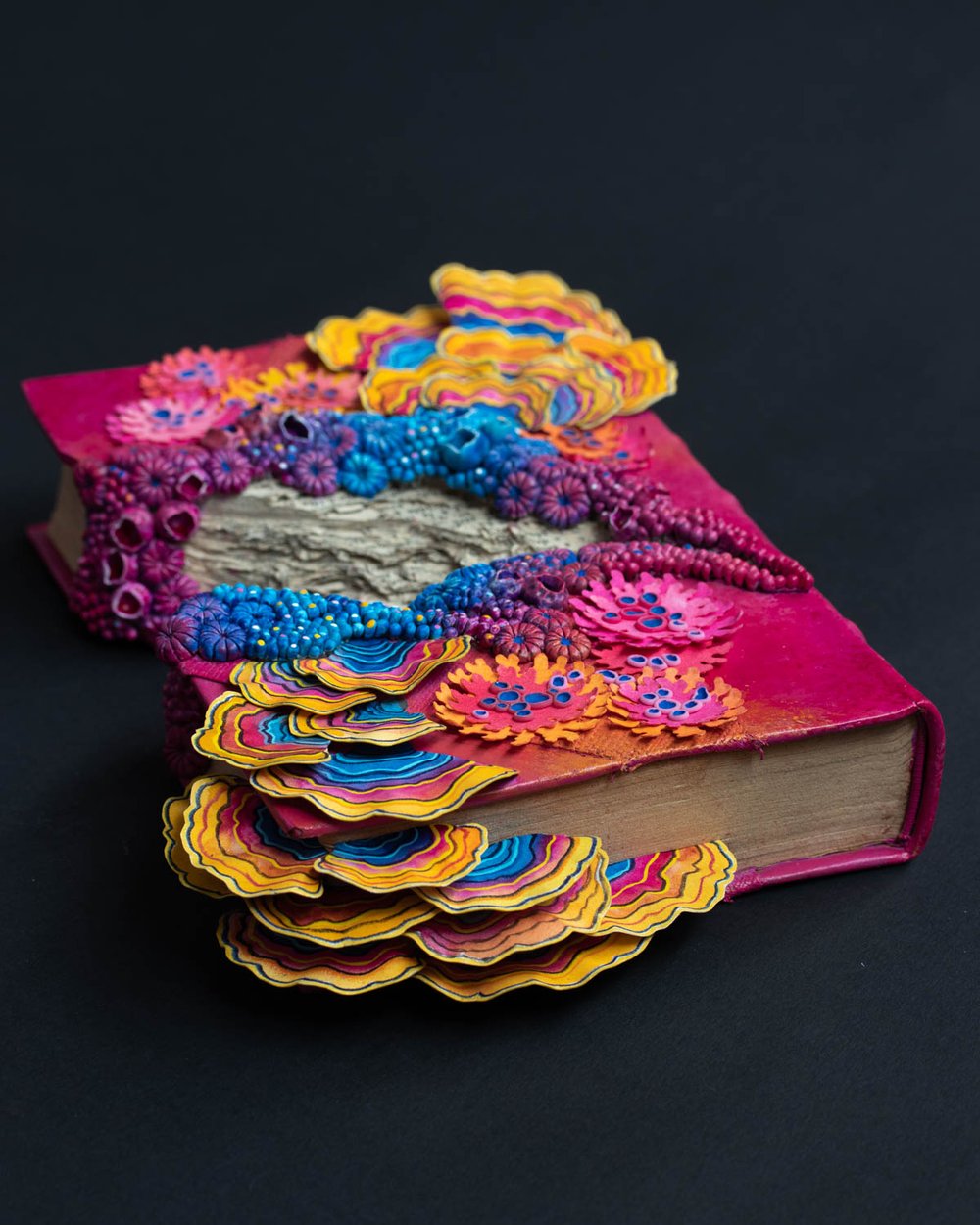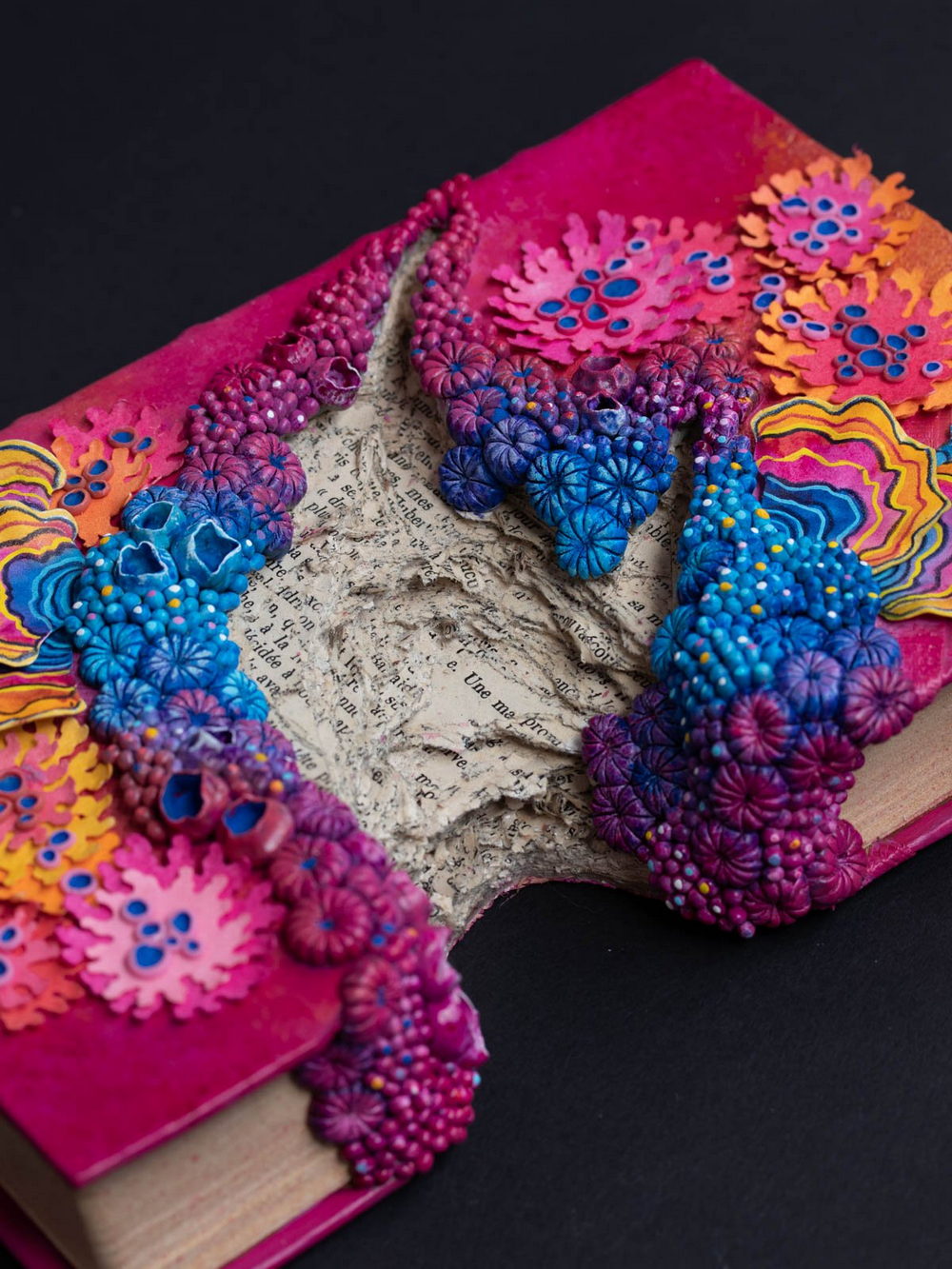 HALF FULL HALF EMPTY
"Half Full Half Empty" is a shredded book, seemingly being eaten away by a luscious natural growth of niche, mushrooms, slime mold and insects.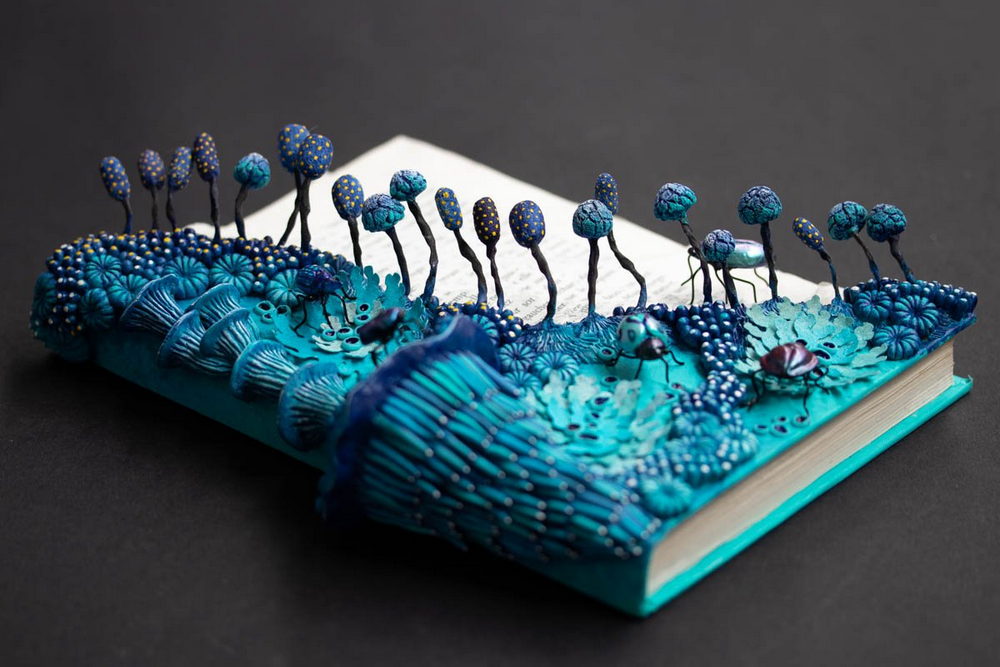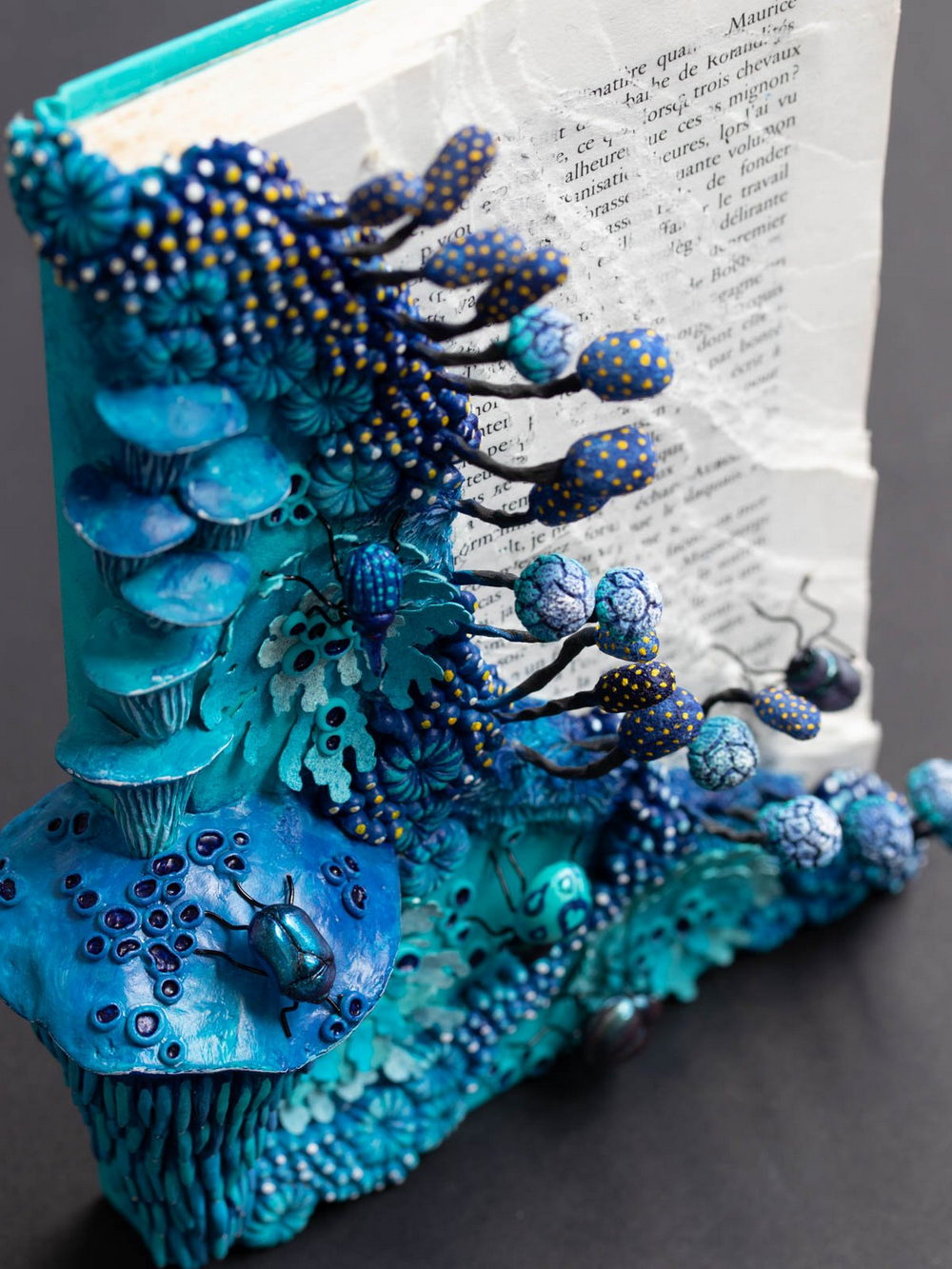 A TALE OF KNOWLEDGE
Wild surrealistic blue and gold mushrooms are growing out of an opened book. Shiny beetles are wandering over the moss covered pages.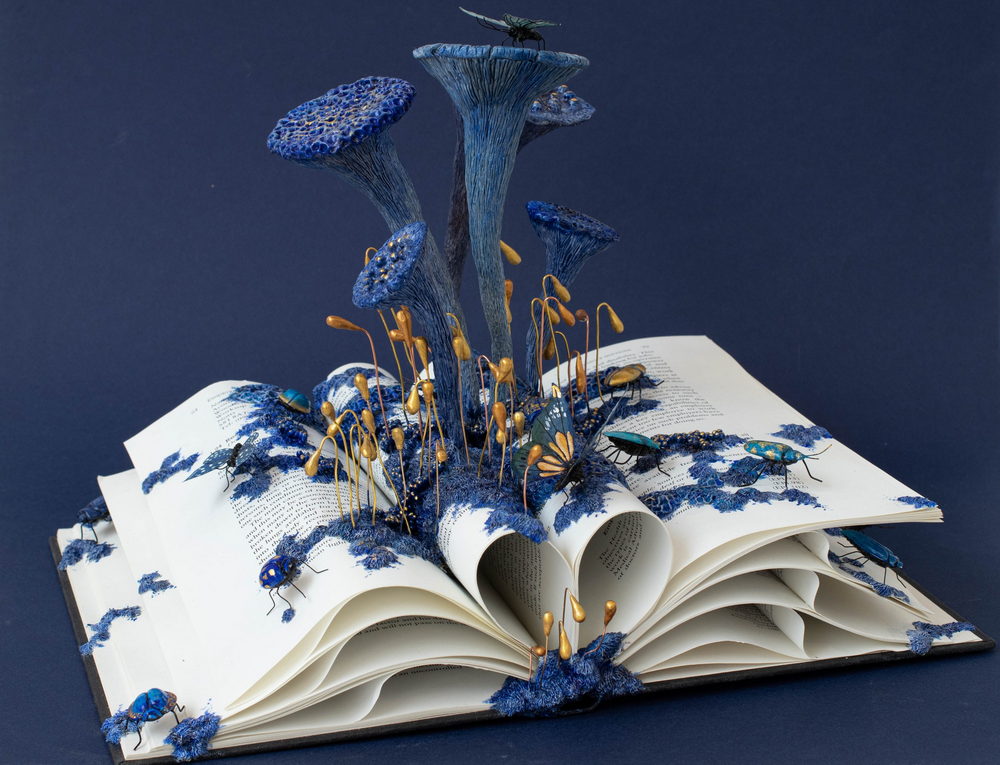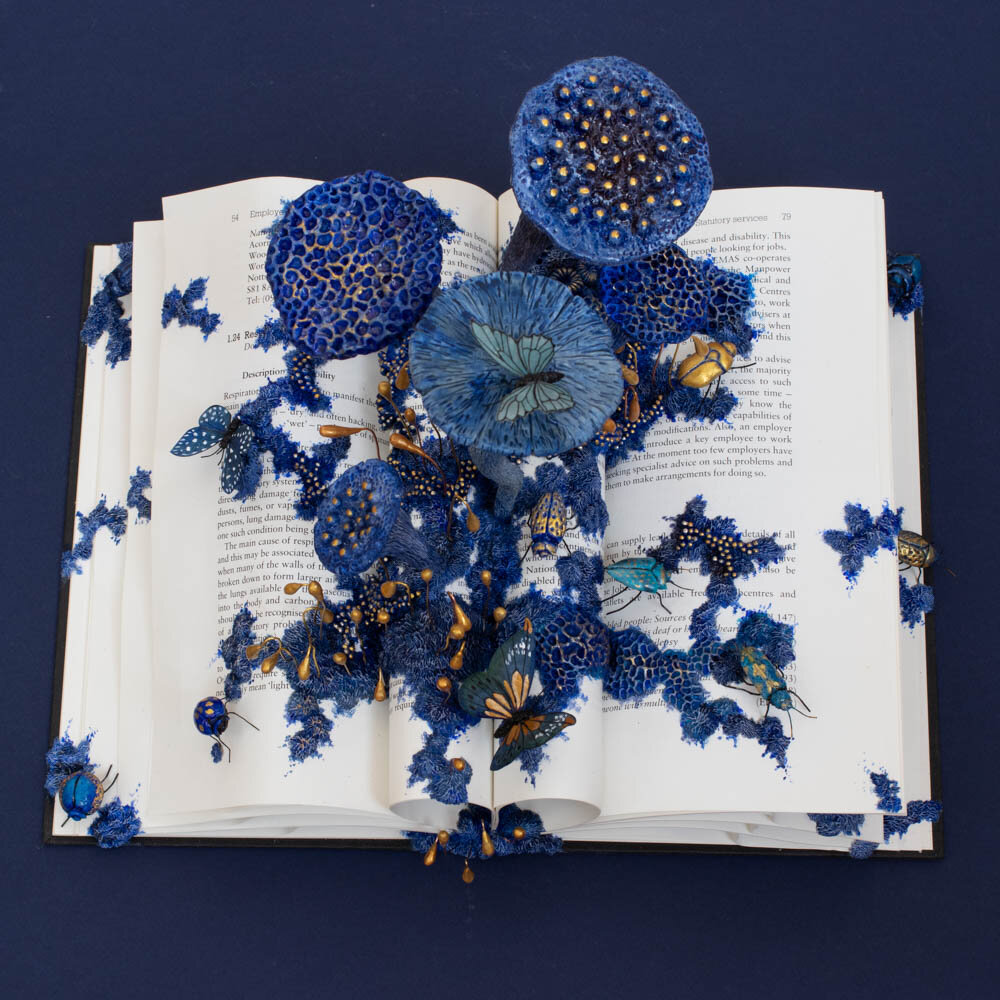 COMPRENDRE AUJOURD'HUI
Four books were carved into a small landscape, covering them in rainbow growth, inspired by a lush coral reef.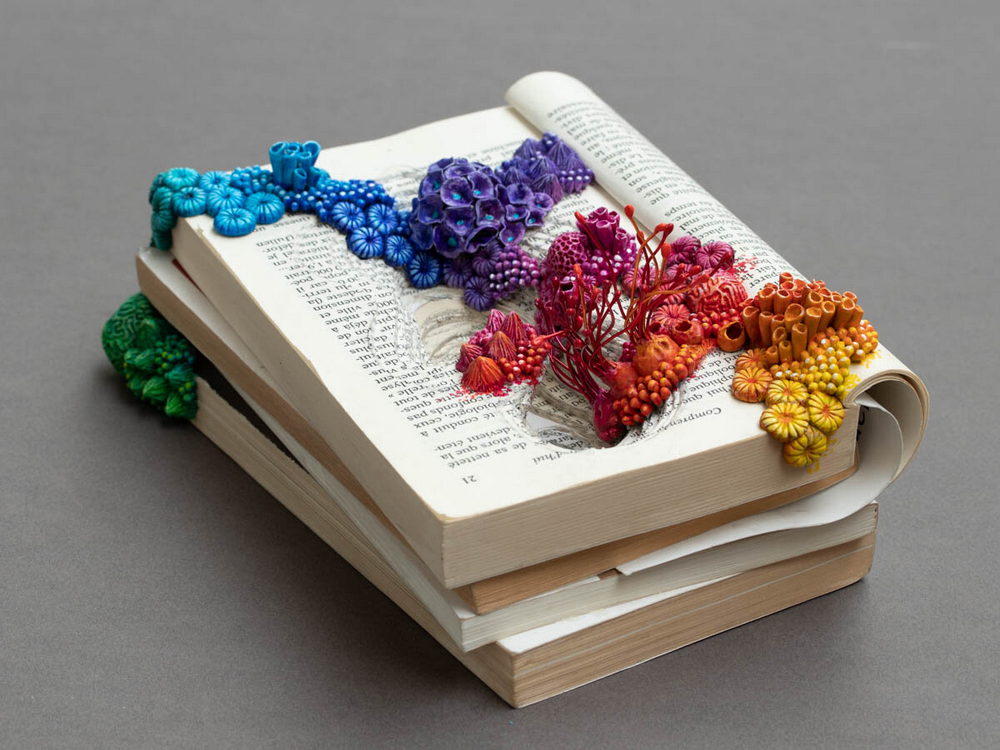 OLD AND NEW
A few mushrooms are growing on century old books. One book is from 1797, the other from 1809 and the one with the mushrooms from 1841.