Bacon Lover? Meat Lover? Than you got to love our today's topic…since we rounded up 14 awesome looking bacon inspired products for you. From shoes to dress, from belt to earring, from bandage to envelop … It is hard to believe we have so much funny products in bacon – looking. Now, it is time… welcome to our bacon world.
We are a participant in the Amazon Services LLC Associates Program, an affiliate advertising program designed to provide a means for us to earn fees by linking to Amazon.com and affiliated sites.
Bacon Bandages [buy on Amazon]
Ouch! That smarts! Treat your minor cuts, scrapes and scratches with the incredible healing power of meat. And if a fancy bandage isn't enough to dry up your tears, how about a FREE PRIZE! Each comes in a 3-3/4″ tall metal pocket tin and contains a small trinket to help make even the ouchiest owies feel all better in no time. The 3″ x 1″ Bacon Strips are cut to look like small slabs of bacon. Fifteen per tin.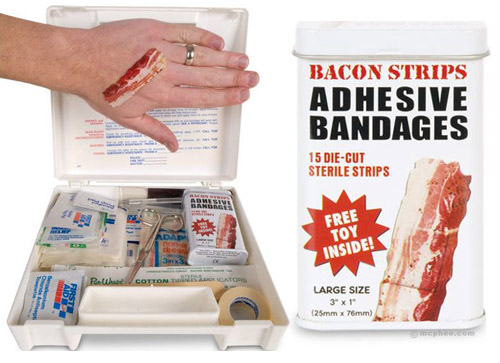 Bacon Wallet [buy on Amazon]
Put some hip into your hip pocket with a whimsical Bacon Wallet! Great for bringing home the bacon (sorry). Sleek, yet meaty. Each 4-1/4″ x 3-3/4″ faux leather wallet has plenty of pockets for your cold hard cash and copious cards.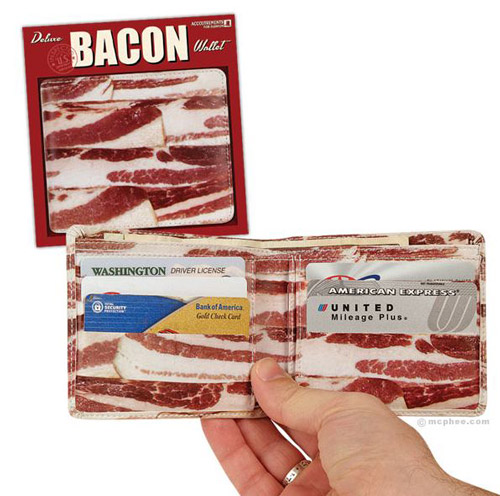 Bacon Earrings
[
link
]
What could be better a piece of crispy bacon? How about two pieces, one for each ear! These playful earrings are handcrafted from polymer clay and sure to be a hit with the bacon lovers in your life.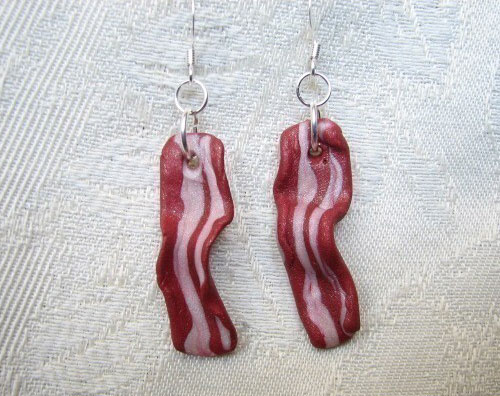 iPad Bacon-Case
[
link
]
The case look really lika a piece of bacon. You can feel the irregular and the illusion is perfect. Each case is different. There ist no seam, the whole case is seamless and felted in one piece.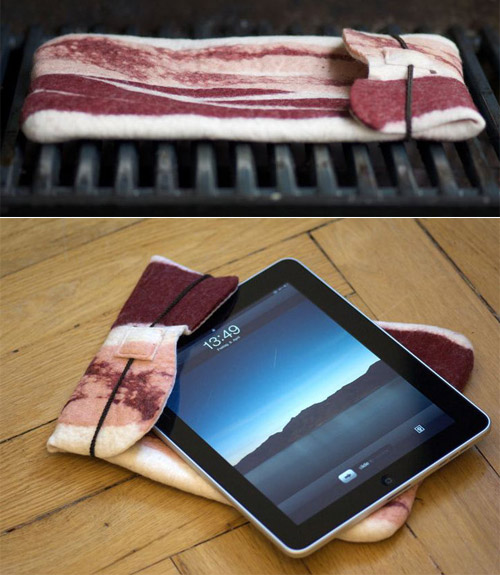 Bacon USB Flash Drive
[
link
]
the USB key which make you hungry…lol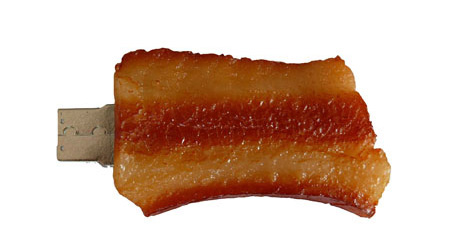 Bacon Soap, from Actual Bacon
[
buy on Amazon
]
The enticing aroma of frying bacon has been captured in a bar of soap. Each marbled bar has the words "Bacon Soap" embossed on top and comes in a fancy 3-3/4″ x 2-3/8″ x 7/8″ tin.
# Bacon lovers unite! Put a smile on anyone's face.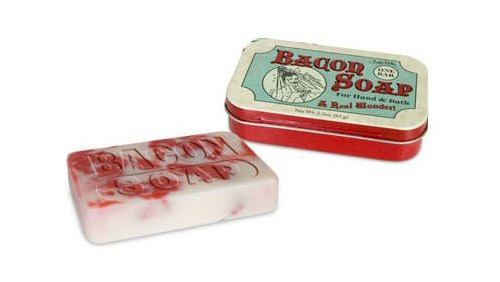 Magical Magnetic Bacon Strip
[
link
]
The wonder that is magnetic Bacon for your fridge, work, home, car or spaceship, these dudes are ready to stick it for you!
Four emotions from Fatty to meaty, happy, scared, or all 4! Roughly are about 7 inches long.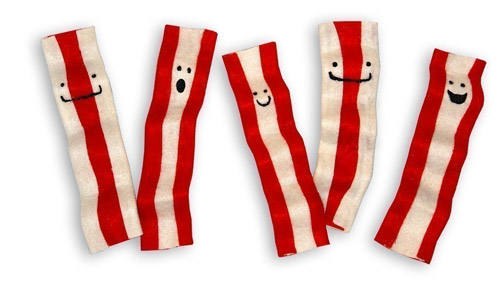 Bacon Belt
If you keep eating BBMBs (Bacon, Bacon and more Bacon sandwiches) like that, you are definitely going to need a bigger belt. This soft vinyl Bacon Belt with metal buckle fits waist sizes 30″ to 40″ which should give you ample room to grow out your bacon belly. Isn't it time you celebrated your girth with a belt that's deserving of its place around your midsection? The perfect gift for the fashionable meat lover.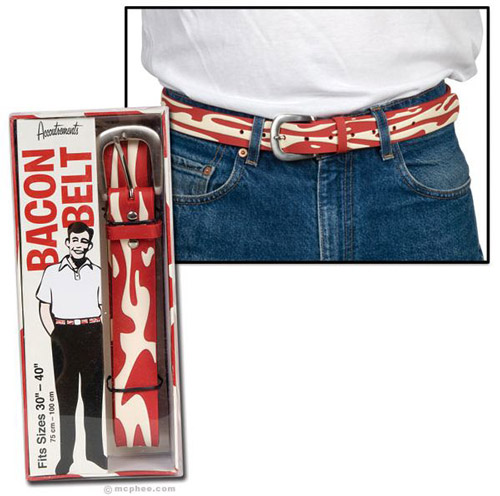 Bacon Scarf
[
link
]
The loose red, pink, and white merino wool has been welt felted with warm, soapy water and agitated to hold its shape. Nothing is sewn, knitted, or crocheted. It measures between 6-8″ wide and 44-48″ long. This is an approximation since this scarf–much like real bacon–is not a true rectangular shape. It looks like a real slice of bacon, with the striations of fat and meat. It's kind of gross and awesome at the same time.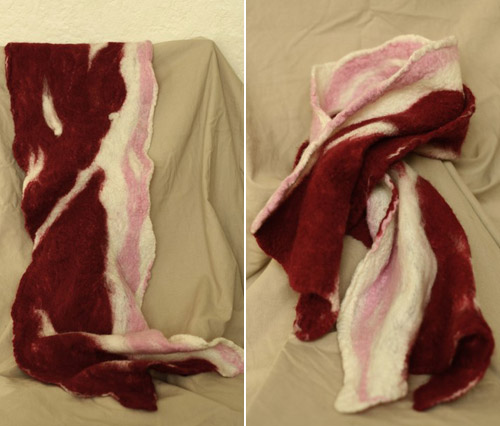 Bacon briefcase
[
link
]
Wooo…Definetely "professional" looking breifcase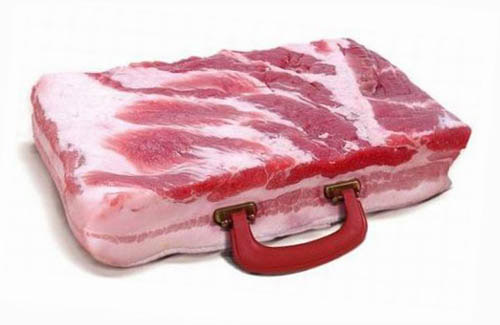 Bacon Air Freshener
[
buy on Amazon
]
This unlikely Bacon Air Freshener is the perfect way to brighten any carnivore's day. Put one up in the family room and everyone will have a sudden craving for a BLT. Each has a handy string for hanging and measures about 4" tall.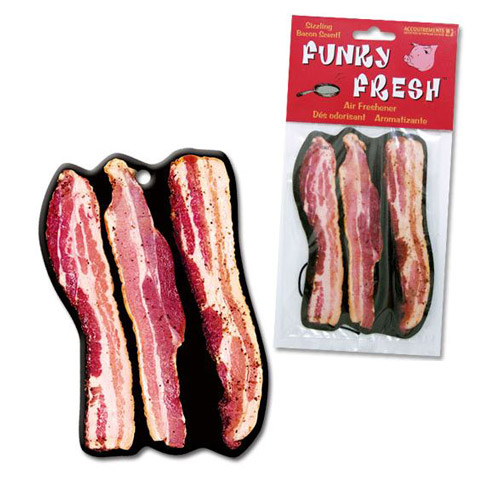 MMMMvelopes – Bacon Flavored Envelopes
[discontinued]
MMMMvelopes are bacon envelopes. No, they're not made of bacon, but they look like a perfectly marbled piece of pork flesh. But that's not the best part! The best part is that when you lick these envelopes to seal your writings inside, the adhesive TASTES LIKE SCRUMTRULESCENT BACON. Seriously. No more envelopes that taste like finely aged butt cheese. No more tiny sponges dipped in water to avoid the taste of finely aged butt cheese. Lick your envelopes and lick them well, geek friends. Finally, a reason to send snail mail again!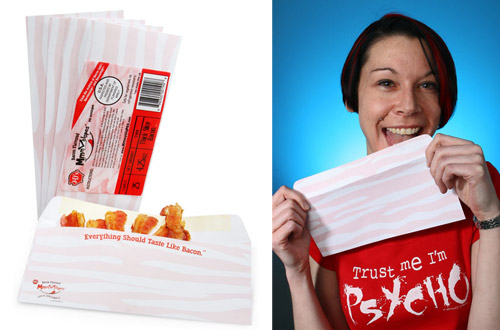 Jia Jem and her Bacon Dress
[link]
Jia makes all sorts of cosplay outfits and from time to time makes something extra awesome like this bacon dress. I can safely say she absolutely rules every costume and Halloween party she goes to.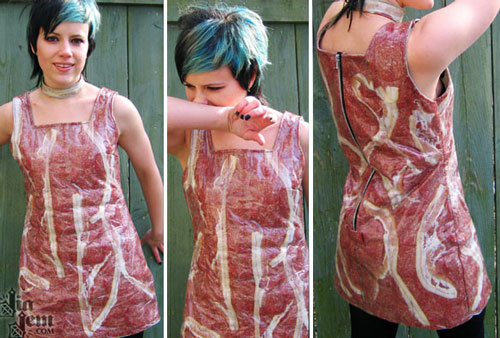 Bacon Shoe
These shoes are gross but awesome too.