by Gavin Forde, Content Marketing Executive, Clever Closet
The hallway is typically the most visited part of any home. In most houses, the hallway will be seen by every guest and visitor, and is responsible for the first impression that many people get of your home and its energy. Therefore, the design of your hallway offers an opportunity to exhibit your unique style and present a welcoming atmosphere for guests, and enjoy a sense of peace when you return home each day.
Unfortunately, many people fail in this regard, viewing the hallway as a space connecting other rooms instead of an independent area in its own right. This often means that the hallway is functional rather than attractive, and that people struggle to make the best use of the space, which can lead to clutter and mess.
Here, the home storage experts at Clever Closet offer five smart ways to upgrade your hallway's decor, declutter the space, and enjoy the peace and tranquillity of a clean and tidy home.
Cut down your storage requirements
The first step to decluttering and keeping your hallway tidy is to reduce the number of items you want to store. Some people use the hall as a catch-all for storage, as it is usually accessible at the centre of the house and can accommodate items that aren't associated with one particular room, like cleaning products or utility items. While this may be convenient, it can also occupy a lot more space than if these items were kept elsewhere, because hallway space is especially limited.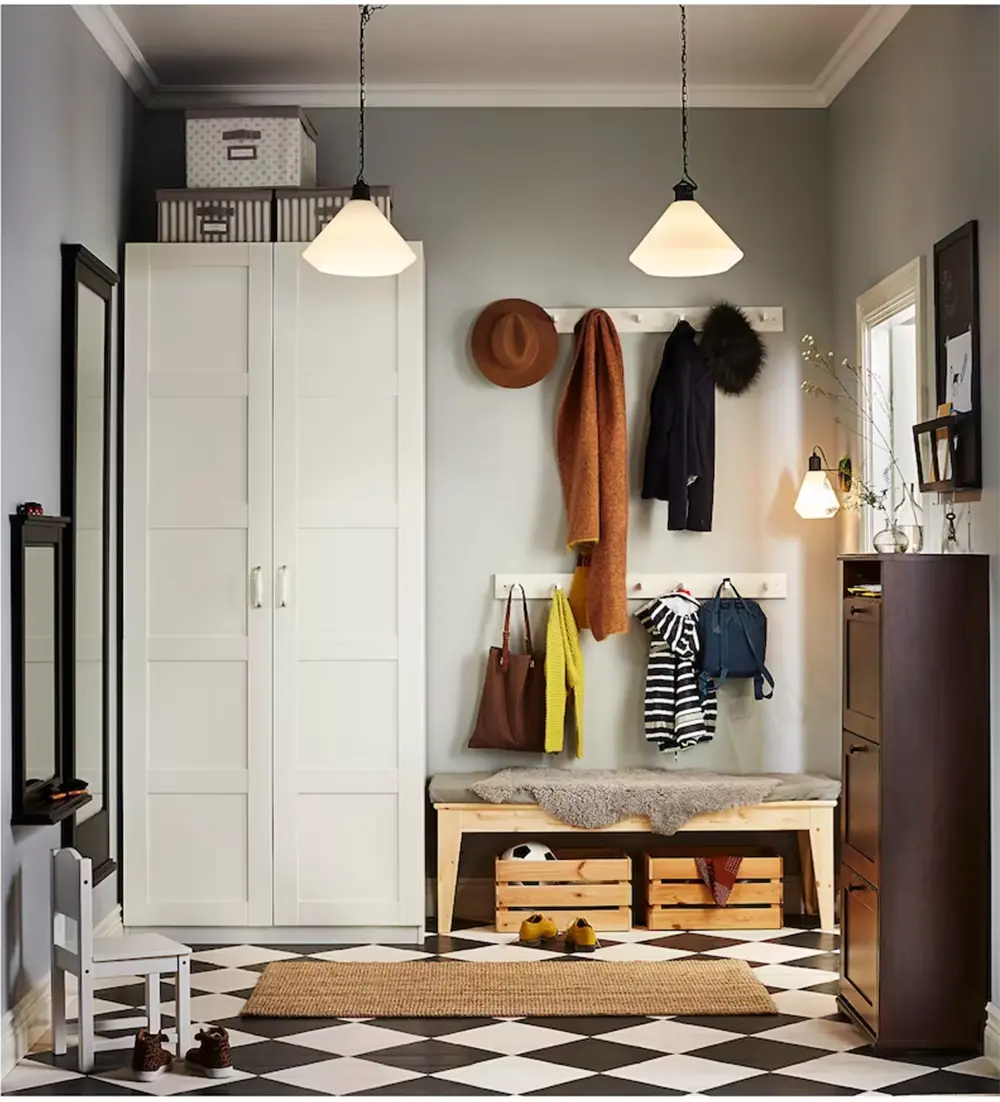 If you store coats, shoes and outdoor gear in your hallway, use a cyclical system. You won't need access to warm weather essentials like sandals or light jackets in the winter; nor will you need heavy coats, scarves and other cold weather gear in summer. Moving these items to a wardrobe in another room can free up storage capacity.
Make the best use of the existing space
Once you have removed everything you don't need, you need to find a place for everything that is left. With a touch of inventiveness and vision, you can optimise the use of space in your hallway – even if there is not much to work with. By taking a creative approach and increasing your storage capacity in unexpected ways, you can prevent clutter and enjoy more room to manoeuvre in your hallway.
The approach you take here will depend on the specific dimensions of your space, as all hallways are different – and the storage challenges you are facing. For example, shelves may be appropriate for high, narrow spaces, while shorter and wider spaces might accommodate furniture or another solution. Wall-mounted hooks may be the best option for everything from keys to cleaning equipment, or you might consider an organiser for letters and other post that can otherwise accumulate on surfaces.
Use hidden storage
Hidden storage solutions are available at different scales, but one of the simplest approaches is the use of multifunctional objects, like benches housing hidden storage compartments beneath their seats. In this way, you can make creative use of the space while also keeping decor in mind.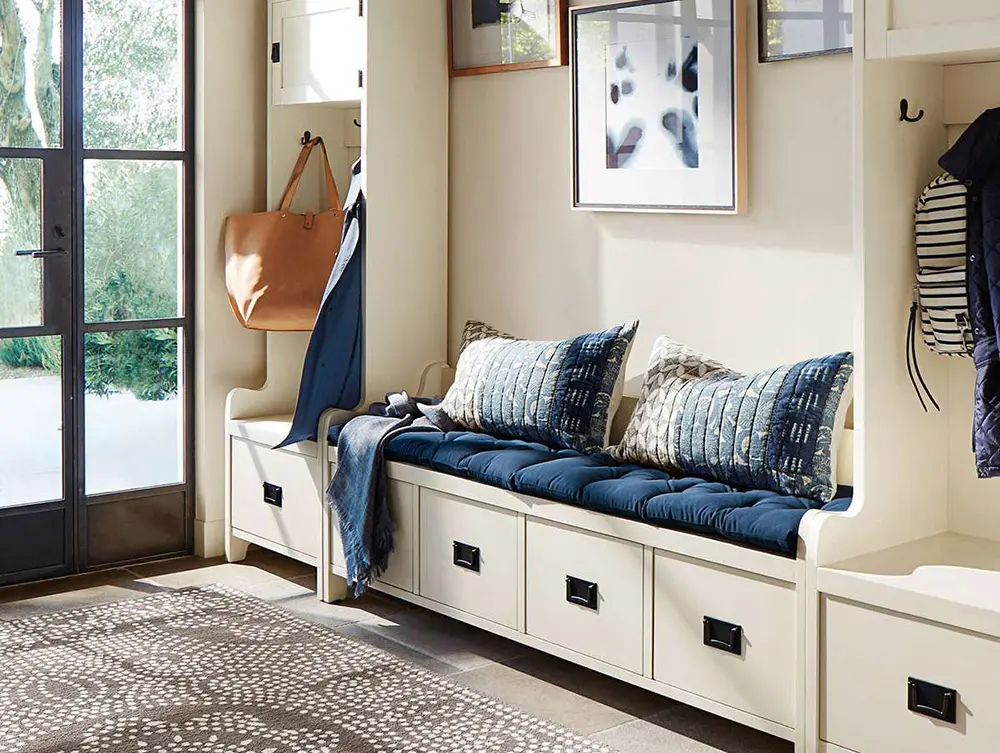 Sometimes, the problem with clutter is not disorganisation, but the appearance of disorganisation. Piles of letters may be sorted according to their purpose but they can still look untidy. As a result, you may consider storage solutions that will allow you to hide these items from view until you have time to address them properly – for example, shelves that have narrow, concealed drawers inside them.
Go for an upgrade
A scarcity of space often restricts how much storage capacity you can add to a hallway, and built-in storage is sometimes the only option to allow you to create the extra space you need. Thankfully, there are now built-in under-stairs storage solutions available that won't break the bank, but can offer a significant upgrade in terms of storage capacity.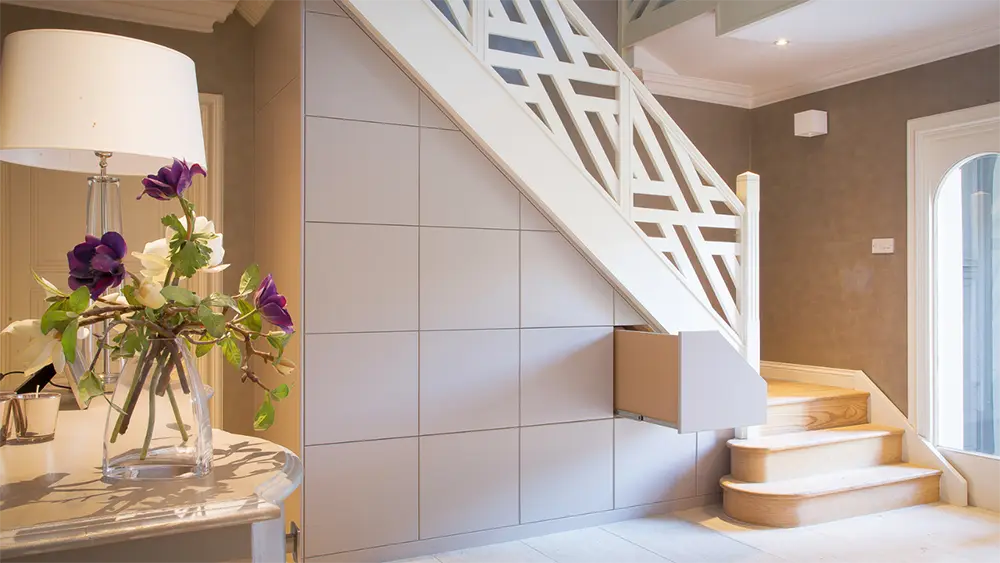 If you don't have stairs in your hallway, there are other solutions available for awkward alcoves and lofts. The advantage of these solutions is that they don't take up any extra room – they fit into space that would otherwise be unusable. By dividing the empty space into a combination of drawers and cupboards, you can benefit from much more storage capacity, and many more options in terms of organisation.
Get creative with organising
Alongside furniture that is designed specifically with multiple purposes in mind and built-in hidden storage solutions, there are nifty ways to create more storage capacity by organising things effectively. Rather than hanging coats on hooks, use coat hangers, which will allow you to hang more coats in the same place without creating a messy look. If you are storing outdoor bags in the hallway, put other items inside them to free up space.
There is a lot of inspiration and creativity online that can help you to structure your use of space, so if there is a specific challenge you are facing, search for ideas and you will be sure to find an inventive approach that has worked well for someone else.
By identifying your needs and applying the advice we have provided here, you can start to develop better habits, declutter effectively and prevent mess from accumulating in your hallway on an ongoing basis.